HEALTH & FITNESS
Rock the Farmers' Market This Summer With CUESA's Insider Tips
If anyone knows how to shop at Bay Area farmers' markets, it's Marcy Coburn. Marcy grew up working on farms and shopping at farmers' markets before she got her dream job at the Center for Urban Education about Sustainable Agriculture (CUESA).
As the Executive Director of CUESA, Marcy and her staff oversee farmers' markets at the Ferry Building and Jack London Square, and they recently added the Mission Community Market to their roster. Aka, we've got a farmers' market guru on our hands.
CUESA recently hosted a party for its 25th birthday, and there's a lot to celebrate. They've signed another 10-year lease at the Ferry Building, so our beloved scenic farmers' markets are here to stay for another decade.
They're hosting tons of events this summer to celebrate their birthday, and they're continuing all of the other great work they do.
"We are the farmers' market and a lot of people know us for that," says Marcy. "But we also are a not-for-profit organization that does a lot of work in the community with children and youth around food and food access and learning about where food comes from."
Get in the celebratory spirit and add a CUESA farmers' market visit or event to your summer calendar! We've got Marcy's hottest insider tips to make sure your market visit is fun and fruitful.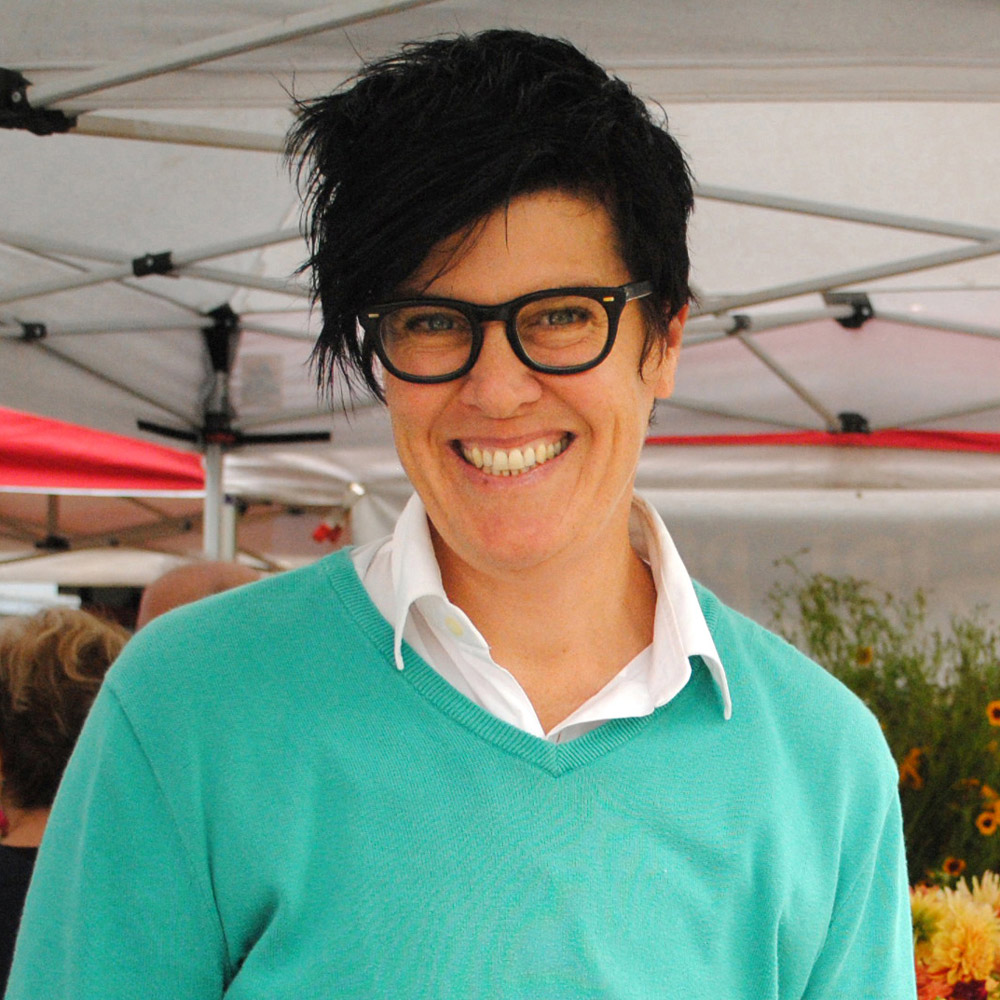 CUESA
This is the perfect time to up your farmers' market game
The farmers' market is open and wonderful in all seasons, but summer is definitely one of the sweetest times to roam the stalls.
"The produce right now is so amazing," says Marcy. "I love this time of year because we're moving out of spring into summer. We have all of the hot season veggies like basil, squash, and tomatoes, but because of our incredible location we still get spring veggies and fruits like artichokes, cherries, and sugar snap peas. It's like paradise."
Even though San Francisco summers aren't all that summery, farmers' market eating can get you in the seasonal spirit.
"I can literally clock the seasons by what I'm eating," says Marcy. "We're moving out of strawberries and asparagus, so we know spring is ending. Right now, we have blueberries, hopefully until the Fourth of July. And then later in the summer, we get corn and all the beautiful corn and tomato salads."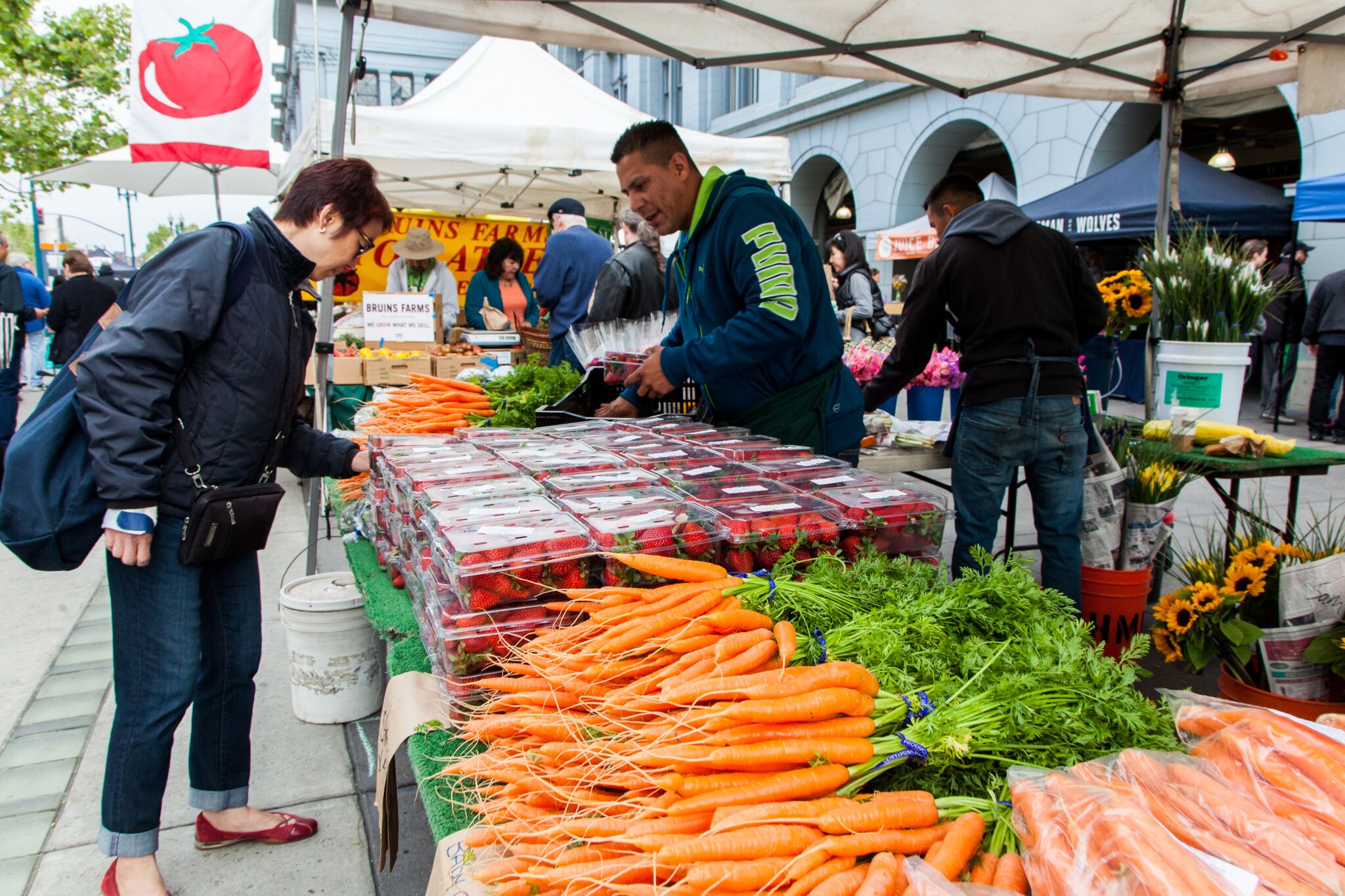 Amanda Lynn McGinnis and CUESA
Set that alarm clock
Are you looking for the dreamiest, mellowest, most educational farmers' market experience? You might have to sacrifice a little shut-eye. Trust us, it's worth it.
"Not a lot of people know this, but the best time to go to a farmers' market is early," says Marcy. "The produce is the freshest of the entire day because it just came off the truck, and it's when folks who are in the know go to the market, like chefs and veteran shoppers. If you've been wanting to see a five-star chef and chat with them, or grab coffee with a veteran foodie from the food scene in SF, this is a good time to do that."
Another benefit of getting to the market before the crowds? Less tourists, more celebrity sightings.
"It's a good time for celebrity sightings because often celebrities come out early before it gets crazy. The later you get there, it gets more and more crowded, and more touristy. We love tourists, but sometimes they're there for Instagram photos and not necessarily there to shop. So if you're serious about wanting to get some groceries, the earlier the better."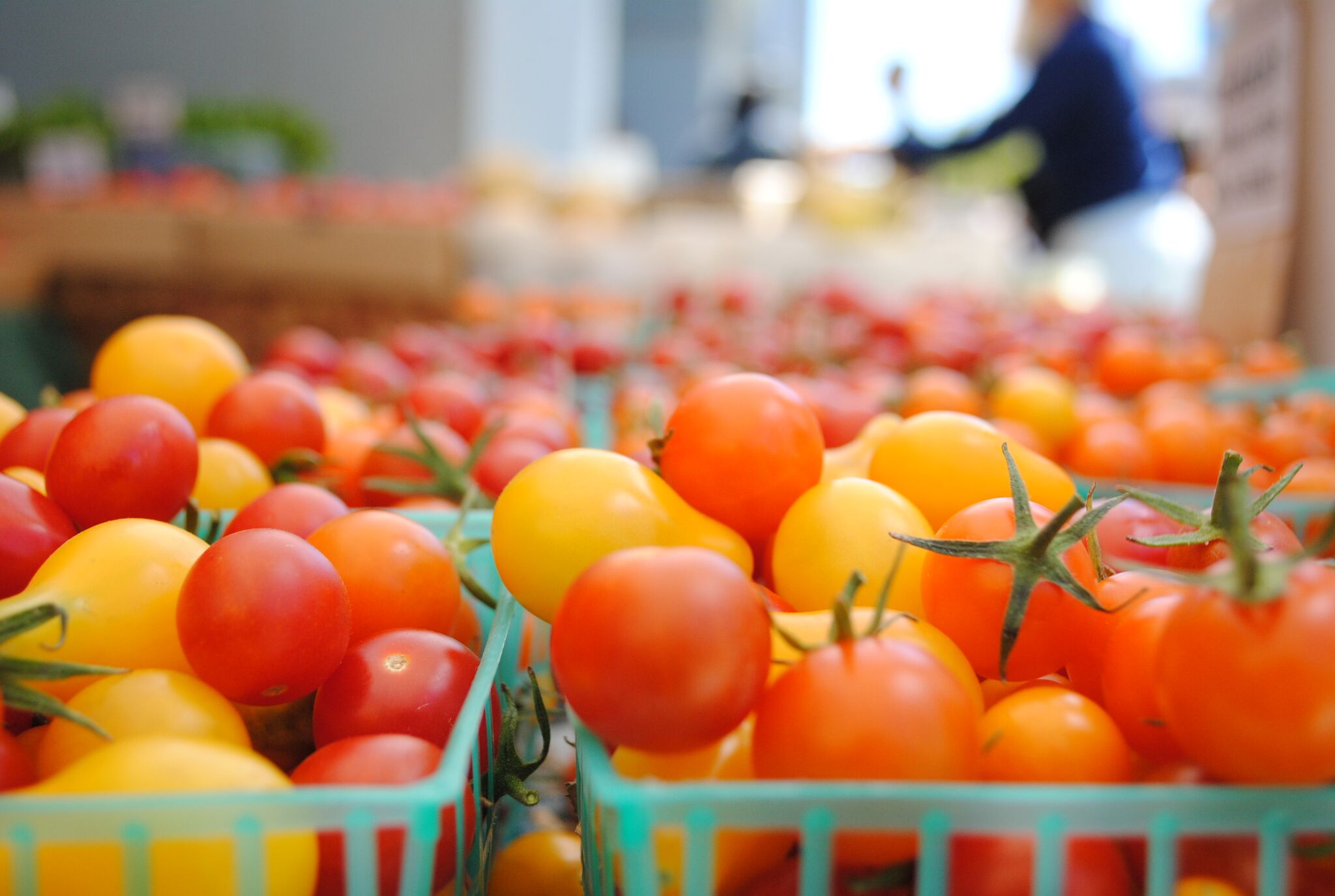 CUESA
Hit the ATM
Make sure to bring cash for your farmers' market finds. "A lot of farmers take credit cards now, but if you have a pocket full of cash, you'll always have options," says Marcy.
If you forget to stock up or you're running out of money, ask if they take credit cards. "Oftentimes, for higher end items like meat and jam, farmers can take credit cards."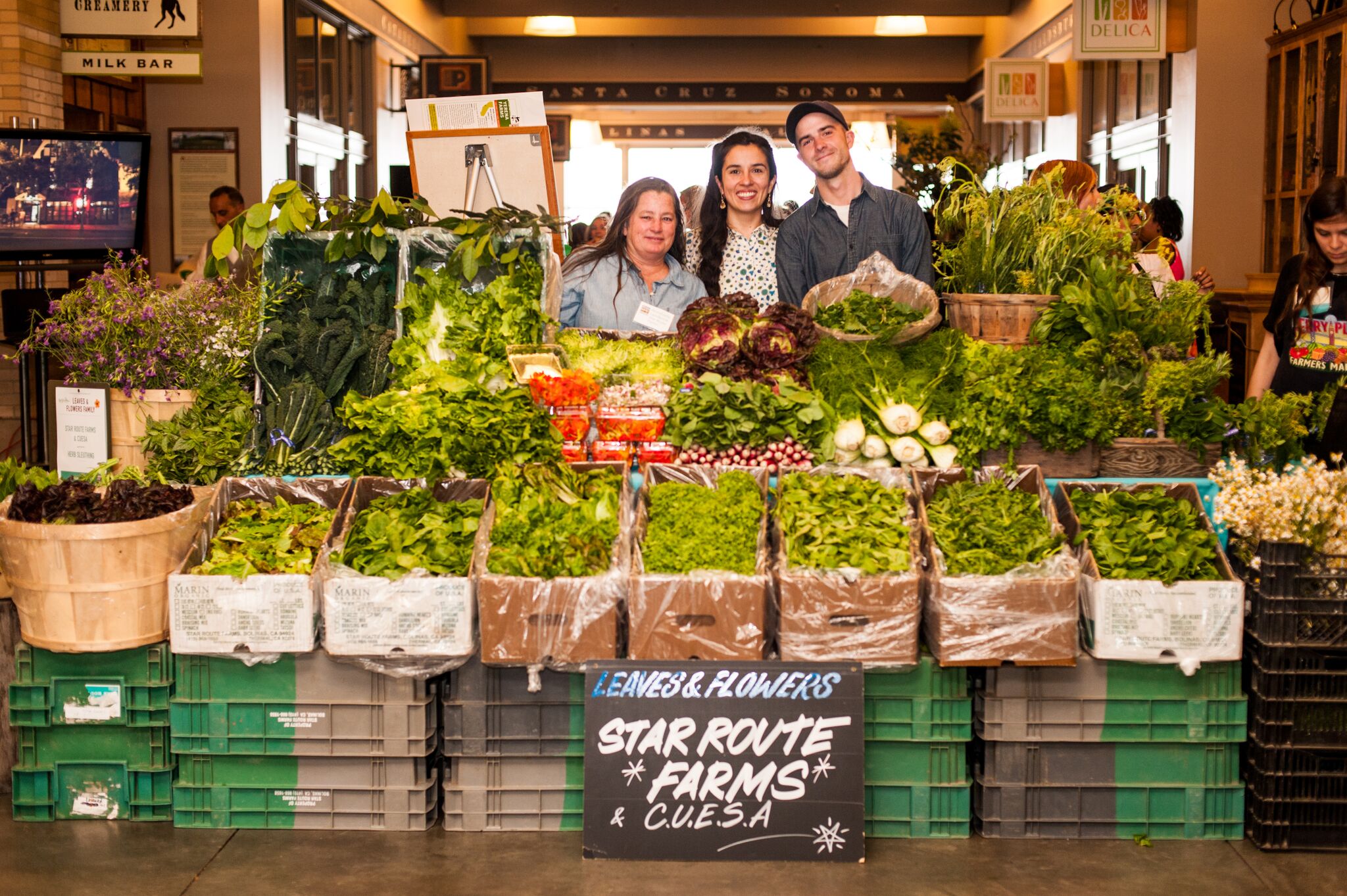 CUESA
Don't be afraid to ask questions
"There is no shame in asking questions if you don't know what something is or you don't know how to cook something," says Marcy.
Feeling a little overwhelmed? Here are a few sample questions to get you started:
What's your favorite fruit or vegetable right now? "Farmers know how to answer that question because they sell to chefs all the time, and they know chefs are always looking for the most amazing flavor," says Marcy. "Find out what the farmers are really excited about right now and you might get something you wouldn't normally try that just blows your mind."
Do you have any recipes for this ingredient? Now that you have a few new items to try, get recipe advice from the pros! Farmers will typically have ideas and tips for how to prepare their wares.
Can I try a sample? Ask for a sample of a fruit or veggie that you want to try. When you see a pile of berries or snap peas, don't assume that it's okay to pluck one out and snack on it. "I always ask the farmer if it's okay to have a sample," says Marcy. "Try one, don't try 10. Remember that this is effort for the farmer; they can't afford to just give everything away."
When it comes to asking questions, don't just ask the farmers! This is a great way to engage with the people around you and get tips from passionate farmers' market shoppers.
"If someone is digging into a bin of sugar snap peas next to you, you might ask them how they cook and eat their sugar snap peas. Nine times out of 10, the person who is excitedly buying them will be thrilled to talk to you about what they're buying and why."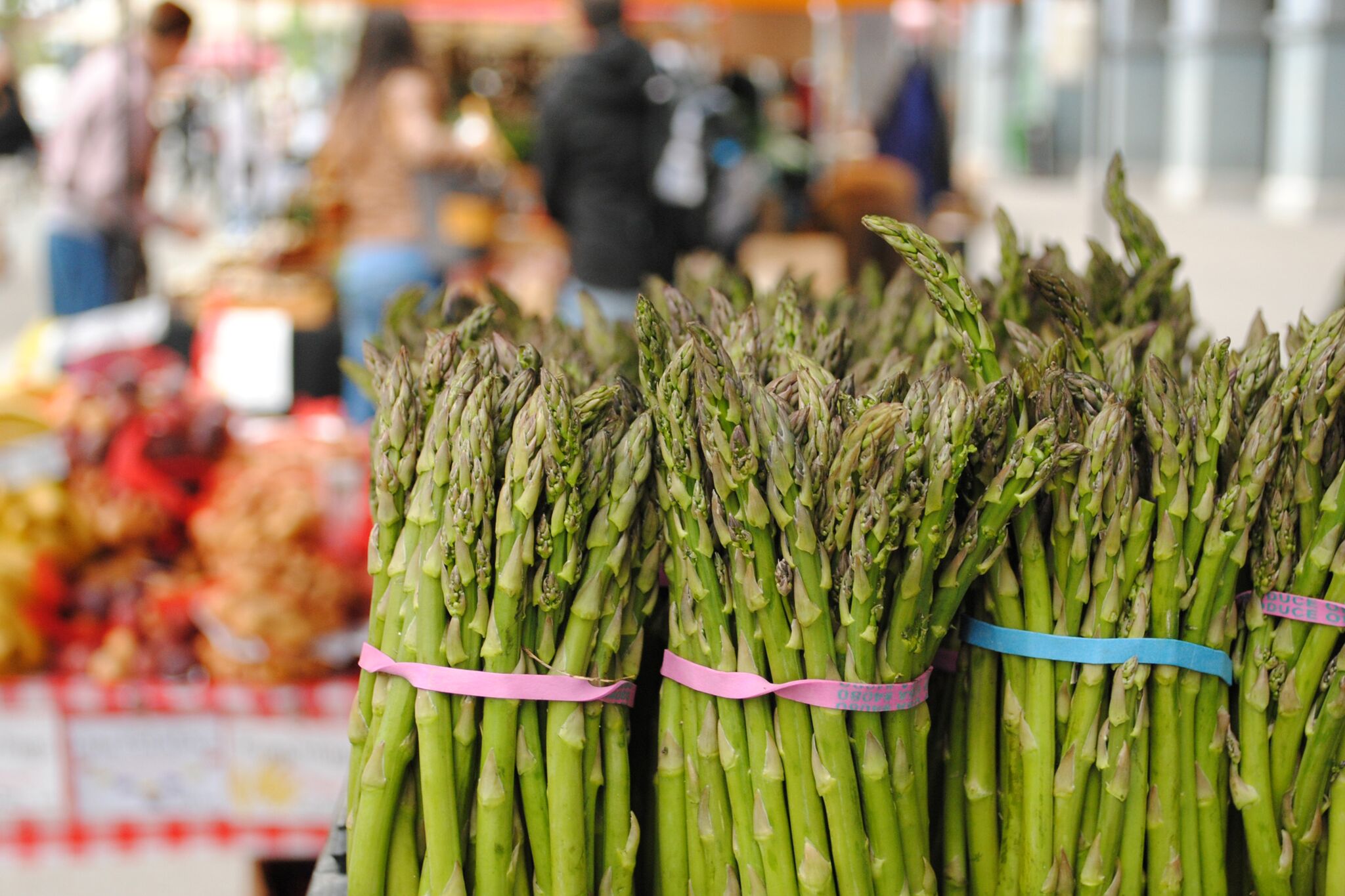 CUESA
Be assertive
The farmers' market has a beautiful chaotic feel that can be a little overwhelming. Without clear lines or registers, sometimes it's easy to get lost in the fray while you're trying to make a purchase.
"One thing I always say is don't be afraid to be a little aggressive!" says Marcy. "Even if you're an introvert, it's okay to hold your bundle of kale out and hold out three dollars and wait for someone to come over. Don't be rude, but don't wait to be invited. Sometimes, you might never get out of there if you just wait politely."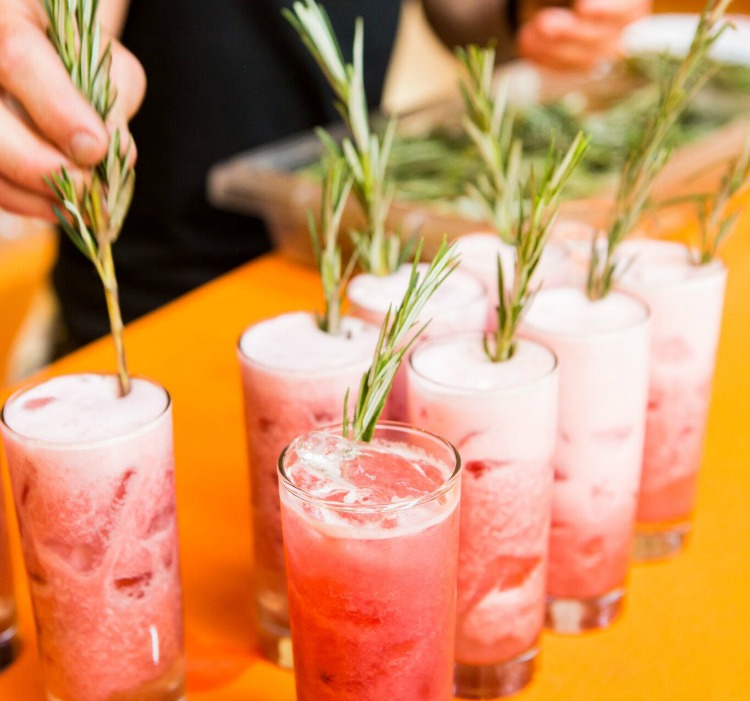 CUESA and Billy Cole
Check out a CUESA event
Now that you're a farmers' market pro, it's time to check out some other awesome CUESA events! Parties and classes have featured conversations with women farmers, hands-on farmers market cocktail classes, jam-making workshops, and Sunday suppers.
Want more? Follow us on Instagram and Facebook for ticket giveaways and more of the best happenings around SF.