UNCATEGORIZED
Craft Brews, Beer Galas, and Can't-Miss Events: Beer Week Hits San Francisco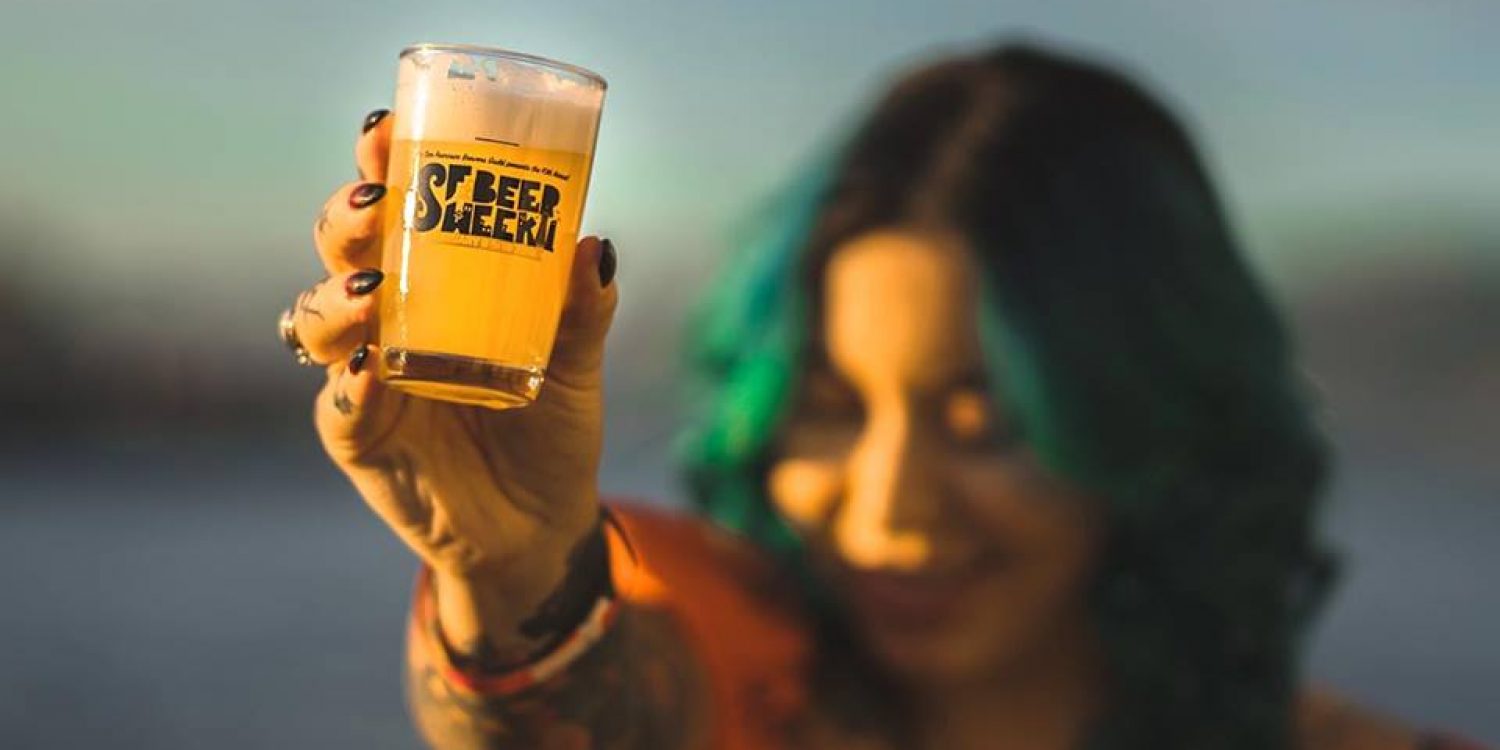 Whether you're a curious newb to the immensely varied world of American craft beer, or you're already a connoisseur of triple IPAs and pastry stouts, you are likely to find something new to add your flavor files over the course of San Francisco Beer Week.
The annual 10-day-long bacchanal kicks off its 11th edition with a big Opening Gala tasting on Friday, February 1. The gala serves as a spot-check of the trends currently sweeping the craft beer industry — and those you're likely to see more of in the coming years. Attendees at the gala have the chance to sample upwards of 300 different beers from 120 Northern California breweries — all divided into the sub-regions of East Bay, SF, South Bay, and North Bay, with the latter encompassing Mendocino, Sacramento, and Tahoe. And the selection, while inevitably heavy on the ever-fashionable and bitter IPAs and IPA variations that still dominate the craft scene, always includes a stellar variety of beer styles that appeal to a broad range of palates.

Beers to look out for
"The Opening Gala brings out brewer creativity," says Joanne Marino, executive director of the Bay Area Brewers Guild. "You can expect mysterious sour brews, decadent barrel-aged porters and stouts, classical lagers, and crazy libations we can't predict yet."
The Guild, formerly known as the San Francisco Brewers Guild, puts on SF Beer Week and has always featured a special collaboration brew as a centerpiece of the kickoff gala. This year they're releasing five of these collaboration beers, all of which were made with fresh California-grown malts donated by Admiral Maltings, the Alameda-based company that is California's only maltery, and one of the nation's only traditional malt producers. Four of these will be canned and one will be bottled for sale in the region after Beer Week, but they'll all be poured on tap at the gala. They include North of the Wall, a White Brut IPA that's a collaboration of North Bay brewers; Farallon, a tart IPA that's the work of a group of brewers from San Francisco proper; and Fruit of the Dragon, a pale ale made with honey and dragon fruit that's the collaborative effort of a crew of East Bay brewers.
Always a central attraction (with an extra-long line) at the gala is the Russian River Brewing booth, where the brewery has brought its Pliny the Younger ultra-hopped triple IPA to every Beer Week opening since the fest began 10 years ago. Similar or more interesting triple IPAs will no doubt be on offer from dozens of breweries, but this is the much-hyped cult favorite everyone will be clamoring to taste — and each year it's a little bit different.
Some other notable beers to hunt down include a barrel-aged sour from Drake's Brewing Co. called Cult of the Sun, made with yuzu and Buddha's hand — notable for its refreshing flavors and also for the fact that not many people know Drake's has been making sours — and which will hopefully appear at the gala. Oakland's Temescal Brewing will be pouring its Four Dollar Toast, a Scotch ale flavored with vanilla and cinnamon; Headlands Brewing will once again pour its Lightship Sour Solera, a barrel-fermented version of the brewery's pilsner that's aged solera-style starting each year during Beer Week; and Barebottle Brewing Co.'s Oolong Saison, an unusual beer debuting at the gala that gets peach blossom and iced tea notes from Osmanthus flowers and oolong tea.
This year's trendy styles
Milkshake IPAs are a sub-style of New England-style or hazy IPAs (a.k.a. NEIPAs), which have been the dominant trendy style of the last several years at breweries nationwide. Imagine an unfiltered, often citrus-y IPA but with occasional added fruit, and lactose (milk sugar, hence the "milkshake" name).
Brut IPAs — in which most of the residual sugar of a normal IPA is removed, creating a bone-dry, champagne-like beer — have also been trending since being pioneered by SF's own Kim Sturdavant of Social Kitchen & Brewery.
Along the lines of the boozy beer variants called barleywines are wheat wines, which have been popping up in limited edition batches over the last few years. And while brewers have for years been making barrel-aged dark beers with chocolate and coffee flavors, there's been a trend in the last year to push the envelope even further in the dessert beer category with what have been dubbed pastry stouts, which often have things like "German chocolate cupcake" or even "Oreo" in their names.
Beer week events you shouldn't miss
While the Opening Gala on February 1 is the only time that all (or most) of the breweries in the region will be gathered under one roof, the two weekends of SF Beer Week and the week in between feature hundreds of events at restaurants and breweries all across the region. Below are a few can't-miss highlights.
Saturday, February 2
An Evening With Firestone Walker
Brewcade
7pm to 11pm, free entry with cash bar
Play arcade games and taste some rare barrel-aged wonders from this pioneering central coast brewery. Founded in 1996 by brothers-in-law Adam Firestone and David Walker, this brewery has matured into a venerated place in the California craft pantheon.
Monk's Kettle
11am until closing, free entry with cash bar
Sour beer fans should queue up early for this gathering of the sour cognoscenti. The event will feature 20 sours on tap as well as more by the bottle, including the likes of Yeast of Eden, The Rare Barrel, Sante Adairius, and Crooked Stave.
Sunday, February 3
Landmark Bike Tour with Fort Point Beer Co.
Meet at the Dutch Windmill
10:30am, $10 (includes growler)
Take a fun tour co-led by the SF Bicycle Coalition and SF's hottest canned-beer operation, Fort Point, which includes stops at the Dutch Windmill in Golden Gate Park and Coit Tower — both of which are featured landmarks on Fort Point cans. The tour ends with beers at Fort Point's Ferry Building taproom where you'll get a (filled) growler to take home.
Speakeasy Ales & Lagers
Noon to 6pm, free entry with cash bar
There'll be many, many options for watching the big game across all varieties of beer-friendly venues, but Speakeasy's big space in the Bayview is a good bet. There will be beer specials before and during the game, and the game will be shown on two big screens.
Monday, February 4
21st Amendment
3pm until supplies run out, free entry with cash bar
Longtime fans of 21st Amendment should flock to this event where they'll be pulling old favorites out of the cellar, including things like their 2016 Lower de Boom barleywine.
Tuesday, February 5
Diving Dog Brewhouse
4pm until close, free entry with cash bar
This Oakland "battle" of local brewers is billed as the "funnest and rowdiest event" of Beer Week at Oakland's Diving Dog. 22 brewers including reps from the likes of Laughing Monk, Ghost Town,and Altamont will bring their latest and greatest beers, and attendees get one voting ticket with every beer they purchase. The winner will dethrone Lucky Devil, which took home the trophy last year.
Wednesday, February 6
Mikkeler Bar
Noon to midnight, free entry with cash bar
Hoppy beer lovers: Make note of this free all-day event featuring 20+ IPAs on tap, right in the middle of the city. A star of the show will be HenHouse's Big Chicken, but you can expect a well curated list of the best IPAs around — with a food menu to help soak them up.
Thursday, February 7
Mission Cheese
Noon to 9pm, pay as you go
Join Mission Cheese for a "fem tap takeover" celebrating the women of beer (and cheese), featuring beers from The Rare Barrel, Armistice, Three Weavers, 21st Amendment, and Local Brewing Co., all paired with hard-to-find cheeses.
Friday, February 8
Beer Immersion Tour with Master Cicerone Rich Higgins
Tour starts at Embarcadero Station
11am to 5:30pm, $175, tickets here
Get an in-depth education on beer from one of the city's most respected brewmasters and cicerones on this tour through SoMa and Dogpatch. You'll be eating and drinking the whole way, and "learning about the San Francisco area's beer, food, history, and culture." Stops will include Magnolia Brewing Dogpatch, 21st Amendment, Harmonic Brewing, and Triple Voodoo Brewery, and everything will be fully organized — but you can expect to walk a fair bit.
Laughing Monk
7pm to 11pm, free with donation, cash bar
Join the Sisters of Perpetual Indulgence — San Francisco's own troupe of bawdy drag nuns — for a few rounds of bingo, a few Laughing Monk brews, and food from Pete's Meats.
Saturday, February 9
Black Hammer Brewing
4pm to 7pm, free entry with cash bar
Black Hammer is repeating this event which was a big hit last year, featuring cupcakes baked by their own assistant brewer. Arrive early as supplies will be limited.
Ready to go? The SF Beer Week Gala takes place February 1 from 6 to 10:30pm at Pier 35, and tickets are still available.