Any romantic road trip requires luxurious accommodations and the ability to enjoy copious amounts of alone time. Romantic Northern California road trips require all of that, as well as stunning views, excellent food, and a little bit of adventure.
These four road trips include all of those things and are great to do with someone you love but, even better, are still just as fun if you're traveling alone. You'll get all of the rest, relaxation, and as much of the adventure as you want, but without feeling self-conscious that you're flying solo. After all, sometimes the only way to actually chill out is to take a break from everyone else.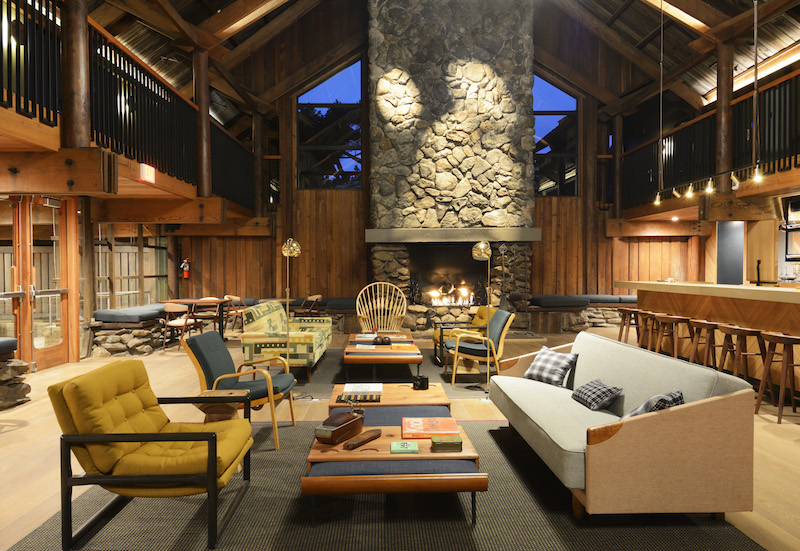 Timber Cove
JENNER
Distance from SF: 90 miles; 2.5-hour drive
Why you should go: This recently renovated hotel, perched on a stunning bluff above the Pacific Ocean, is a must-visit for anyone who loves the coast of Northern California. The vibe is rustic-meets-hippie-meets-modern chic; the architecture blends seamlessly with the surroundings, and there are retro details throughout. Mostly, Timber Cove is just a truly special place that you have to experience to understand. If you're looking for a place to relax and recharge, you'll find that and more.
What to expect: Amazing views, over two miles of hiking trails, fire pits, a very friendly staff, and record players and fireplaces in every room.
Where to eat: The hotel restaurant, Coast Kitchen, is open for breakfast, lunch, and dinner and serves delicious, local, farm-to-table fare and fantastic local wines. Get there before the sun goes down to enjoy the ocean views. Be sure to start or end your meal with one of the tasty cocktails at the bar in the great room.
What to do:
1. Ask at reception for the children's treasure hunt. It's a great way to explore the property and learn more about art, including the 93-foot tall Madonna of Peace obelisk, which is part of the second smallest state park in California.
2. Go wine tasting at Fort Ross Vineyard & Winery, the closest vineyard to the Pacific Ocean in California.
3. Go hiking or kayaking. Timber Cove is surrounded by gorgeous beaches and state parks.
Price: $$$ to $$$$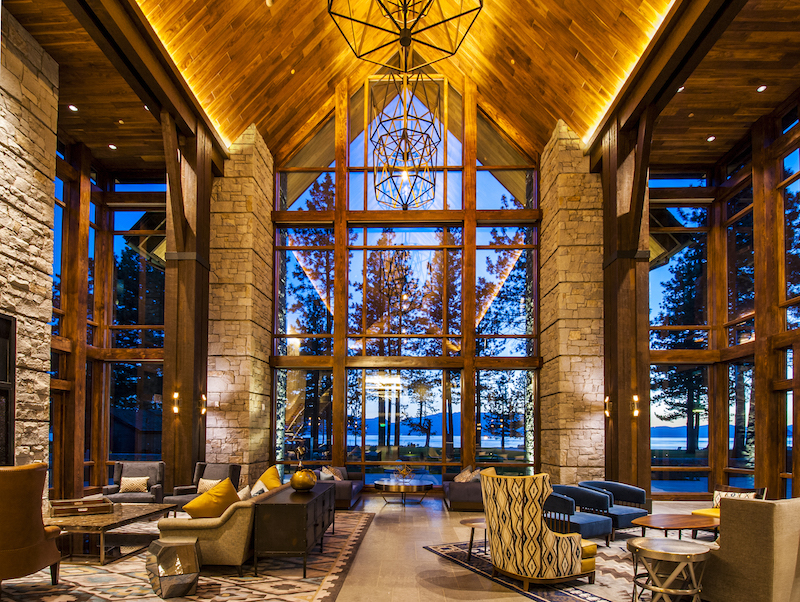 Brad Nelson
SOUTH LAKE TAHOE
Distance from SF: 190 miles; 3-hour 15-minute drive
Why you should go: Tahoe is beautiful year-round and the perfect destination for adventure-seekers. There's skiing in the winter, boating in the summer, and hiking and golf when there's not snow on the ground… And if you also want to be near the casinos without the chaos of the casinos, you'll appreciate that The Lodge at Edgewood is steps away from the blackjack tables, but also totally secluded. The lodge is stunning inside and out. There is no other hotel on the lake that has such stunning architecture as well as amazing water views, which also makes it a great place to stay when all you want to do is relax.
What to expect: The lodge is surrounded by pine trees, a gorgeous golf course, dramatic mountains, and, of course, Lake Tahoe. There's a year-round lakefront heated pool and hot tub, fire pits, and, in the winter, a complimentary shuttle to Heavenly Mountain, which is just minutes away. Each room has a gas fireplace and a private deck or terrace.
Where to eat: Dinner at Edgewood Restaurant is a must. Floor-to-ceiling windows show off majestic views of the lake and mountains, and the food is truly exceptional, as is the wine list. Be sure to reserve your table for before sunset so that you don't miss the main event.
What to do:
1. Spend an afternoon at Edgewood's 8,500 sq. ft. spa where you can enjoy a massage, facial, nail services, and more.
2. If you play golf, you absolutely must book a tee time at Edgewood's iconic course. If you ski, then a day at Heavenly Mountain is not optional. If you don't do either of those, there are a range of hikes nearby that range from easy to difficult.
3. Let loose at a casino. Whether that means gambling, dancing, or just checking out what the casinos have to offer, it's worth a stop.
Price: $$$$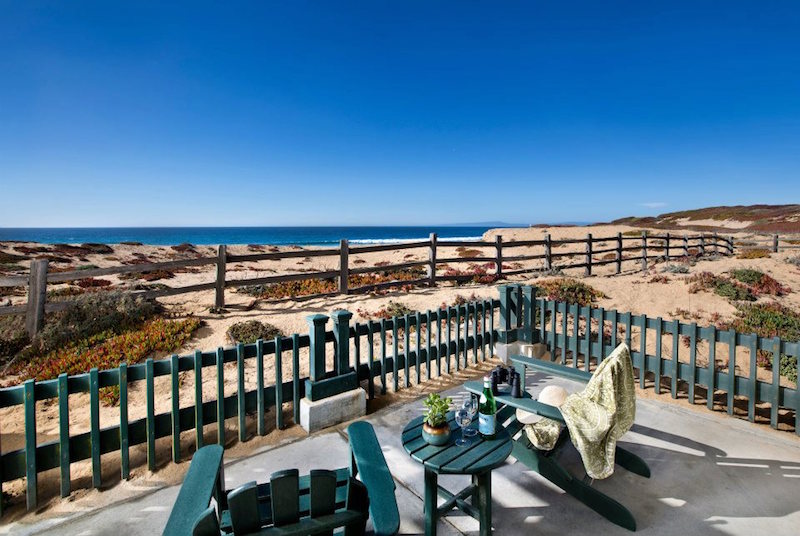 The Sanctuary Beach Resort
MARINA
Distance from SF: 100 miles; 1-hr 45 minute drive
Why you should go: When you drive into this idyllic oceanfront Monterey Bay resort, it feels like you're driving into another dimension or time where everyone is friendly and there's nothing to worry about. The hotel is nestled on 19 acres of Monterey Bay shoreline and feels like a secluded village off the beaten path. That being said, it's only 15 minutes away from Monterey, so if you get bored of relaxing in paradise, you can check out the aquarium or the seafood restaurants.
What to expect: After you check in, you'll be driven to your ocean view room in a golf cart since the resort does not allow cars, which means smiles and waves as you past other guests. It will be hard to drag yourself away from the view, but you won't want to miss the nightly wine and cheese reception where you'll mingle while sipping on local wines. The rooms all have private patios or decks (perfect for whale watching if you're there at the right time of year) and gas-burning fireplaces. There's also private beach access, an outdoor heated pool, and complimentary bicycles for cruising around. This is truly a place to just rediscover your Zen; if your goal is to really get away from it all, you'll achieve it here.
Where to eat: Salt Wood Kitchen & Oysterette is on the property and is frequented by visitors and locals alike. The food is inspired by the location, as well as the live wood-fired grill, and you really can't go wrong with any of the dishes. Also, the way the restaurant is set up, it's just as easy to enjoy a romantic meal as it is to sit at the bar and make new friends.
What to do:
1. Go to the sunset bonfire where you'll sit on Adirondack chairs with many of the other guests and try to finally see the green flash.
2. Visit the spa for a massage, facial, wrap, or scrub.
3. Order the Breakfast Basket, a picnic basket with options like pastries, granola, quiche, fruit, and morning cocktails, so that you can spend the morning being utterly lazy and staring out at the ocean.
Price: $$$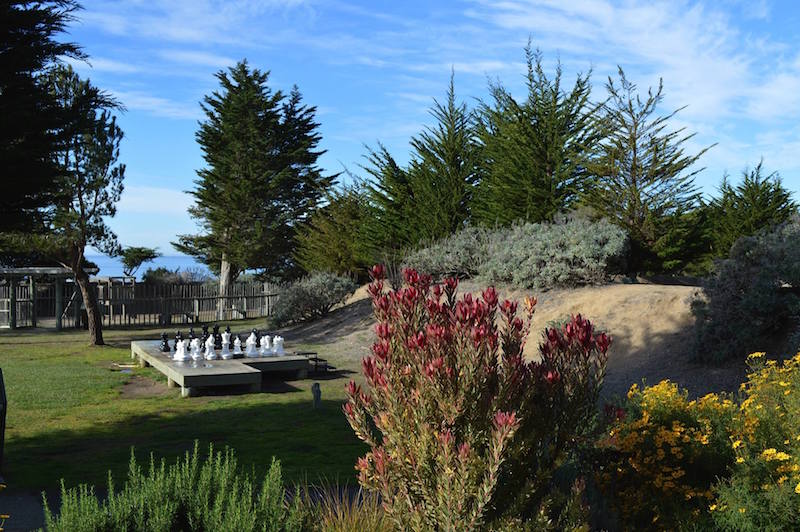 Costanoa
PESCADERO
Distance from SF: 55 miles; 1-hour drive
Why you should go: This "eco-adventure resort" is the perfect nature retreat for anyone looking to escape the chaos of daily life. Rent a mountain bike, go horseback riding, take a yoga class, or go on a guided birdwatching hike. Costanoa is surrounded by wilderness and secluded beaches, so it's basically impossible not to feel relaxed.
What to expect: Costanoa has a range of accommodations. Choose from a room in the Lodge, a Douglas Fir Cabin with fireplaces and skylights, a Tent Bungalow that is like camping but with electricity and doors, Campground Cabins, or pitching your own tent. Those staying in the first three have access to an outdoor hot tub. The only rooms with en suite bathrooms are in the Lodge. Everyone else will use "Comfort Stations," which have indoor and outdoor showers, a sauna, heated floors, and an outdoor fireplace. There are no TVs in any of the rooms since the point is to get out and explore.
Where to eat: The Cascade Bar & Grill is open for breakfast, lunch, and dinner, and uses freshly harvested, local ingredients for its dishes. Dinner reservations are highly recommended. There are also several stand-up BBQs on the property, and a General Store that sells charcoal and supplies, as well as beer and wine, board games, and other sundries.
What to do:
1. Sure, you're at Costanoa to get outside and explore, but that doesn't mean you don't deserve time at the spa after a long hike. Be sure to book a massage to soothe your weary muscles.
2. Visit Harley Farms Goat Dairy where 220 goats roam and where you can also taste and purchase fresh goat cheese. The best time to go is in the spring when the baby goats are everywhere.
3. Go to the historic Pigeon Point Lighthouse, the tallest lighthouse on the California coast.
Price: $ to $$$