FOOD AND DRINK
A Surreal and Mouthwatering Adventure: Meet Nightfishing at The Midway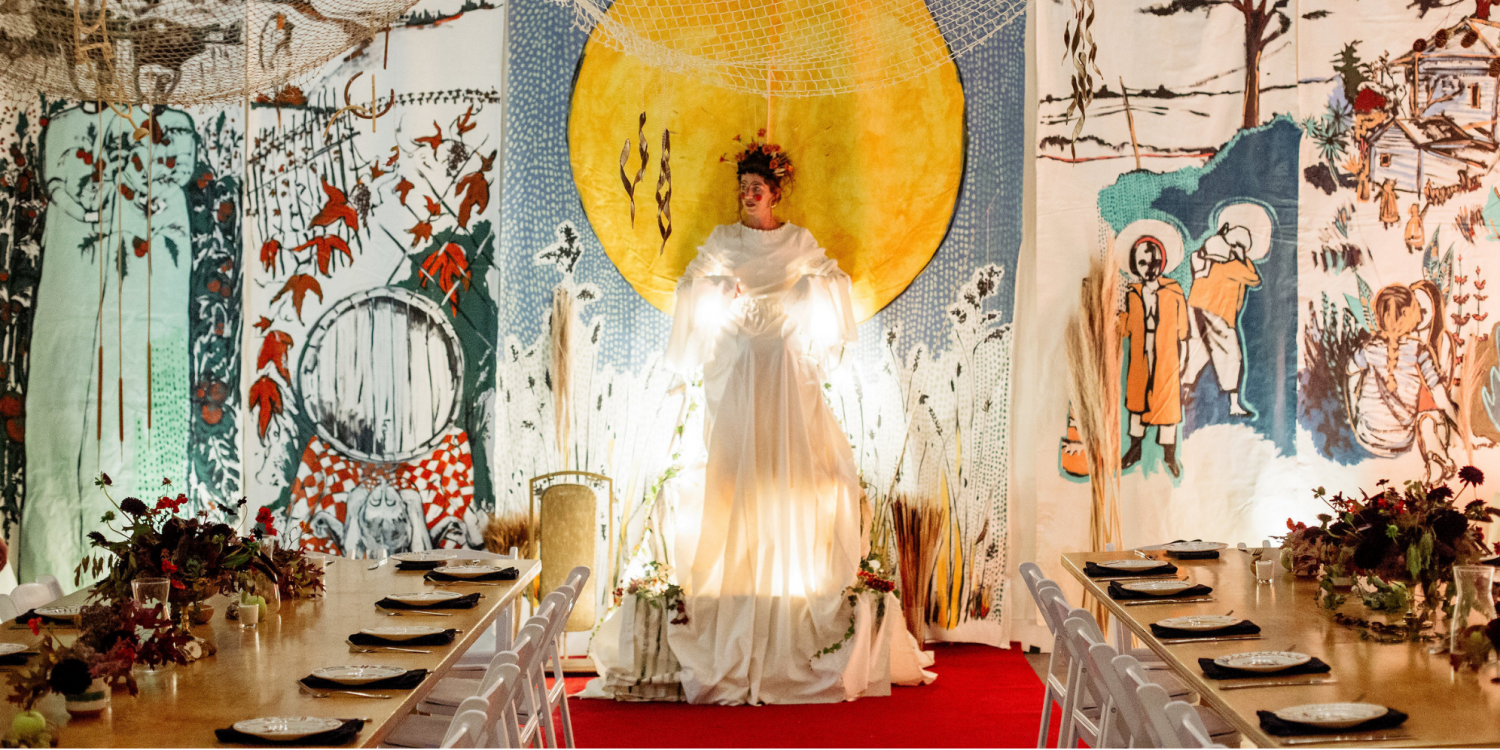 In the front lobby, guests mill around, glasses of rosy champagne in hand. A woman in whimsical, textured horns leans against a doorway and laughs while another in a gauzy princess dress chats with a couple wearing jeans. Performers cut through the crowd, their faces half made up, smiling. They're the only people in the room who know what's going to happen when we walk through the doors of the event.
A gently lit hallway ends with a blissful bite of caviar. In the dining room, floor-to-ceiling paintings by Nightfishing creator and artist Isis Hockenos cover the wall: Glinting pastel shades on creamy backgrounds illuminate images of food and animals and flirtation. The room buzzes with a winking luscious energy that instantly makes me feel like I've disappeared into a totally unfamiliar and warm universe — far from home, though I'm just minutes from my front door.
Bouquets dangle from the ceiling, and on the table, painted plates are piled high with grilled Brickmaiden bread nestled beside tiny pitchers of McEvoy olive oil, warm pistachios, and marinated olives. Wide-eyed and well fed, I feel myself become part of a collective we — an oddball family sharing a heady feast. We sit at long tables and eat family style. We watch performers, dolled up like lovely surrealist nymphs, glide between tables. They chase roses suspended from fishing lines, pull tarot cards, and play a joyful round of tug of war.
Musicians wander between courses, bearing big voices, old songs, and stringed instruments. An actor dressed as a king reclines at an elevated front table as "I Put a Spell On You" plays through the room, and we all dip our forks into wobbly quail eggs, splitting golden yolks over a tangle of shaved artichoke and fennel. We eat piled-high platters of lamb, fat-bellied oysters slick with hot Straus butter, and platters of local cheese chased with wispy rhubarb-spiked pavlovas.
The food is breathtaking and plentiful, the wine is poured at a dizzying pace, the crowd grows rosy and loose. By the end of the night, we're all singing "Come On Up to the House" by Tom Waits and telling stories like we've known each other for years instead of hours. You don't think it's possible to go to a room full of strangers and feel completely cared for and at home — so relaxed that you're giddy and willing to sing loudly as someone plops a pale green crown on top of your head.
For the rest of the week, I can't stop talking about this dinner. "Come next time, you have to come next time!" I keep saying because it's almost impossible to explain.
Luckily, I know exactly who can untangle and translate this lovely evening. Nightfishing is a culinary, multi-sensory adventure into Isis Hockenos' mind. We chatted with her to get her take on immersive dinners, entertaining, and the power of creativity and hospitality.
Meet Isis Hockenos, creator of Nightfishing
Isis is an artist in residence at The Midway, where she developed the Nightfishing dinners inspired by her childhood in West Marin.
"I grew up in a little tiny town near Point Reyes station called Marshall, and it was a classic combination of artists, agriculture, city expats, reclusive folks, and artisans," says Isis. Her childhood was threaded with beauty, a strong sense of community, and intentional living. "No one did anything without doing it with a lot of care and intention and beauty," she says. "I've carried that with me through my whole life."
At The Midway, Isis originally created themed experience rooms for parties and events. Soon, the team asked her if she wanted to develop a space based on her own aesthetic. As an artist in residence, she developed the Nightfishing series with Kelsey Issel, the Art Director at The Midway. Together, they created an immersive culinary experience bursting with the unique elements of Isis' paintings.
"I decided to make my painting come to life and have it be super multidimensional: taste, visual, sound," says Isis. Nightfishing is lush with sensory details: the dewy green taste of minty nettles, the strum of a guitar played beside you as the musician crisscrosses the room, the visual feast of paintings and fresh flowers bathed in golden light.
"It's like this return to the magic that I felt in childhood that didn't feel serious enough for a real art practice, and in my art, I've been fearful that it will come across as too whimsical, too quote-unquote feminine, too delicate, too pretty," says Isis. "With Nightfishing, I've been able to say it can be all of those things and still have depth and poignancy and move people, and just because it's beautiful doesn't mean it doesn't have grit also."
What is Nightfishing?
"When I was thinking of how I wanted to translate my vision through the title of this event, I thought about two things," says Isis. "One is that it's kind of a dreamscape. You can imagine dropping a hook into a nighttime surface of water, the whole world that's happening under that placid reflection of the moon on the surface of the water at night. The second part is that when we were little, there were herring fishermen who would go out with their nets at night, and they would come in right as we were getting up for school. The herring fishing nets all have little twinkle lights all over them. You would look out at the bay and you would see the boats coming in with all the twinkly lights on the nets, and it was totally magical."
Isis describes the event as a dinner party inside the world of her paintings. "You're surrounded by 12-foot-tall painted panels, and the imagery in the paintings comes to life through the menu you're enjoying, through the music you're hearing, through the characters from the panels who come to life in costumes that I've made," she says.
Even though performers are part of the evening, Isis is quick to point out that this isn't dinner theater. "You're not going to miss anything if you're enjoying talking to your neighbor instead of looking at the actor who just came through the door," she says. "It's more that you've been invited into a world and all these things are happening in the world around you, and you're welcome to pay attention to those things, or not."
Eat, drink, and be giddy
Isis works with the culinary team at The Midway to develop a multi-course menu inspired by her paintings.
"I think about the theme, and I think about all the producers I know in West Marin and people I want to work with, and I send my wishlist to Chris Fry and Chris Rossi. We hone and evolve it  into the menu that ends up coming to fruition," she says.
The dinner is sublime. People audibly moan and praise each dish. At the dinner I attend, the theme is romance, and courses are titled "flirting," "foreplay," and "sweet spooning."
"That's the really cool thing about; no part of it is an afterthought," says Isis. "I love hosting and I love cooking and I love feeding people. If the meal was an afterthought to me, it wouldn't be worth doing. I need people to come and enjoy a super special meal and maybe look at a painting, maybe interact with an actor, maybe hear a song. But if you didn't do any of that, if you somehow only had the meal, you would still feel like you had a total treat."
Food imagery is laced throughout Isis' paintings, inspired by her work at a butcher shop and her extensive culinary and home entertaining background. "I don't think that any experience is properly had without having the right food and the right drinks, and satisfying all of those bodily cravings and being able to stimulate all of the senses," says Isis.
Your first Nightfishing experience
"One of the main things is that I don't want anyone to feel like they are being invaded at all by the actors," says Isis. "I tell the characters to not engage directly with the guests unless they're clearly asking for it."
Nightfishing is a cozy dinner party where a handful of performers may mosey around you. "It's not an interactive art performance unless you want it to be, but mainly I want you to feel like a guest," says Isis. "You know how to chitchat with your neighbor, you know that your wine glass is going to be refilled. I want to put people at ease with that really predictable formula for a dinner party, and hopefully, that will kind of disarm them and allow them to be a lot more open to everything that is happening around them."
The most important tip from Isis is to let yourself be swept away. "I want to transport people to that world where the only tether they have is that they know how to enjoy a dinner party, and then they can just suspend their disbelief and accept it because they trust me as an artist to create a world where it's believable," says Isis. "I want them to enter that corridor without any idea of what they're about to experience and to leave feeling like they might not understand it but they are part of the thing that they don't necessarily understand."
What's next for Nightfishing?
Luckily, there are more Nightfishing dinners on the horizon. "We're going to have another one; it's going to be Summer Solstice themed," says Isis. "We're working to make it available to as many people as possible, but not lose sight of the intimacy, which is so important to me."
Follow The Midway on Eventbrite to stay in the loop on the next Nightfishing dinner.