Two people stand by the door, waving lit Palo Santo sticks. Smoke colors the air, full of fading day and the energy of eager moon fans. An anticipatory buzz fills the room.
No, I'm not at secret midsummer Burning Man — I'm at the full moon ceremony at The Center SF, an ancient ritual meant to sync our human experience with the cycles of nature.
I slink into the room like a gawky teen trying to hug the wall at a school dance. Smudging, in this case, is the act of demolishing your membrane of negative energy with lit sacred herbs. It's the first stage of the night. I don't even realize I'm being smudged until a person materializes in a shroud of smoke, smiles, and says "Please turn."
A rush of pale gray Palo Santo fumes cocoon me. I'm nervous and apparently bad at being smudged. But it's my first full moon ceremony and I'm about to get the insider scoop on the Capricorn moon.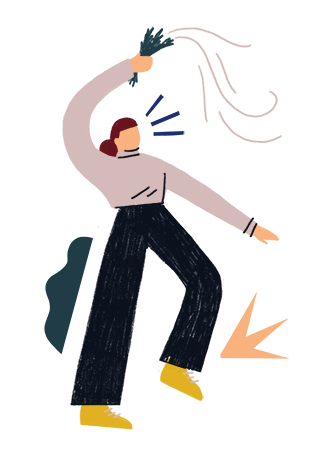 The Center SF is a tea house and community space that regularly hosts yoga and movement classes, as well as more esoteric fare. You can attend a psychic fair, learn how to meditate, and try some snazzy new kombucha flavors.
When I enter, the first thing I notice is that the decibel is a low thrum. People are quietly reading books, phones are basically nowhere to be seen, and there are a lot of smiling humans giving each other bear hugs.
At the moment, I don't totally fit in with this gentle scene. I'm nervous, bordering on anxious. The language on the website was lovely and inclusive, but not very descriptive, and I'm not entirely sure what I'm walking into. I make some awkward small talk with a pair of kind women who attend these regularly and seem to know a lot about crystals. I do not, and this is the first time that this has ever made me feel deeply out of the loop.
So, if I don't know how to get smudged and can't do basic crystals small talk, why am I here?
Because this summer, actually this year, has flown by and I want to slow down. I like the idea of sitting still and thinking about the present moment and the life of the moon. There's something satisfying about ritual. And I've been working on a theory that if I want to create any change in the world, it probably won't happen if my heart is always racing, my finger poised to click another headline. I want to calm down and to power up.
So, if I don't know how to get smudged and can't do basic crystals small talk, why am I here?
And what's more powerful and ancient than the moon?
I join the crowd as we pull out mats, blankets, and cushions. We create little nests where we'll "Om" and scream and bliss out on sound healing. A blossom of yoga mats unfurls, a cluster of sound bowls in the middle like a fat golden stamen.
The room is packed. Apparently, I'm not the only one who wants to slow things down. Everyone gets a spot no matter what, but if you want to check out a moon ceremony stress-free (spoiler: you do), get there early.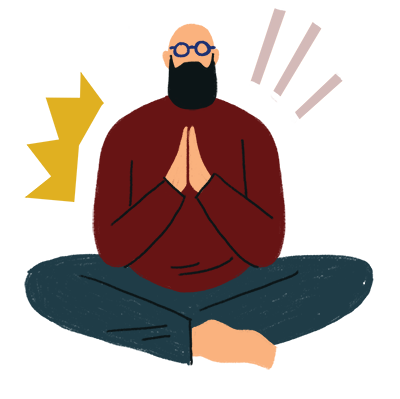 Once we are all situated, we use our voices in every possible way. We breathe with intention. We chant. We om. We even sing. I can't remember the last time I sang with a large group, and I like how my voice both disappears and grows stronger. I can't hear it, but I feel it in my sternum, a vibration that's part of a larger voice.
All of the people who seemed intimidatingly cool at first, like glowy moon experts whose nervous systems are silky with the muscle memory of pranayam, are part of that voice too. It feels good to be in community with strangers.
Two people pour steaming cacao into ceramic cups. I cradle it in my hands, feel the warmth on my palms, and drink slowly.
Abigail leads the ceremony and gives a short talk on what the full Capricorn moon means. She talks about the anger and agitation that may come up at this time and how we can get centered and use this energy to do good work that heals the world.
All of the people who seemed intimidatingly cool at first, like glowy moon experts whose nervous systems are silky with the muscle memory of pranayam, are part of that voice too. It feels good to be in community with strangers.
Here's the deal with the full Capricorn moon: It stirs up some feelings. And even if I didn't think it was the moon, I live on earth in 2018, and my feelings are basically in a constant state of stir. So why not not find some rhyme, reason, and energy? Why not let some of it out?
I curl into the soft squish of my blanket covered mat, the taste of cacao in my mouth, and breathe my way into the sound healing. People stand in different corners and sing. A cluster of sound bowls, bells, sticks, and who knows what else (my eyes were closed) fill the space with rich, permeating sounds. I slip into the delicious theta space between being awake and asleep.
My mind spins surreal daydreams of floating under clusters of brilliant white stars, so close I can pluck them from the infinite velvet of the night and feel their weight in my hand like nocturnal stone fruits. An image lodges in my mind of bad dreams being pulled from the curls of my brain, erupting into stalagmites of onyx as a bell sings inches away from my forehead. I cough up lightning and tornadoes and torn fragments of anxiety.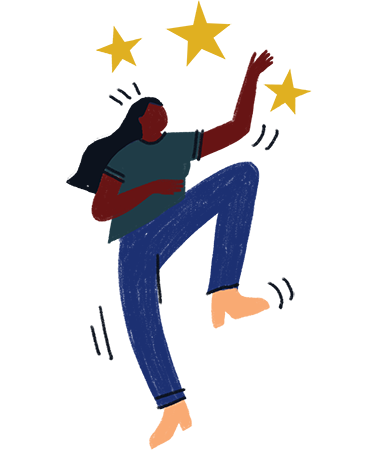 I learn that a rain stick shaken in a silent room sounds like a storm caught in a jar, and that a certain noise may convince you that the room has quietly filled with 10,000 fireflies bending their gossamer wings. It is the trippiest experience I've ever had.
Afterward, when Abigail tells us to let it all out, I close my eyes and yell so loudly I practically scream with a crowd of equally loud strangers. There is more breathing, more chanting. By the time the ceremony is over, my crossed legs ache and my eyes water and I feel intensely peaceful.
I was nervous to attend the ceremony by myself, but in the end, it was cool to be there solo. I felt no self consciousness about singing or letting out mighty yells. If you're looking for an event to go to alone, this is a good choice because almost instantly you're stitched into this warm, compact community of your fellow moon folk.
In life, I sometimes let my skepticism stop me from trying new things. And listen, there were moments during the chanting and singing where I was not completely into it. But gathering? Releasing energy? Learning? Letting a fountain of disparate sounds break over me like one endless crisp stream? I'm in.
My mind is quiet on the ride home. The city breathes slowly outside of the car windows. Street lights tremble and spill pools of illumination on the sidewalks. The full Capricorn moon is about to crest.
I'm ready for it.
Lucky for you, there's a brand new full moon every month and a matching full moon ceremony. Follow The Center SF to keep up with their latest events and happenings and attend your very own moon ceremony.