FESTIVALS
Know Before You Go: How To Conquer Eat Drink SF 2018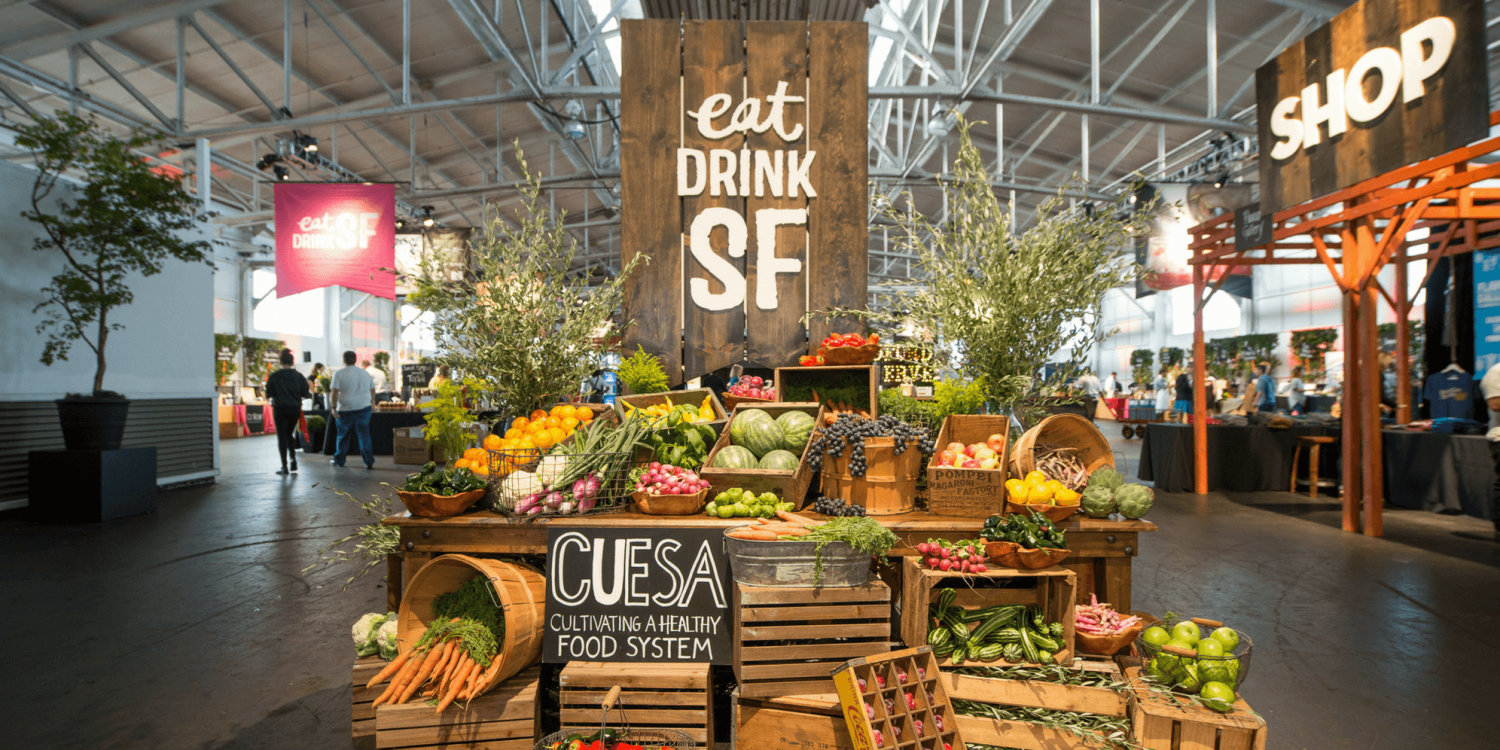 Loosen your belts for this jam-packed food festival.
Eat Drink SF, San Francisco's premier food festival, is celebrating its 10th birthday this year with a line-up that lives up to the hype. Throughout the weekend, you'll find bites from over 160 Bay Area restaurants, unlimited pours from more than 70 beverage purveyors, demonstrations on the main stage by local culinary personalities, and fun activations throughout.
This year's festival takes place from August 24–26, and tickets are $129 for General Admission and $229 for VIP. While it's well worth every penny, we still want you to get your money's maximum worth, so we laid out everything you need to know to have a successful — and filling — Eat Drink SF.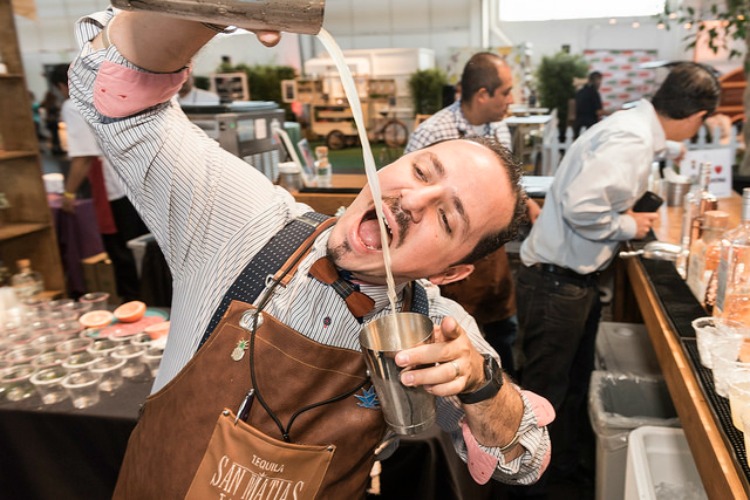 Eat Drink SF
Choose your tasting wisely
There are four Grand Tastings (Friday evening, Saturday afternoon, Saturday evening, and Sunday afternoon) and each tasting features 30 completely different restaurants and over 70 bars, distilleries, breweries, and wineries. Every tasting looks tempting, so the toughest decision will be deciding which one to attend.
Do you want to hit all of The Absinthe Group's restaurants (Absinthe, Barcino, Bellota, Comstock Saloon) and try a clam chowder soup ravioli with squid ink pasta and spicy tomato sauce from Half Moon Bay Brewing Co.? Friday is your night.
Want to indulge in Vive La Tarte's Instagrammable jackfruit "Tacro" (taco-croissant) and a pork-and-shrimp shumai from M.Y. China? Buy your ticket for Saturday afternoon.
If you want to see what the restaurants from restaurateur Adriano Paganini (Barvale, Belga, Flores, Lolinda, Starbelly, Uno Dos Tacos) are serving, and also see the Golden State Warriors Drumline, go on Saturday night (which is also probably the most popular night of the weekend).
You might have a hangover on Sunday, and if you'd like to cure it with brunch fare from Mezcalito, Wayfare Tavern, and soon-to-open ALX Gastropub — well, then obviously you're going to need to make plans to go on Sunday. After all, you can't cure a Sunday hangover on a Friday night. (You can, however, start working on one.)
Whichever of the four sessions you choose, you can't go wrong — but if you're having a hard time deciding, there's no shame in buying tickets for all of them.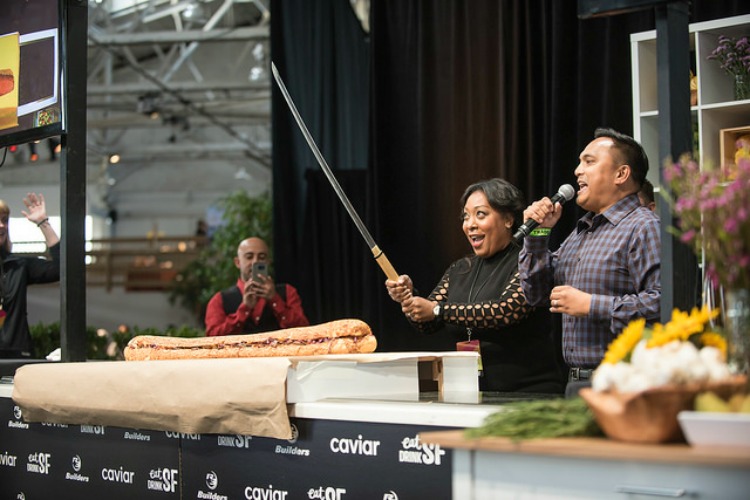 Eat Drink SF
Don't skip the stuff that's not food
Despite the name, there's more to Eat Drink SF than just, well, eating and drinking. There will be appearances by chefs and other culinary personalities, like Dominique Crenn, and Top Chef contestants Tu David Phu, Rogelio Garcia, and Melissa Perfit are scheduled for the main stage, with talks and live cooking demonstrations. Figure out which ones you don't want to miss and set an alarm on your phone 10 minutes ahead of time, since you're guaranteed to get waylaid by a friend, cocktail, or bite on your way to the stage.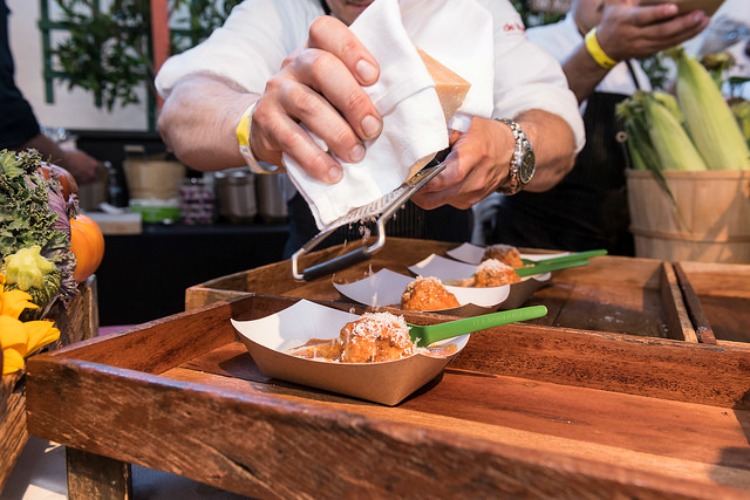 Eat Drink SF
Go hungry and early
This sounds obvious, but we cannot stress enough that you need to arrive at the event hungry. Really hungry. Possibly starving. We're not recommending you don't eat all day (well, we kind of are), but keep it light and try not to eat anything after, say, 2pm for the evening events.
Also, if you're not a VIP, you still want to get there awhile before the doors open because people start lining up early. Every second you're in that line is a second you're not eating and drinking, and we've seen a line more than a football field long 45 minutes before GA starts, so plan accordingly. (The line does move quickly, so if you can't get there early, you'll still leave stuffed to the brim and however tipsy you'd like to be.)
Wear comfortable shoes
As with nearly every event in San Francisco, there will be people at EDSF who put a little effort into their outfit (see: dresses and collared shirts) and then there will be everyone else who still hasn't figured out that wearing a T-shirt to an evening event is almost never appropriate. Regardless of which camp you fall into, you should definitely wear shoes that you'll want to walk around in for three-plus hours, 'cause there's nothing worse than going home early and missing out on delicious food and drink because your feet hurt.
Eat Drink SF
Don't wait to eat a bite you think you'll like
If you see something you want to eat, go for it. Each restaurant is told to make 1,800 bites for the evening tastings and 1,500 for the afternoon tastings, but they will run out at some point. More popular restaurants run out early, and the bites that are getting good word of mouth are also at risk. Pro tip: The tables at the front of the room get bombarded first. Be like a salmon swimming upstream and start at the back.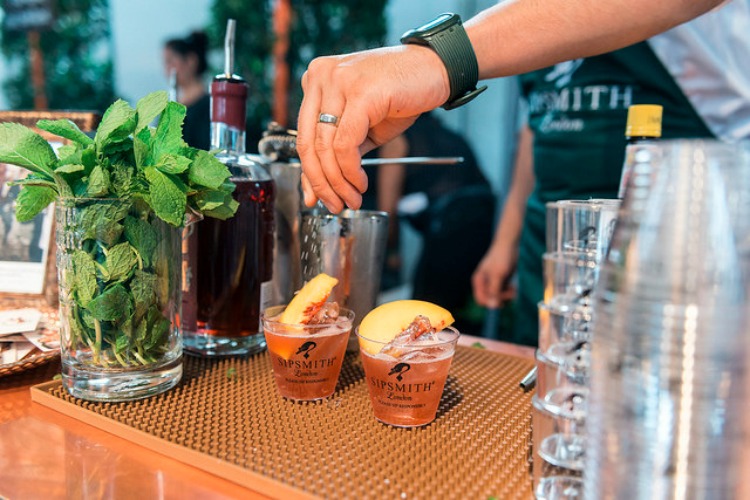 Eat Drink SF
Eat first; drink later
A lot of the dishes will require flatware or two hands, which means if you have a drink in your hand, you'll have to find a table, put everything down, eat the food, and then go back to the next table. It's a leisurely way to do it, sure, but we've found it's easier to get those first bites in that you really want and then slow down and get a drink.
Save the planet
EDSF aims to be a zero-waste event that creates no landfill, and though it will most likely happen thanks to the event's great paper recycling program and its compostable flatware and glassware, you still can do your part.
Try to use your fork more than once. It's so easy to just throw your fork in the garbage with whatever you ate your bite off of, but hold onto it and use it as much as you can.
Put your garbage in the appropriate bin. The recycling and composting fills up fast at EDSF, but they have a team of people on the case. And if a bin is nearly overflowing, you'll be able to find another one within 20 seconds of walking.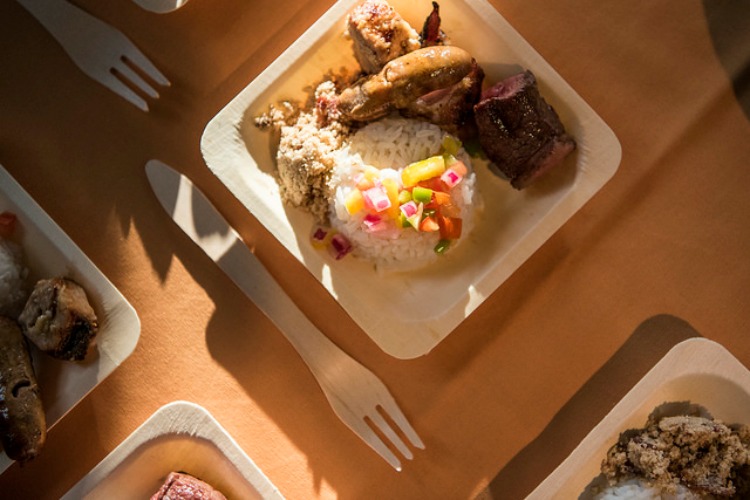 Eat Drink SF
Be polite
Does this need to be said? We hope not, but every year we see a few offenders and, though they probably aren't reading this and probably wouldn't change their behavior if they were, we'd feel remiss if we didn't add in a few basic etiquette tips.
Don't cut in line.
Don't take more than one serving of something.
Say thank you when you take a dish.
If you like something you eat, let the restaurant know.
Easy!
New this year
Even if you've been to EDSF before, you know there's always something new to experience. Here are a few things you might want to check out:
A Willy Wonka-inspired Golden Ticket Giveaway
Follow @EatDrinkSF on Instagram for more details.
A Museum of Ice Cream activation
Perfect for your Insta.
RFID wristbands
Check in at every restaurant booth to map what you've eaten.
VIP only
Each tasting has about 2,000 attendees, with 600 spots going to VIPs. It's $100 more for a VIP ticket, but it comes with some pretty amazing perks, including access to the events 45 minutes before everyone else, and a VIP lounge with bites and sips from restaurants, wineries, and vendors like ICHI and Kollar Chocolates (Friday evening), International Smoke and Caymus Vineyards (Saturday afternoon), Sorrel and 25 Lusk (Saturday evening), and Frances and Round Pond Estate (Sunday afternoon).
VIP also includes caviar, foie gras, top-shelf spirits, a cigar bar, and perhaps best of all: access to private bathrooms.
Eat it up!
Eat Drink SF puts the best of the Bay Area's food scene all under one roof for a weekend of amazing bites, drinks, and fun, and now you have all of the information you need to make sure you don't miss any of it. Cheers to that!
Want more? Follow us on Instagram and Facebook for ticket giveaways and more of the best happenings around SF.