FOOD
The Civic Table Project Creates Community Through the Power of Dinner Parties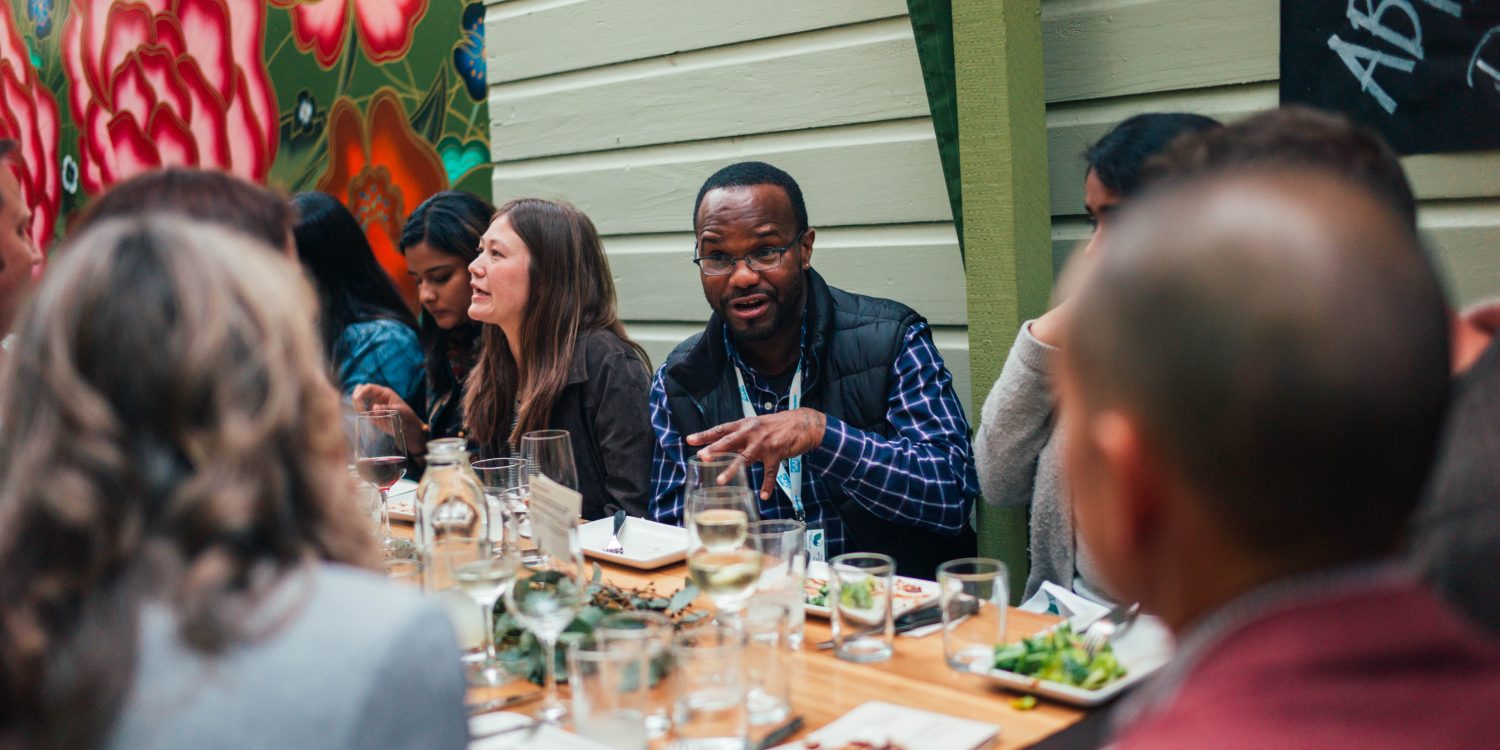 Where do you go when you want to connect with your community? How do you share a meal and initiate authentic conversations with your neighbors? Who is really an expert on the issues impacting you today, and how do you start a conversation with them?
Take a seat at The Civic Table.
The craving for community and more open dialogue didn't start with the 2016 election, but for many of us, it was heightened. A constant swirl of charged emotions and dramatic changes highlighted the need for communal spaces where folks could learn, interact, and process recent events.  
"Everyone was wondering how to use the places, influence, and skill sets you have to be more engaged," says Caitlin Dizinno, creator of The Civic Table. "We've been actively hosting the project for almost two years, and it was inspired by the way a lot of people were feeling around the election cycle in 2016."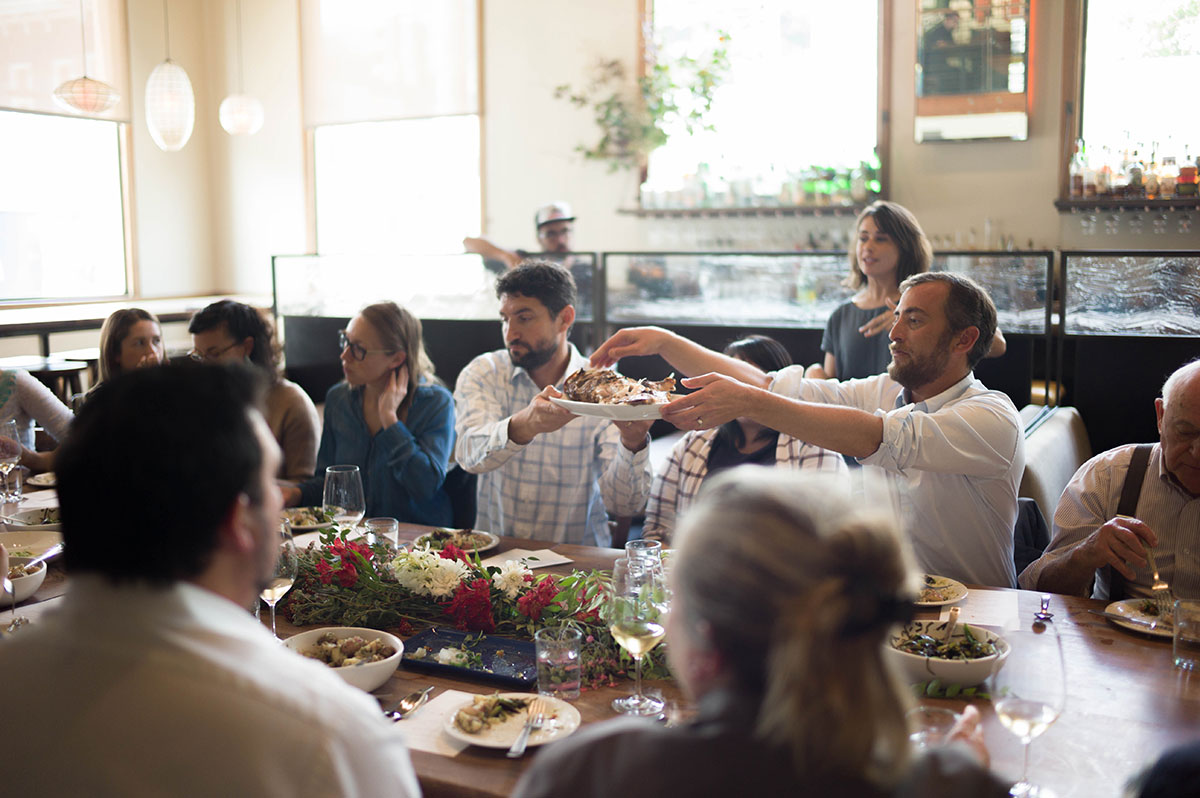 The Civic Table
The Civic Table is a dinner series hosted by Nopa that pairs food and drink with powerful conversations about issues like partisanship, slow food, and immigration. It was born out of a series of events Nopa hosted for their staff, where casual meals with producers and ranchers turned into focused conversations about the draught and immigration. Caitlin wanted to bring that same warm, communal energy to a dinner series that could be accessed by the public.
"Going to different events around civic engagement, it's usually more of a consumer model. You go and listen to a lecture, you listen to a panel," she says.
The Civic Table feels more like the smartest dinner party in town. You're jumping into electrifying conversations and passing heavy platters of family-style fare. You're meeting new people, mingling with unexpected experts, and passing a bottle of wine around as you tackle tough questions.  
The Civic Table
"We started hosting these dinners where things were pretty open and contributors and participants were all smashed together at tables and we ate family style, and then we gave all the money away to local organizations" says Caitlin.
The Civic Table team wanted to amplify the voices of the experts they were coming across in their community, experts who may not be tapped for the typical panel or lecture series.
"A lot of the time when we talked to our farmers, they had such better information about what's going on on the ground with immigration and with water then what we were reading in the news," she says. "We wanted to disrupt the models of who is an expert and who is thoughtful on different topics."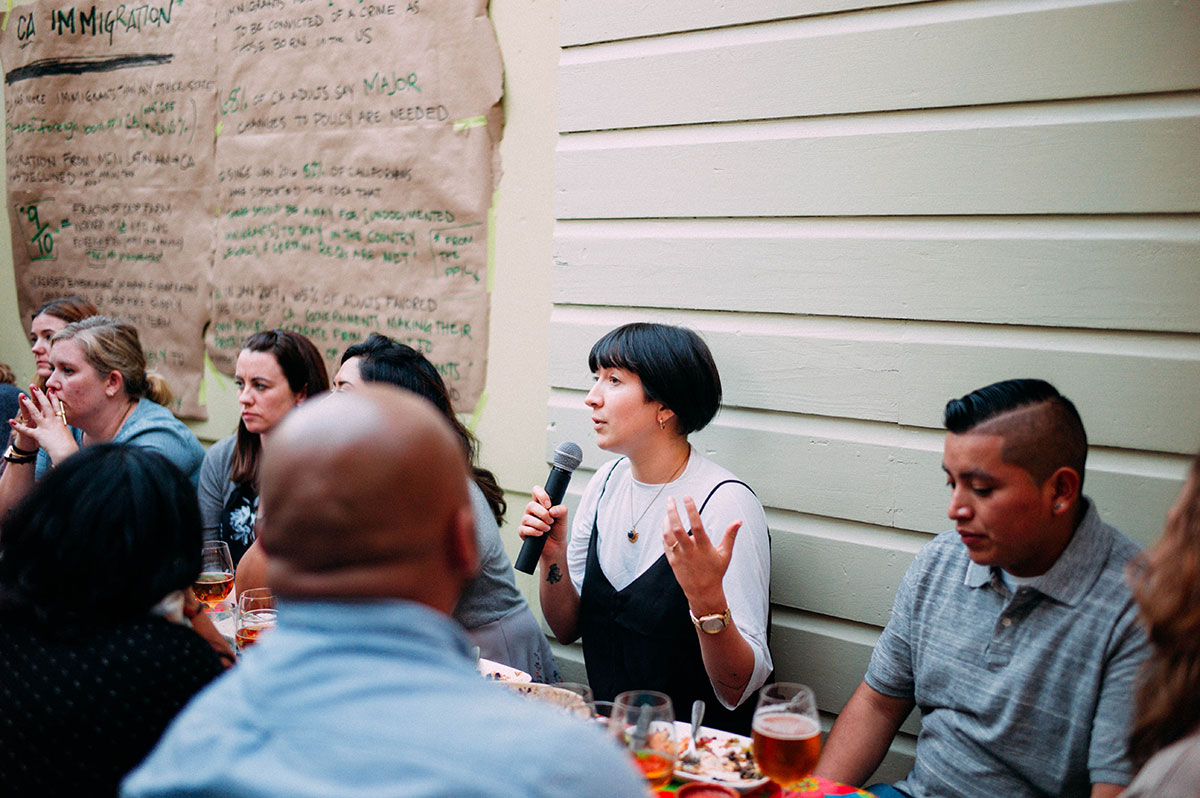 The Civic Table
Experts and attendees mingle on the packed Nopalito patio, then sit elbow to elbow at communal tables, where you may pass a plate to a farmer, a neighbor, or a CNN correspondent. There's no special section for "experts." Everyone is a part of the action, sprinkled throughout the various tables.
"It's how we get people out of their comfort zones and still respect the fact that they could've just eaten dinner at our restaurants but instead they signed up for this participatory event," says Caitlin. "You're sharing and eating the same food at the same time, which changes the energy and dynamics."
As a guest, you're also sharing your thoughts and feelings about the theme for the night. Don't expect to quietly hide out and listen in on the conversation, and don't worry if you're unfamiliar with the topic or haven't formed an opinion yet.
"You don't have to come knowing much about a topic, you don't have to come with set opinions. In fact, it's a little bit better not to," says Caitlin. "The real magic is over dinner, where you're given four to five tough questions about the issue that are pretty personal."
Small group conversations at the individual tables segue into a larger discussion among all guests and experts.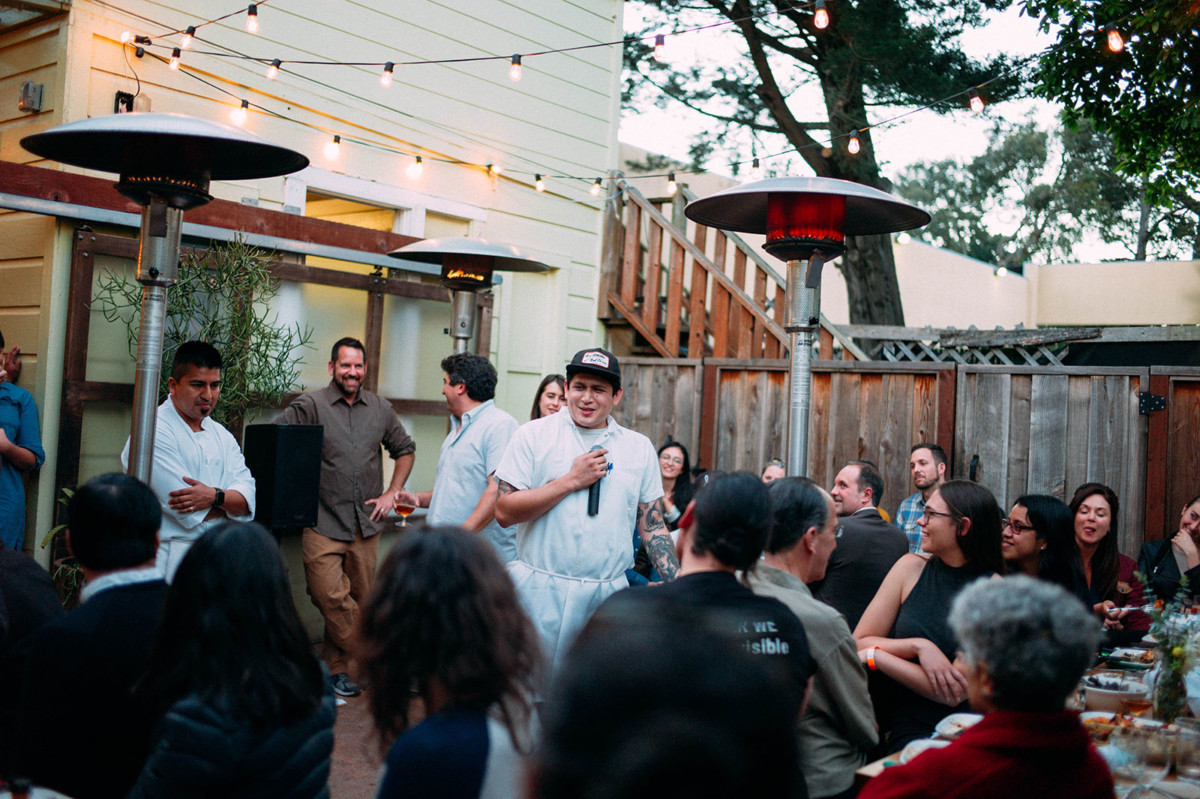 The Civic Table
"The dynamic of these events is really interesting because people often find themselves at the mic that didn't expect to share, but they feel inspired," says Caitlin. "And because there's a lot of focus on asking questions of the community, rather than just talking about what problems are outside of the community, openness is very well rewarded in these events."
When was the last time you found yourself with a mic in your hand, exploring a new topic with a group of strangers? How often can you find permission to skip the small talk and dig into meaty questions that challenge how you see the world?
This is the power of The Civic Table. It offers that rare opportunity to gather at the table, to break bread and break open ideas with your community.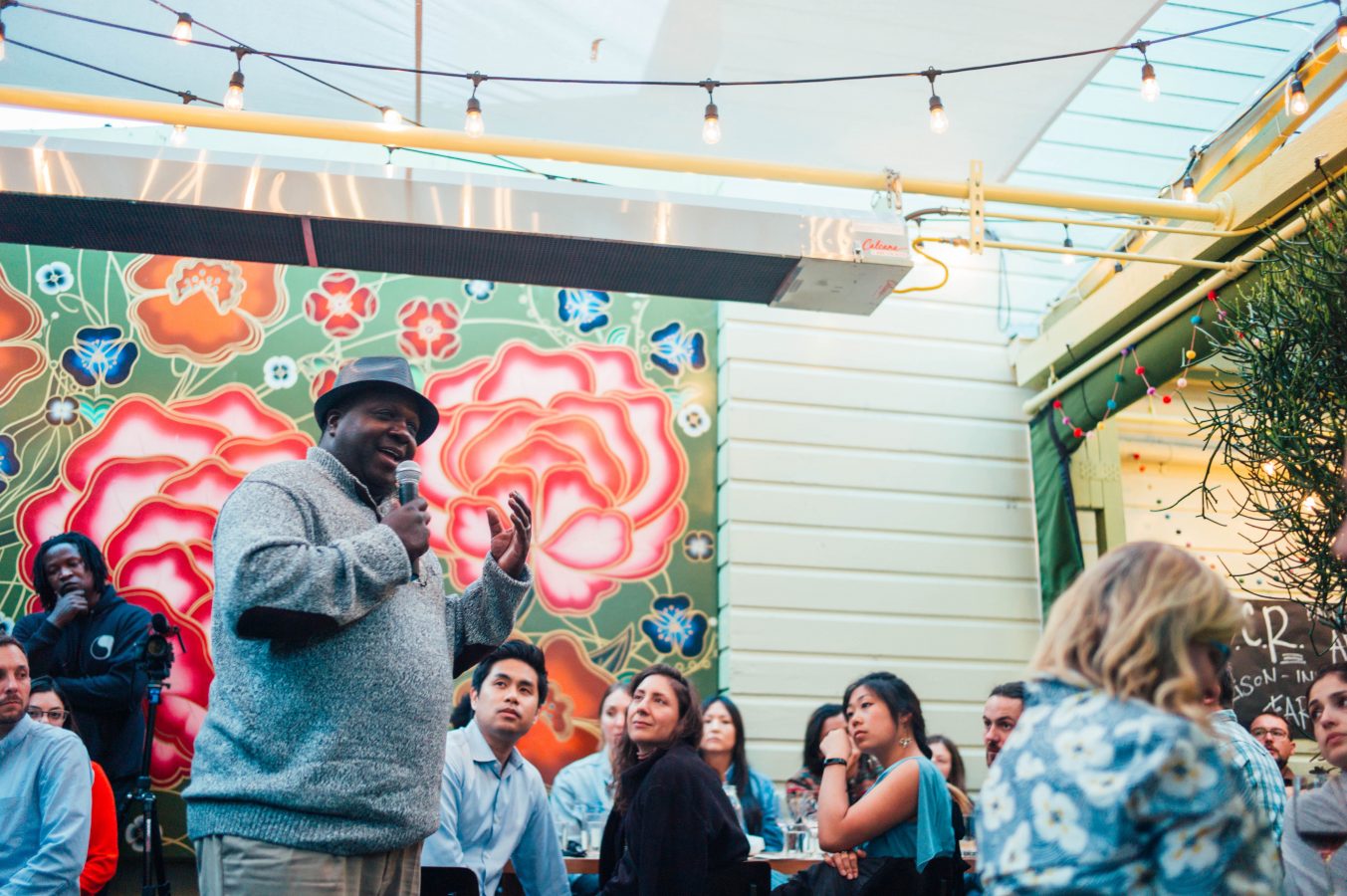 The Civic Table
"We're trying to find issues where there are conversations to be had and there's more to know about our own responsibility and ownership," says Caitlin. "The media and community was talking about partisanship but we really had a hard time finding new ways to think about why that's the case or how that's happening." At the end of 2018, The Civic Table launched a series on partisanship that featured themes like political dynamics at the family table, skepticism, and political tribalism.
What happens once dinner is over, when it feels like there's still so much to say? Where can you find more ways to connect and continue the conversation? The Civic Table launched a series of free morning events where you can dig into coffee and pastries as you continue exploring the topics covered at the dinners. "The coffees are free and the chefs at Nopa create fresh pastries for everyone," says Caitlin. "It's a more casual model and they're a lot of fun."
Ready to join The Civic Table?
There's a new slate of themed dinners coming up later in 2019. "We're going to continue doing two more series this year,  and we're thinking a lot about immigration issues and income disparity," says Caitlin.
Follow The Civic Table on Eventbrite to stay up to date on the upcoming dinner series and coffee events.