The purpose of a great wine bar is often severalfold. It's a place you go on a first date. To catch up with an old friend on a Saturday afternoon. To discover wines you've never heard of before. To split that one bottle you always go back to.
Whatever the purpose, a good wine bar has an inviting and comfortable vibe, and is somewhere you could easily lose hours of the day. While we can't promise these 13 spots will deliver on all fronts, we can promise that they are all worth a visit. And then another visit. And then another. And that you'll leave each time having learned, tasted, and experienced something new. Only if that's what you want, of course.
NOB HILL
Walking into this Polk Street wine bar is about as close as you can get to escaping to France for a couple of hours without actually leaving San Francisco. The food menu is extensive enough to enjoy an entire meal (soups, salads, and flatbreads) or, if you're just in the mood for a snack, you can opt for the "fromages and charcuterie" plate (choice of one, three, or five items). Our favorite time to go is during the weekday happy hour (5 to 7 p.m.); the $10 customized flights are a total steal.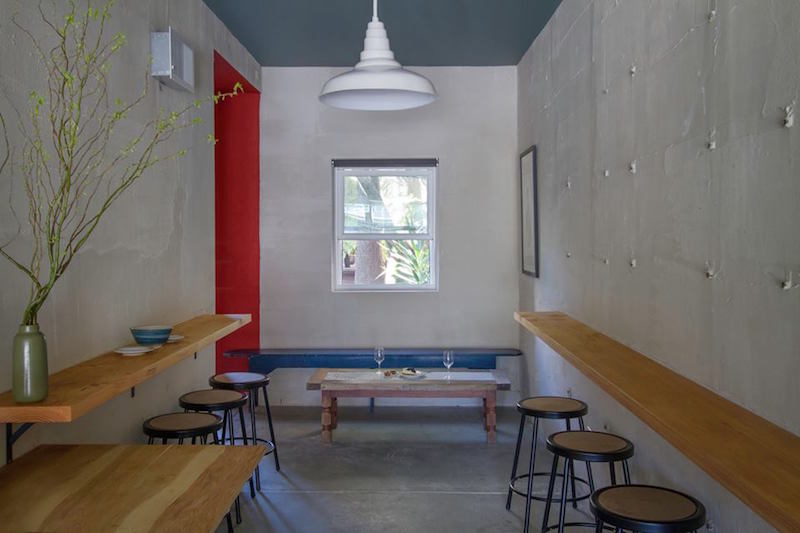 BIRBA/Facebook
HAYES VALLEY
This tiny wine bar has just 16 seats, but assuming you can get one, you're in for a quite a treat, especially if you love European wines you won't find elsewhere in San Francisco. There's also a small but satisfying menu with options like a Niçoise salad, spaghetti all'amatriciana, and lamb chops, as well as the usual wine bar staples, like a meat board and cheese board. Just know before you go that there's no telling where a night that starts at Birba might end. After all, the name does mean "little troublemaker" in Italian.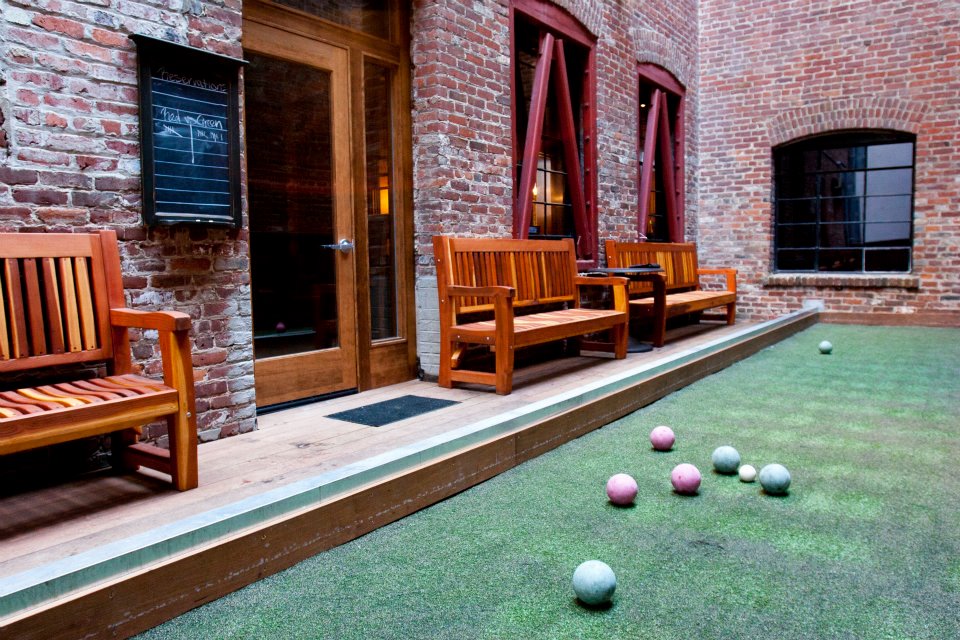 The Hidden Vine
FINANCIAL DISTRICT
The Hidden Vine is everything your brain imagines when you think "wine bar." It's tucked down an alleyway, there are lots of little nooks for conversation and canoodling, and there are over 180 different wines available, with 40 poured by the glass, and different regions of the world featured each month. And while all of that alone would earn it a spot on this list, the outdoor bocce court is truly the icing on the cake. Or the grape on the vine, as it were.
HAYES VALLEY
Despite its name, Hotel Biron is not a hotel, but actually a cozy wine bar down a [seriously-pay-attention-or-you-might-miss-it] little alley in Hayes Valley. The space feels old in a good way—small tables, exposed brick walls, dim lighting, and a cork ceiling to muffle conversations—and is the kind of spot where you could meet for one drink, but easily end up closing the place down. The wine list has about 60 bottles, many of which are available by the glass, and there are also plates of cheese, charcuterie, and paté served with French baguette, which is always a good thing.
MARINA
The Marina has a couple of great wine bars, but Nectar was not only its first, it's also its best. That's because of the enormous wine list from predominantly small producers and independently owned wineries, the flights that appeal to all types of palates, and the tasty food, all of which is made with fresh, sustainable, and organic ingredients. We appreciate how the wine list is categorized ("crisp and unpretentious whites," "playful yet thought-provoking reds," "the hedonist's reds," etc.). It's a different way to think about what you're ordering and invites you to try new things. Head there on Sunday for 50% off select bottles and Monday for half-price signature flights.
UNION SQUARE
This massive underground (literally, not figuratively) spot is enormous, but don't let that fool you into thinking you'll be able to easily grab a seat, as it still gets crowded with people wanting to see and be seen, especially when there are conferences in town. In a city where no one dresses up, there's a good chance you'll see button-up shirts and heels in this swanky, stylish bar. What you'll definitely see though is an extensive list of hard-to-find wines, as well as shareable food options like beef sliders with gruyere, a selection of pizzetas, and cheese and charcuterie platters.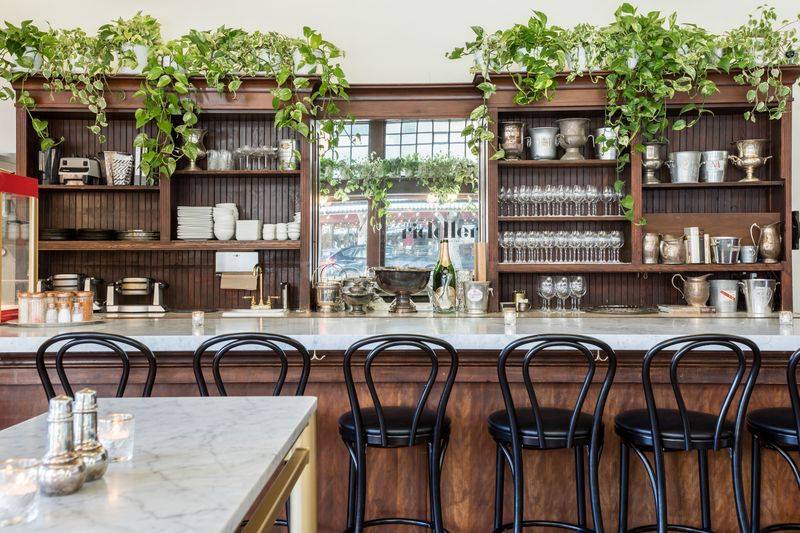 The Riddler/Facebook
HAYES VALLEY
Okay, so technically The Riddler is a "champagne bar," but we weren't going to let technicalities keep this charming newcomer (it opened at the beginning of 2017) off the list. Things we adore about this spot include the stylish and inviting décor (think: lots of marble, gold accents everywhere, tufted black leather booths, and lush greenery all around the room), the whimsical menu (chambong, anyone?), and, maybe our favorite: the fact that it's backed by all women (yeessssss!). The wine list contains over 100 champagnes available by the glass, half-bottle, and in large formats, as well as a selection of still wine, a couple of food options (tater tot waffles go better with bubbles than you'd think), and free popcorn, because if it's good enough for Olivia Pope to eat for dinner, it's good enough for all women.
LOWER PAC HEIGHTS
Scopo Divino is a wine bar that makes perfect sense for all occasions when wine therapy (a customized flight to suit your mood) is in order. So… all occasions, ever. Grab a seat at the bar and enjoy some time to yourself. Cozy up on a couch with a date. Or sit a table with friends and enjoy your wine with dishes cooked by a James Beard award-winning chef. There's also live music most days of the week, including a boozy bluesy brunch on Saturdays and live jazz on Sundays. And, of course, there's plenty of wine, including 80 by the bottle and 40 by the glass. Join the membership program and you can also enjoy pretty amazing discounts on wine to enjoy in-house or to take home.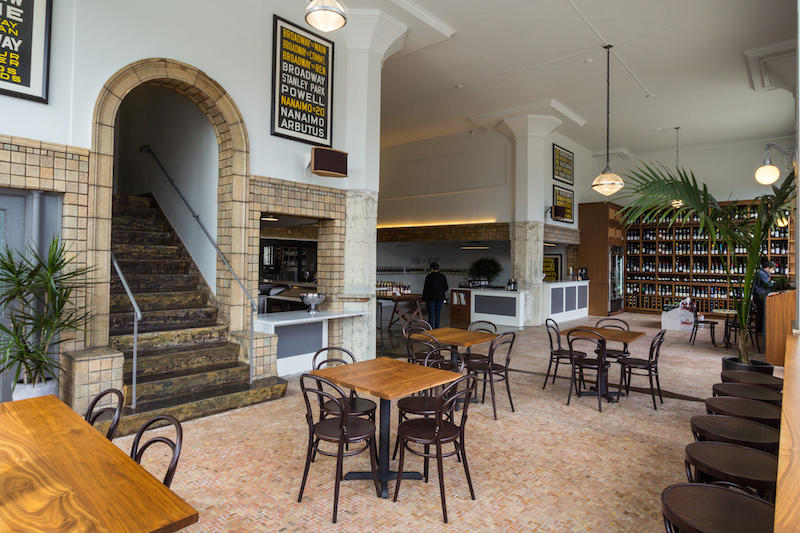 Tofino Wines
LAUREL HEIGHTS
This retail wine shop and bar is in a dramatic space with 20-foot high ceilings and huge picture windows. Those windows—and all of the light and air they bring into the room—are why this is one of our favorite wine bars to visit for a snack and a glass (or two) in the afternoon. There are over 700 bottles available to purchase (there's a $15 corkage fee if you want to enjoy it there), as well as 30+ wines by the glass, and a small selection of craft beers and snacks, like a cheese or charcuterie plate, arugula salad with pears and toasted walnuts, and a grilled fontina cheese sandwich with Serrano ham.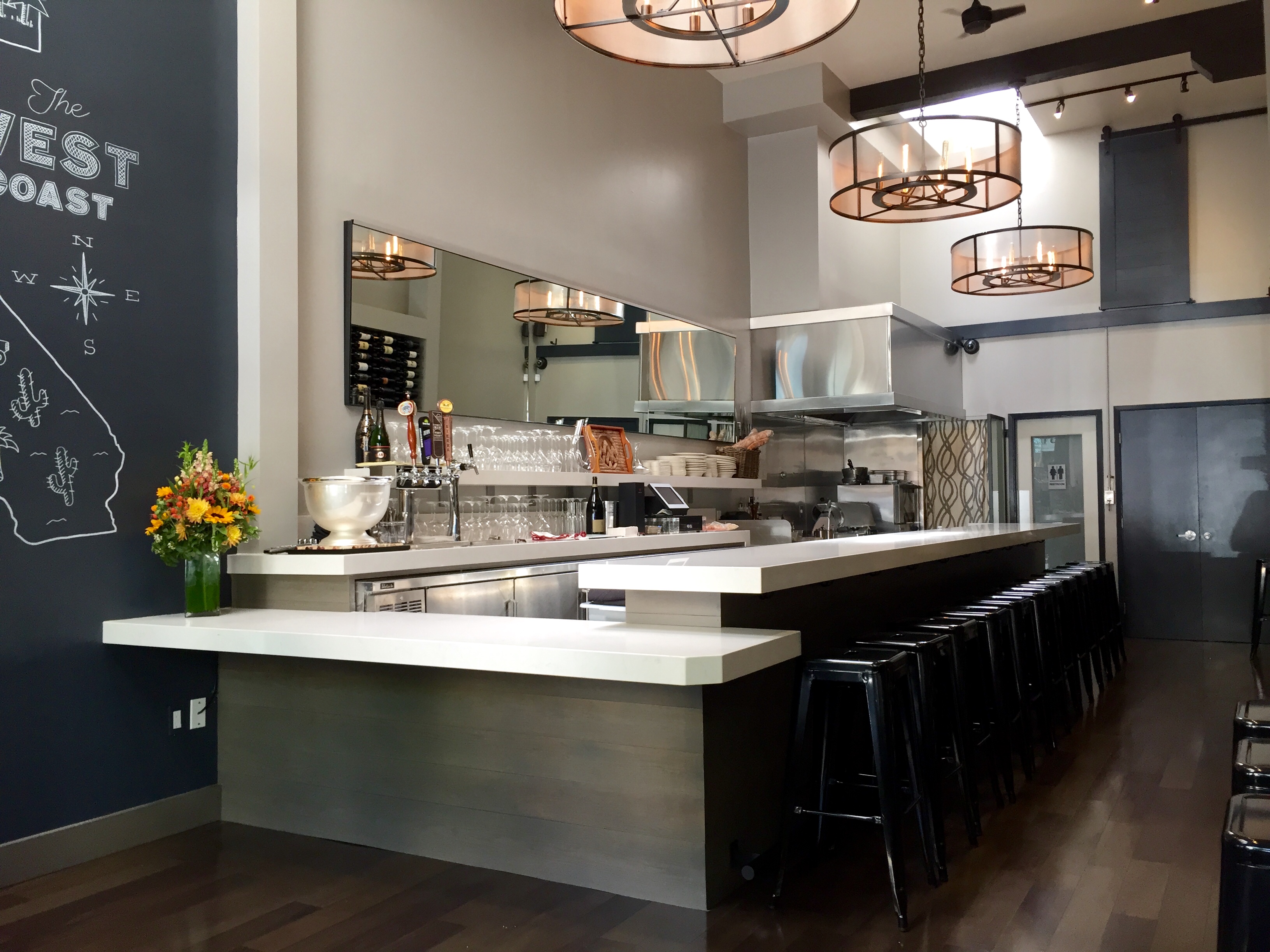 West Coast Wine and Cheesee
COW HOLLOW
We love to support west coast wines, and this husband-and-wife owned wine bar on Union Street makes it very easy to do just that. Perfect for a date or a glass and a bite after work, this charming wine bar showcases regional wines alongside food that is much more than just cheese and charcuterie (though that's also an option, of course). The devilled eggs and blistered peppers are perfect for a snack, but if you're hungrier than that, the cast iron grilled cheese is a total treat. If you're looking to try a few new things, many of the wines are offered by the 3oz and 6oz pour (as well as the bottle), and the in-house sommelier can help guide you through the selection if you need a bit of help.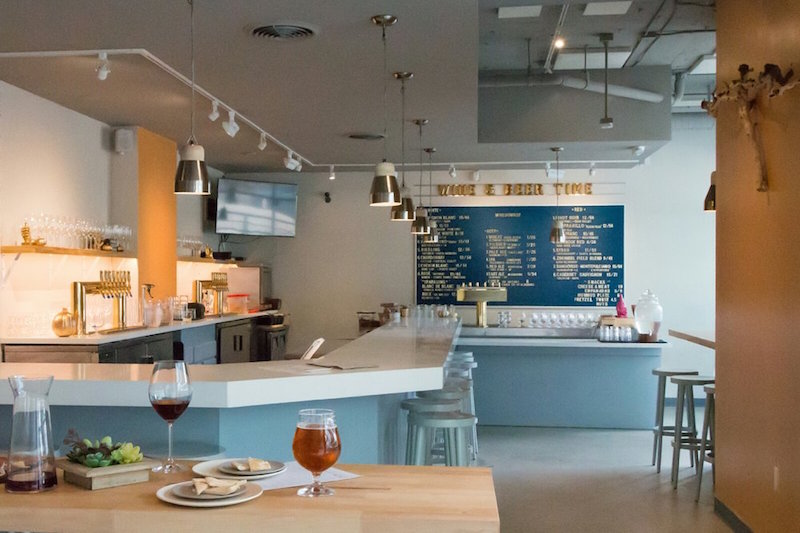 Yelp/Gyöngyi G.
SOMA
Wine Down is kind of the opposite of what you envision when you think "wine bar." The space is incredibly simple, with tons of bright white, stools along the bar, and a very Instagrammable sign that urges you to "Drink up." When you do so, it will be a wine from a rotating list of small, independent California producers (we love love love this about Wine Down) averaging around $10 a glass. There's also the happiest of happy hours from 4 to 6:30 p.m. every day where you can get $5 off carafes of wine and pitchers of beer, as well as $1 off all glasses of wine and beer. And while the food selection isn't huge, it's satisfying, especially if pretzel twists and fresh baked empanadas are your thing.
DOGPATCH & HAYES VALLEY
We're grouping these sister bars together because they both focus on sustainable and organic wines from small, family-owned and -operated wineries. And that's what makes us love them so. Both locations have a selection of grilled flatbread pizzas and other bites to snack on while you sip.