The scene is lush and wintry, with rich incandescent light that darkens and glows depending what part of town you're in. Paths and alleys snake through Victorian London, with breathtaking theatrical sets as far as the eye can see in the cavernous Cows Hollow space. Over 800 costumed actors meander through the winding paths, linger in front of stores, and create small scenes all around you. They stay completely in character, taking a turn on the dance floor, offering a hand to the nervous waltzer, and leading them through the steps.  
The Dickens Fair is also 120,000 square feet of capital letters CHRISTMAS in a way you can rarely access in San Francisco. Rowdy revelers slurp hot buttered rum at any of the five pubs, the air is perfumed with roasted chestnuts, and Dickens himself reads "A Christmas Carol" at the Green Man every day.
The Dickens Fair was created by the inventors of the Renaissance Fair. If the Renaissance Fair transports you, The Dickens Fair will provide you with a fully loaded time machine.  
Before you're swept away in a sea of Dickens enchantment, take an insider's peek into the mammoth festival so you can make the most of your visit.
Step 1: Be Prepared
Tickets
The Dickens Fair is open every weekend through December 17th from 10 a.m. until 7 p.m., and a $30 ticket will buy you a day at the Fair. Looking for a steal? Snag an Adult Twilight Ticket for $18 after 3 p.m., which lets you enjoy the Dickens Fair for four hours, including the slightly raunchier end-of-the-night entertainment. These are only available at the box office, so don't try picking one up online.  
Bring cash
The on-site ATMs have a $3.50 surcharge and almost everything inside the fair is cash-only. Parking is $12, or there's a free shuttle to and from the Glen Park BART Station.
Dress up or dress down
You'll be walking like a maniac as you tour through the different paths and alleyways, so wear shoes that work for you. Have a Victorian costume? Rad. Want an excuse to buy one? Buy stuff at the fair and dress up while you're there. This is also a solid place to just wear festive gear, like striking hats, coats, or scarves. Or, stay in your everyday wear and enjoy the city's best people-watching, since people go all-out to fit into the Dickens scene.
Photo etiquette
Are you really intense about your Instagram presence? Obviously this is a great place to snap some pictures, but don't show up with a drone (I know you wouldn't) or a selfie stick (the holidays bring out a different side of us) or a tripod (come on, no.).
Where to make a reservation
Cuthbert's Tea Room:

There's a gorgeous tearoom inside the fair, a big old-fashioned event with servers in character that will transport you to Dickens-era London as you nosh on scones and get wild-eyed with sneakily caffeinated Earl Grey. Reserved meals at Cuthbert's Tea Shoppe are $27 and you can

make a reservation online

or check with the hostess to reserve a table.   

Saucy French Postcards:

Get your tickets to the adults-only Saucy French Postcards show early in the day, because it is a blast and sells out fast. Tickets are free, so make your first stop the Telegraph Booth next to Patterson & Sons' information booth on the Grand Concourse, where you can pick up tickets for the 5:30 p.m. or 6:15 p.m. show.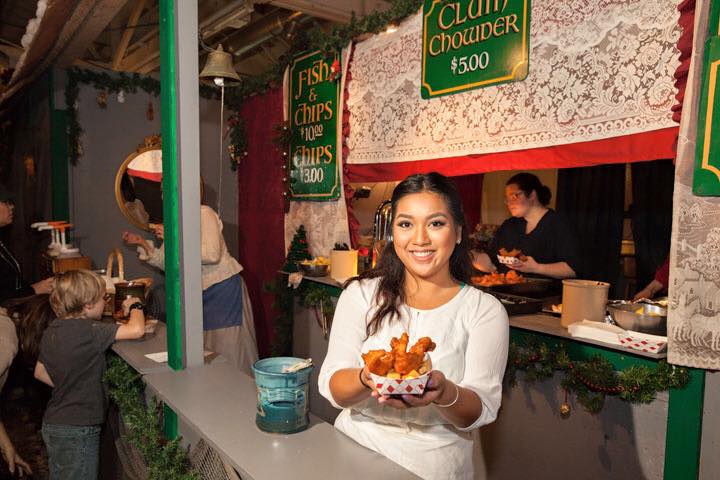 Amy Hart
Step 2: Eat, Drink, and Be Merry
What to eat
You can really go hog-wild on cozy British fare. There's everything from snacks for munching as you pop between booths to bakeries where you can pick up treats for later to full lunch and dinner spreads. Here are a few standouts of the many, many food vendors:
HMS Fish and Chips:

These are unreal: light, flaky fish, a shattering golden fried batter, a pile of french fries with plenty of vinegar to get them properly sauced.  

Heritage Meat Pies:

These are a favorite of Charles Dickens himself…err, scratch that, Robert Young, the theatrical director of the Dickens Christmas Fair who portrays Dickens. "I love the pies because they are just the very, very best," says Robert, "There are cottage pies and Scottish pies and they're all classic British recipes. My favorite is the steak and mushroom. You can preorder a case and take them home and put them in the freezer, and they're all handmade; they're not bought anywhere and brought in." (P.S. The scones with strawberries and cream are also sublime.)  

Roasted chestnut carts:

They feel so wintry in a way that SF never really feels wintry: the lamplight, the carts with their roasted chestnuts and sugared almonds, and the cloud of cinnamon scent perfuming the air.  

Mr. Brown's Fine Coffee and Tea:

Mr. Brown's Fine Coffee and Tea is a cozy little paradise of holiday goodies like hot cocoa, gingerbread-boy cookies, eggnog cookies, and iced gingerbread. They also offer some wheat-free and gluten-free options, which is a nice bonus.

Cuthbert's Tea Shoppe:

Any anglophile, Victorian literature buff, or tea fiend will flip when they first get a gander of Cuthbert's Tea Shoppe. The costumed servers and sweet old-fashioned decor is so lovely and transporting. I've said it already, but seriously, make a reservation—the line for high tea is long, and it's worth it. Dig into plum pudding, sticky toffee pudding, delicate tea sandwiches, and more. Gluten-free friends and vegans, check with your server about gluten-free and vegan options, which are available for most menu items.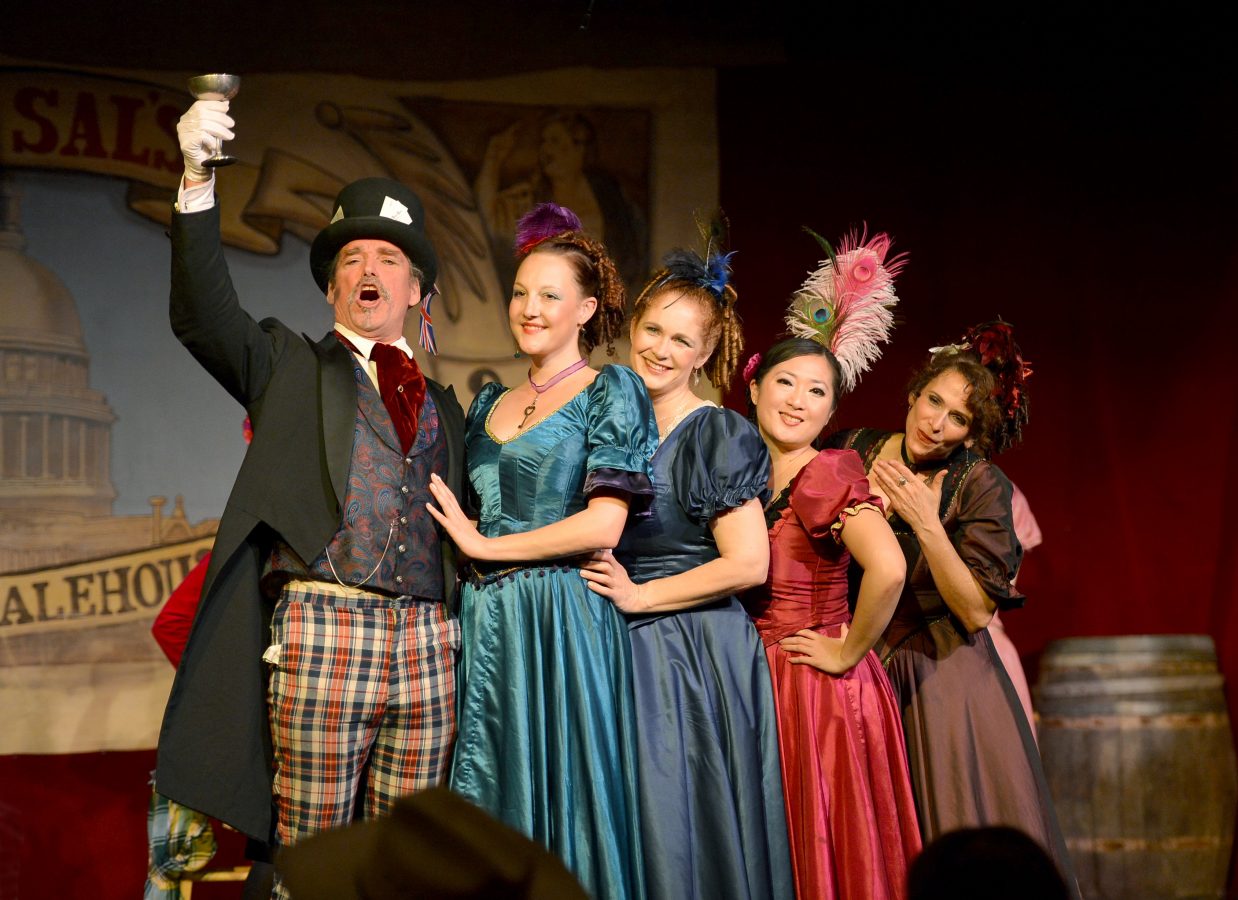 Rich Yee
Where to Drink
British draft ales! Hot buttered rum! Mulled wine! The drinking scene here is delightful and full of hot, boozy faves and British treats.
In the mood for a cocktail or pint? Here's what you need to track down on your ginormous Dickens Christmas Fair map:
The Leather Bottle in Jingle's Gate

The Prince Edward Pub in Pickwick Place

The Mermaid Inn in Cratchit's Yard

The Bohemian Absinthe Bar in Fagin's Alley

Mad Sal's Dockside Inn in Ale House Alley
Step 3: Sightsee and Time Travel
On top of the hundreds of characters chatting and cavorting all around you, there are 10 stages with tons of shows, as well as elaborate sights and lots of activities. All shows are included with your ticket. Here are a few spots and events to add to your itinerary:
See Queen Victoria's Processional:

It's a trip—a full-fledged mini-parade that marches through the fair and lands at Fezziwig's Warehouse.
Dance at Fezziwig's Warehouse:

Learn waltzes, polkas, and jigs as you take a spin on the dance floor with the cast of characters at Fezziwig's annual holiday party. Fezziwig's Warehouse is a huge and gorgeous dance floor, filled with revelers sliding and twirling to the sounds of live band Bangers & Mash.
Play wacky old-timey games:

Check out the original arcade games like The Marvelous Candy Machine, Boot the Cat, and Flip A Sweep. The games are located at Tinsley Green, which you can track down on the enormous map they give you as walk in. Or grab a pint at Mad Sal's Dockhouse and visit Cat n' Bull Dart Parlor in Golden Square for a round of darts.
Add Victorian Flair to Your Hair:

Feeling underdressed? You look great! But if you want to get more in the spirit, get your hair masterfully braided at Madame Louise's School for Lady's Maids.
And a word from our fearless leader…
"Definitely see the Gilbert and Sullivan show Trial By Jury," says Robert Young, "If you're really musically inclined, I would recommend the opera gala. It's certainly a specialized interest. And in the evening, make sure to go to the Saucy French Postcards tableau revue."  
Step 4: Shop, Shop, Shop
Window-shopping is half the fun, but if you have a store you really want to go to, find it on the map and get there early in the day.
New wardrobe:

Get kitted out in fanciful Victorian duds like corsets, wild hats, and snazzy gentleman's apparel. Velvet Bedlam offers unique finds like lingerie and capes, and visit PiumaMia for elaborate feathered masks and creations.

Holiday gifts:

There are about 100 artists in residence this year with a huge range of crafts, art, and more. The Happy Christmas Store is stocked with plenty of garlands, ornaments, and nutcrackers. Looking for a unique gift-shopping experience? At Dancing Flame Candles, you can watch them dip and carve candles.

Food:

Candy shops and bakeries are the perfect places to pick up holiday party gifts or desserts. Visit Two English Ladies for cream tea accoutrements like lemon curd and classic scone mixes, or London's Finest Cakes & Puddings for their famous English Christmas Pudding.