When you make a reservation at a restaurant, there's no way to guarantee you get the best seat in the house… unless you make that reservation for a seat at the chef's counter or chef's table, an exclusive dining experience that gives you an up-close-and-personal look at the chef in action, as well as an exclusive menu of dishes usually not available to anyone else in the restaurant
It's an elevated dining experience that's perfect for a special occasion because not only does it give you a chance to interact with the chefs and kitchen staff, it also means you'll enjoy the privilege of having the chef serve your meal directly to you.
Next time you're looking for a truly one-of-a-kind dining experience, look no further than these seven places (including one that's super affordable).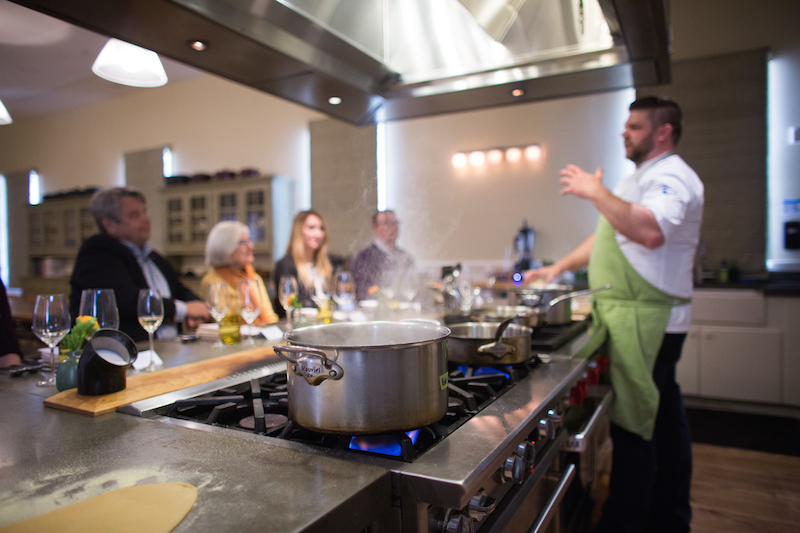 Sherman Chu
SAUSALITO
This dining experience is one of our favorites on the list because it's so much more than "just" a chef's counter. Upon arrival at the gorgeous Cavallo Point (where you can also stay, spa, and eat *not* at a chef's counter), you head upstairs to the Cooking School, which is located in beautifully restored turn-of-the-century officer's quarters. Here, Head Chef Tony Adams will greet you with champagne and appetizers, and you'll also meet the other people you'll be dining with. (The Chef's Counter only seats six people, so it's an intimate affair).
After some mingling, everyone takes a seat at the counter, where Chef not only cooks the stunning four-course meal in front of you but actually shows and teaches you how to make the meal at home. You don't have to do any work (though you may want to jot down a few notes on the provided recipes), but you get to learn everything you need to know about how to replicate the meal, all while sipping on fabulous wine pairings and enjoying the food.
Chef has a big personality, so the whole experience is like "private cooking class" meets "dinner and a show." It's a totally fun experience that would work well as a date, anniversary celebration, or with a group of friends (it's a great idea for an intimate bachelorette party). Unfortunately, this dining series only happens once a month, so if you want in on the fun, you need to plan ahead.
Price: $250 per person (includes wine pairings).
Reserve by calling 415-339-4899 or emailing cookingschool@cavallopoint.com.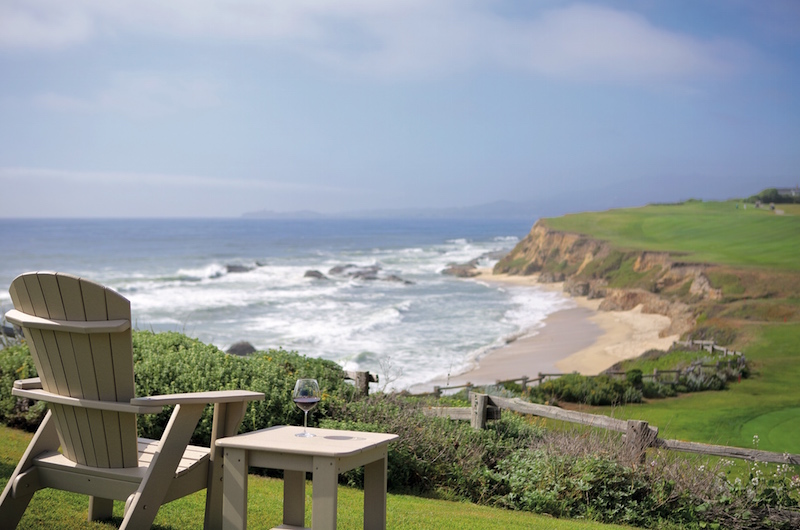 Ritz-Calrton Half Moon Bay
HALF MOON BAY
If you need to get away from it all but don't want to drive more than an hour, there's no better place than The Ritz-Carlton in Half Moon Bay, which also just happens to be the only oceanfront resort in the entire Bay Area.
From the rugged bluffs, to the gorgeous golf course, to the serene spa, to the private terrace with fire pits that overlook the ocean… this particular Ritz is one of the most spectacular we've ever seen (and is definitely worth the splurge).
Even better, it offers one of the most fabulous culinary experiences we've ever come across.
The Global Cuisine Series isn't your traditional Chef's Counter/Chef's Table experience. It's better. (And, to be fair, a little pricier, but would make for a perfect birthday or anniversary gift, especially if the recipient fancies themselves a serious home cook.)
The experience begins when you check in on Friday afternoon, but don't stay up drinking wine by the fire pits on the patio too late, because you'll need to be up bright and early on Saturday morning.
Or at least by 9 a.m., because that's when you and the other guests (maximum 14 total) will make your way into the Ritz-Carlton kitchen for a hands-on cooking class taught by a visiting chef picked by Executive Chef and Maître Cuisinier de France Xavier Salomon. (Past chefs have included Telmo Faria of Uma Casa, Charles Phan of Slanted Door, Evan and Sarah Rich of Rich Table, and Charles Olalia of Rice Bar, and you can be certain that future chefs will all be just as talented and amazing.)
You'll spend a couple hours helping slice and dice ingredients (and sipping champagne), while the visiting chef walks you through all of the techniques and shows you every step of the recipe, so that you know exactly how to replicate the dishes when you get back home.
Best of all, the class is followed by a gorgeous multi-course luncheon, during which you actually get to eat the food you were just helping prepare (as well as sip beautiful wine pairings) while chatting with the visiting chef.
After, you can spend the afternoon hitting the links, relaxing on the massage table, hanging out on the beach, or just staring out into the distance while pinching yourself to make sure it's all real.
Price: The package includes the exclusive cooking class, luncheon with wine pairings, $200 resort credit, two nights of resort fees, and valet parking. Rates start at $950.
To plan your culinary weekend, call 650-712-7686 or email RC-HalfMoonBayleads@ritzcarlton.com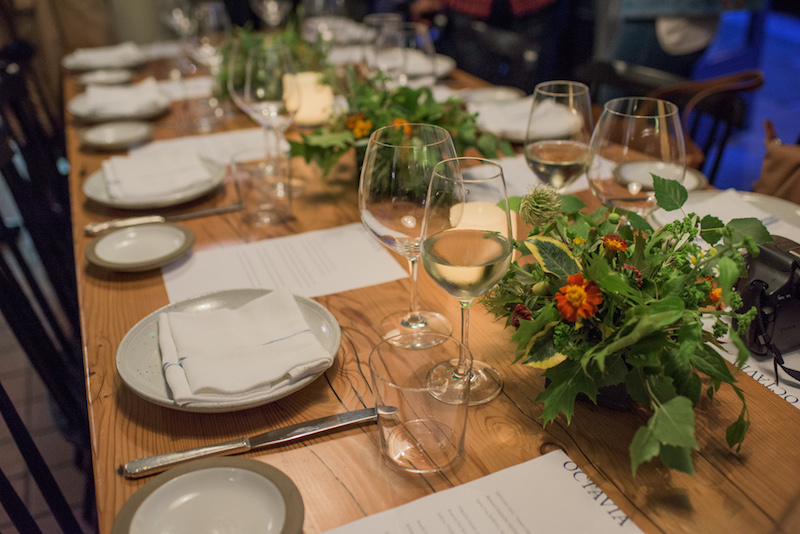 Wes Rowe
LOWER PACIFIC HEIGHTS
Next time you and your friends want to gather for an amazing dinner party, but don't want to deal with cooking or cleaning, make a reservation to sit at the chef's table in Octavia's lower kitchen instead.
The space, which is downstairs from the main dining room, is beautiful and private, with big windows that let in plenty of light. Well, private other than the fact that you're in the heart of the kitchen (although just enough off to the side that the hustle and bustle isn't distracting). The table can accommodate up to 12 people, all of whom will be served a signature prix fixe menu created by superstar chef Melissa Perello.
This isn't an ordinary prix fixe menu, though. The food arrives in four "waves," with two to three dishes being served in each wave. For example, the first wave may include a deviled egg, asparagus salad, and avocado with crisp maitake mushroom. Basically, you're not getting out of there without consuming at least nine different amazing dishes.
Price: The Chef's Table prix fixe menu is $90 per person. There are also progressive wine pairing options for $40, $60, or $80 per person. In addition, there's a food and beverage minimum of $1200.
Reserve by contacting Samantha McCurry at Samantha@octavia-sf.com.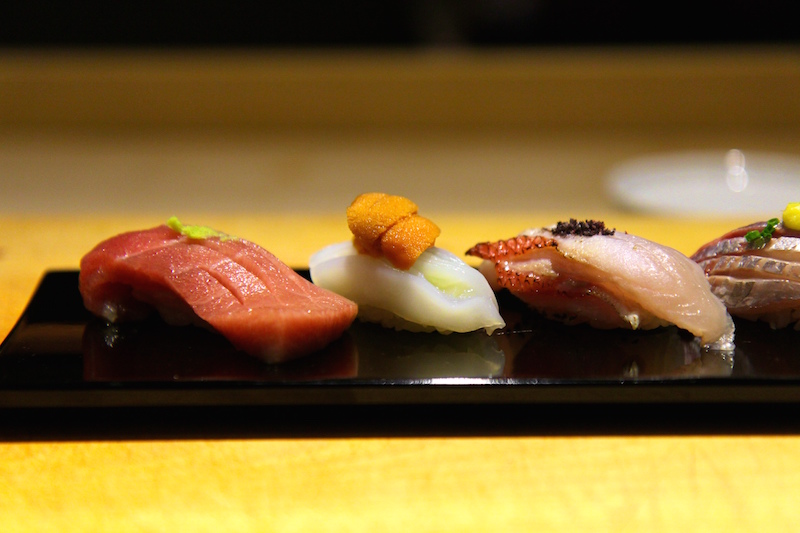 Jeremy Chung
SOMA
The first thing to know about this Michelin-starred destination for Japanese cuisine and Edomae-style sushi is that while there are a couple of tables in the tiny Zen-like space (there are only 16 seats total), those are not where you want to sit. You want to request a seat at the sushi counter, where you can watch Chef Jackson Yu's jaw-dropping knife skills as he prepares truly some of the best sushi you'll ever eat in your entire life.
The attention to detail at Omakase is beyond impressive. From the hand-selected pottery and platewear that comes from the mountainous regions of Japan to the fish that is imported directly from Tokyo's world-renowned Tsukiji Fish Market and flown in three times a week, to the impressive beverage program that features some of the best Japanese sake, the entire dining experience is truly magical.
There are two seatings every night at 5:30 and 8:30 p.m., and guests have a choice of two fixed-price tasting menus that include appetizers, one to two pieces of sashimi, 10 to 12 pieces of nigiri, and one owan. You'll be wowed by every single bite, but don't get too attached, as the menu will be different every time you visit.
Price: $150 or $200, excluding beverages, tax, and gratuity. Sake pairings are available for $80.
Make a reservation by calling 415-865-0633 or visiting OpenTable.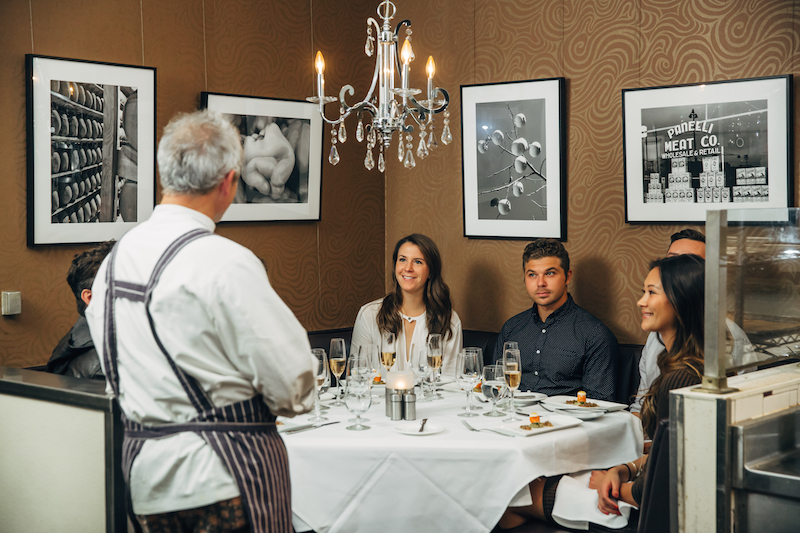 Hardy Wilson
EMBARCADERO
When you arrive at One Market and tell them you're there for the Chef's Table, you'll be walked through the restaurant and right into the kitchen, because the Chef's Table in this sophisticated establishment is right in the middle of where all of the magic happens. Luckily, where the magic happens is a gorgeous kitchen with a cozy leather booth and picture windows overlooking the Embarcadero.
The table is reserved for one group of up to seven people, and each of the seven courses is cooked just for you and served by the chef who made it. In between courses, you'll also get a tour of the kitchen and the wine cellar, and, if you're up for it, can participate and help make a course. The whole experience takes about three and a half hours, and you can expect dishes like a kampachi crudo, grilled Spanish octopus with a "chorizo" purée, and grilled lamb loin with chanterelle mushrooms. So go hungry!
Price: $89 per person Monday through Thursday; $99 per person Friday through Sunday. Does not include beverages, tax, or gratuity.
Reserve by calling 415-777-5577.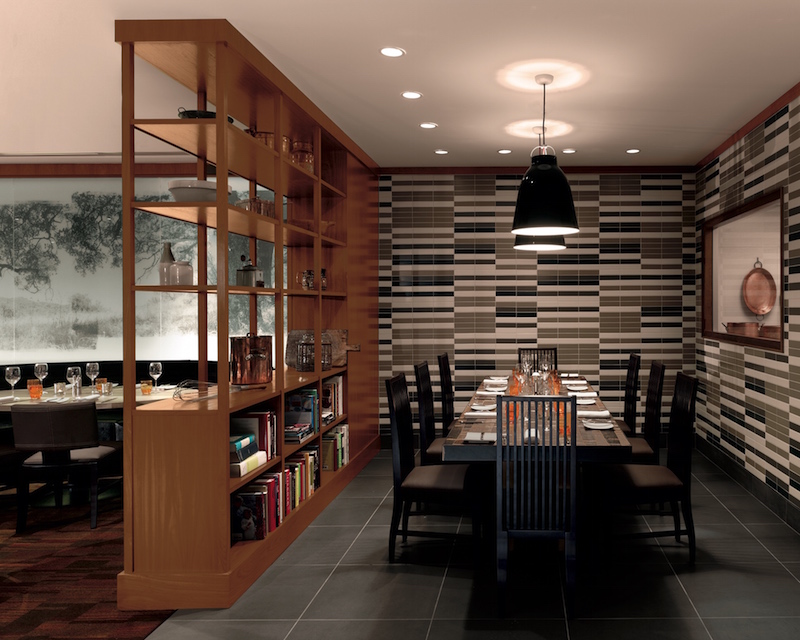 Cesar Rubio
NOB HILL
The Chef's Table at this swanky restaurant is not actually in the kitchen, but fret not because if you opt for the "Kitchen Table Experience," you'll begin your evening enjoying cocktails and canapés inside the kitchen with Chef Michael Rotondo.
From there, you'll move to an intimate table with a window into the kitchen so you can still see your custom eight-course tasting menu being prepared. Each of the courses is made with seasonal and luxury ingredients (it is the Ritz, after all) and comes with beverage pairings.
The table seats up to 10 guests, but only four people are required to partake in the experience.
Price: The Kitchen Table Experience is $250 per person and includes beverage pairings. You can also opt for a three-course meal for $90 or a four-course meal for $110.
To make a reservation, call 415-773-6199 or email meaghan.shanley@ritzcarlton.com.
MISSION
If the amazing chef experiences on this list have left you wondering how you're going to afford all of them AND pay your rent, don't fret: Dum, the California-inspired Indian soul food restaurant, offers a "Chef's Choice" menu that's not only affordable, it's also a steal–and the perfect option for an indecisive diner because Cher Rupam will make all of the decisions for you!
You can order the "Chef's Choice" menu anywhere at the restaurant, but you'll be much happier if you sit at the counter; that way, Chef can talk you through everything he's cooking while he's making it.
The four-course family-style menu is comprised of dishes from the menu, as well as some off-menu items and snacks that Chef Rupam decides upon after asking you about your tastes and preferences. Think of it like a "Choose Your Own Adventure" book, but with insanely delicious food.
Price: $35 per person; add an additional $20 per person for wine pairings.