Say so long to any weight loss resolutions you made, because December saw several openings that are fantastic additions to the SF restaurant and bar scene, including a casual cocktail bar from the guys behind Lazy Bear and a Spanish tapas spot that is certain to be another huge hit from restaurateur extraordinaire, Adriano Paganini.
I can confidently say that they will both be in heavy rotation in my dining and drinking life.
There weren't a ton of other new openings, so I'm taking this opportunity to remind you about two SF staples that may have slipped off of your radar but are also worth checking out (again) in the New Year.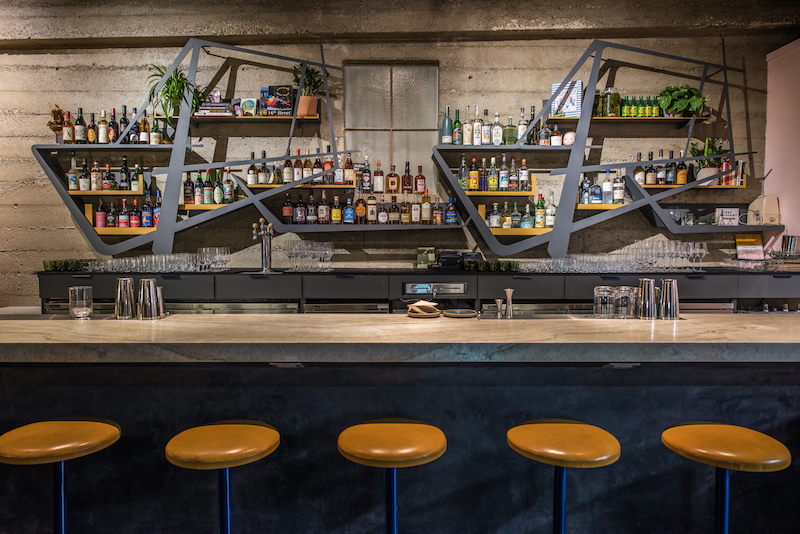 Wes Rowe Photography
MISSION
A casual (but not too casual) bar that's bound to be popular with both cocktail aficionados and anyone with a case of the munchies.
This new cocktail bar from Lazy Bear's chef/owner David Barzelay and partner/bar director Nicolas Torres has received a lot of much-deserved hype, but what else would you expect when the guys behind one of SF's most popular (but expensive) dining experiences open a bar/restaurant that's both casual and affordable?
Of course, one might question whether $14 and $15 cocktails actually fall into the "affordable" category, but one has to keep in mind that they are not only made by one of the best bartenders in town, but are also hyper-seasonal and inspired by the nose-to-tail culinary philosophy (so that every element of each fresh ingredient is used), and pair exceptionally well with food.
The pairing-well-with-food aspect is key because while Barzelay insists that True Laurel is a bar, not a restaurant (for example, you can sit at a table and only order drinks), it's absolutely a place you can (and will) go for a satisfying meal. The food is meant to be shared, and while some dishes could be described as elevated bar food, I'd say some dishes are just straight up bar food. And I mean that in the best way possible.
On my visit, I shared the scallop crudo with turnip, apple, aged cider vinegar, dill, and frisee (the balance of flavors was perfection), the Dungeness crab and aged cheddar fondue served with raw veggies and toast (gimme this all day every day), and the TL Patty Melt with a caramelized onion special sauce, "melty cheese," and pickles (100% bar food and 100% insanely good). I finished my meal with warm chocolate chip cookies and a side of milk in which to dunk them because it had been years since I dunked a cookie in milk and it's dumb to pass up opportunities like that.
And while the drinks may be on the pricier side, the food is reasonably priced with most dishes hovering in the $12 to $13 range, so it all kind of comes out in the wash.
If you are looking for a bit more of an elevated experience, you'll be excited to learn that come January, there will be a separate eight-seat bar where you can taste five (tasting-sized) cocktails served with dishes from the kitchen. There will be two seatings a night, and from what I gather, that will be a ticketed situation.
As for the rest of the bar, True Laurel doesn't accept reservations, but there's plenty of seating throughout—though honestly, I expect this place to get really popular really quickly, so I suggest going ASAP.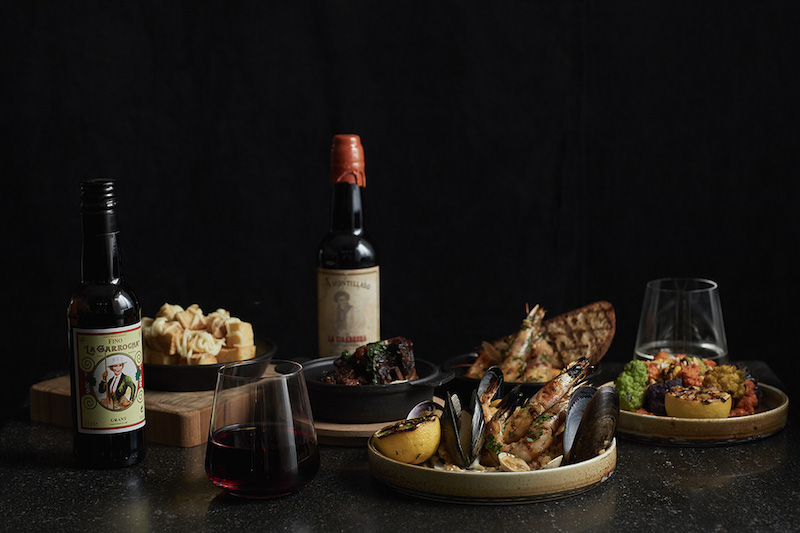 David Martinez
WESTERN ADDITION
A casual and affordable Spanish tapas restaurant that will probably become your go-to spot on Divis.
Basically, everything Adriano Paganini touches turns to gold (a Mano, Beretta, Delarosa, Belga, Super Duper… the list goes on and on), so I can't say I was surprised for even a second when I walked into Barvale and realized he absolutely has another hit on his hands.
The space is large (65 seats, plus a very long bar), colorful, and, surprisingly (but not actually), was already bustling at 6 p.m. on a Wednesday when I went to check it out. There are several seating areas, but if I went there on a date, I'd want to sit in a corner on the leather banquette that lines the wall of the dining room. It's the perfect place to enjoy conversation while doing a little people watching. That being said, the bar is also a great place to sit and enjoy some cocktails and tasty snacks.
Speaking of cocktails, the place to start is with one of the four gin and tonic combinations. Sure, it's popular right now to mix-and-match your own from an extensive list of spirits and tonics, but honestly, I kind of liked that someone had already done the hard work for me. I opted for Gin Tonic #2 (gin, lemon, aloe, vermouth, celery bitters, tonic) and I loved it, but I definitely plan to work my way through all of the combinations on future visits.
The Salty Spaniard (gin, Fino sherry, dry vermouth, orange bitters) was the perfect pairing once my food started to arrive—and about that food: it's really good. I want to say go hungry, but I also feel like Barvale is the perfect place to go for a cocktail and a light snack, so maybe… just go.
If you're sitting at the bar, be sure to order the daily Pinxtos, a bite-sized snack with three offerings that will change daily (and is only available at the bar). Otherwise, you'll choose from a selection of hot and cold tapas. The cold tapas are $6 each or 3 for $15. I was blown away by how delicious the eggplant escabeche was. It's not something I would normally order, but the eggplant had a really great texture and heat.
The hot tapas are all priced individually ($7 to $17), and you're definitely going to want to get the croquetas de jamon with fried sage and the paella with shrimp, mussels, and clams—which is served the traditional way, by portions, not in the pan. This is a good thing because it means you aren't just filling up on rice, so you'll have more room for tuna crudo and olive oil poached prawns with grilled bread.
Like most of Paganini's restaurants, Barvale does not accept reservations for parties under six, but that makes sense because it doesn't feel like the kind of restaurant you plan to go to a month in advance. It's a casual neighborhood spot you'll turn to again and again when you're in the mood for tasty, affordable Spanish tapas, excellent cocktails, and really friendly service.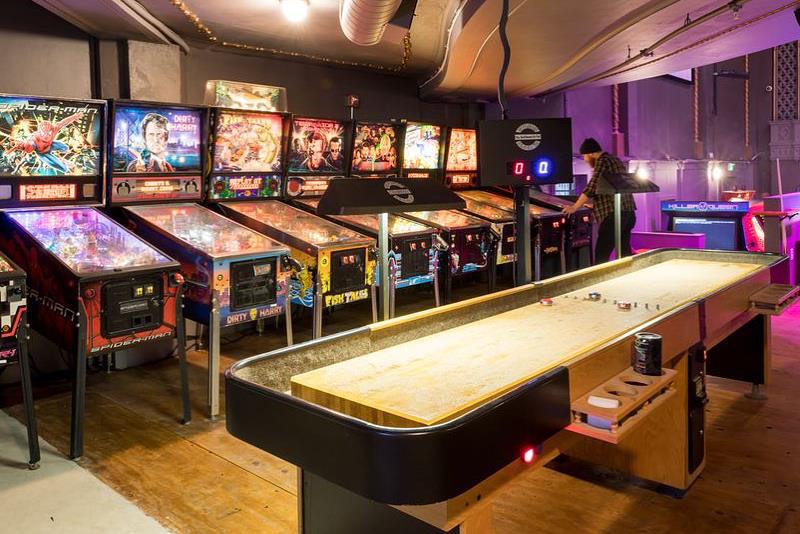 Emporium
WESTERN ADDITION
SF's new go-to first date spot.
A few years ago, SF had zero arcade bars (barcade if portmanteaus are your thing). Now, along with Brewcade and Coin-Op, the opening of Emporium inside the 12,000 square foot Harding Theater makes three.
I am not a huge video game person, but what I like about Emporium is that you don't have to be. While there are over 50 arcade games and pinball machines, there's also air hockey, shuffleboard, foosball, Skee-Ball, and a ton of pool tables.
What I like even more, though, is that the owners really kept the feel of the historic theater that opened as a movie house in 1926, hosted the Grateful Dead in 1971, and was a church from the mid-1970s until 2004. You can still sit in the balcony seats (where there are high-tops for eating/drinking), and if you look around, you'll notice details like the moldings and the beautiful ceiling.
Since games are much more fun when paired with drinking, Emporium has a full bar and a huge craft beer list. There's no food, but you can bring your own from a nearby restaurant (it's near Souvla, The Mill, Brenda's Meat and Three, and 4505) or have some delivered.
DJ events, movie screenings, concerts, and more are all part of future plans, so keep an eye out for announcements after the official January grand opening.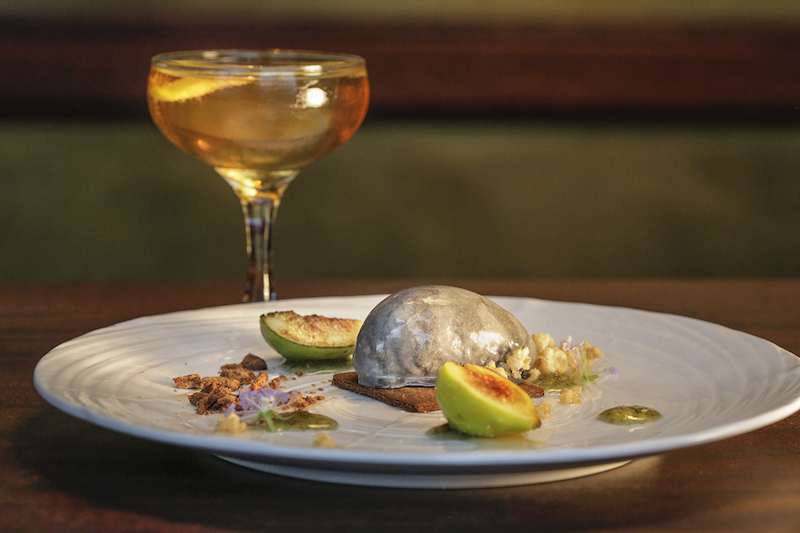 Kingmond Young
UPPER HAIGHT
Some of the best craft cocktails in all of SF… and an excellent food menu as well.
Okay, so The Alembic isn't new… like, at all. In fact, at over 11 years old, it's practically an institution in this town where restaurants seem to come and go faster than your transplant friends after their stock is fully vested.
But, since there weren't a ton of new spots opening in SF in December, I thought I'd take this opportunity to let you know that The Alembic got a new chef this summer and I was blown away by her food when I ate there a few weeks ago.
Being mean isn't really my thing (unless we're talking politics or football), but I felt like the food at Alembic got a little off track in recent years. Like, it wanted to be inventive and delicious but… well, it just wasn't.
Luckily for fans of the bar/restaurant, Executive Chef Rachel Aronow came in this fall and changed all of that. The most important thing I noticed while tasting my way through more dishes than any one person should eat in an evening is that Aranow's food is more approachable than previous menus at The Alembic.
That doesn't mean it's not complex or doesn't use interesting ingredients—because it does all of that, too. It just felt more like somewhere I'd pop in for a great dinner multiple times over the course of a year versus "the place I take my out-of-town guests to impress them when I also don't want to walk more than eight blocks from home."
There were a lot of highlights, but when you go, you must order the Brussels sprouts tossed in a maple-aji Amarillo glaze with Maldon and apple char. I have never had better Brussels sprouts in my entire life. They will forever ruin all other Brussels sprouts, but it's worth it. And that's really all I should need to say about that.
The charcuterie was also exceptional and could really be a meal on its own, and good luck choosing between the lamb sugo pappardelle and the Dungeness crab with squid ink chitara pasta. Both were phenomenal.
If you are feeling a little fancy and adventurous, Aronow also does a five-course tasting menu ($62) each night, which gives her a chance to showcase vegetables and meat recently procured at local farms.
Of course, you already know that the cocktails at Alembic are amongst the best in the city. I've always loved the Southern Exposure (St. George Terroir Gin, celery, lime, and mint) and the Bourbon Old Fashioned, but what I love in 2018 is that they're both only $12. Who knew a day would come when I'd think a $12 cocktail was an affordable cocktail? Certainly not Daisy in 2006. Alas, here we are and here it is…
Tl;dr: If you haven't been to The Alembic in a while, whether it's because you didn't love the food or just didn't think to choose it, you should really change that. Chef Aronow has transformed it into more of a neighborhood spot while still doing really special things in the kitchen that would impress any out-of-town guest—even ones who have to travel more than eight blocks to get there.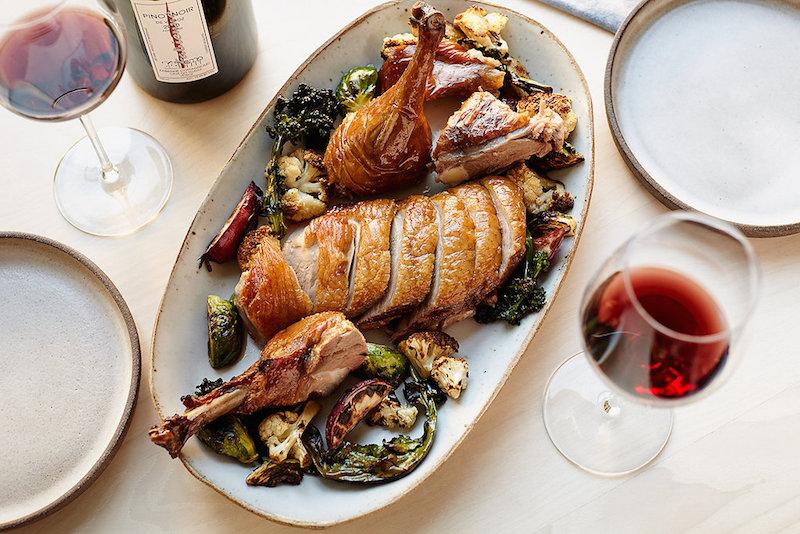 Leo Gong
POTRERO HILL
An industry favorite with quality cocktails, an exceptional wine list, and comforting food.
Full confession: Even though it's my job to go to new bars and restaurants when they open, sometimes, well, I miss a spot. And somehow, despite the fact that it was an instant industry favorite, I missed The Morris when it opened in October 2016. In the off chance that you, too, have yet to visit this sleek neighborhood bistro that Esquire named one of "The Best New Restaurants in America 2017," then please indulge me for a second while I tell you why you need to make a reservation ASAP.
Well, truly, there's only one reason, and that's the fact that The Morris is putting out some of the best food and cocktails I indulged in all year. And I indulged in a lot of food and cocktails. The menu is not big, but it doesn't need to be because every dish is near perfection. Be sure to get the foie gras dumplings, the charred broccoli, and the smoked duck, and save room for the buckwheat doughnuts with whisky crème anglaise for dessert.
In terms of beverages, the green chartreuse slushy is popular for a reason and I enjoyed my Gin Daisy, but you'll definitely want to explore the wine list as well. It's curated by the gregarious owner/sommelier Paul Einbund—he's the guy responsible for the "pay for what you drink" house wine at Frances, which is also an option at The Morris—and offers the opportunity to taste some fantastic wines you won't easily find elsewhere.
Basically, The Morris is phenomenal on all levels—from the service to the food to the wine—and is worth more than one visit in the coming year.