FOOD
14 Places for Your Next Group Dinner in SF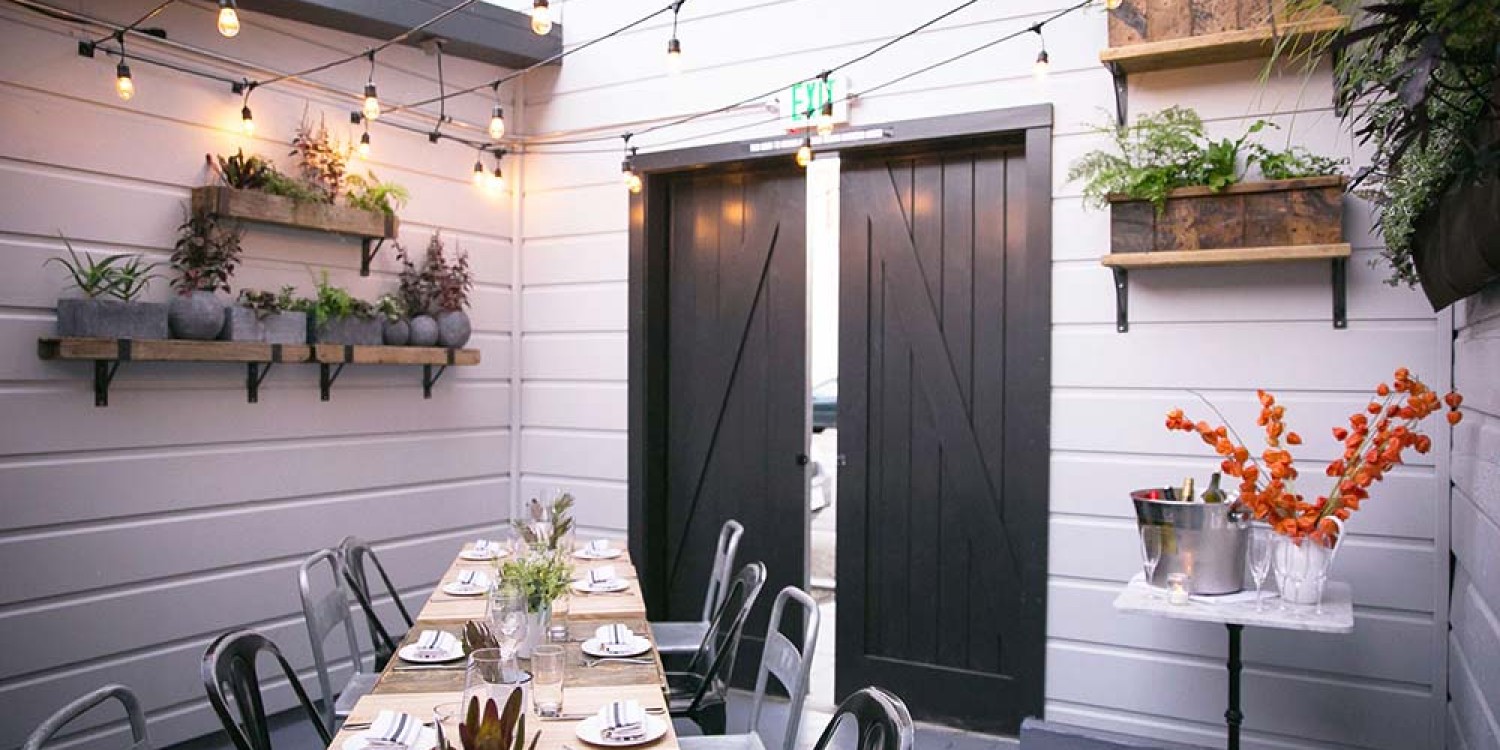 Looking for a spot to gather the crew? Here are 14 spots in SF perfect for group dinners.
In a city where "3 hour wait" is said with a straight face on a Tuesday, planning for a big group dinner can seem like a tall order. I went on a mission to find the best San Francisco restaurants with private rooms and hidden spaces for groups—because I'm a sucker for a secret, and who doesn't like to feel special?
After a little trial and error (and a lot of cocktails), I discovered 14 hidden gems. These spots, ordered below from budget-friendly to treat yo' self, are perfect for a booze-filled, delicious night out with friends.
Downstairs Dining at La Trappe
NORTH BEACH
Enjoy Belgian comfort food and a multi-page Belgian beer list in La Trappe's cavernous downstairs dining area. Exposed brick walls and huge wooden tables give this space a cozy, old world vibe, making it the perfect place to kick back with your buds.
The Back Room at Suppenkuche
HAYES VALLEY
Full disclosure: Suppenkuche can do no wrong in my eyes—I've had my birthday dinner here two years in a row. They have delicious food and an impressive German beer selection (Andechs, anyone?) And, I happen to know they aren't fazed if your whole group shows up in lederhosen. It's cozy, but the table in the back room seats 12. Live a little and get a boot.
The Mezzanine at ABV
MISSION
This trendy cocktail bar has a mezzanine level overlooking the industrial chic restaurant below that seats up to 14 people. Enjoy delightful bar bites like falafel lamb dogs, or skip the food and go straight to tasting their inventive, artisanal cocktail menu—I won't tell anyone that "Grainy Smith" and "Dunmoore Cobbler" aren't pies.
The Tivoli Sour Room at Mikkeller Bar
TENDERLOIN
A secret cellar room that only serves sour beer? Can I live there and never leave? The Tivoli sour room, designed to look like the Mikkeller Bars in Copenhagen, seats 20 and is available for private parties (Note: I'm available to attend said parties).
The Back Table at Gamine
COW HOLLOW
This underrated French bistro and Union St. gem has a gorgeous, hidden back table tucked into a private room—perfect for an intimate dinner party. A must-order item is the Spaghetti Carbonara: rich and creamy with a raw egg in the middle, it will melt your face off with deliciousness.
The Billar Room at Thirsty Bear Brewing Co.
SOMA
Thirsty Bear has four private rooms, accommodating anywhere from 25 to 100 guests. The Billar Room features a full bar, dartboards, and a pool table—a perfect, informal setting to enjoy your Thirsty Bear organic brews and tapas. Pro tip: ask for a tour of the brewery.
The Patio at Marlowe
SOMA
The brand spankin' new outdoor patio at Marlowe can be reserved for up to 16 guests and private parties. The charming space has a living succulents wall, hanging outdoor lights, and is weatherproof, so you'll get to enjoy that juicy Marlowe burger, burrata toast, and crispy brussels sprout chips rain or shine.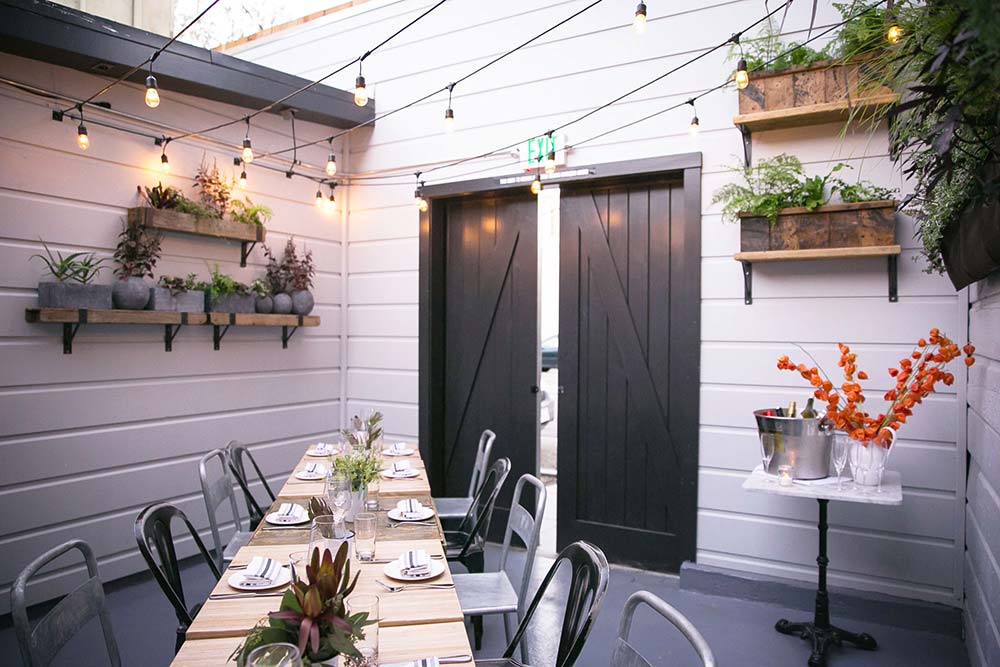 MISSION
A local favorite known for great brews, Dear Mom offers a laid-back atmosphere, gourmet pub food, and a spacious back room with a huge communal wooden table, which is perfect for getting the party started. Order a round of pickle-backs (you'll thank/hate me later) and just about anything from the specials board.
The Gazebo at Ragazza
DIVISADERO
Ragazza, a neighborhood favorite featuring Neapolitan-style, thin crust pizzas and baked pastas, has a cozy heated gazebo tucked into their garden patio. They'll work with you to create a prix fixe menu that's group and budget friendly— just make sure it includes the Amatriciana: a thin crust pizza topped with tomato, pancetta, chili, and egg. Tell your gluten-free friend sorry in advance.
The Butcher's Room at Trou Normand
SOMA
I once attended an all-you-can-eat prosciutto party at Trou Normand, and it was the best day of my life. You can host your own charcuterie party in their gorgeous covered, heated patio for $45 per person for up to 100 people (that's a lot of prosciutto). The Butcher's Room facing their open kitchen can also be reserved for up to 12 diners, featuring a three-course menu served family-style. A private bar can also be added to your event. Check yes.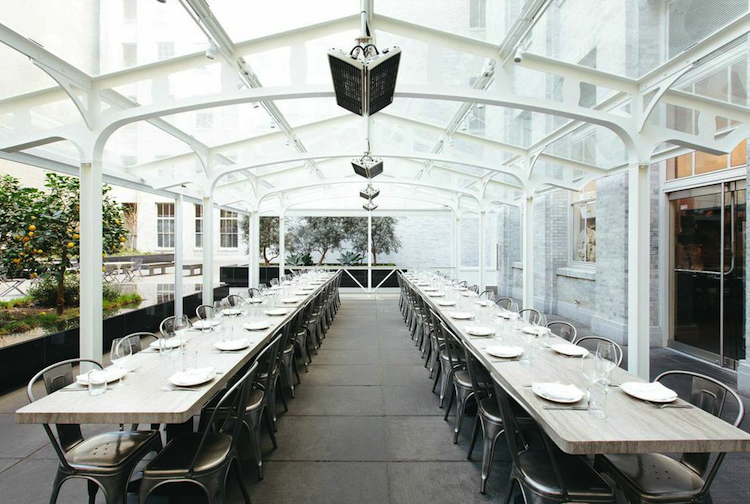 The Test Kitchen at Flour & Water
MISSION
Ok, stay with me—we're starting to get fancy. Parties of up to 14 can dine in a cozy kitchen where executive chef Thomas McNaughton tests recipes for the Flour + Water cookbook. This multi-course, family-style menu will give you major street cred with your foodie friends.
The Pearl Room at E&O Kitchen and Bar
FIDI
E&O Kitchen and Bar, a modern Asian restaurant in Union Square, has a new dining room called the Pearl Room. An antique wooden door hides the 14-person intimate space, which features a flat screen TV that's perfect for private screenings or watch parties.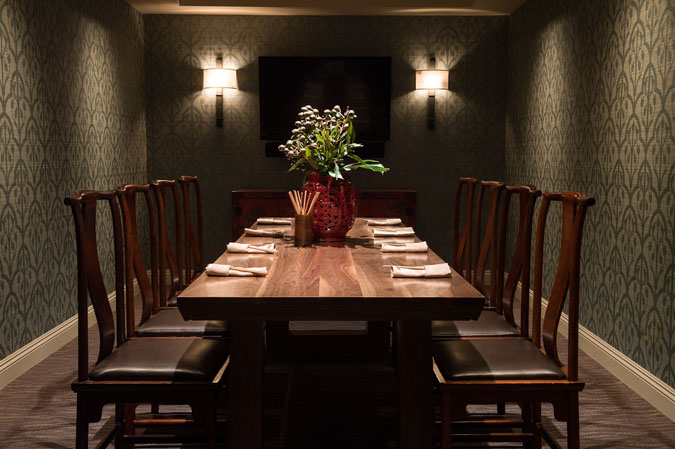 The Butcher Block at Salumeria
OUTER MISSION
Neighborhood deli Salumeria transforms into a one-of-a-kind dining space by night, serving up a rustic, family-style meal to enjoy with friends. The Butcher Block can accommodate up to 14 people, and includes four classic Italian courses.
The Mezzanine at The Progress
WESTERN ADDITION
With a little advanced planning, you can reserve a round wooden table in a secluded corner on the upper level of the Progress, the buzzed about restaurant from the folks at State Bird. It's tricked out with a Lazy Susan, perfect for enjoying a "choose your own adventure" meal— family-style plates for a group of 8-10. If you have a larger group, you can rent out "The Workshop" in the annex right between The Progress and State Bird, and design a unique menu that pulls from either restaurant for up to 36 guests. Time to make some new friends.
Have a favorite I missed? Let me know.