BARS AND RESTAURANTS
Your Guide To Philadelphia's Best Comedy Venues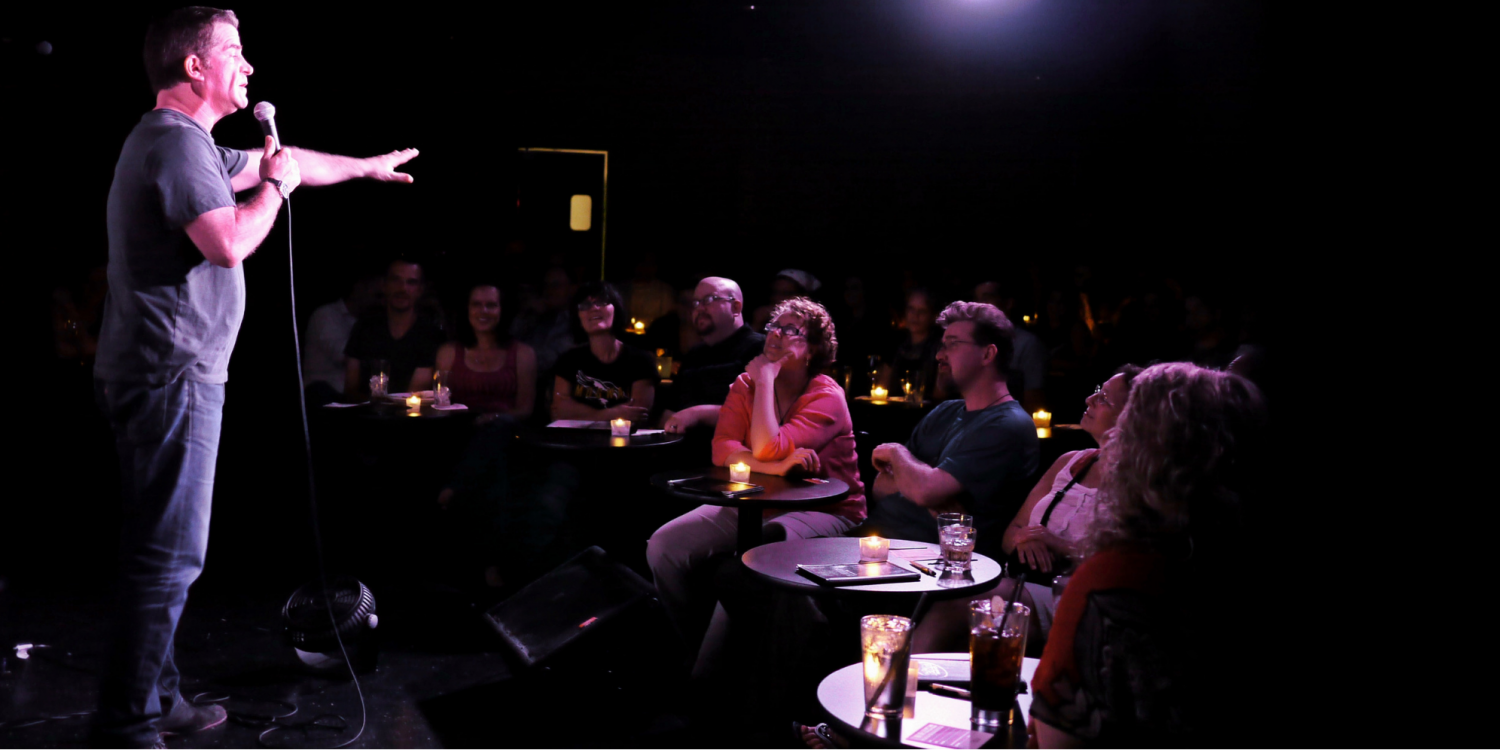 There's a scene — many, rather — on the Amazon original series The Marvelous Mrs. Maisel where the show's titular character, Midge Maisel, stands onstage at a dingy club, spotlight cast upon her while she erupts into a comedic diatribe. The series paints a romantic picture of an up-and-coming stand-up comic in New York during the late 1950s and likely inspires a desire to go out and experience the real thing after your binge-watch has concluded.
Luckily, a stellar comedy scene isn't solely restricted to 1950s Manhattan — 2010s Philadelphia does a pretty good job in the laughs department. In addition to serving as the butt of many jokes (from our cheesesteaks to our sports fans), Philly is home to both independent and larger comedy clubs. So instead of reveling in someone else's laughter, go out and make your own. Here's where to catch a comedy show in Philly.
2030 Sansom St.
ComedySportz Philadelphia's improvisors put on a competitive-style comedy show pitting two teams against one another in a series of comedic games. The weekly audience-interactive show (catch it every Saturday at 7:30pm and 10pm) is kid-friendly, but the theater offers an adults-only show the last Friday of the month in addition to a number of other offerings like "This Week Sucked," which uses audience members' bad news as inspiration.
215 N. 11th St.
The brainchild of two local comics, Good Good Comedy originally began as Five Dollar Comedy Week, a once-a-year series of five-buck shows. Once the venture grew into steadier programming, Five Dollar turned into Good Good, and soon after its permanent Chinatown space opened in 2016. With monthly shows like "Art Gab," which pokes fun at the high-art world, and performances from touring comedians like Rachel Sennott from HBO's High Maintenance, the uber-intimate theater continues to serve up a diverse slate of stand-up, sketch, improv, and storytelling.
2031 Sansom St.
The local Center City outpost of the comedy club chain is everything you'd expect from a venue of this sort: cabaret seating, table service (there's a two-item minimum), nice-ish dress code, slightly older crowd (all shows are 21 and up). The A-list entertainment is a major pull: Helium has hosted Damon Wayans Jr., Natasha Leggero, Michael Ian Black, and tons of other famous faces. Plus, there's a weekly Tuesday night open mic for those curious to hear what the locals have to say.
300 S. Broad St.
While not a comedy venue per se, the Kimmel does welcome megastars in comedy from time to time. The grand 3,000-plus-capacity downtown theater has seen recent appearances from Hasan Minhaj, host of the Netflix show Patriot Act with Hasan Minhaj, Kathy Griffin, Tim and Eric (who met right here in Philly at Temple University), Nick Offerman, and Mike Birbiglia. You'll be sitting comfortably in plush seating, soaking in the true Hollywood experience while catching some high-caliber stars.
531 N. 12th St.
Diplo's former Mad Decent homebase is now a diverse venue with a calendar packed with indie artists, B-movie screenings, and the occasional comedy show. In the past, they've welcomed artist Ben Sisto and his collection of Baha Men's "Who Let The Dogs Out" memorabilia for a very hilarious discussion, and Matilda star Mara Wilson for a storytelling event where the audience determines which comic told a story comprised totally of lies. Expect things to get a little weird at these Spring Garden digs.
2030 Sansom St.
When you're burned out on stand-up, come here. In the same venue as ComedySportz and right across the street from Helium, Philly Improv Theater — or PHIT — is in the midst of many other comedic and nightlife happenings. Though their stage may be small, the event calendar is anything but. Longtime improv crew The N Crowd performs every Friday night while a number of other improv groups put on specialty shows (like a totally improvised rom-com) and games with lots of audience involvement.
33 E. Laurel St.
Nestled in the budding area around the Fillmore in Fishtown, this 2-year-old club has seen surprise sets from hometown heros Kevin Hart and Dave Chapelle. The Live Nation-owned venue seats 300 but still feels cozy and boasts outdoor seating for a little pre- or post-show imbibing. With multinight bookings from acts like Wanda Sykes and Michelle Wolf, this 21-and-older venue is a happy medium for those looking for an intimate place to see big personalities.
1200 Callowhill St.
Similar to PhilaMOCA, Underground Arts is a multipurpose space, often hosting bands for general admission shows but occasionally setting up seating to welcome touring cult stand-ups like John Early and Kate Berlant. On deck are comedy podcasters Las Culturistas with Matt Rogers and Bowen Yang, so if multimedia, internet-y phenomena is your deal, the Callowhill venue is where it's at.
Want to find the best things to do in Philadelphia?
Check out our weekly-updated event calendar!