BEER
Paint and Sip Classes Are About Much More Than Drinking and Painting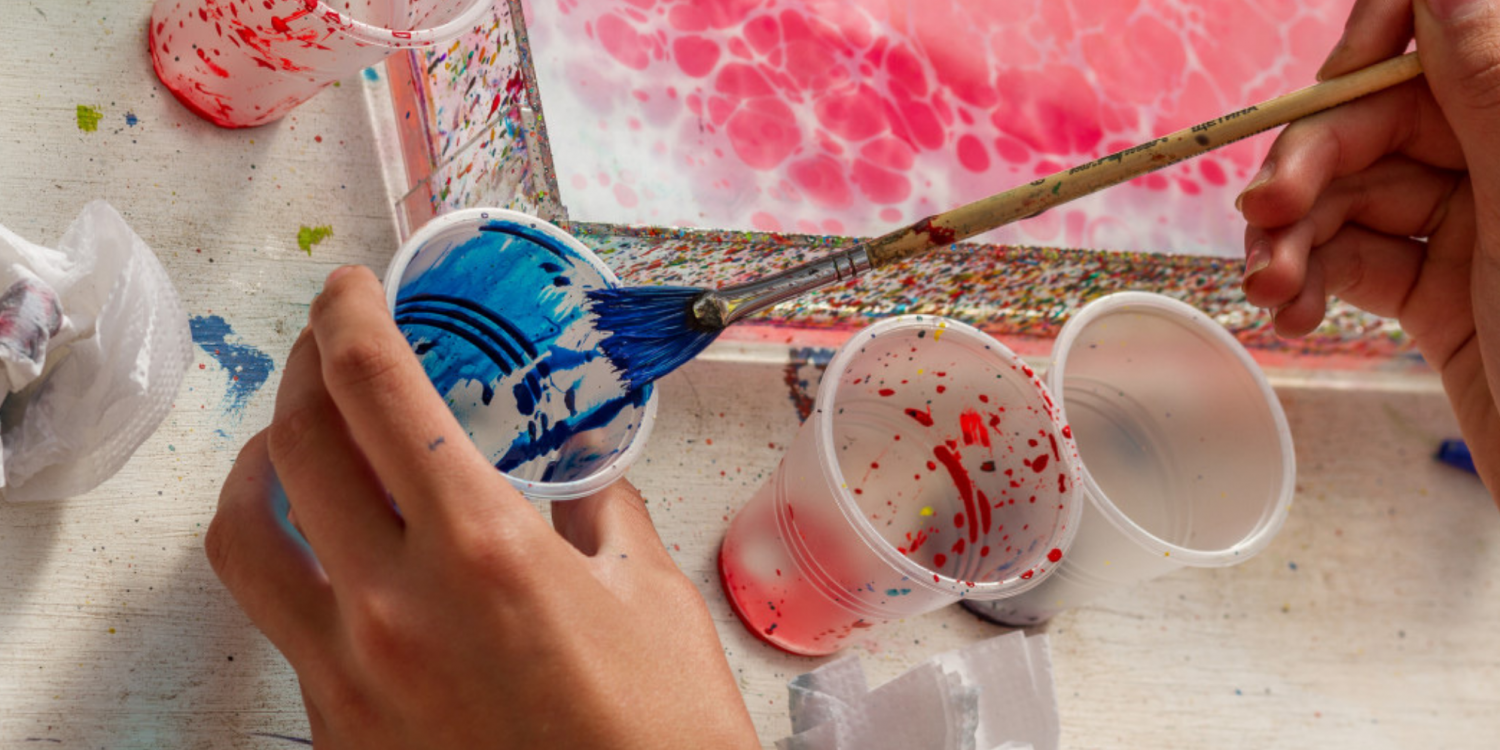 Walk into any art gallery and you're likely to see people shuffling through the exhibits, phone in hand. Some might spend a moment or two in front of a painting, but it's rare to see someone deeply engrossed in an artwork — unless they're Instagramming it. These days, the gallery experience is more about likes than deep contemplation. That's not necessarily a bad thing; it's just the way we live. And although a gallery full of paintings might not be enough to pull us away from our screens, perhaps the act of painting itself can provide a cure for our digital ADD.
At least that's the experience of Ade Adeyemi, who runs a regular "paint and sip" class at the Arts District Brewing Company in Downtown Los Angeles, where people from all walks of life come to swap their phone for a paintbrush for a couple of hours.
Many of the people who attend Ade's classes work nine-to-five jobs and are looking for a way to loosen up. "It gives you relief from the daily grind," says Ade. "It definitely takes the pressure off of you. Because you cannot get it wrong; it is your expression. And I really encourage people to not try to get it right. Just be loose."
Sometimes, it can feel like your life oscillates between your inbox and your Netflix account, so an evening where the only thing you have to worry about is filling a blank canvas can be a revelation, especially for those who haven't painted seriously before.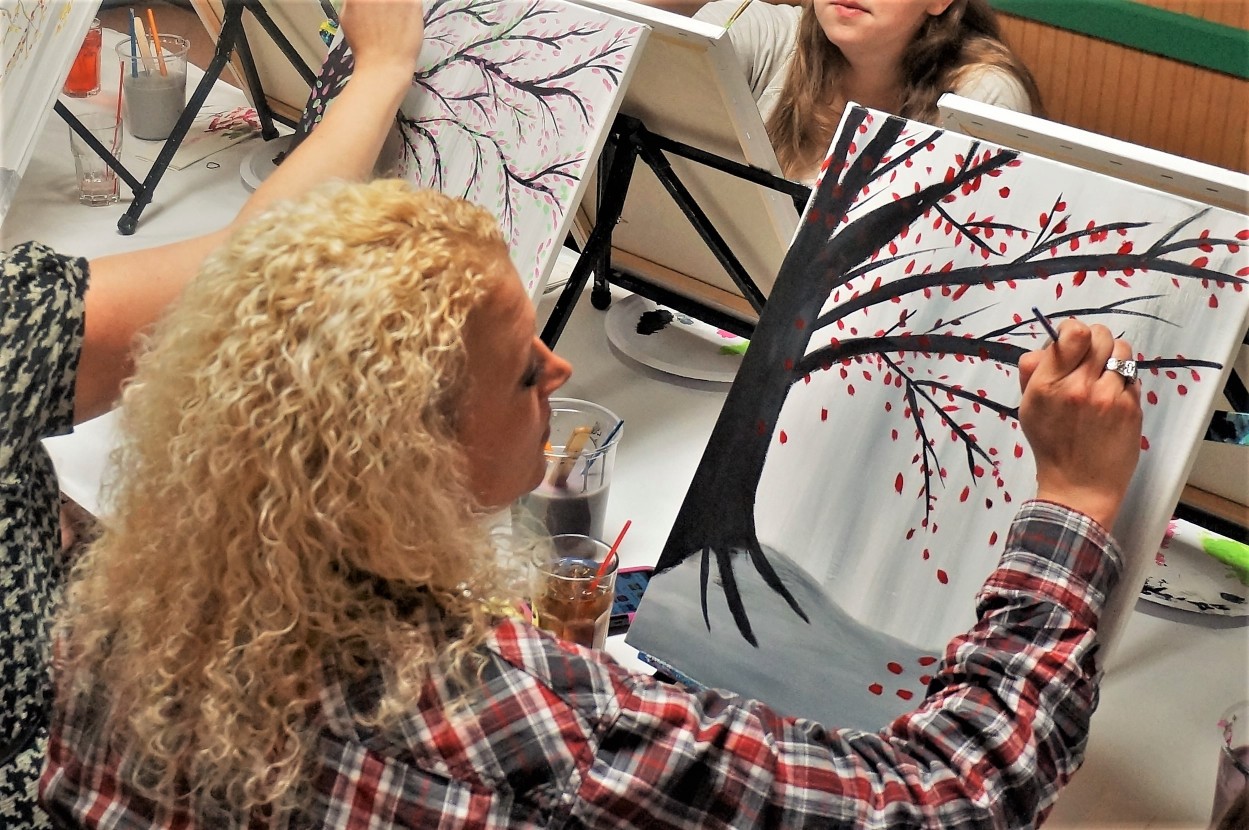 Artists of all skill levels attend Ade's classes, from professionals looking to rekindle their passion to beginners who haven't picked up a paintbrush since elementary school, to people who simply want to tick painting off their bucket list. "I encourage people to come back and paint again and continue to do it, but for some people, it's just a novelty. Been there done that. Some people [are] trying to get back to something that they've always loved. And for others, it's a completely new thing and it's something they can learn, too," says Ade. "But I've had an artist participant who just wants to get out of the house more. They just want a reason to get out of the house and they don't want to go to a club; they don't want to hang out at the bar."
Ade began his career as a graphic designer, and then fell in love with painting, taking it up full-time in 2008. He was inspired to start teaching art after working in the San Diego School District, where he met an elementary school art teacher who seemed to have a great time in every class she taught. After deciding it looked like his dream job, Ade started teaching painting classes in 2014.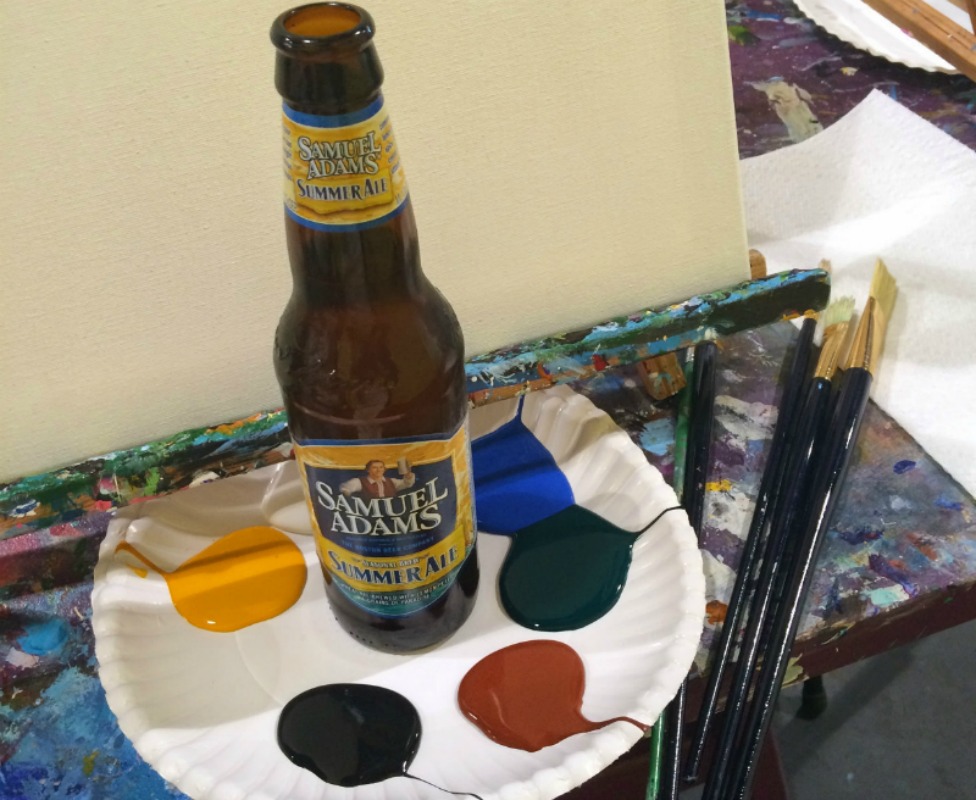 While some people use the term "paint and sip" due to the inclusion of alcohol, Ade began his teaching career in alcohol-free environments that were more about socializing and learning than drinking. Instead, he prefers the term "social painting." "It really gives us an opportunity to talk to people and be among people," Ade says of the social aspect. "It takes the pressure off being an artist and being great as a painter, but it also takes the pressure off being social because you have something that you are all focused on."
When you attend Ade's classes at the Arts District Brewing Company, you'll receive a free glass of wine or a flight of craft beer. But he stresses that the alcohol doesn't necessarily make people more creative or less inhibited.
What's really important is the non-judgmental environment and the social dynamic of the group. "I think the most intoxicating part of it is actually being able to express yourself here. Your subconscious comes. You know, your mind quiets. There is this moment where everyone is focused on getting their paintbrushes on canvas. They are getting their expressive power on the canvas."
For Ade, watching everyone in his class suddenly become deeply engrossed in their work is the most fulfilling part of his job. "That's what a teacher wants to see. People engrossed. And that's what a great host wants to see. People indulging and having a good time. They always have a big smile at the end of it and they are marveling at what they did."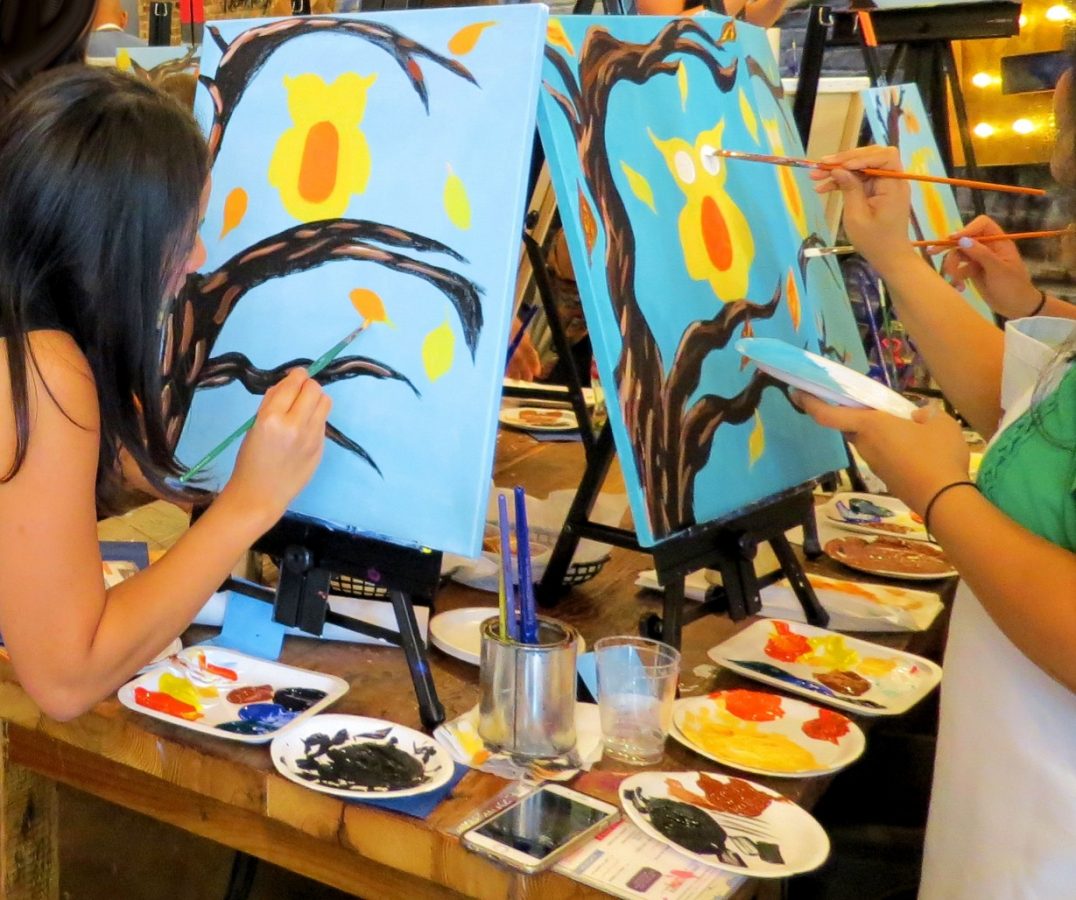 The classes include an instructional element, but Ade emphasizes that it's not about copying him or any other artist. Rather, it's about finding your own voice and tapping into your own way of expressing yourself. Ade lets the participants guide the creative direction of the class. "I always give step-by-step instructions, but people often go in their own [direction] and do something that inspires them […] I encourage them not to try to paint like someone else.
"We talk about the painting a little bit. We talk about the composition of the painting. I'll ask people, where do you think we should start? Ask for suggestions. Just to get people talking, engaged in the creative process, because it is their thinking and always really their thinking."
Ade sees himself as a facilitator of an exchange of ideas between the participants of his classes, rather than someone who is imposing his ideas on them. "It's all about the cool exchange of art. I set the table and invite people to come seek their hungry inner artist," he says. Once the ideas start flowing and people get in the zone, for Ade, it's all about standing back and letting it happen.
People who have never painted before are often surprised at what they've been able to create in a short time (even after a few drinks). Many come back for a second go, and a few even take up painting seriously. That process of letting the mind drift, and then being surprised at your own creation is something that even the most experienced painters enjoy, says Ade. "I still can be surprised by what comes out of me … it's that journey of being surprised. Art is a discovery and surprise of what you make, what you create."
So, if you're looking for a way to claw back at least a small chunk of your life from the digital realm, maybe it's time to consider a painting class. It may not turn you into a professional artist, but it might just give you a newfound respect for the medium. And who knows? Maybe on your next visit to the gallery, you'll spend more time with the art and less time on your phone.
Want more inspiration to start a new hobby? Check out our tips for starting a yoga practice.