OUTDOOR
The Music Festival Packing Guide: Everything You'll Need (…and the Stuff You Won't)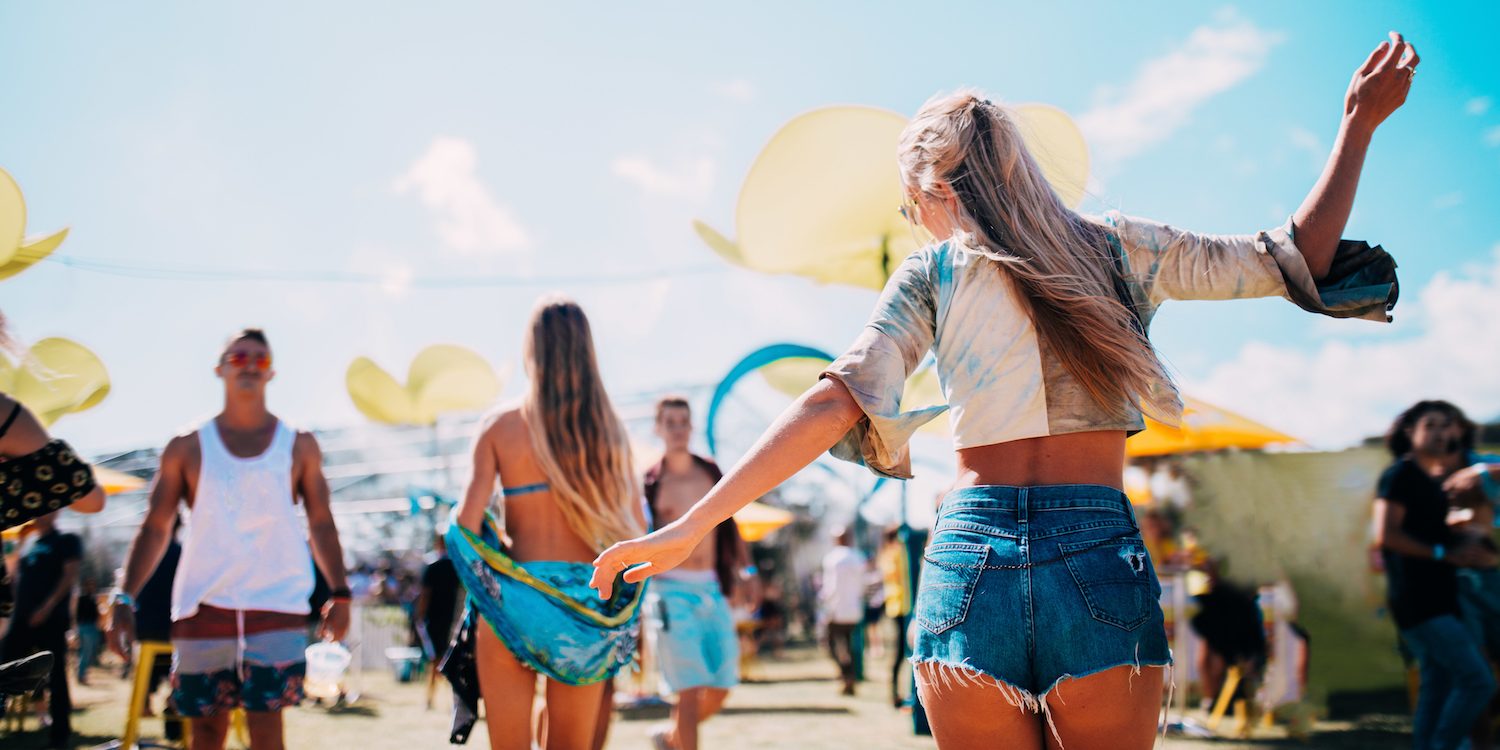 Summer and sunshine are right around the corner, which means festival season is almost upon us. Whether you're going to Coachella, Bonnaroo, BottleRock, Lollapalooza, or one of the dozens of other festivals around the country, there are a few things you need to bring with you in order to maximize your comfort, safety, and fun.
That goes double if you're planning on camping out, which is a great way to save money and keep the festival vibe going the whole weekend long. The thing about camping, though, is that it requires more preparation than just checking into a hotel room. We want you to be more prepared than a Boy Scout, so we put together a comprehensive list of everything you need to bring for a festival experience you'll remember (more or less) for the rest of your life.
**Just don't forget to check the festival's rules before you pack to see what's allowed and what needs to stay at home.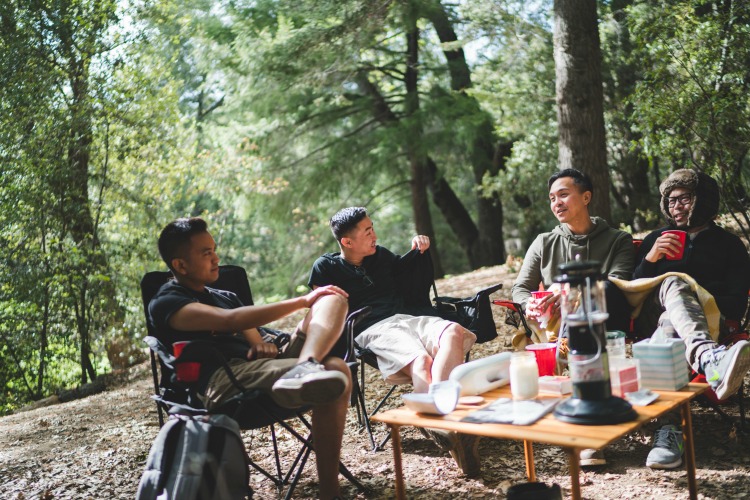 For living
You're probably going to spend more time at your campsite than you anticipate, so do your best to make it as comfy and fun as possible.
Flashlight/headlamp
Portable cell phone charger
A lantern
Card games
Portable speaker
Folding chair (This may seem unnecessary, but you'll regret it if you don't have one.)
Flip flops (Makes going to the bathroom in the middle of the night so much easier.)
A unique flag (Makes your tent easier to find when you're stumbling home at the end of the day.)
Optional: Decorations, solar string lights, inflatable couches, corn hole
For cleaning
Things are going to get dirty, but they can be a little less dirty if you bring just a couple of things.
Paper towels
Cleaning spray
Trash bags (If you're going to "leave no trace," you're going to need a bunch of these.)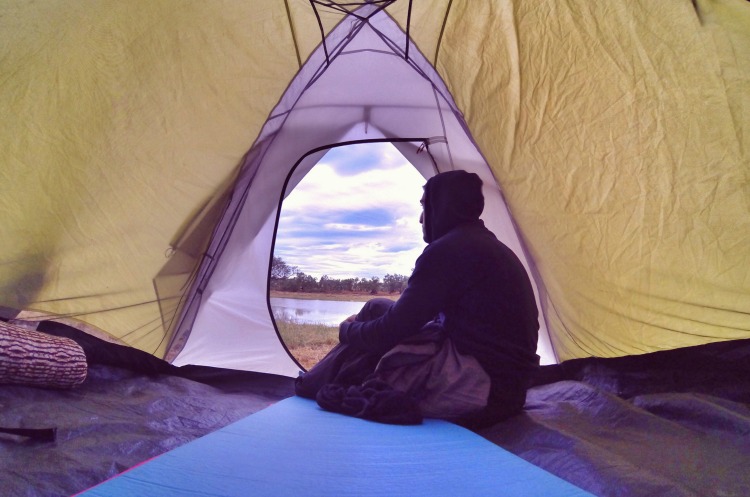 For sleeping
At some point, you're going to be tired. And when that happens you're going to want a comfy place to tuck yourself in. Here's all of the stuff you need to ensure you actually get some sleep.
TENT AND TARPS
Keep in mind that a three-person tent is really more like a two-person tent if you want a little space and a place to put your bags. And while a ground tarp may seem unnecessary, it's the best way to keep your tent warm and dry, and will extend the life of your tent.
Note: Some festivals don't allow metal stakes, so be sure to check ahead of time.
SLEEPING BAG
How low is the temperature going to be at night? Sleeping bags have temperature ratings, so make sure yours is going to keep you warm enough. Your tent adds about 10 degrees of warmth to the rating, and your sleeping pad should help as well—but if you're worried, pack a blanket. There's nothing worse than being up all night shivering.
SLEEPING PAD/AIR MATTRESS
Low maintenance vs. high maintenance. If you go the high maintenance route, don't forget a pump and batteries. No judgment either way. One is just a little easier to deal with.
PILLOWS
Alternate option: Use your clothes/jacket.
EAR PLUGS
You may be ready for bed, but that doesn't mean everyone else will be—and even if there's a noise curfew, there's still going to be that one guy whose snoring sounds like a hippopotamus grunting in your ear.
ADVIL/TYLENOL
Can't hurt, right?
SLEEP MASK
'Cause the sun will probably rise before you want to.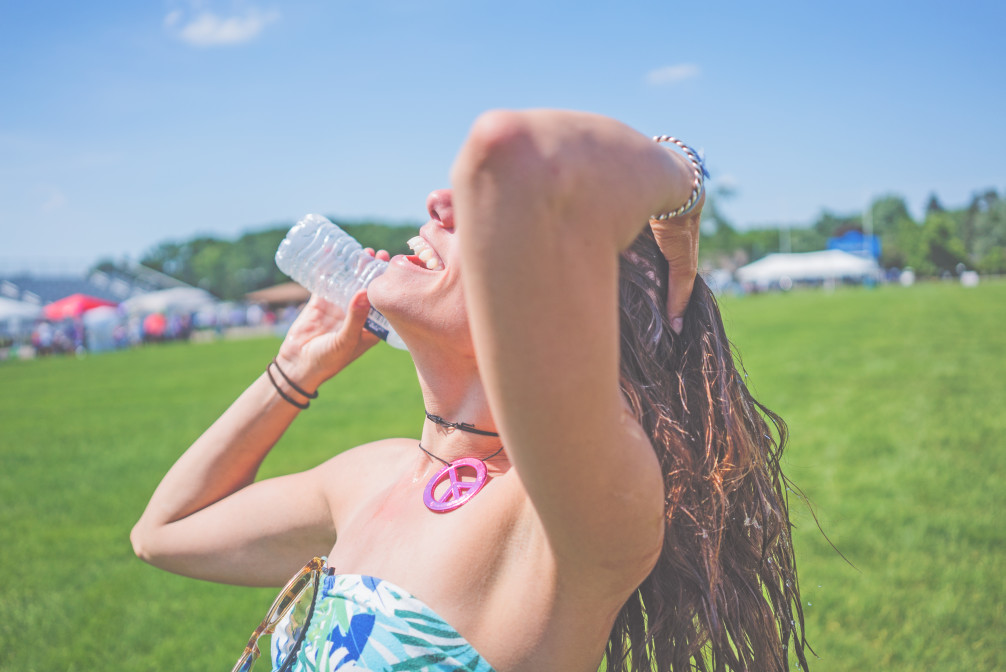 For bathing and taking care of yourself
A lot of festival campsites have showers, but there's also a good chance you're not going to bathe over the course of three days. That means you'll need to cheat the showering system. The secret is to bring a variety of wipes. So. Many. Wipes.
Other things you'll need:
Toothbrush/toothpaste
Mouthwash (Sometimes you're just too tired (read: tipsy) to brush.)
Deodorant (For the love of everything, please don't forget this at home.)
Hand towel
Facial and body sunscreen
Dry shampoo
Hairbrush/hair ties
Lip balm
Facial and body moisturizer
Band-Aids
Prescription medication
Tylenol/Advil
Hydration tablets (These are amazing. Trust.)
Hand sanitizer
Extra contacts/contact solution/glasses
Makeup (Try to pare it down to just the essentials and opt for products that do more than one job.)
Wipes! You'll go through more than you expect. (Just don't get them confused with one another.)

Makeup remover wipes
Baby wipes
Disinfecting wipes
Bug spray wipes
If you're fibbing to yourself that you're going to use the shared showers, then you'll also need:
Shampoo
Conditioner
Soap
Towel
Hair dryer (Yup, a lot of the festival campsites actually have power.)
Stuff you can probably leave at home:
Face wash
Eye cream
Toner
Serums
Perfume/cologne
Basically anything that you're realistically not going to end up using.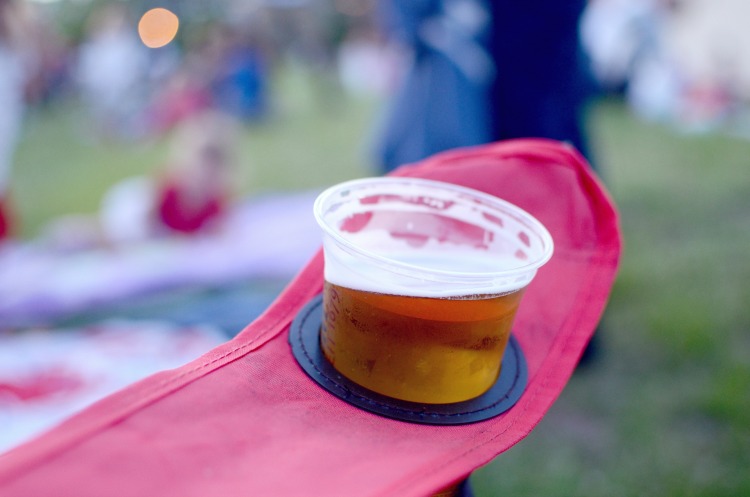 For drinking
You're going to need to drink a ton of water. And you're probably going to want to drink a ton of beer. Here's what you'll need to make both of those things happen.
Empty CamelBack (Being dehydrated is terrible. Bring a water bottle into the festival with you that you can fill.)
Beer/wine/booze for campsite drinking (Most festivals don't allow glass of any kind, and some also have a limit as to how many alcoholic beverages you can bring inside.)
Cooler/ice
Solo Cups or reusable drinkware
Jugs of water
Anything else you want to drink: juice, soda, Gatorade, La Croix—you get it.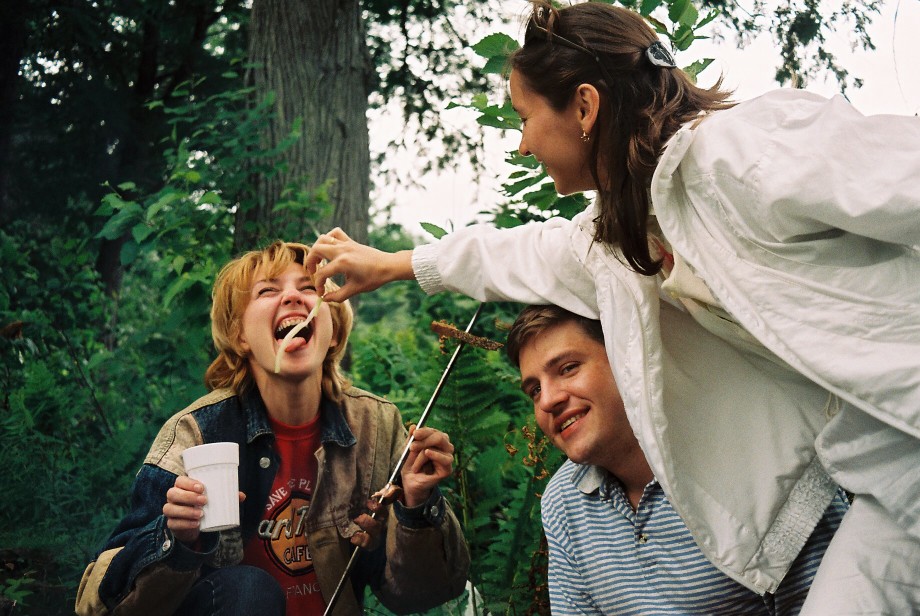 For cooking and eating
The key to cooking at a campsite is to keep things as simple as possible and to also make a list of what you need to buy so that you don't forget something important—like ketchup for your hot dogs. If you don't want to cook, it's actually kind of fun to live off of PB&J, potato chips, fruit, and cookies. It also saves you from having to bring most of this stuff.
Camping stove
Propane
Plates and utensils (Try to go green and not use paper/plastic, but no one will judge you (too much) if that doesn't happen.)
Cooking utensils (What you need will depend on what you're cooking, which is another reason why it's good to plan ahead. Don't forget spatulas, large spoon, etc.)
Condiments/olive oil/butter (Food doesn't taste good without these things.)
All of the ingredients (Maybe you go hot dogs, maybe you go Dutch oven braised beef tacos, maybe you make a lobster bisque—whatever it is, just bring what you're going to need.)
Cooler/ice

For not being naked
There's a good chance you want to don multiple festival-wear looks because, well, it's a festival. If you can, try to create outfits that can repeat one element and can transition from day to night without much work. And focus on layering. And definitely don't pack anything you'll be sad about ruining. Or probably anything white.
What you pack in terms of clothing is obviously super personal, so our only advice with that is to wear things that are comfortable, stylish, and camera-ready, 'cause you know there's going to be a lot of Instagramming going on.
That being said, you still need to bring the essentials…
Bras and underwear (Always bring more underwear than you think you'll need, especially if it's going to be hot.)
Hoodie/jacket (Check the forecast before you go and then prepare for it to be even colder, just in case.)
Raincoat/galoshes/umbrella (if the forecast even hints at rain.)
Bathing suit (if there's a place to swim.)
Hat (to protect you from the sun.)
Sunglasses (If you're the type of person who loses your sunnies, bring two pairs.)
Pajamas (Do you want to wake up in the middle of the night because you have to pee and realize that you're naked and the only thing you have to put on is the unicorn costume you were wearing earlier?)
A bag that you'll use at the festival (Cross-body bags work really well, as do—sorry, but we have to say it—fanny packs. Call it a money belt if it makes you feel better.)
Costume jewelry (Leave the good stuff at home, obvi.)
A bandana (If it gets windy and dusty, this will be a lifesaver.)
Comfy kicks (You may think you're actually going to wear your wedges, but you're not going to wear your wedges because when you're getting your 10,000 steps four times over in a day, wedges aren't an option. Cute sandals (if you don't mind getting your toes stepped on), booties, boots, or sneakers are great options. And don't forget socks if your shoes call for them.)
Accessories (If you like your festival to be part-festival-part-runway show, then you've already got this down. If you're not sure how to spice up your outfit, flash tattoos are an easy way make your festival look feel more, well, festive!)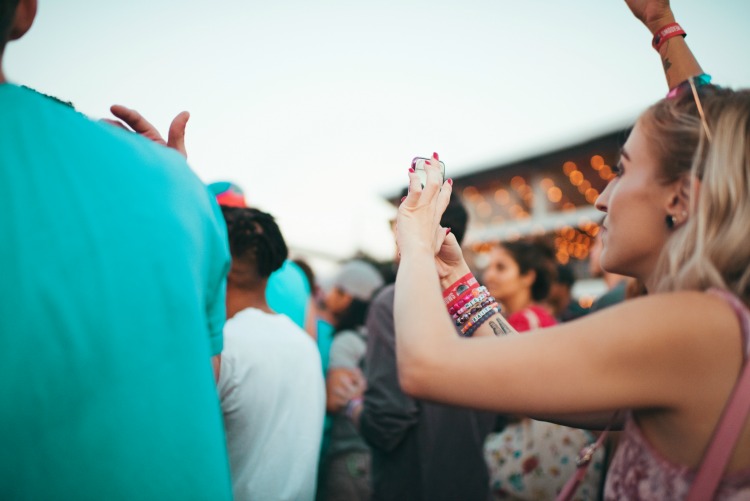 For actual festival-ing
A blanket (If you're going to want to set up camp somewhere, this is imperative.)
A printed schedule (for when your phone dies.)
Portable charger (so that the above doesn't happen…right away, anyway.)
Water bottle (We sound like your mom—we get it. But seriously: beer doesn't replace water. For the most part.)
Sunscreen, sunglasses, and a hat (YES, ALL THREE.)
Ear plugs
Cash money
Your ticket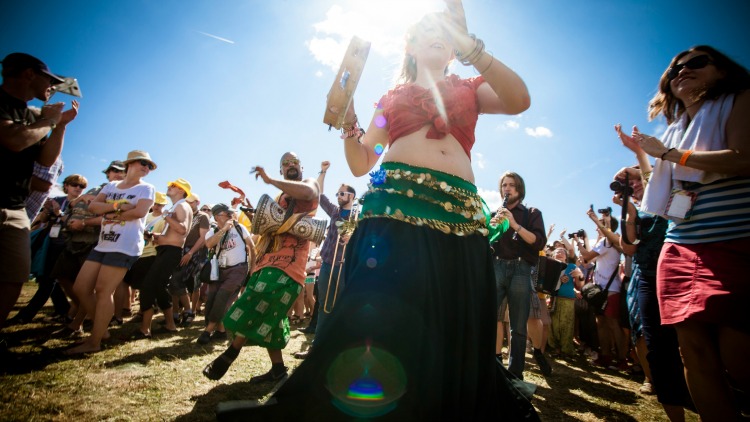 And a couple of things you definitely don't need…
Flower crown (The trend is finally dead)
Fur vest (see above)
Anything that appropriates another culture. (Looking at you, Native American headdresses and bindis.)
Rompers (Do you want to be basically naked in a disgusting port-a-potty? Exactly.)
Glass anything
A selfie stick. (Just…don't.)
Want to win $1,000 to help prepare for your next festival experience? Enter here!