UNCATEGORIZED
Nutcracker By Neighborhood: Which Production Is Up Your Alley?
Just like every neighborhood has its own street-meat truck or friendly bodega cat, so too does each district have a holiday Nutcracker performance it can lay claim to. Enter stage left: a handy Nutcracker-by-neighborhood breakdown to help you get the goods before you buy the tickets. The NYC metro area is chock full of options but like, say, white truffles or the Shamrock Shake, these seasonal delights are fleeting—so crack deez nuts while you can!
DOWNTOWN BROOKLYN
Brooklyn Ballet's The Nutcracker Sweet! at The Actors Fund Arts Center, December 9th-13th
Know any tatted-out moms and skinny-jeans-loving dads? Well, you will soon, because they're all here watching this revamped Nutcracker with their fedora-wearing kindergarteners. Here, the character of Drosslemeyer, aka: the guy who presents the titular toy and sets the whole shebang in motion, is a breakdancer in a motion-sensor shirt that lights up his moves as he pops & locks. This production further departs from the norm with projections of classic Brooklyn locations because really, who doesn't want to see ballet dancers jeté down Flatbush Avenue? Clocking in at around one hour, this version moves at a clip that's just right for the kids in attendance, all of whom probably have more style and swag than you do.
EAST VILLAGE
East Village Dance Project's The SHELL-SHOCKED Nut Project at LaMama Theater, December 17th- December 20th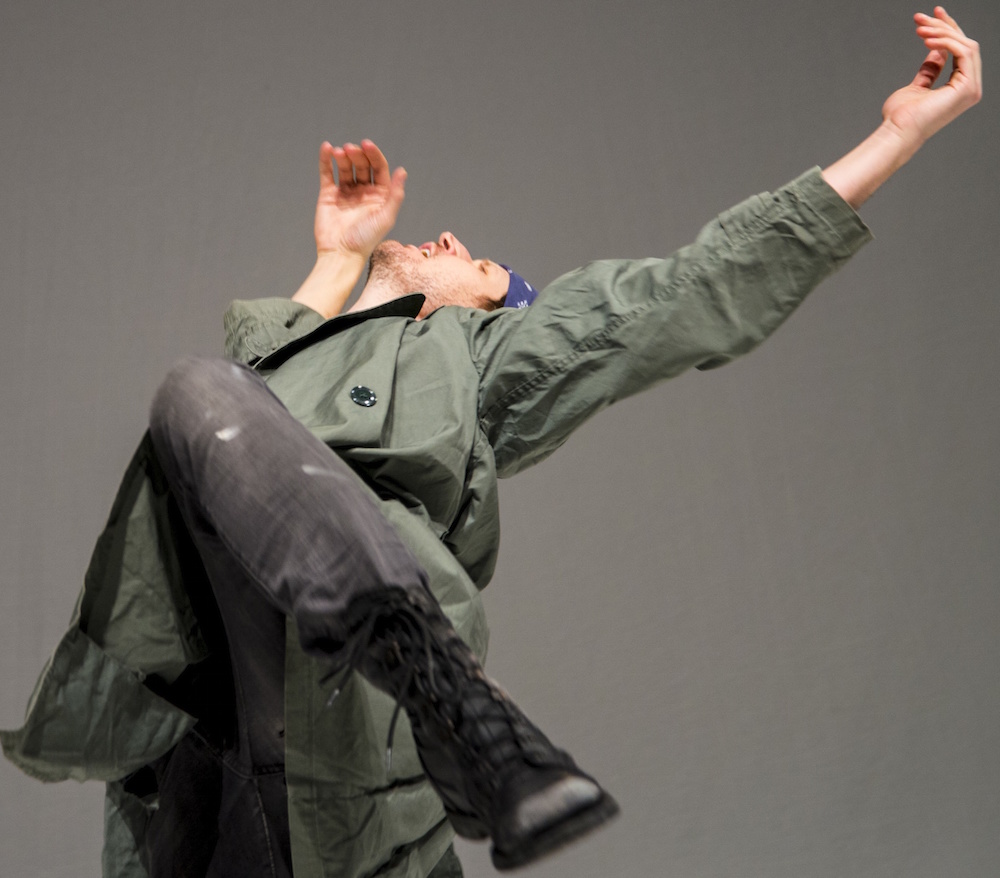 Artier-than-thou east villagers need not feel left out of Christmas traditions as long as they are suitably…non-traditional. Expect lots of all-black garb and piercings galore in the audience when the East Village Dance Project presents this localized, contemporary interpretation that veers as far away from the usual tale as possible. Let's just say there are balloons, war veterans suffering from post-traumatic stress disorder, and a child wandering through the ghost of the old CBGB's—during a blizzard, no less. Mixing classic holiday references with contemporary issues creates something totally new and a lot more relevant for those who really can't be bothered with sugarplum fairies.  
NEWARK
The Hip Hop Nutcracker at The New Jersey Performing Arts Center, December 19th
Calling all sneaker heads, hype beasts, aspiring b-boys, fly gurls and those Jerz residents who simply want a little Kurtis Blow with their yearly holiday festivities: this one's for you. The Hip-Hop Nutcracker already played in New York City in November, so this is your last chance to catch them nearby. Go for the DJ manning the decks onstage and the electric violinist supplementing the Tchaikovsky score. Stay for the Decadancetheatre's crew and their explosive hip-hop riffs on ballet idioms. The second act takes place in a bar named The Land of Sweets (no purple drank served) as the performers set the dance floor on fire. Mr. "King of Rap" Blow serves as MC during the festivities. And if yah don't know, now yah know.
MIDWOOD
The Dance Theater in Westchester's The Colonial Nutcracker at Brooklyn Center For The Performing Arts, December 13th
The redcoats are coming…to Midwood! A mix of young families living nearby and newer transplants to the nabe will want to choose this performance for their mini-me's first Nutcracker with good reason. The Colonial Nutcracker is geared specifically to children aged 5-10 years old with voice-over narration that makes the proceedings much simpler to understand. To be honest, it probably helps most of the adults understand what's going on, too. Parents will dig the American history aspects like unique post-Revolutionary War setting, powdered wigs and period-correct set decor. 

FLATBUSH
Moscow Ballet's The Great Russian Nutcracker at Kings Theater, December 5th
Like the Rockettes, this show is a come-one-come-all affair that's good for newbies looking for a serious spectacle, as well as dance aficionados. Glossy and produced to the Nth degree, the unpretentious crowd will marvel at the beautiful Russian ballerinas in lavish costumes while cosseted in the sumptuous surrounds of the newly restored Kings Theater. In short, this production makes you feel like a tsar.
P.S. It's worth mentioning that the second act includes scenes where dancers turn themselves into doves and roses shoot out of a cannon. Yep, the Russians' Nutcracker game is strong and the Moscow Ballet ain't playing around.
WEST VILLAGE
Company XIV's Nutcracker Rouge at The Minetta Lane Theater, November 25th-January 17th
This West Village show draws sexy singletons and creative-minded couples who'll be pawing at each other as they enjoy Company XIV's erotically charged blend of burlesque, circus arts, and cabaret. Seriously, this is a 16-and-over show that digresses a lot from the ballet you saw growing up…I mean, who knew the Nutcracker could involve sparkling pasties and this many bare buns on display? No one's complaining—it's such a decadent treat to go to a Nutcracker that features partial nudity and cocktails!
UPPER EAST SIDE
Dances Patrelle's The Yorkville Nutcracker at The Kaye Playhouse at Hunter College, December 10th-13th
No one really knows what goes on at Gracie Mansion, but props to Dances Patrelle for assuming that it involves a dancing rat king! All kidding aside, this New Yorkified staging takes us inside the mayor's residence circa 1895; no De Blasio kids loping about here. The show continues to make stops in charm-laden locales throughout New York, like the Dakota building and Central Park for a city-centric version that all those coifed, cooly collected Upper East Side residents will eat up (alongside an occasional salad, it's probably the only thing they consume)…that is, if their nannies don't take the kids to see it instead. Double zing!
FORT GREENE
Mark Morris Dance Group's The Hard Nut at BAM Howard Gilman Opera House, December 12th-20th
Yes, there will be Brooklyn lumbersexuals furtively stroking their well-groomed beards in the aisles of BAM's Howard Gilman Opera House. But don't let these side-seat characters catch your attention too much; you'll want to focus on enjoying this celebrated production, a campy caricature of 1960's suburbia based on the cartoons of Charles Burns. The Mark Morris Dance Group has been twisting the trad Nutcracker story for over 20 years now to the delight of those among us who cast a gimlet eye towards the holiday season. This one's not particularly great for children—and all the better for it. 
LONG ISLAND CITY
JP Dance Group's Dance The World Nutcracker Festival at The Secret Theater, December 15th-20th
Prepare the granola. You'll likely spy some socially conscious if slightly pretentious parents dragging their worn-out WNYC canvas tote bags and their children (named Asparagus and Prosperina) in the L.I.C. audience. That said, this Nutcracker is blessedly light on cultural appropriation and heavy on ingenuity, leaving more common productions looking seriously antiquated. JP Dance Group curated authentic folk dance groups from all over the world to take over the second act, the one usually reserved for the stereotypical Danse Arabe, Danse Chinoise, and their ilk. The swinging jazz score by Duke Ellington is far less ubiquitous than Tchaikovsky's time-honored version, making this show a rarity in more than one sense.
UPPER WEST SIDE
New York City Ballet's George Balanchine's The Nutcracker™ at Lincoln Center, November 27th-January 3rd
The grande poobah of all Nutcrackers, this bad boy is packed to the gills with multi-generational groups—think grandma, mom, granddaughter trios galore—plus plenty of ballerinas-to-be from toddler-age to teenage. It's been playing for over 50 years at Lincoln Center, so people know the drill. Opt for a glass of wine at concessions to help you deal with the insane crowds and forever-long lines in the bathrooms…actually, on second thought, wine might not be so great for that part. Prepare your patience (granny doesn't move so fast up the Lincoln Center stairs anymore) and get ready to be wowed by virtuoso dancers, tutus for days, and a friggin' bushel of Christmas cheer. There's a reason why so many people make this part of their routine holiday celebrations year after year.