HOLIDAYS
NYC's Village Halloween Parade: What to Know Before You Go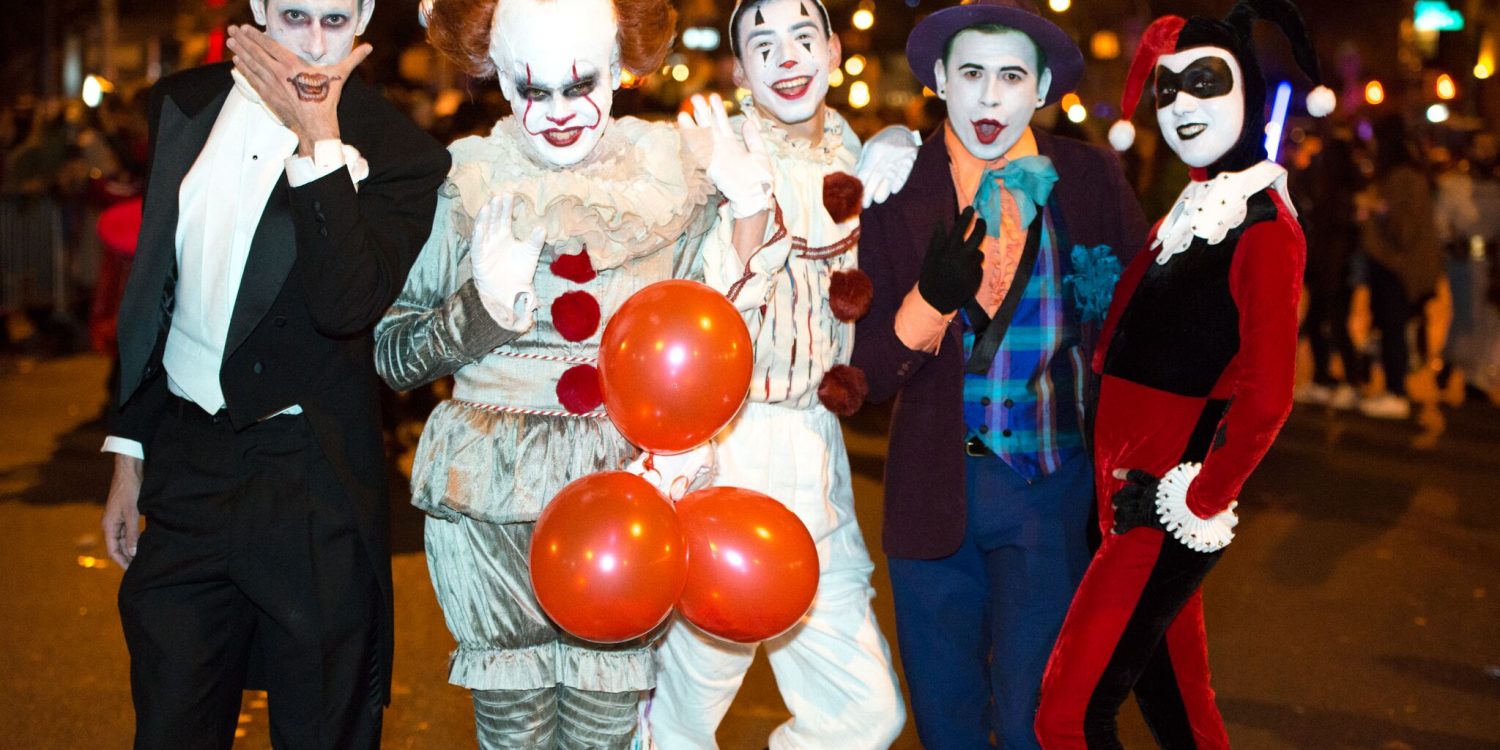 Nowhere in the country does Halloween quite like New York City. With costume parties, scary attractions, and spooky tours, our collection of Halloween events calls for some seriously killer times, but the NYC Village Halloween Parade is the most vibrant experience of all.
Now in its 46th year, the parade takes place in Greenwich Village and is the nation's largest public Halloween celebration. Anyone is invited to march when it kicks off on October 31, as long as they follow one simple rule: Wear a costume.
We caught up with the parade's longtime Artistic and Producing Director Jeanne Fleming to learn more about the annual tradition and to find out exactly what you need to know to join the festivities.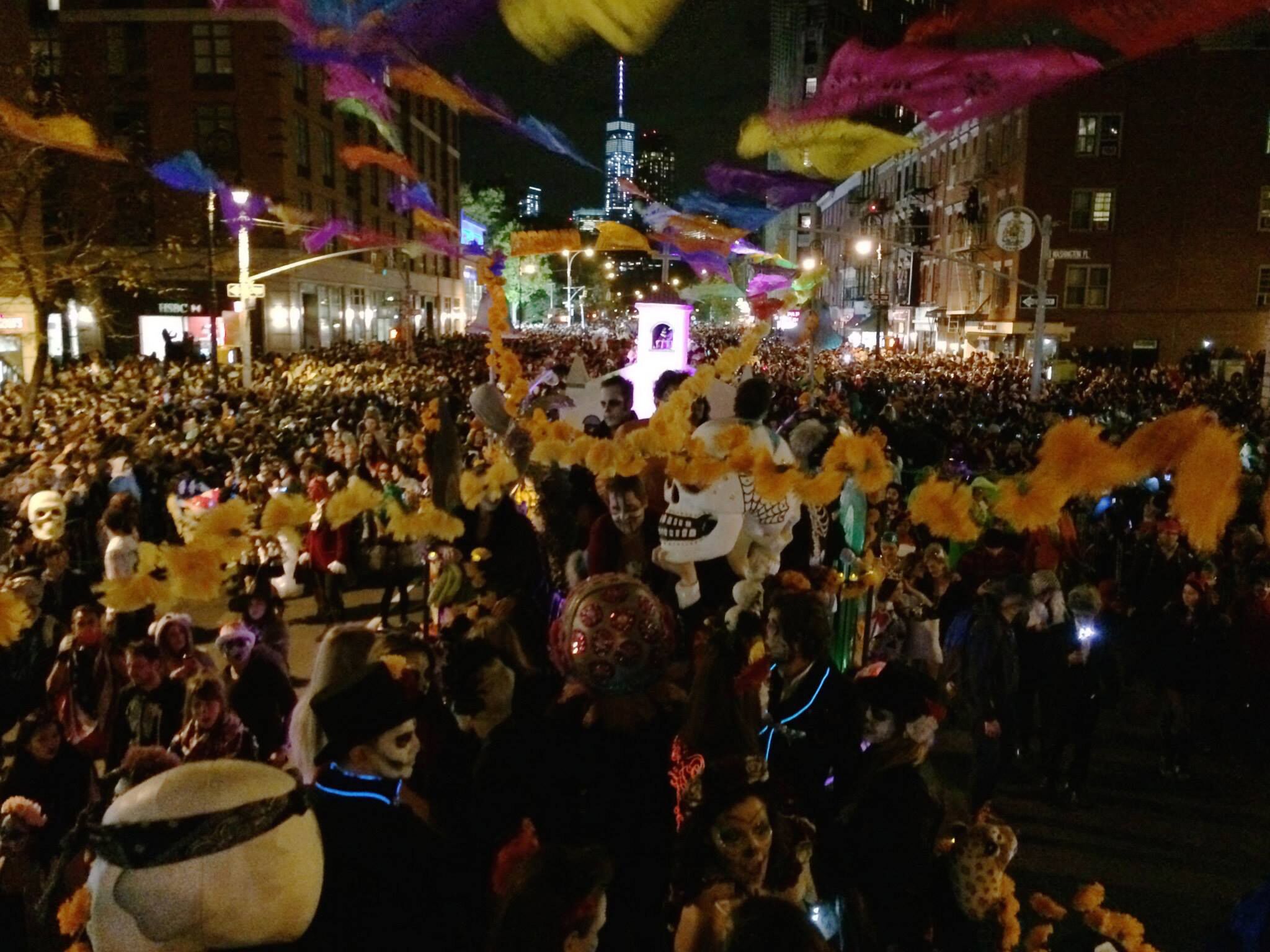 Village Halloween Parade
History
The parade has taken place every year since 1973, with the exception of 2012 when Hurricane Sandy hit. It originally began as a parade of puppets and was aimed at kids, with only a couple hundred people participating. Flash forward a little more than four decades later, and the spectacle now bills itself as "the nation's most wildly creative public participatory event in the greatest city in the world," with two million people expected to attend this year.
With this being Fleming's 39th year in charge of the parade, she's amazed at how it continues to have the same energy and spirit that it always has. "It's a phenomenon that it's still an opportunity for people to come out, celebrate community, and be who they want to be," she says.
Even with last year's terror attack on the West Side Highway just hours before the parade was supposed to begin, the event marched on. "The Governor [Andrew Cuomo] and Mayor [Bill de Blasio] showed up and walked the first eight blocks with us, to show that New York couldn't be stopped," Fleming says.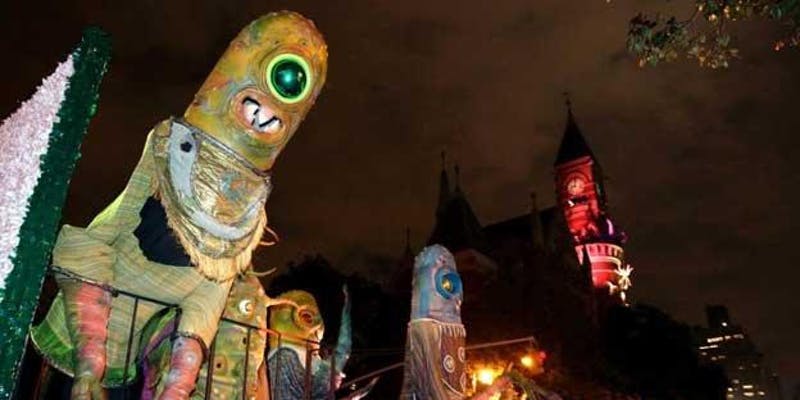 Village Halloween Parade
This Year's Theme
Each year the parade features a special theme based on what's culturally relevant, and this year, it's all about robots. Fleming says that when it comes to selecting a theme, it's "usually in the zeitgeist," but this year it was extra personal for her. "One morning I woke up to get ready for a meeting I had in New York that day and it occurred to me how I do the parade so automatically at this point, like it's in my bloodstream. I was getting dressed to go catch a train and just thought to myself, I am literally a robot!" she says.
Fleming adds that she's extra happy about the theme since it allows people to go as big as they want with it—or not. "Most people make their own costumes, and this lends itself to doing the simplest version of it if they want to," she says. "Just put a box on your head!"
That said, Fleming is excited to see how far people take it, especially when it comes to this year's grand marshall, Machine Dazzle. "He's an extreme costumer and with his name being Machine and the theme of robots, it really couldn't be more perfect," she says.
For anyone interested in being a robot, there's even a special VIP "I AM a Robot" section of the parade, for the first time ever. Those who sign up will have a secret entry point for early admission, an exclusive DJ party, and extra TV coverage.
Village Halloween Parade
What to Expect
Besides millions of people taking over the streets of NYC in costume, the parade includes more than 50 bands performing live music and dozens of dancers and other performance artists. But the main spectacle of the evening are the hundreds of puppets the parade has always been known for, and every year they come together thanks to volunteers.
"We host workshops every weekend in September and October," Fleming explains. "Hundreds of people volunteer and come [to Upstate New York] to this old barn that someone donates. We feed them, we have bonfires, and we make a whole weekend out of it," she says. "We design [the puppets] in such a way that the process can be automated."
Giselle Chamma
How to Participate
Anyone in costume is welcome to enter the parade on 6th Avenue at Canal Street between 6:30pm and 8:30pm. Participants can only approach 6th Avenue from the east and south, coming north from Canal Street or east from Broome Street or Sullivan Street. These are the only options for navigating your way to the entry point, located right here if you're more of a visual person. Once you enter, just follow the crowd up 6th Avenue and march until you're told to stop!

If for some reason you rather watch than participate, pick a spot on 6th Avenue that's between Spring Street and 16th Street from 7pm to 10:30pm to catch the action.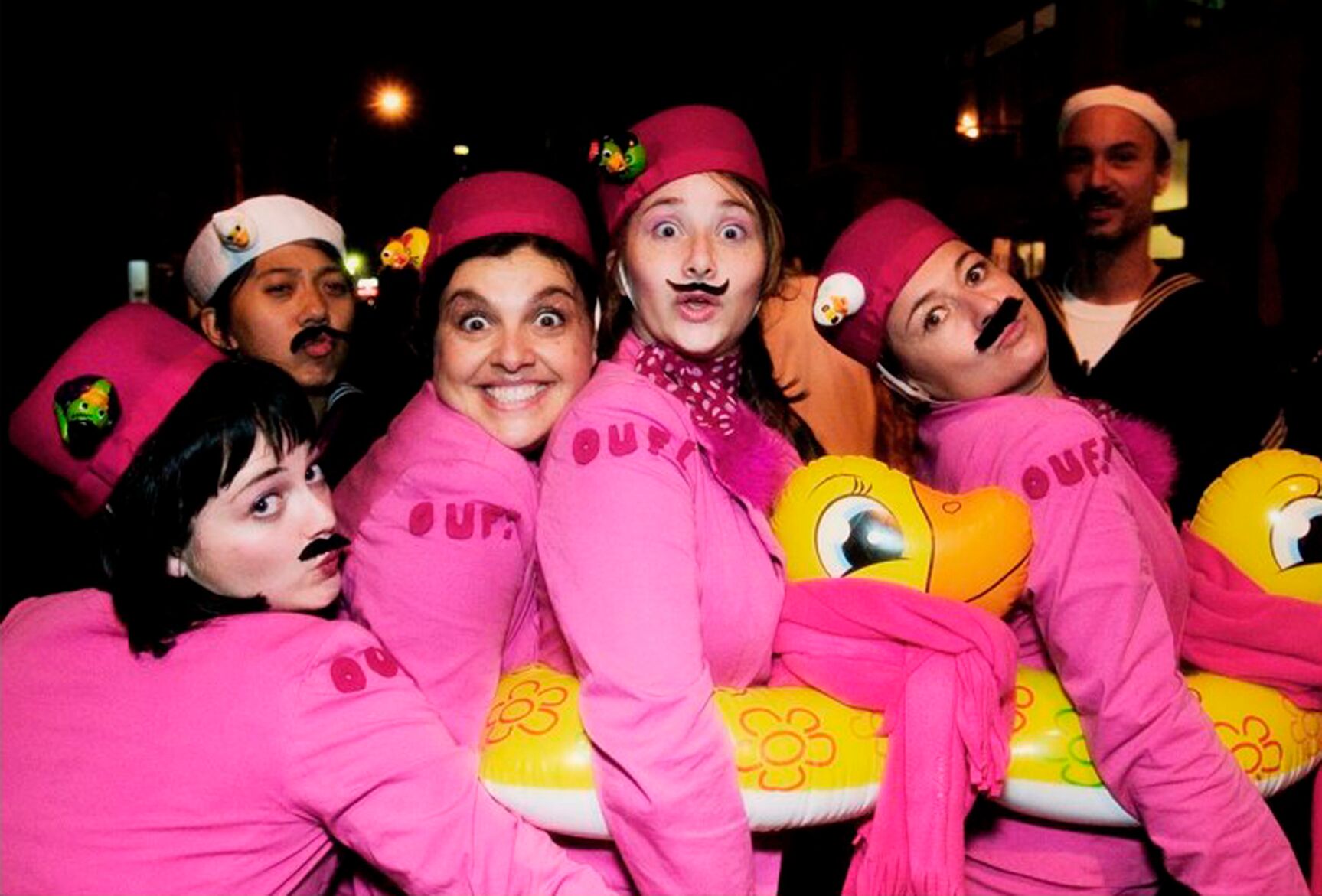 Village Halloween Parade
Costume Advice
If you're stuck on what to be for the parade, Fleming says that the only bad costume choice is not wearing one at all. She suggests really putting the time and effort into thinking about what you want to be for the night. "This is a chance to leave yourself behind and become a fantasy. Things will happen to you that won't anywhere else," she says.
Fleming says that one thing that has stuck with her was after 9/11, when she spoke to a guy who said he felt weird dressing up like a devil that year as he had in years past, so Fleming suggested he be an angel. "I remember him telling me how amazing of an experience it was for him to feel loved and not feared," she says.
"Take some time to think about what you want to be and the sort of reaction that you want. Do you want do you want to be feared or loved? Do you want to make people laugh or cry? You can make that choice," she says.
When it comes to experiencing the parade, Fleming advises everyone marching to spend time playing with the audience. "Don't just mindlessly march behind a band. Interact with the crowd. If you get into it like that, then you'll get it."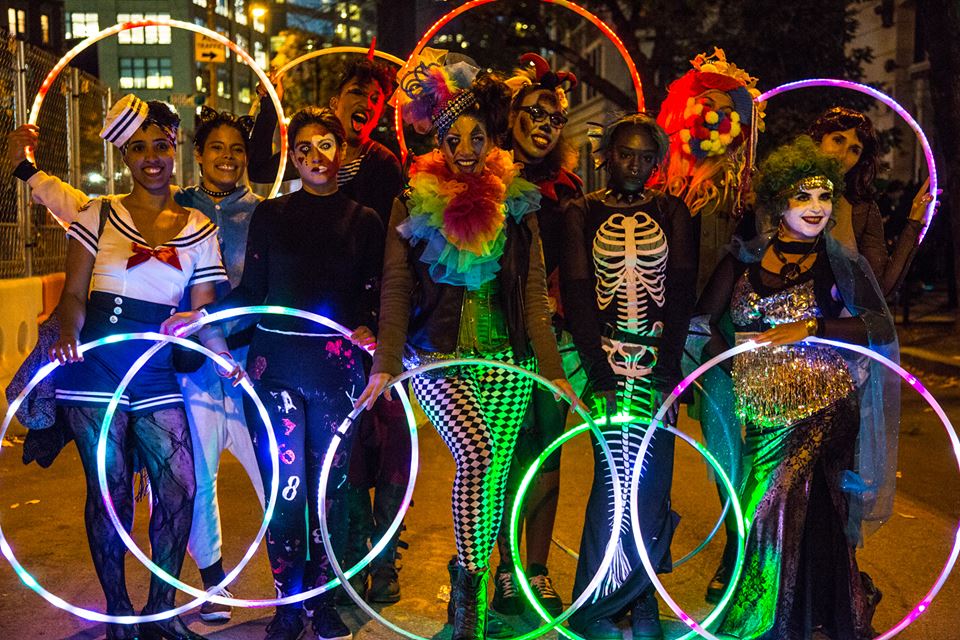 Village Halloween Parade
More Than a Parade
Fleming's ultimate goal is to help as many people as possible undergo a transformation of sorts on Halloween night. "I really want people to experience what artists experience. I want them to focus on creation and have a sense of timelessness," she says. "At the parade, you start in one place, as yourself. But during the course of a few hours, you become this other thing and you're no longer you—it's what an actor experiences. It's an opportunity to get out of being yourself for a night," she explains.
Fleming explains that because the audience is so involved, parade participants end up putting on a performance by continually interacting with people. "It's like a real playground. It becomes less about who you are and more about how people relate to you and your costume," she says.  "It allows people who are not artists to fantasize, dream, and play, and that really matters to me."
Fleming adds that one of the things she loves most about the parade is the way everyone comes together. "It doesn't matter where you're from, what your gender is, or what your political differences are. It creates an atmosphere of total freedom."
Want more spooky things to do this Halloween?
Check out our guide for the best Halloween happenings in NYC!