DATING
Tinder Live: The Comedy Show That Has People Falling for Lane Moore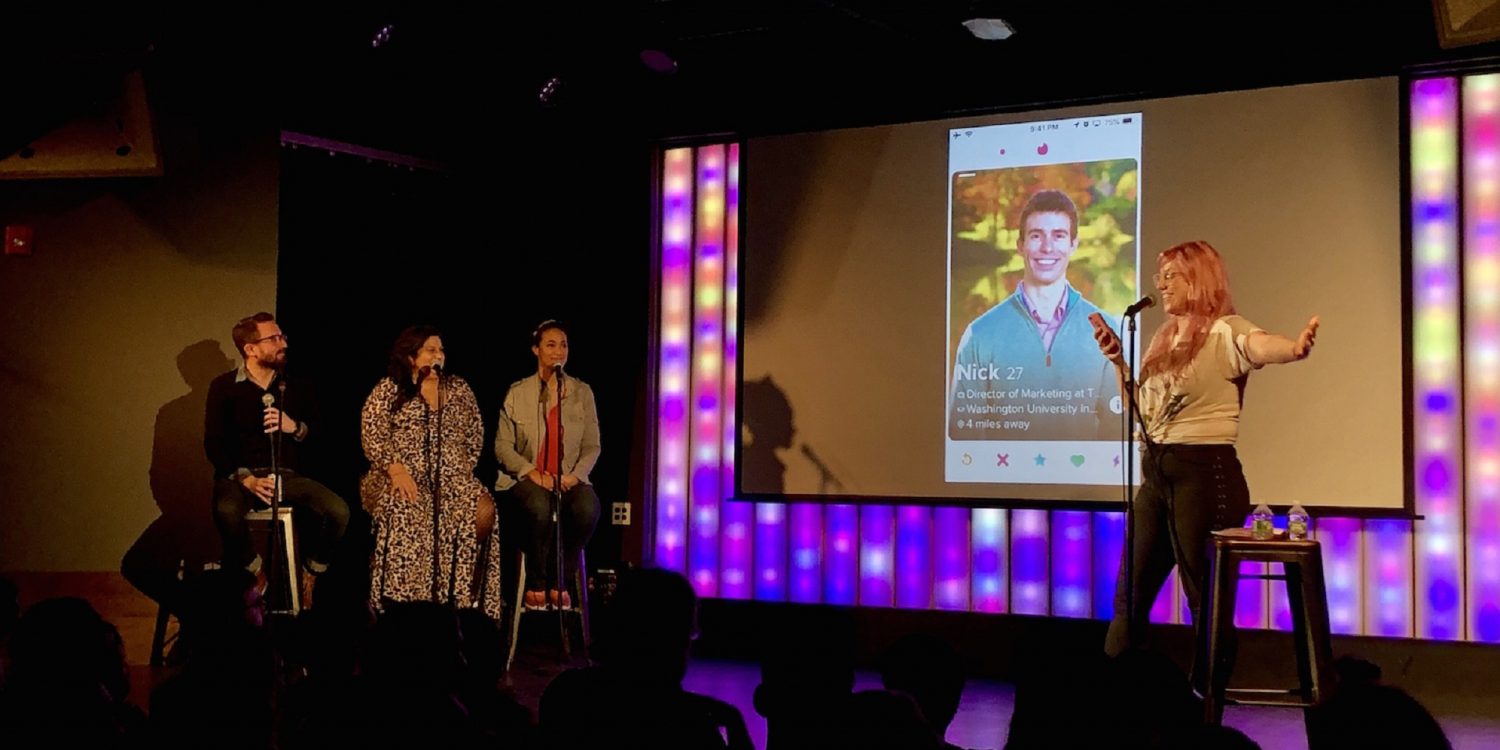 Lane Moore stands center stage, looking out to a jam-packed crowd.
Her sold-out monthly comedy show, Tinder Live, is about to take the couple-hundred people at Littlefield on a journey, in the form of awkward and hilarious conversations with unknowing men.
"It's like playing choose-your-own-adventure with my vagina," the comedian explains to the first-timers in the crowd.
Lane's been cracking up audiences for five years and counting with her interactive and improvised show that relies on using her Tinder profile to engage with potential suitors. A guest panel and the audience help Lane decide which lucky contenders she swipes right on and chats with if they turn out to be a match.
"There's no other show like this that taps into real-time dating, messaging, and matching. I think that's a big part of the magic, the fact that it's really all happening," Lane says. "It's crazy how often I get people saying, 'Most of that's improvised, right?' and I'm like, 'Most of that? It's all improvised!' but I think it's a huge compliment. People can't believe it because it's so smooth, and the laughs just keep coming."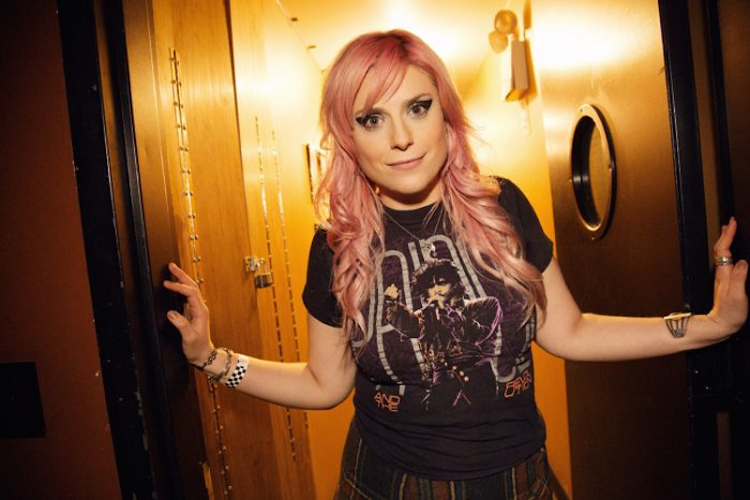 Mindy Tucker
Despite her Littlefield residency and having been around for half a decade already, Tinder Live has only gained momentum.
"The shows just get better and better. Every single one is so different, too, because I never know who I'm gonna talk to. If you told me I'd be doing this for five years, I wouldn't have believed it. I was just talking to a friend of mine about it and she was like, 'Yeah, dude. Most comedy shows do a really solid run for two years, and that's it.' It's very rare to have a show that runs this long and just keeps getting bigger, so that's exciting. I'm really proud."
Though it might seem like the show would lend itself to mocking guys on the dating app, Lane rarely crosses that line and manages to keep things light and funny. On the night of her January show, one of the first profiles Lane swiped right on was a guy named Ryan.
"Okay, Ryan here was clearly born in the wrong decade," Lane points out, noting the boombox in the background of one of his photos and his early 2000s-era spiked hair. "He looks like he could be the bassist of Limp Bizkit."
The audience laughs as guest panelists Chase Mitchell ("The Tonight Show Starring Jimmy Fallon"), Abbi Crutchfield (Laugh Exchange), and Samhita Mukhopadhyay (Executive Editor of Teen Vogue) shake their heads in undeniable agreement. Lane pokes fun at the obvious, never becoming mean or turning it into a roast session.
"I try to approach each profile with the idea that the person could be in the audience and could be a good person. I really only say something when it's like, okay, this profile is openly racist, homophobic, sexist, or just really crappy," Lane says.
"I'm very conscious of other people's feelings. My comedy doesn't come from a place of wanting to talk shit about people and make them feel bad. I don't think that's funny."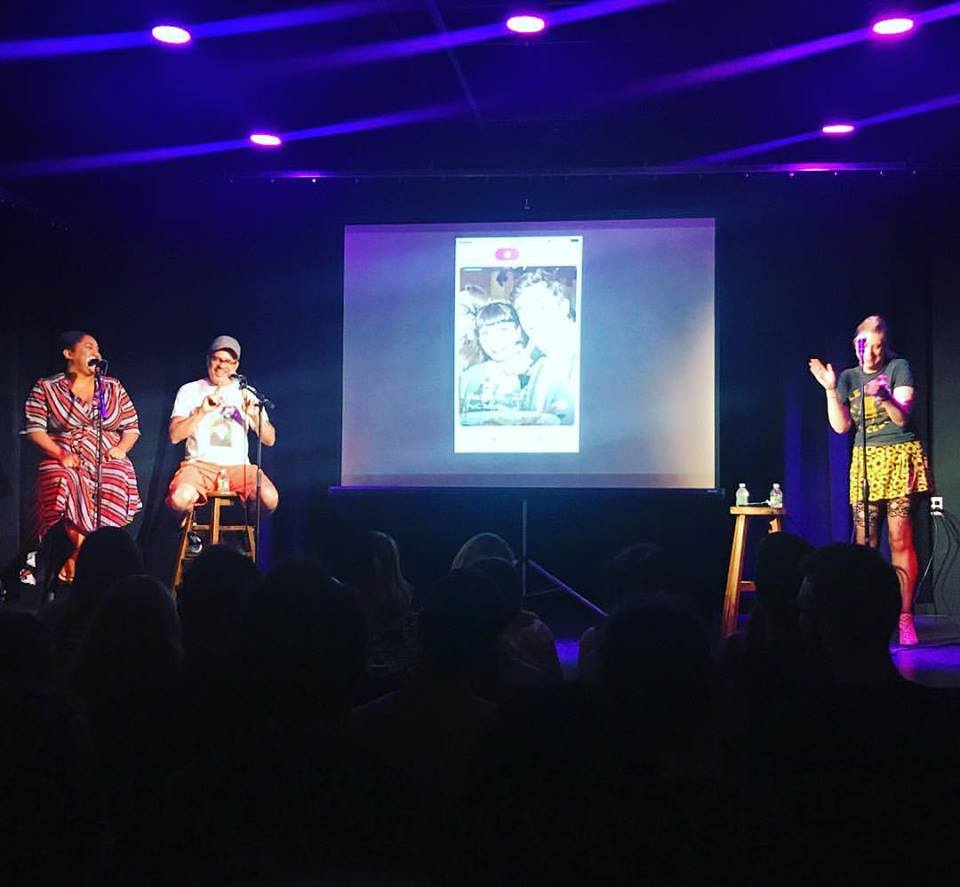 Tinder Live With Lane Moore
Lane doesn't just approach her shows like the men behind the profiles could be in the audience; occasionally, they are, and she invites them up on stage if they're willing to participate. But with Tinder Live's popularity only growing, an audience member recently turned the tables on Lane.
"There was a kid at one of the colleges that I went to and, unbeknownst to me, he'd made an entire Tinder Live profile," Lane says. "So he comes up and I'm going through his profile and part of it included this entire rap that I read line by line. The last line was like, 'I'm here with the girl in the photos. I'm just here for Tinder Live.' There were like a thousand people in the audience, and everyone just freaked out. It was great."
Despite continuing conversations with plenty of guys once the show is over, Lane admits that true love has yet to come from someone she's met through Tinder Live.
"I've had the worst dates I've ever had with people I've met through Tinder Live, which is usually because I swipe right on the weirdest profiles," Lane says, "Like, they're a little bit off. So when I've gone out with them because you know, I think, 'Well, he rolls with the punches really well. Maybe he's cool,' and I go on the date and I'm like, 'This is my Hell. Why did I listen to a bunch of audience members who just thought this saga was funny?' It's like, this does not mean this is a good person. No. Uh-uh. Never again."
Although Lane once used Tinder outside of the show for her actual dating life, these days, she stays away from it.
"It's hard to separate the two. Every time I've gone back, I've been like, wow. This is why this show is so beloved. It's the most frustrating, soul-crushing, and lonely feeling for some people, being on an online dating app," Lane says.
"I think it's like someone owning a bakery and they don't eat the cupcakes anymore. It's nothing personal. It's just that I spend so much time on it for work, that it's like, 'I still want to buy my cupcakes, but I can't.' I think I've seen too much and it's very hard not to think about the show when I'm on it."
Now that she's spent literally thousands of hours on Tinder for the sake of her show, Lane is proud to say that she's gotten really good at being able to tell what sort of dude she's looking at.
"At the last show, I was looking at this guy and based on a couple of photos I was like, 'I know he loves Fight Club. I'm gonna reference Fight Club.' And then, of course, he was like, 'Oh, I love Fight Club!' and I was like, 'Yeah, I know you do.' I feel like I should have some sort of honorary doctorate in male human behavior. It's crazy."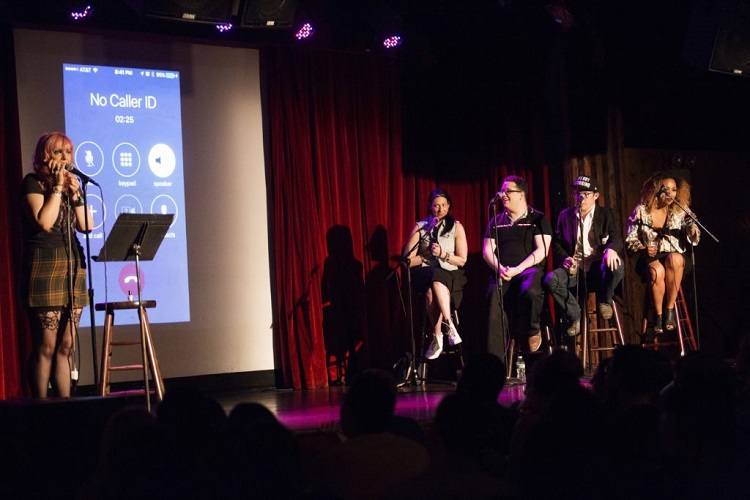 Mindy Tucker
Being a Tinder expert is a small part of Lane's expertise. Along with being a comedian, Lane is an actress, a musician, a writer, and a newly published author with her first book, How to Be Alone, which she describes as a self-help book for people who hate self-help books.
"I wrote it as a way to keep you company, like a friend talking to you and spending time with you who doesn't judge you and sees you," Lane explains.
"The beautiful thing is that through social media, emails, and letters, I get to see exactly what people are getting out of it, which is reexamining their relationships with their families, how they were raised, and the patterns playing out. So many people have felt less alone from it, and that's exactly what I wanted."
Over the course of 224 pages, Lane offers anecdotes, advice, and insights for coping with loneliness and feeling more connected, and it's resonated with far more people than she could have ever imagined.
"I always felt like this super weirdo, and then it turns out there are countless people out there who felt the same way. It's created this ripple effect of like, 'I'm okay. I'm not this lonely weirdo because there's another lonely weirdo out there.' And that, to me, is the best form of art."
Whether it's making audiences laugh at Tinder Live or providing words of comfort to those reading her book, Lane's art takes multiple forms, but one thing is for sure — she's here to help you keep the good times coming.
Check out Lane Moore's next Tinder Live showing in NYC on April 12 and follow her on Instagram and Twitter.