Want to experience Make Pizza, Drink (Bottomless Wine) for yourself? Follow Hungry Pop on Eventbrite to check out other interactive food events.
It's an innocent-enough question: Where's the best place in the city to get pizza? In most cases, the answer would be pretty straightforward,  but your average New Yorker will take the opening and run, rattling off not just the best place to grab a slice in their neighborhood, then your neighborhood, but ranking every place to get your fix of dough, sauce, and cheese in the whole Big Apple. It's an absurd, wonderful everyday occurrence when living in a 'za-crazy town. But then ask that same New Yorker if they'd ever made a pie with their own two mitts at home, and you'd probably be met with radio silence. That's where Hungry Pop's pizza-making classes come in. 
Banking on the facts that city-dwellers love their pizza and that they're naturally social beings (or else they'd probably move to places with bigger apartments), Hungry Pop began offering their pop-up pizza-making classes in 2018, in the back room of the Italian restaurant Kesté Pizza & Vino in the Financial District. In just one year the business has grown from one-offs to a range of regular cooking classes for both the knowledge-hungry man on the street and private corporate clients. They're one in the growing field of pop-up presenters, appealing to participants for their reasonable price points and short class to useful information ratio. But Hungry Pop's classes have the additional appeal of unlimited wine, which helps facilitate what they see as their company's biggest selling point: social connectivity.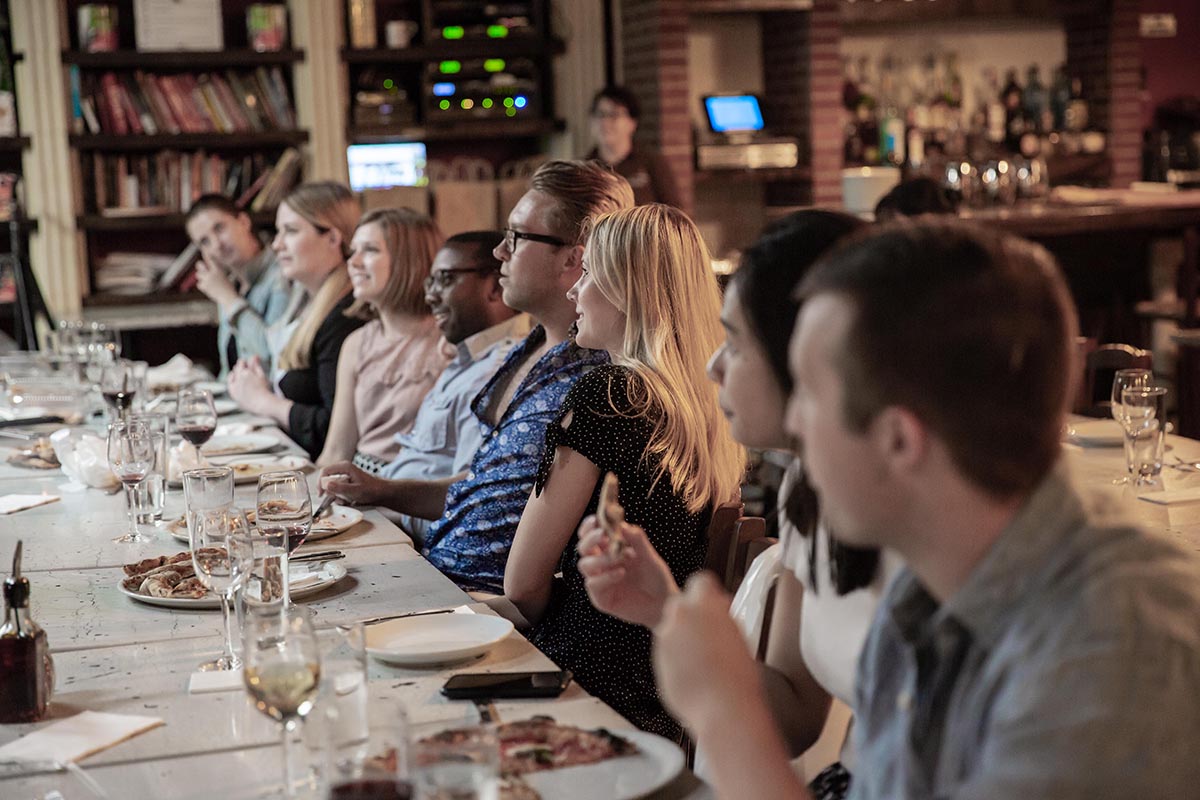 Yasmin Alishav
"In the beginning we communicated it as a cooking class, because that was the main aspect of what we wanted to do," says co-founder Kostas Kollias, a marketing consultant who had previously done work with Kesté and brokered the partnership with the restaurant. "Then it became clear that people were coming together to have a good time. The pizza making was not secondary, but it was a part of the bigger picture. An entertaining night out."
Hungry Pop's classes have the additional appeal of unlimited wine, which helps facilitate what they see as their company's biggest selling point: social connectivity. 
The spacious back room of Kesté is warm, with tiles and wood straight out of the old country, with gaping brick ovens that would work rather well if Hansel and Gretel come calling, but are in this case used for baking crisp pies. This is also Manhattan, so one of those wood-fired beasts is reserved solely for gluten-free crusts. The homey chamber is usually the residence of the restaurant's pizza school, which trains aspiring professional pizzaiolos, but tonight it's abuzz with carousers aspiring to clink glasses, learn a new skill, and chow down on appetizers including house-made mozzarella, which you can also learn to make in another Hungry Pop class offering, along with pasta, should you want to eventually open your own trattoria at home. 
The owner of Kesté, Roberto Caporuscio, is a bit of a celebrity in the world of pizza-making. Born and raised on a dairy farm in Pontinia, Italy, he later learned his pizza techniques in Naples, and is so serious about the stuff that he now serves as the U.S. President of the AVPN (Associazione Verace Pizza Napoletana), the association in Italy that governs the standards for Neapolitan pizzas.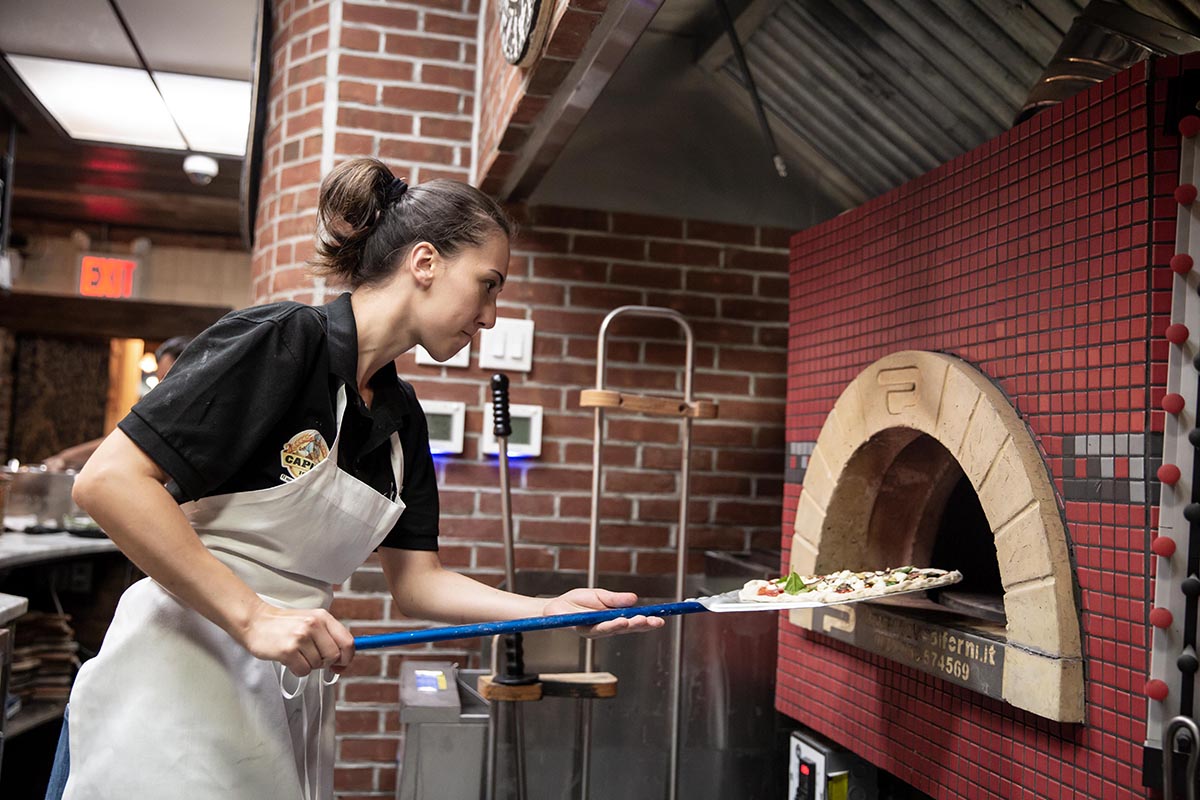 Yasmin Alishav
Our instructor tonight is his daughter Giorgia, who also apprenticed in Naples and at the age of 29 is award-winning, and one of the few female pizzaiolas in the United States. As she shows us how to aggressively knead the dough ball that will serve as our crust, intermittently lubing it with olive oil, kneading again, then folding it into itself like a giant mushroom cap, she explains that quality ingredients are the secret to Kesté's success. "Our dough ferments for 48 hours," she says proudly. "You know those cheap pizza places? They only ferment for a few hours, which is why you get full after one slice." 
I nod. Sure, yes. Eating a whole pizza in one sitting is an admirable goal, and one I hope to accomplish before the night is over.
I've only had half a glass of house white, but I already seem to have lost dexterity in my fingers and can't figure out how to unwrap my disposable apron. I give up on the square of plastic and turn my attention to the focaccia di Recco sitting in front of me, a double-crust cheese pizza with unyeasted dough and stracchino cheese that's served as one of the appetizers of the evening. Kesté is one of the few places you can find this dish in Manhattan, and thanks to my frustrating apron square I'm already behind as the others in the class are already on seconds. I bite: It's flaky and the cheese is perfectly melty, so much so that the New York Times said it was "worth the effort and the trip downtown." It's definitely a highlight so far.  
Eating a whole pizza in one sitting is an admirable goal, and one I hope to accomplish before the night is over. 
Up front, Giorgia explains the rules of Neapolitan pizza, remarkably strict guidelines in contrast to the relaxed atmosphere of the evening. If you think New Yorkers are serious about their pizza, try talking to the guys in Naples. According to Associazione Verace Pizza Napoletana, the flour must be grade 0 or 00, the pizza itself roundish with a diameter of 30-35cm with a pillowy raised edge — called a cornicione —  with dough soft and elastic. The base must be smushed down by hand . That means no rolling pins. True Neapoltian pizza has everything to do with the crust. 
But there's also specifics to the sauce. "We use tomato sauce as opposed to marinara sauce," says Giorgia. "Does anyone know the difference?"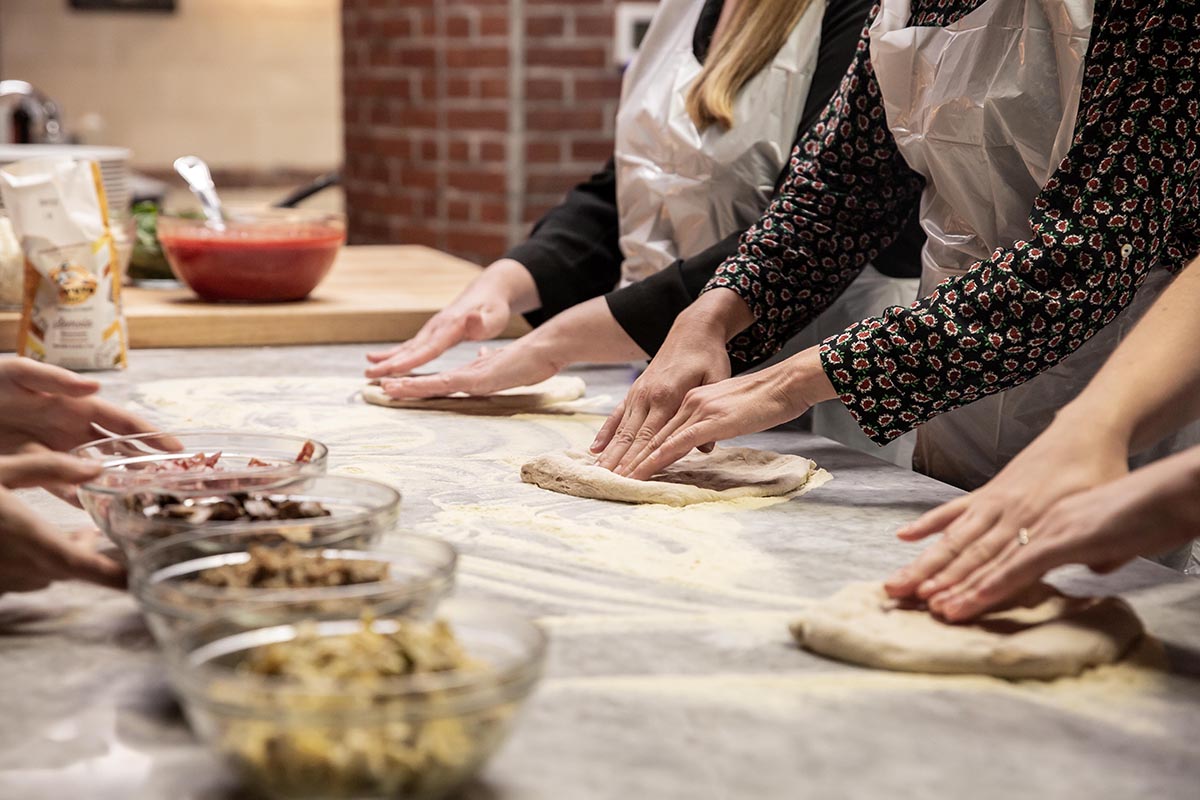 Yasmin Alishav
She explains to our blank faces that traditional Neapolitan tomato sauce is "uncooked" or unheated, with Roma or San Marzano tomatoes straight out of the can, crushed by hand or with a food mill, with added salt. But you'll also find recipes that call for a cooked marinara, which is fine. 
If you think New Yorkers are serious about their pizza, try talking to the guys in Naples.
While Giorgia instructs, co-founder Kostas flits around the room. A garrulous, affable, and large Greek man, he serves as the night's emcee and corny jokester-in-residence, wandering from cluster to cluster with conversation starters and an endless supply of wine.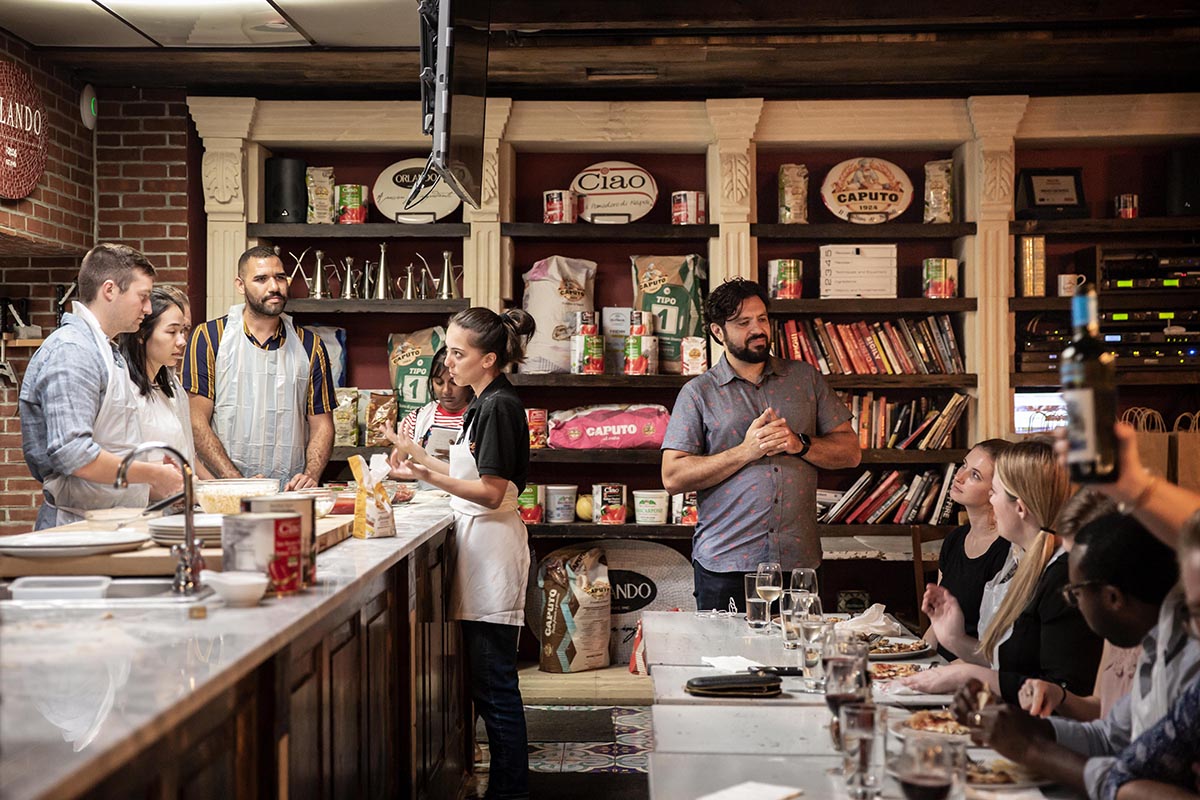 Yasmin Alishav
"Despacito" plays over the speakers as my wine glass magically refills. Or, rather, is refilled by a clairvoyant waitress. We're well on our way to the 25 to 35 bottles that Danny and Kostas say an average class goes through, and as the number of bottles adds up, so does the level of chatter in the room and in my case, the head-bopping to Bieber. We're getting ready for the following hands-on portion of the class, for which we've been counted off into groups of four and one of five, which is pretty easy since most folks are here as a couple on a date night. 
After an hour, in spite of my fumbling I defeat my apron, get it open and slip it over my head just in time to get in line to wash my hands. I ask a couple in line with me what brought them out tonight, and they say they were given the class as a present. There's excitement and flour in the air as my freshly washed neophyte comrades and I line up along the marble counter dusted with semolina powder. We're the last group to go up and the other groups before us seem to have done well. Everyone concentrated very hard on their very important pizzas and are now back at the tables enjoying the fruits of their labor. Despite drinking copious amounts of wine, these New Yorkers were not about to mess up their pies.  
There's excitement and flour in the air as my freshly washed neophyte comrades and I line up along the marble counter dusted with semolina powder.
The wine seems to have gotten to me though, as Giorgia plops a fist-sized ball of 00-grade dough in front of each of us. Whereas other pizzas are built in a pan or on the pizza peel a Neapolitan pie is built first, then gently slid onto the peel. Fingers together and parallel to the counter, we begin to stretch our dough, pressing from the inside of the ball and massaging outwards, gently pushing the air bubbles to the edges of the base. One guy in the group says he has an uncle who owns a pizzeria, but has never actually made a pie himself, which seems like a huge missed opportunity. When someone else asks if we can toss the pizza dough we learn sadly that the iconic image of tossing pizza to stretch it is actually American in origin, and looked down upon by Neapolitan chefs. But it's for the best: If we tried tossing the dough in this class it would get very, very messy. I bet that guy's uncle would let us do it though.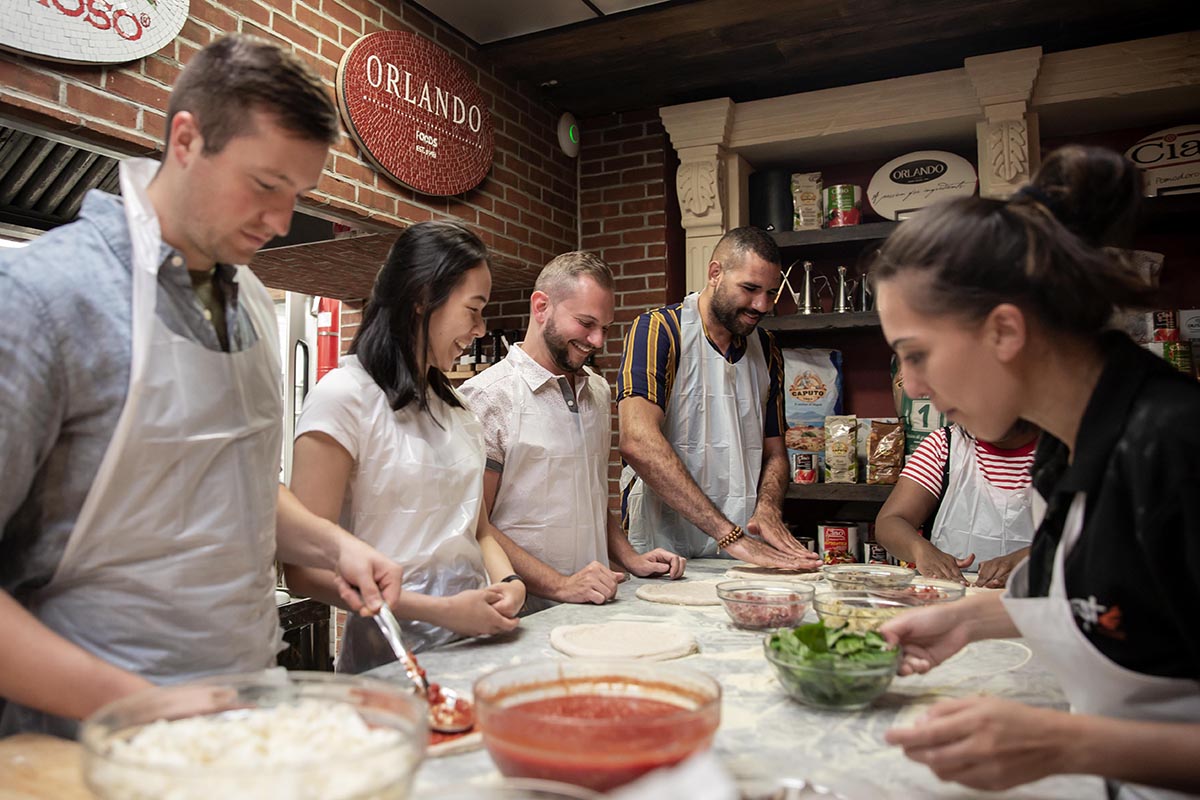 Yasmin Alishav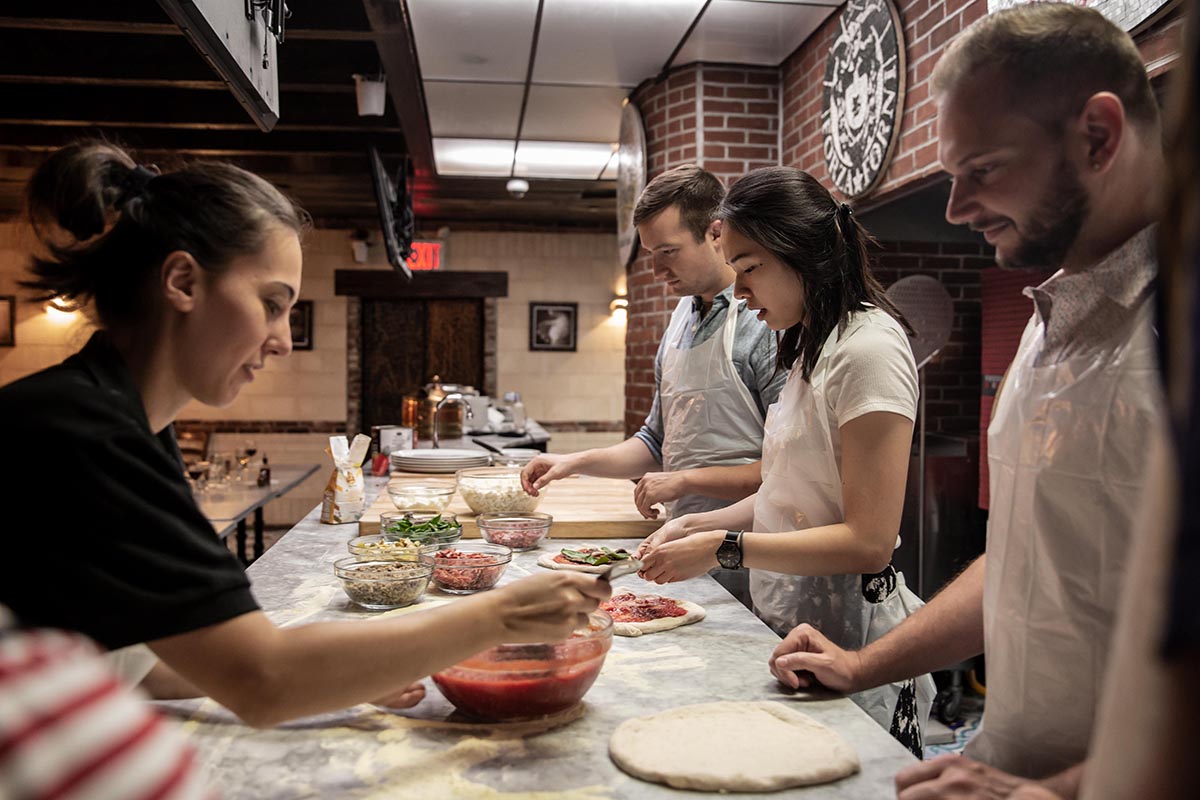 Yasmin Alishav
My never-ending glass has diminished my cooking capacity, so my brilliant strategy is to overcompensate. I am extra-attentive with my massaging, and now, for some reason, my fingers are going in slow-motion.  "Don't be scared to touch," Giorgia has to tell me. I squish and raise and squish and raise in bigger and bigger circles, but alas, my squishing is still the slowest and I'm still at it when everyone else is ready to assemble their pie. Giorgia reassures me that it's okay. "Take your time. Every dough is different, like a person."  
Finally, my flattened dough ball is of adequate size and dressed with a ladle-full of that uncooked tomato sauce, ready to be fancifully adorned with my choice of the sausage, spicy salami, sweet salami, artichokes, mushrooms, basil, cow cheese, and the traditional Neapolitan buffalo cheese lined up before me. Everyone has their own technique when it comes to toppings.  One girl in the group places ingredients thoughtfully, with particular attention paid to maintaining the same amount of space in between each item. Her date throws everything on willy nilly, uniformity be damned. I'm a combination of the two. Nobody seems to have any idea what they're doing.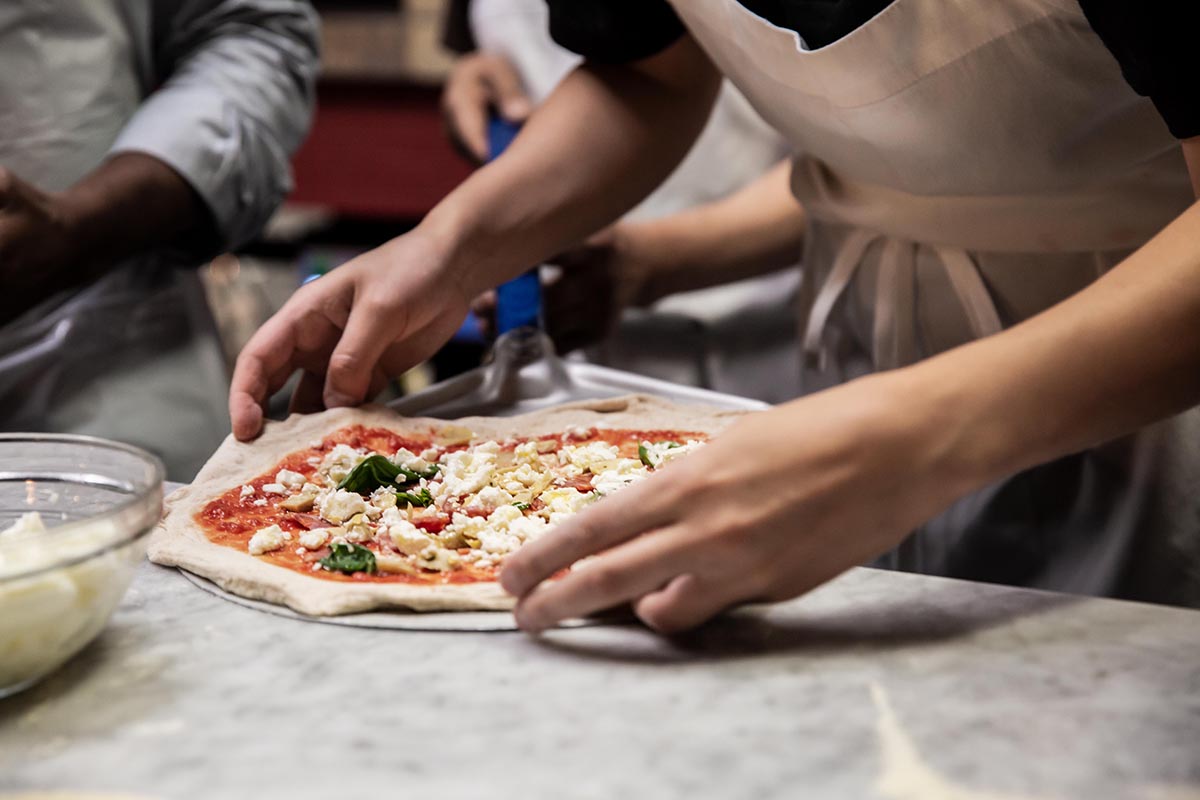 Yasmin Alishav
The cheese, surprisingly, is added last, the opposite of what I had always believed the order of pizza toppings to be. "It's kind of like a shield, to protect the ingredients," explains Giorgia. I go half and half with buffalo cheese and cow cheese. The guy next to me goes heavy with both, so heavy that he has to be told to please, stop using cheese. His pizza might end up being a little soggy but I respect the ambition. 
Giorgia transfers my masterpiece to the round peel, stretches it to cover, drizzles it with more olive oil and slides it in the brick oven. About 90 seconds later she pulls it out, steaming, with a bubbly crust that's just a little bit charred. It's worthy of a picture, so I take a bunch before it's cut into quarters and deposited in front of me at my table. I pick up a slice and it's just a little bit heavy with toppings, but I still polish off the whole pie in one sitting. I make a note: next time, pile on less stuff.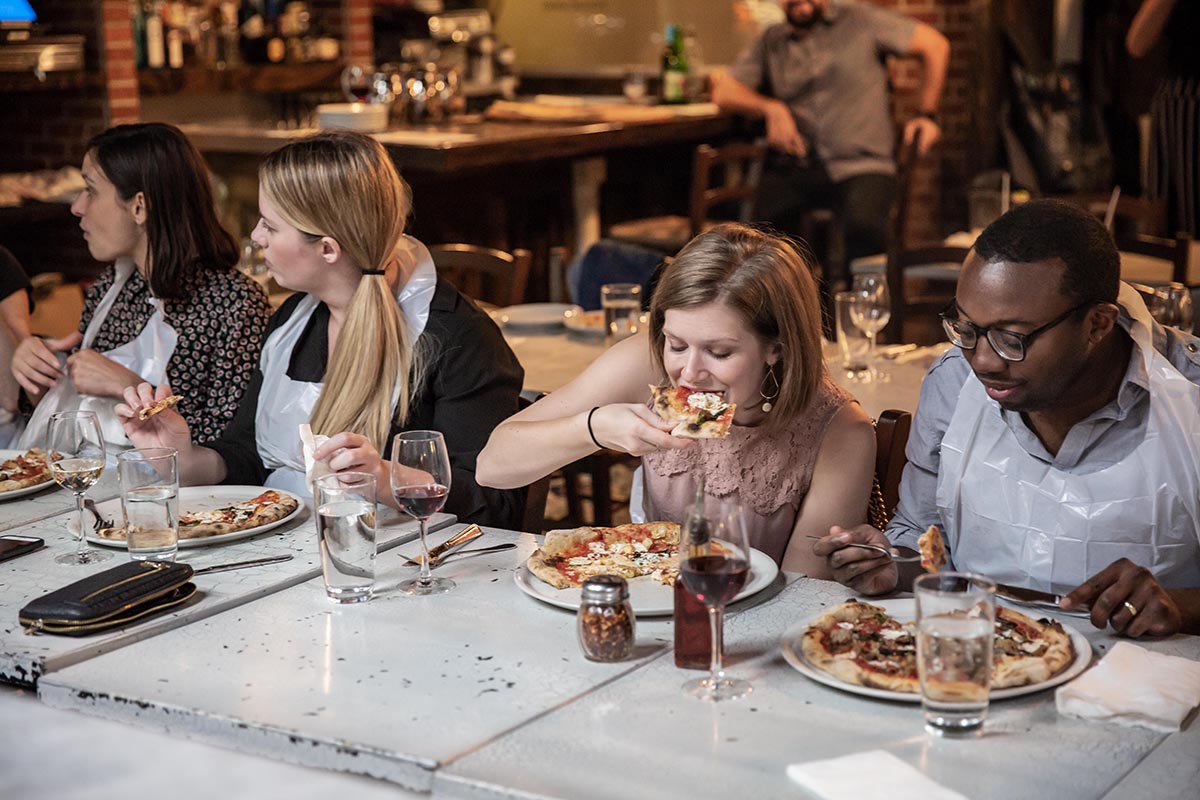 Yasmin Alishav
Up front, Kostas has taken over the room, entertaining us while we eat. "Fun fact," he says. "Why do Italians put basil on their Margherita pizza?"
Blank faces. It's apparently our thing. 
"Because it's the colors of the Italian flag. Red sauce, white for the cheese, green for the basil." 
I'd like to think it's also because it tastes good, and I can't wait to try it at home. 
Ready to get inspired?