OUTDOOR
Lights, Camera, Action: The Complete List of Outdoor Movie Screenings in NYC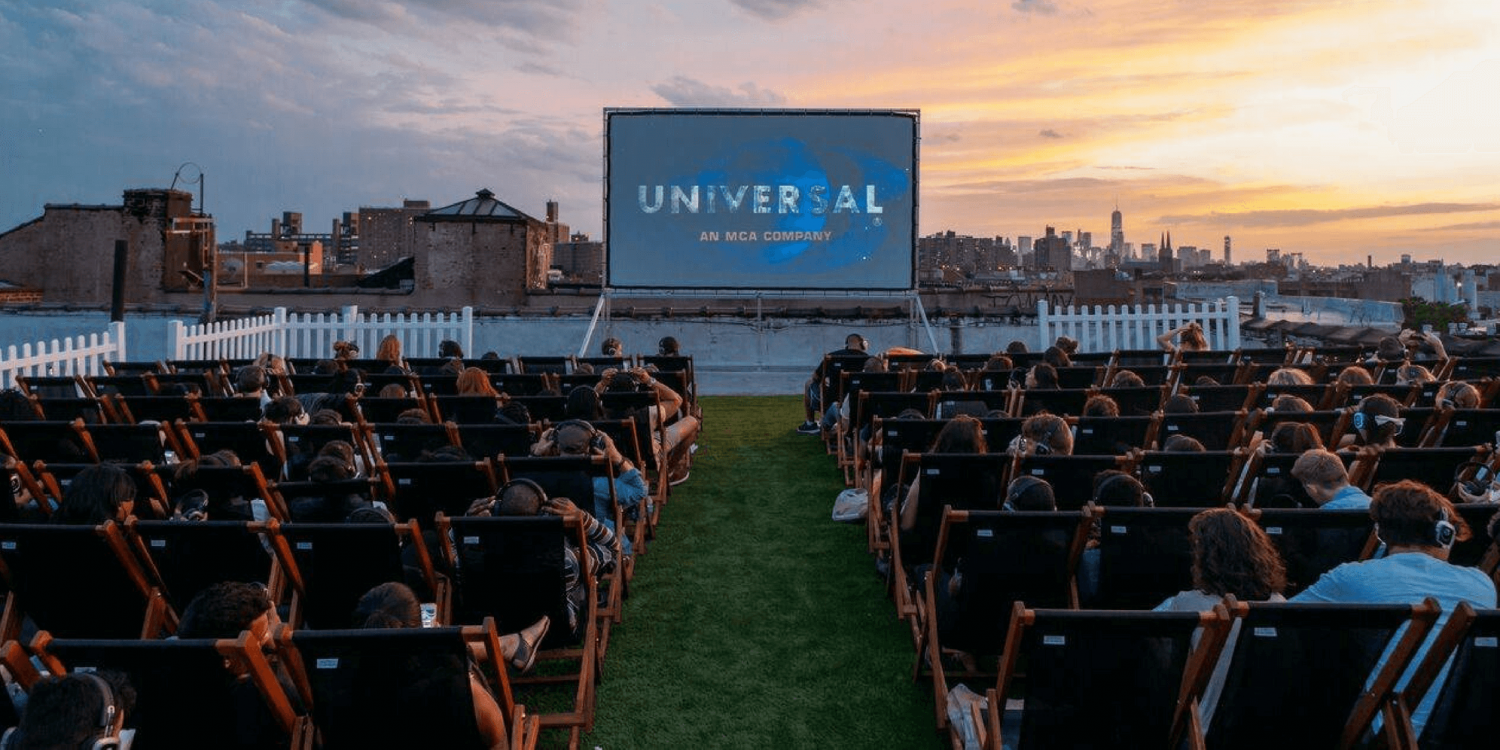 Summer in New York City means plenty of ways to watch movies al fresco, with most flicks available for your viewing pleasure at no cost to you. We've rounded up a comprehensive list of venues to experience the magic of the movies under the summer sky.
Various Locations
The NYC Department of Parks and Recreation has sprinkled a bunch of movie nights into its summer event calendar. Across the five boroughs, enjoy a selection of family-friendly films, most of which are free and are all great excuses to spend a night in one of the city's hundreds of parks.
When: May 18–September 9, select days and times
The lineup includes: Moana (6/8), Black Panther (6/16), and A League of Their Own (6/30)
Check out the full lineup here.
Various Locations
Rooftop Films will be screening all kinds of genres at venues across the city this summer. The series will feature independent movies, short films, and even Q&A sessions with filmmakers. Many titles have been named, but the list is constantly being updated. Keep an eye on the lineup — the best is yet to come.
When: May–August, select days at various showtimes
The lineup includes: American Animals (5/30), Nancy (5/31), and Damsel (6/2)
Check out the full lineup here.
Hell's Kitchen
Here's a uniquely New York experience: Catch a movie on the deck of an aircraft carrier used in World War II, while taking in views of NYC's skyline and the Hudson River. Did we mention it's also free? Just make sure you arrive early, since space is limited.
When: May 25–August 24, Fridays at 7pm
The lineup includes: Wonder Woman (6/29), Friday the 13th (7/13), Dunkirk (7/27), and Ghostbusters (8/10)
Check out the full lineup here.
Midtown
Featuring cult, classic, and recent releases, Rooftop Cinema Club hosts the ultimate after-work hangout. This year, the series will take place in its new home at SkyLawn at Embassy Suites by Hilton. Your ticket hooks you up with a pair of wireless headphones to control your preferred volume, sweet skyline views, and options for handcrafted cocktails and delicious bites.
The film lineup has been released for only May and June so far, but you can keep your eyes peeled for future announcements here. Tickets sell out fast, so keep a close eye on the upcoming film lineup and snag your spot.
When: May–September, select days at 8:15pm
The lineup includes: Top Gun (5/27), Do the Right Thing (5/28), and Baby Driver (6/1)
Check out the full lineup here.
Midtown West
Spend your Mondays sprawled out on the lawn at Bryant Park this summer, with a movie playing just as the sun goes down. Bring your own food for an epic movie picnic, or take advantage of the bites for sale from a rotating mix of Hester Street Fair vendors located on the Fountain Terrace. A full lineup of films is expected to be released in the coming weeks, so more info will be available soon.
When: June 18–August 20, Mondays from 5pm to 11pm
The lineup includes: The Breakfast Club (6/18), Little Miss Sunshine (7/9), and The Princess Bride (7/23)
Check out the full lineup here.
Various Locations
Films on the Green, a French film series, will celebrate its 12th anniversary this year by presenting 12 classic and contemporary French films that focus on the relationship between French culture and gastronomy. Movie themes will include everything from Parisian bistros to the vineyards of Southern France. You might want to pack some French wine to sip as you enjoy the weekly films.
When: June 1–September 6, select days at 8:30pm (except for September 6 at 7:30pm)
The lineup includes: Le Grand Restaurant (6/1), The Rules of the Game (6/15), Le Boucher (7/6), and The Grocer's Son (9/6)
Check out the full lineup here.
Coney Island
As if Nathan's and Luna Park weren't enough reasons to spend a summer evening at Coney Island, the neighborhood's free outdoor movie series will definitely inspire you to make the trip. The beach at West 12th Street will transform into an outdoor movie experience with a 40-foot inflatable screen playing movies across all genres.
When: July –September
Check soon for the full lineup here.
Chelsea
Catch a free film on Big Hit Wednesdays on Pier 63 aimed at the older crowd, with all titles rated PG-13 or R. Movies start around 8:30pm when the sun sets, but get there early to grab free popcorn and buy snacks and beverages from the on-site vendors.
When: July 11–August 22, Wednesdays at 8:30pm
Check soon for the full lineup here.
Upper West Side
Pack a picnic basket and leave your wallet at home. For seven weeks this summer, it's free to find a spot on the pier and enjoy a flick each Wednesday. Just arrive early if you want a prime spot — seating begins at 6:30pm and showtime starts around 8:30pm. This year's titles all fall under comedy, so get ready to laugh the night away under the stars.
When: July 11–August 22, Wednesdays at 8:30pm
The lineup includes: Who Framed Roger Rabbit (7/11), Toy Story 3 (7/25), Coco (8/1), and Up (8/22)
Check out the full lineup here.
Long Island City
Film Forum and Rooftop Films are joining forces to present another year of Outdoor Cinema, a free international film festival that celebrates the cultural diversity of Queens. The event takes place at Socrates Sculpture Park on Wednesdays, highlighting films that represent a different country or culture, with English subtitles provided. Movies are intended for an adult audience only, so leave the kiddos with a sitter. Guests can bring their own food if they choose, and all are welcome to sit back, relax, and enjoy everything Outdoor Cinema has to offer.
When: July 11–August 29, Wednesdays at 7pm
The lineup includes: Monsoon Wedding (7/11), The Young Girls of Rochefort (7/25), Spirit of the Beehive (8/8), and Kedi (8/22)
Check out the full lineup here.
Williamsburg
Thanks to Northside Media Group (the same folks responsible for Northside Festival, Taste Talks, and Brooklyn Magazine), McCarren Park will be the summer hangout spot for six hump days from July to August — and the place to check out some major pop culture hits for free.
SummerScreen's film series, now in its 13th year, is about more than just the cult classics, though. Before films start at sundown, live bands will play at 6pm to make the experience extra awesome. The final film of the series will be the audience's pick, so make sure to cast your vote on SummerScreen's website. The series is also dog-friendly, so bring your pup along, and don't forget the treats (for both you and your furry friend).
When: July 11-August 29
The lineup includes: Jawbreaker (7/11), Love & Basketball (7/25), and Die Hard (8/15)
Check out the full lineup here.
Midtown
The Central Park Conservancy will once again host its free weeklong film fest, taking place on the vast green space between Sheep Meadow and the 72nd Street Cross Drive. DJs kick off the fun with live music at 6:30pm, and movies start just as the sun goes down. Guests are encouraged to bring blankets and pack a picnic basket, but to leave the glass bottles and chairs at home. The schedule for this year will be announced sometime soon.
When: August (Dates TBA) at 8pm
Check soon for the full lineup here.
Dumbo
One of the city's most scenic spots for watching movies is Brooklyn Bridge Park. Its appropriately titled "Movies With A View" series will screen pop-culture classics on the Harbor View Lawn every week. Bring a blanket and pack a picnic basket for the ultimate movie experience, and arrive early to enjoy a live set from various Brooklyn radio DJs.
When: July–August
Check soon for the full lineup here.
Randall's Island
See a free movie at this series featuring a mix of old and new classics. Showing family-friendly films, this is a destination with fun for all ages. Just pack snacks and a blanket, and enjoy your mini island getaway for an epic movie night out.
The lineup includes: Ferris Bueller's Day Off (6/9), Jumanji: Welcome to the Jungle (7/8), and Guardians of the Galaxy (8/19)
When: May 25–August 19, select dates at 8:30pm
Check out the full lineup here.
Want more? Follow us on Instagram and Facebook for ticket giveaways and more of the best happenings around NYC.
Harlem
This free festival fuses music and movies, with live soul performances going down before every film. Presented in partnership with the NYC Parks Department, showings take place at some of Harlem's most beloved green spaces, like Marcus Garvey Park and St. Nicholas Park.
When: June 15–September 7, select days at 6pm
The lineup includes: Pacific Rim: Uprising (6/15), Fences (7/20), and Black Panther (8/11)
Check out the full lineup here.
Red Hook
Bring your picnic blankets and well-behaved (A.K.A. quiet) pups to this free film series set on Brooklyn's waterfront at Valentino Pier. You can bring your own snacks and drinks along, but if you're running to Red Hook straight from work, rest assured there will be vendors selling bites on-site.
When: July 10–August 28, Tuesdays at 8:30pm
Check soon for the full lineup here.
Long Island City
See a mix of classic movies set against the backdrop of the New York City skyline at this free film series in Hunter's Point South Park that's presented by NestSeekers International and Hunters Point Park Conservancy and hosted by LIC Landing.
When: June 8–September 15, select days at sunset
The lineup includes: Moonstruck (6/15), Sleepless in Seattle (7/19), and Butch Cassidy and the Sundance Kid (8/16)
Check out the full lineup here.
FiDi
For nine nights this summer, this free series at Oculus Plaza will show movies that all share one thing in common: food. Whether it's a theme or just a scene, cuisine will be featured in one way or another, and to elevate the experience, local vendors like Eataly NYC Downtown, Choza Taqueria, and Blue Bottle Coffee will be there to satisfy any cravings.
When: Three blocks of three days; June 14–16, July 12–14, August 9–11 at 7:30pm
The lineup includes: La La Land (6/14), When Harry Met Sally (7/12), and Coming to America (8/10)
Check out the full lineup here.
Governors Island
New to the outdoor movie screening scene this year, this film series will bring four movies to Governors Island this summer. With each flick inspired by New York City, moviegoers can feel right at home on the newly restored Parade Ground, complete with panoramic views of Lower Manhattan. Created in partnership with the Film Society of Lincoln Center, each movie will also be paired with a short film from a local filmmaker.
When: June–September, second Friday of each month at 7pm
The lineup includes: Desperately Seeking Susan (7/13), Ghostbusters (810), and The Last Dragon (9/14)
Check out the full lineup here.