BEER
New York Beer Week Is Back — and Better Than Ever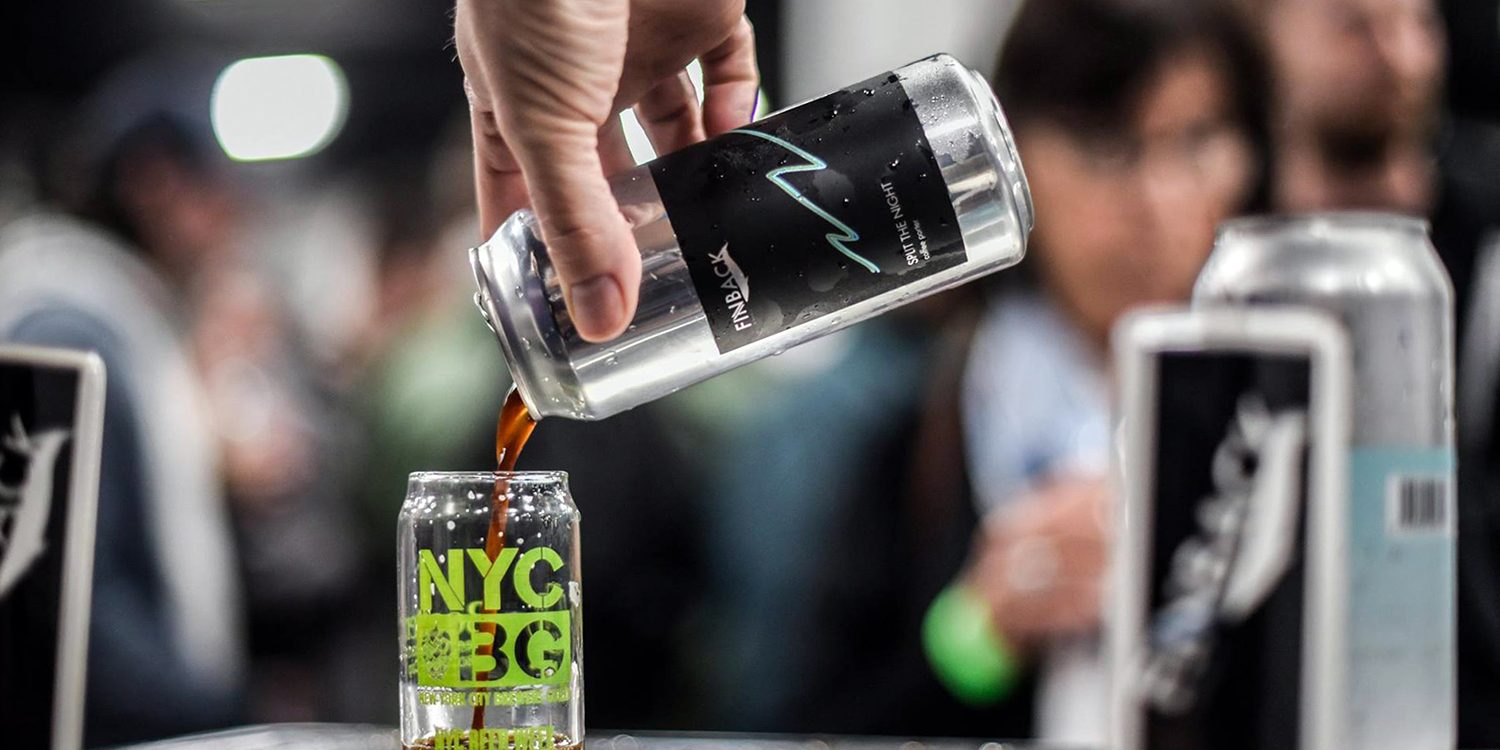 Get ready, beer lovers: Ten full days of booze-filled festivities will soon take over New York City when NYC Beer Week comes to town from February 23 to March 4. The New York City Brewers Guild (NYCBG) is once again hosting the annual festival that will include more than 100 parties, tastings, dinners, panels, tap takeovers, and more hoppy events throughout the five boroughs.
With 2019 marking the fest's 11th year, NYC Beer Week is expected to be better than ever, which makes sense considering the way craft beer's popularity continues to grow.
We talked to some of the city's leading beer experts to get a better look at NYC's current suds scene and to find out everything you need to know for this year's Beer Week. Cheers!
The craft beer boom
New York City isn't alone in seeing a serious uptick in breweries that specialize in craft beer. Across the state, there are now more than 400 breweries, which is twice the amount there were five years ago, according to the New York State Brewers Association.
And New York is in good company. The Brewers Association, a national trade group dedicated to small and independent American breweries, found that more than 7,000 breweries were in operating in the country in 2018, which is a 20 percent increase in the last year.
Clearly, beer has never been bigger, and Threes Brewing CEO and Co-Founder Josh Stylman is overjoyed by the community it has created in the city.
"Until this latest crop of production breweries launched in the last 5 years, NYC was a famously underserved market for local breweries," he says, "Other than Brooklyn Brewery and Sixpoint, there weren't many companies in town making great beer. Now there are a few dozen including Finback, Other Half,  Interboro, Transmitter, not to mention a bunch of others just out of the city, such as Industrial Arts, Suarez, and Barrier. We're proud to call that entire group our peers, let alone friends."
Josh says that the sense of community NYC breweries provide one another is incredible when it comes to sharing knowledge, ingredients, or even just camaraderie.  "In a lot of industries, it could be considered blasphemous to be rooting for your so-called competitors, but in the local beer scene here, there's generally a rising-tides feeling that we all have. It's a very cool thing to be a part of."
A celebration of beer
With its mission to "advance New York City's brewing industry and thereby lessen human misery," the NYCBG hosts Beer Week as a way to celebrate NYC beer with the masses. "New York has always been a cultural leader when it comes to the food and drink industry, and that's part of why this is such a huge event for us every year," says Kaitie Lynch, NYC Brewers Guild Board Member and Brooklyn Brewery's Field Marketing Director. More than 40 breweries currently make up the guild, and with each one inviting their friends from world-class breweries around the globe, Kaitie says that this year's Beer Week will be extra exciting and inclusive.
As the city's beer scene has grown, so has NYC Beer Week, and for Coney Island Brewery's Head Brewer Matt McCall, he loves the festival for its mission to showcase NYC beer. "I know for a fact that people travel from outside the city to come to different events throughout [NYC Beer Week]. It gives us brewers the chance to highlight what we're all about, not only for visitors, but more importantly, for the locals that support our breweries every day of the year," he says. "Being a part of a full week of beer events, tap takeovers, and fresh can releases brings a serious smile to my face."
Josh adds that he loves the kinship that Beer Week brings amongst the folks behind the breweries. "Hallmark holidays like these are a great excuse to go out with friends from other breweries and celebrate our collective alongside some of the bars, restaurants, and shops that we're all partnered with."
No matter what kind of beer fan you are, there's something for all tastes during NYC Beer Week, with events taking place across dozens of venues. From multi-course beer dinners to one-off brewery takeovers, the fest will bring countless opportunities to throw back some booze.
Of all the amazing events going on, Kaitie says that she's most looking forward to this year's tasting rooms.
"It's a chance for some rare experiences since breweries will make exclusive varieties just for this week," she says. "You can have the opportunity to try a fresh sour mash followed by a hazy IPA, and there's really nothing like it."
This year's can't-miss events:
2019 NYC Beer Week Opening Bash
February 23, Greenpoint
As Beer Week's official kickoff, this beer extravaganza is bringing more than 75 breweries to the Brooklyn Expo Center, with more than 40 being from NYC or New York State. Attendees get the chance to sample as much as they want, with many brewers and founders pouring the goods themselves.
As if that doesn't sound dreamy enough, Kaitie says that this year is going to be extra special. "One of the things I'm most excited about is that for the first time, Opening Bash will feature two sessions, making it our biggest and best one yet. That means more people than ever will get a chance to experience the event," she says.
Matt adds that Opening Bash is his absolute favorite event of the week. "Having that many awesome breweries in one place is an experience not many people get to have on a regular basis," he says. "Pouring alongside our neighbors is always a special treat, especially when we get to add in some out-of-town breweries as well."
Along with unlimited samples, Opening Bash will also have a food court featuring local vendors, music, games, merch, and VIP packages available that hook people up with an additional hour of tastings. Whatever you do, don't let two sessions fool you- this event is still expected to sell out so grab your tickets ASAP!
Foam/Industrial Arts/Oxbow/Rare Barrel/TRVE Tasting and Panel
February 24, East Williamsburg
Go-to beer bar The Well will be bringing five of the country's most hopping breweries under one roof for an exclusive takeover. Along with beer offerings from Foam Brewers (Burlington, VT), Industrial Arts Brewing Company (Garnerville, NY), Oxbow Brewing Company (Newcastle, ME), The Rare Barrel (Berkeley, CA), and TRVE Brewing (Denver, CO), there will also be a panel moderated by Good Beer Hunting featuring each of the breweries.
This is a chance for New York beer fans to taste some of the most popular new brews popping up in other parts of the U.S.
Coney Island Brewery's Mega Tap Takeover
February 28, Williamsburg
As one of several beer week events that Coney Island Brewery will be hosting, this takeover at Clinton Hall will feature the best from the local favorite.
"We'll be showcasing nine of our beers on tap, including some brewery-exclusives that are coming out for the week's events," he says. "We'll also have our trusty flagships there as well, including our Merman NY IPA, which is the perfect mix of West Coast bite, East Coast malt backbone, and New England juicy haze."
In addition to the brewery's signature IPA, beer fans can enjoy the Chocolate Ryezome (SMaSH), Cream of the Cropsey, Midnight Troller, and more, along with caricature artists and sideshow performers to make for an entertaining evening.
Ruppert's Cup Awards and SMaSH Beer Brunch
March 3, DUMBO
As the people's choice event for NYC Brewers Guild's SMaSH (single malt, single hop or state malt, state hop) beer program, this event at Randolph Beer is one of the best ways to revel in the magic of Beer Week. Attendees will get to taste vote for their favorite SMaSH brews with the winner receiving the prized Ruppert's Cup. Awards will be given for other signature categories like best bartender and best taproom, so pay attention to every little detail throughout Beer Week to be an informed participant!
Fat Tuesday at Threes Brewing
March 5, Gowanus
As one of Brooklyn's most popular craft breweries, Threes knows a thing or two about throwing a good party. Since opening in late 2014, the Brewery has created 60 brews and always has at least a couple dozen varieties on tap.
Although it's going down the day after Beer Week technically comes to an end, Threes will keep the hoppy times going strong with a Fat Tuesday-inspired bash. "We're going to have a killer Mardis Gras party," says Josh. "We'll have live music, a DJ, special menu, and other treats." 
To stay on top of the latest and greatest Beer Week events, Kaitie advises everyone interested to keep checking the NYC Brewers Guild site and to follow their favorite breweries on Instagram.
"Breweries are notoriously late to the party, even if they're the ones throwing it," she says. Events will be posted up to the day Beer Week starts, so keep checking for updates."