NIGHTLIFE
Love You to Death: A Nighttime Stroll Through Green-Wood Cemetery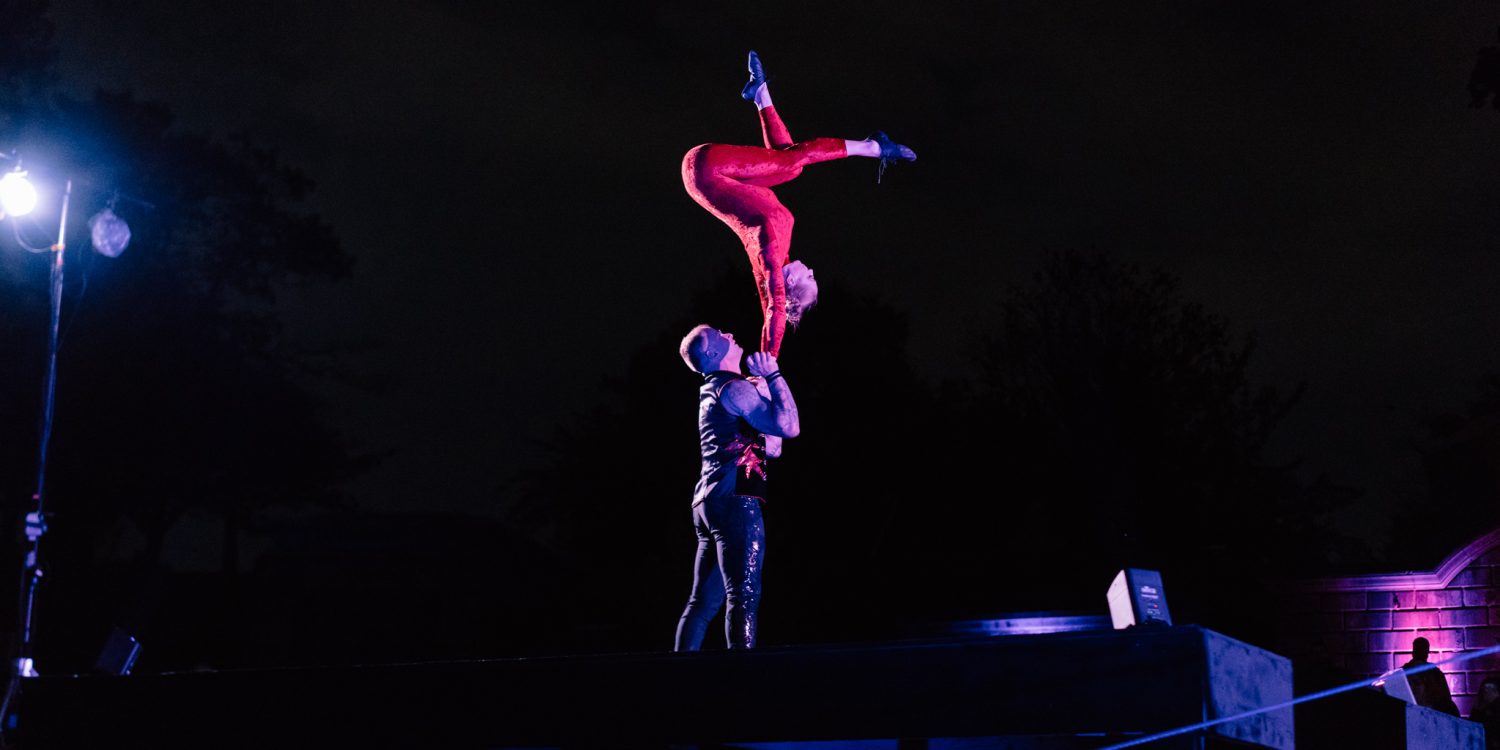 Interested in experiencing Nightfall or Green-Wood Cemetery for yourself? Follow Green-Wood Historic Fund on Eventbrite to get notified about upcoming events.
Words: Abigail Covington
Photography: Florian Koenigsberger
A winding path leads guests up to the cathedral-like gates of Green-Wood Cemetery where two giant gothic arches lit up in neon blue and purple signify the way forward. A woman dressed to resemble a corpse wanders quietly over to a crowd and gently ushers them down a dimly lit walkway, towards the evening's festivities. "Welcome to Nightfall," she whispers ominously.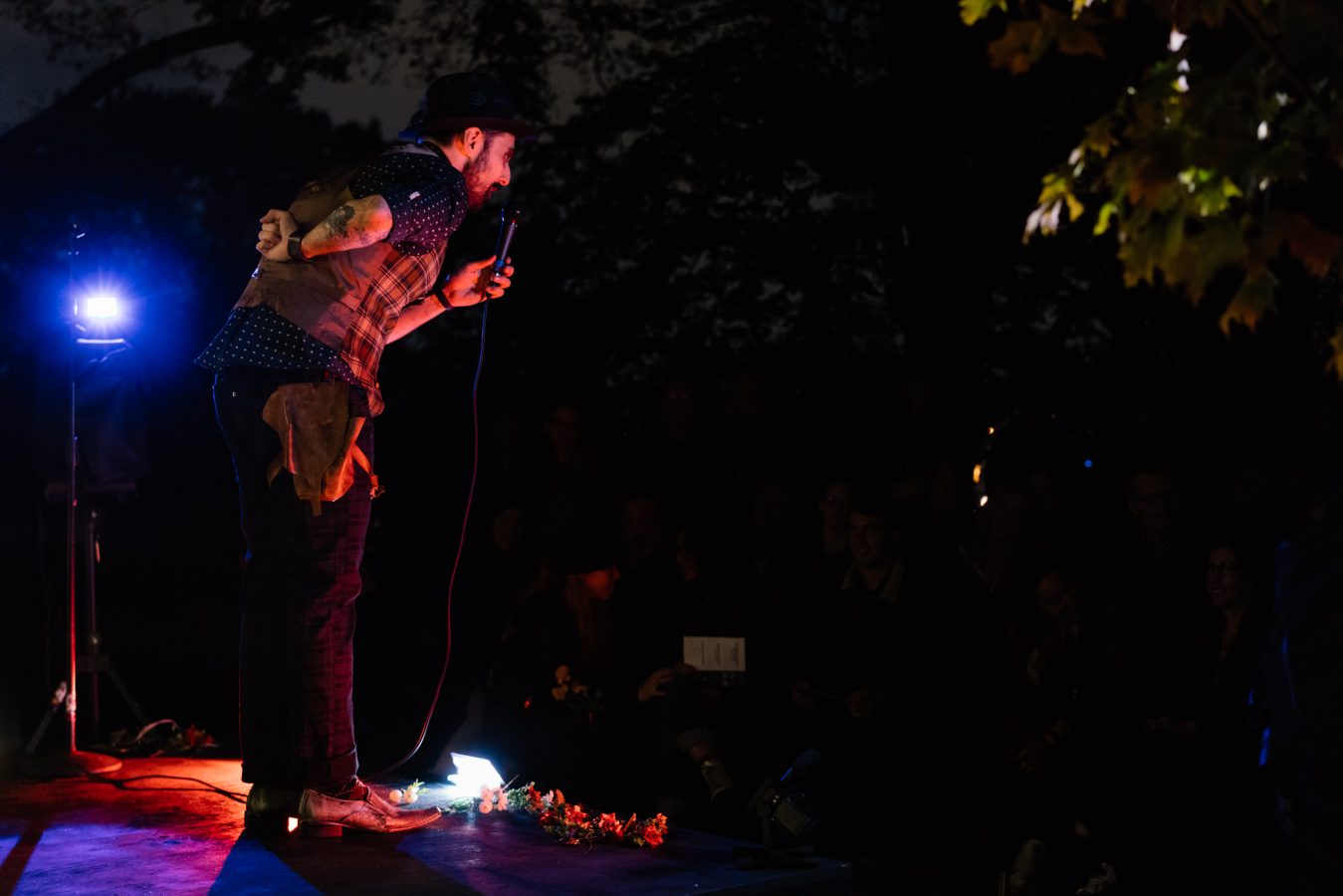 Nightfall is Green-Wood's final event of the season. It's a winding walking tour through the cemetery's famous grounds featuring chance encounters with musicians, performers, storytellers, and more. "It's the second year we've done the event," says Harry Weil, Director of Public Programs and Special Projects for Green-Wood Cemetery. Weil functions as "the curator of the curators" bringing together some of Green-Wood's creative partners like The Moth and Rooftop Films and charging them with creating unique and interactive experiences for attendees throughout the cemetery.  He also chooses the theme of the event and this year he went with "lovesick."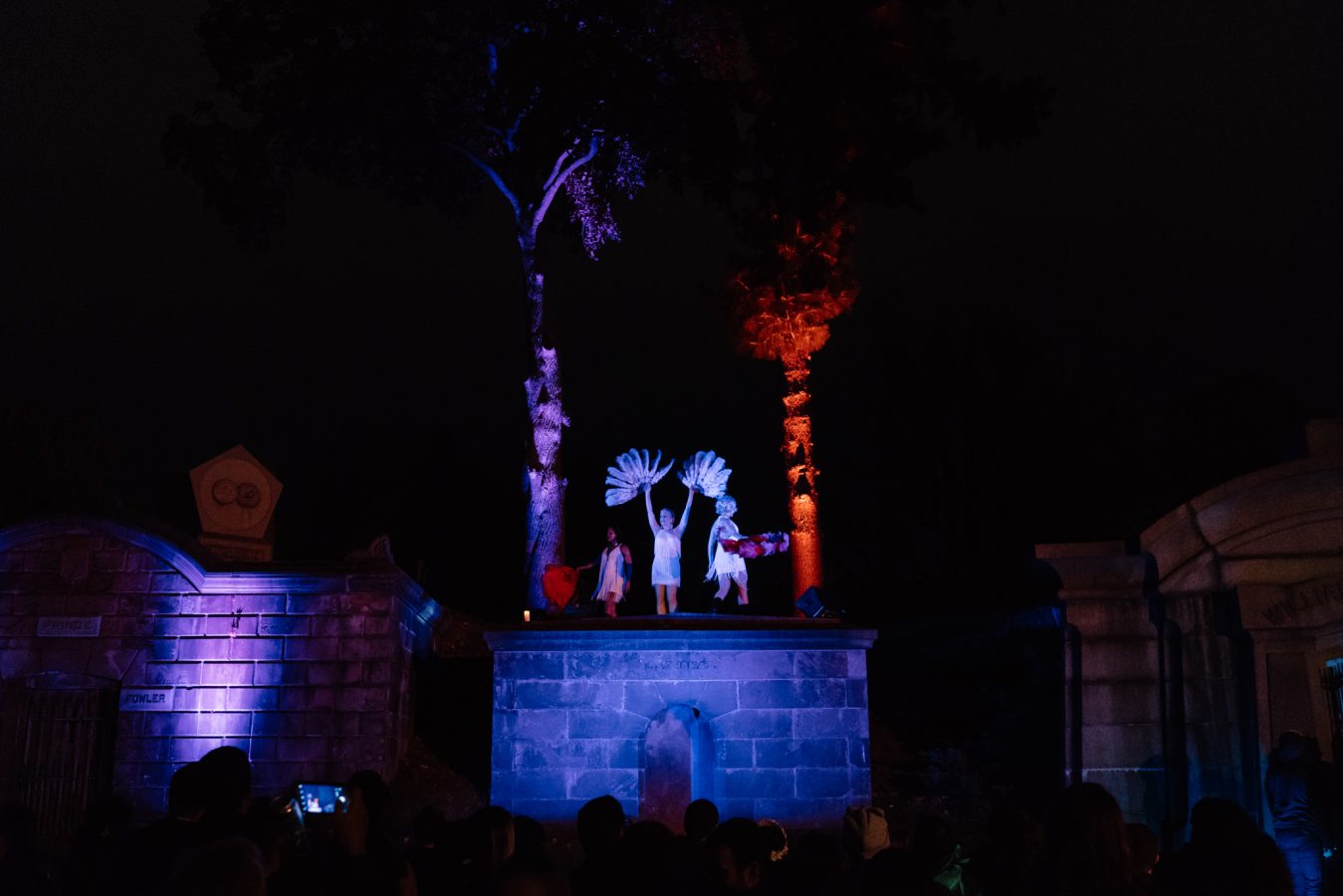 "Either you're so infatuated with someone it makes you sick or you're just so in love that it makes you sick," explains Weil. So you'll see that come through in the presentations by Morbid Anatomy and the storytellers and the films by Rooftop." One collaborator, Bindlestiff Family Cirkus, decided to entertain audiences by having jugglers and acrobats perform gravity-defying stunts. "When you're lovesick, it helps to be distracted," remarks an attendee in regards to the more festive approach.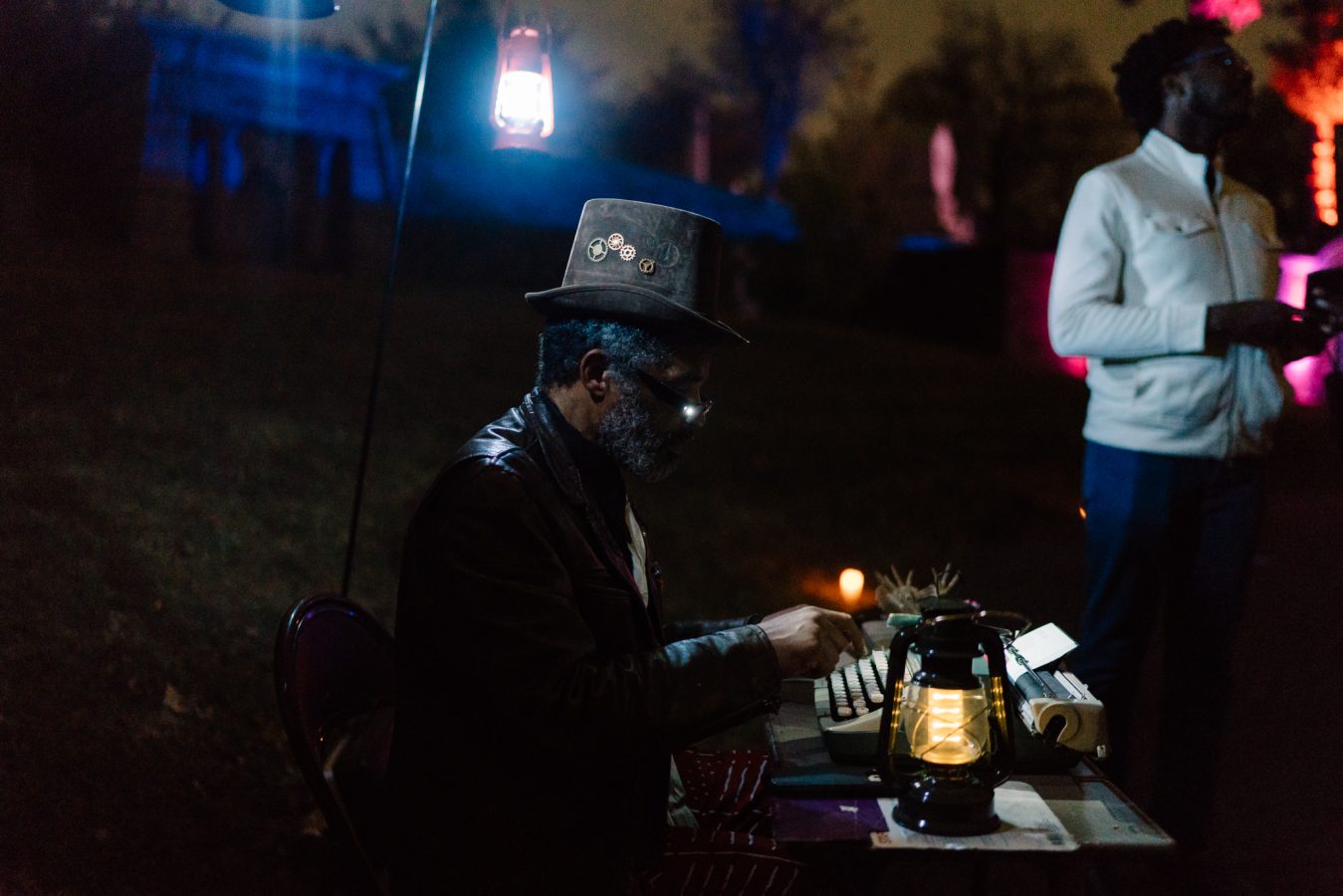 Further down the candle-lit path, a bearded man in a leather top hat advertises his poem-writing services. A crowd gathers around him to watch as he strokes the keys of his typewriter and rips off the piece of paper to give to a young woman dressed as a witch. Behind her, two ghosts rambunctiously search for their deceased friend Rosalyn. "Has anyone seen this lady? Has anyone seen her at all?" they screech as one zooms past the other down the path.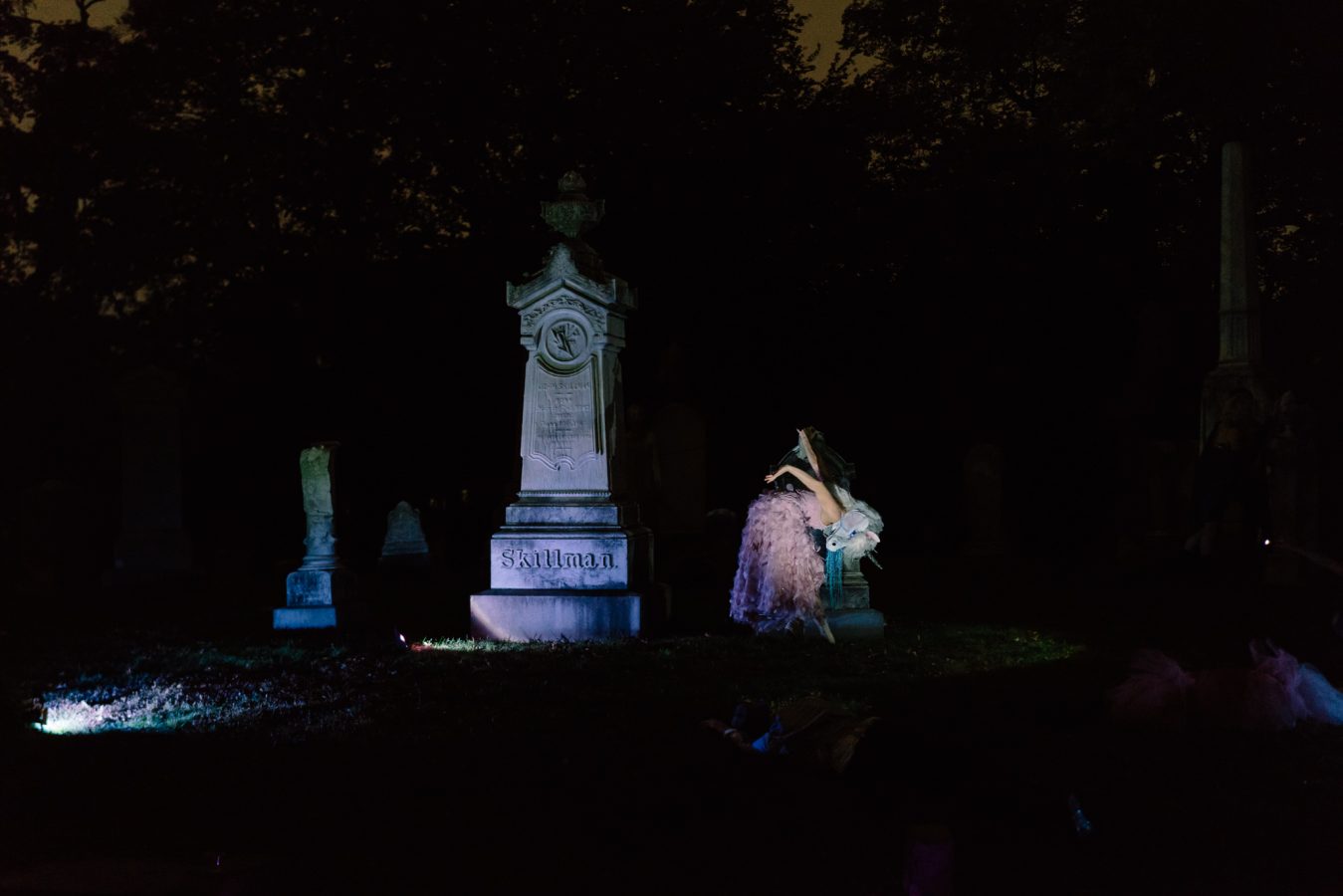 They are just two of the many actors scattered throughout the cemetery, delighting audiences with their lovesick antics. In other places, a deceased bride and groom dance cheek to cheek  atop a monument while a rusty phonograph plays their song in the background. A few feet away, a woman in a unicorn mask performs a delicate dance around a gravestone before pointing attendees even deeper into the cemetery where storytellers from the Moth, standing in the center of a small clearing, recount tales of their loved ones.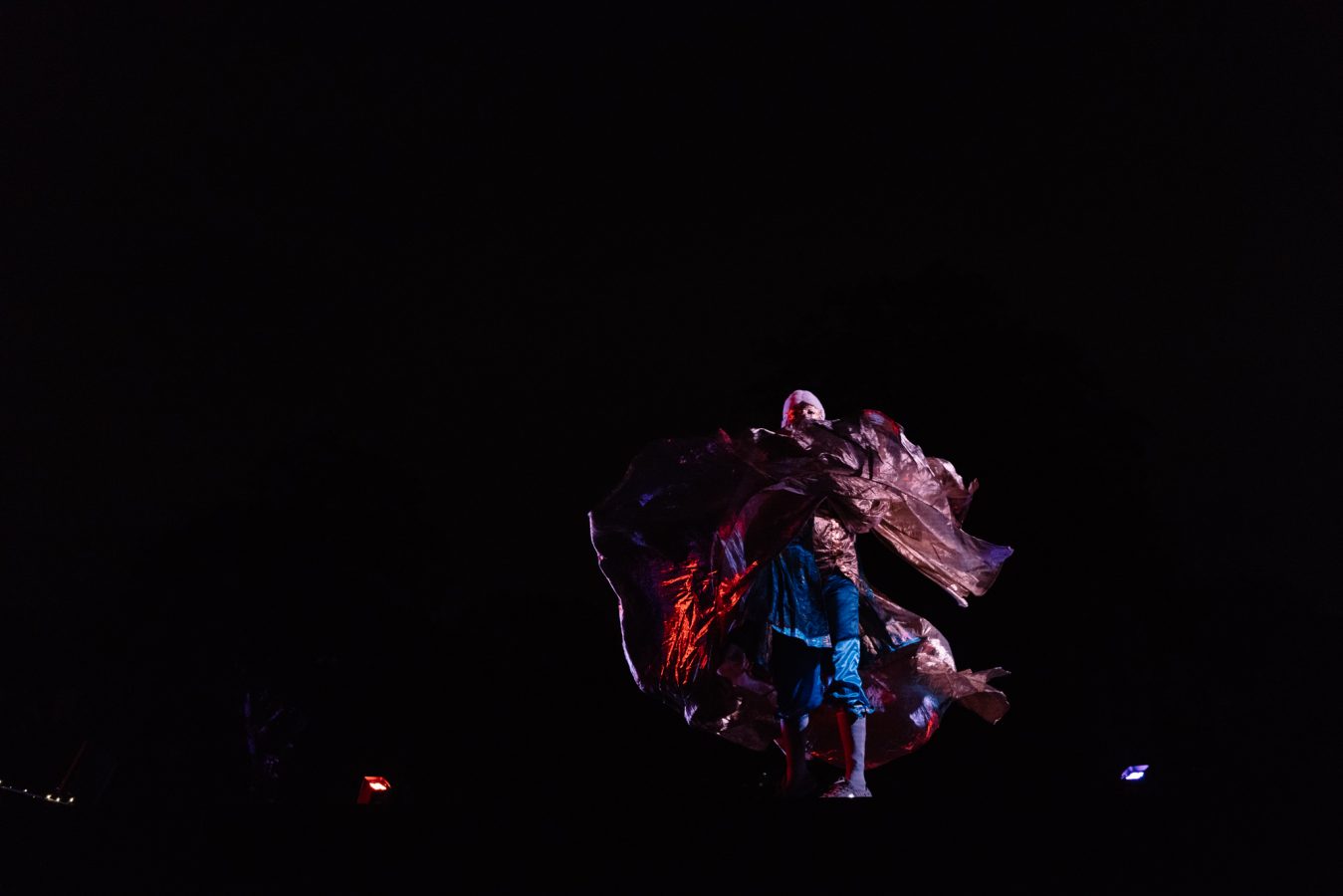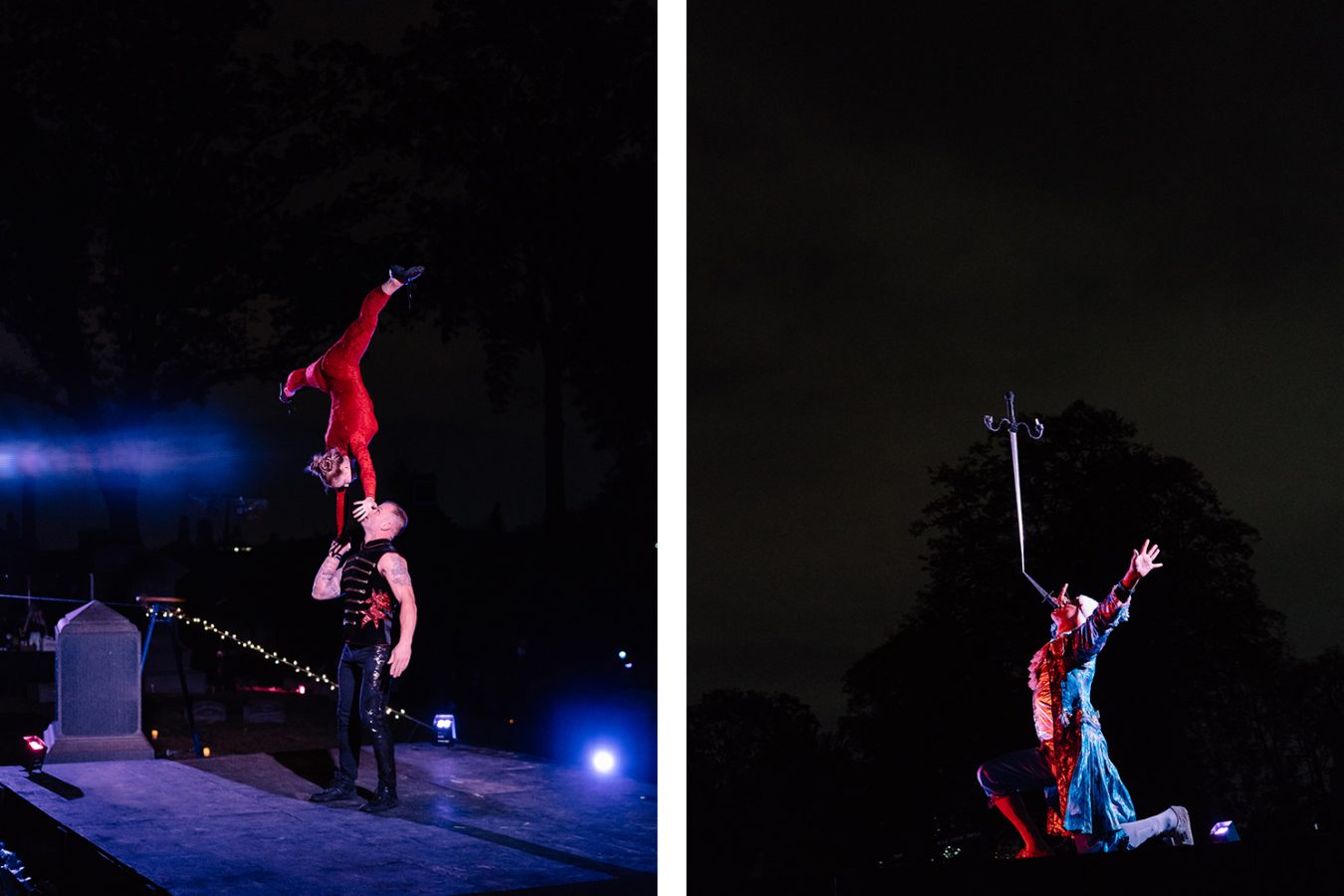 "All of our programs are about moving people through the cemetery and getting them to have experiences here. We want people to go under the gothic arch and get into the cemetery and this event really allows them to do that," says Weil. Also helping people get around is a green trolley with big round headlights that picks people up and drops them off at different installations stretched across the cemetery's expansive grounds.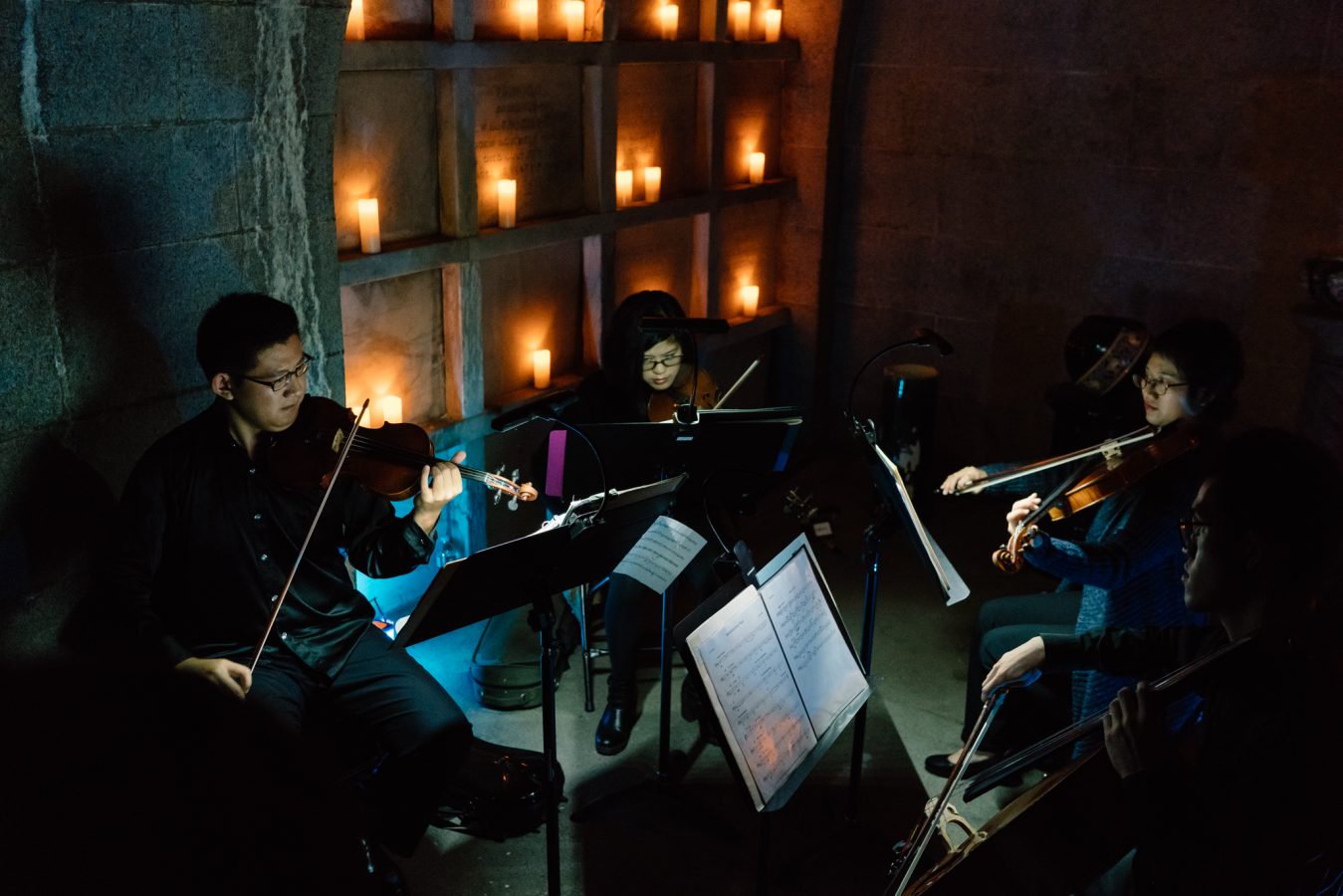 The trolley drops a large crowd off near the cemetery's world-famous catacombs to watch a group of musicians from the arts organization Death of Classical perform a fitting movement. Gently backlit by candles, the violinists play for the intimate crowd who sway back and forth to the music. "I'm definitely getting lovesick vibes," one guest says to her friend.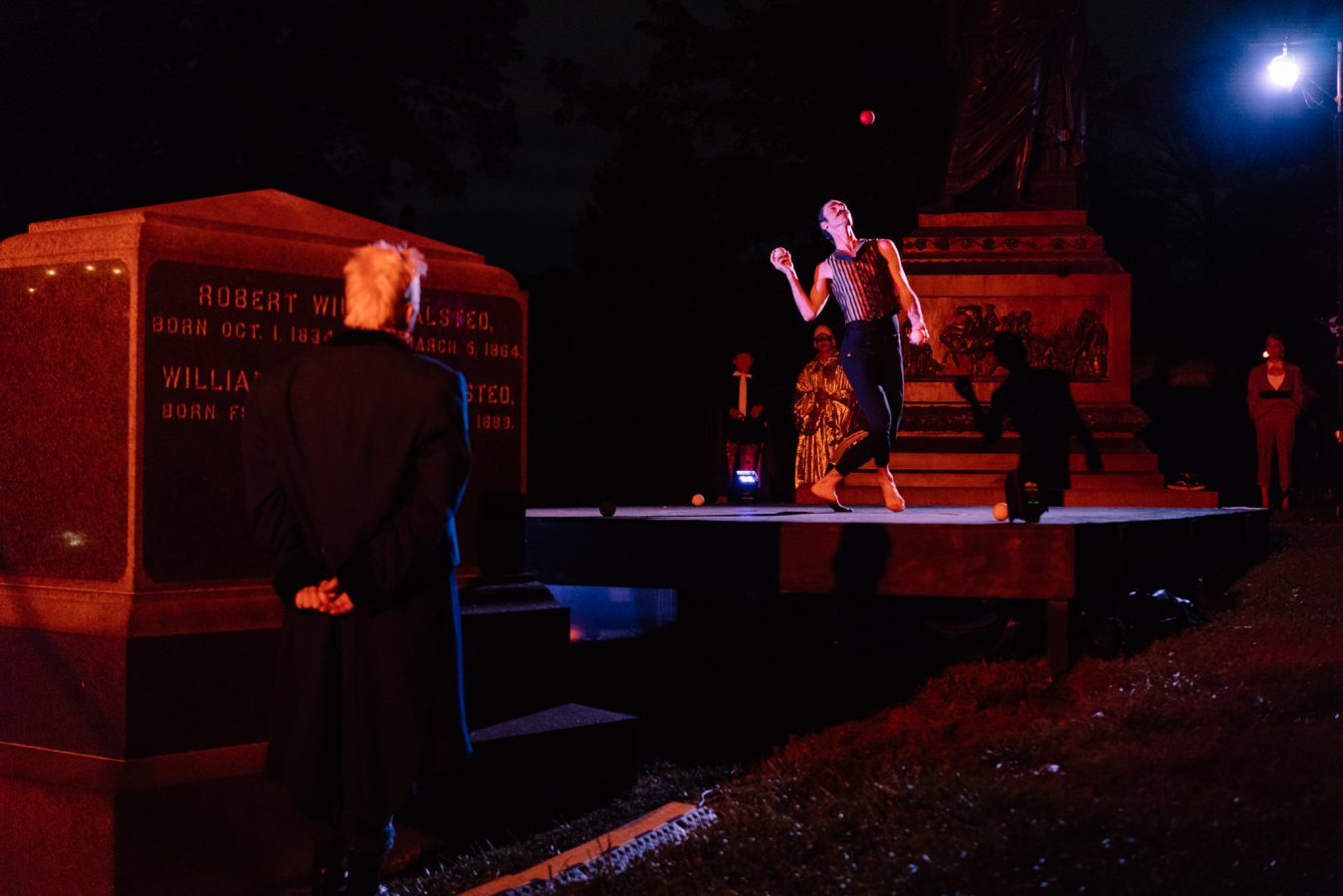 Having people gather and chat about their experience was a part of Weil's vision from the start. After all, cemeteries aren't just for mourners. "Back in the 19th century, going to the cemetery was an outing, a kind of social activity where you would go and pay respects to the dead but also enjoy the living, stroll through the landscape and admire the beautiful architecture," says Weil.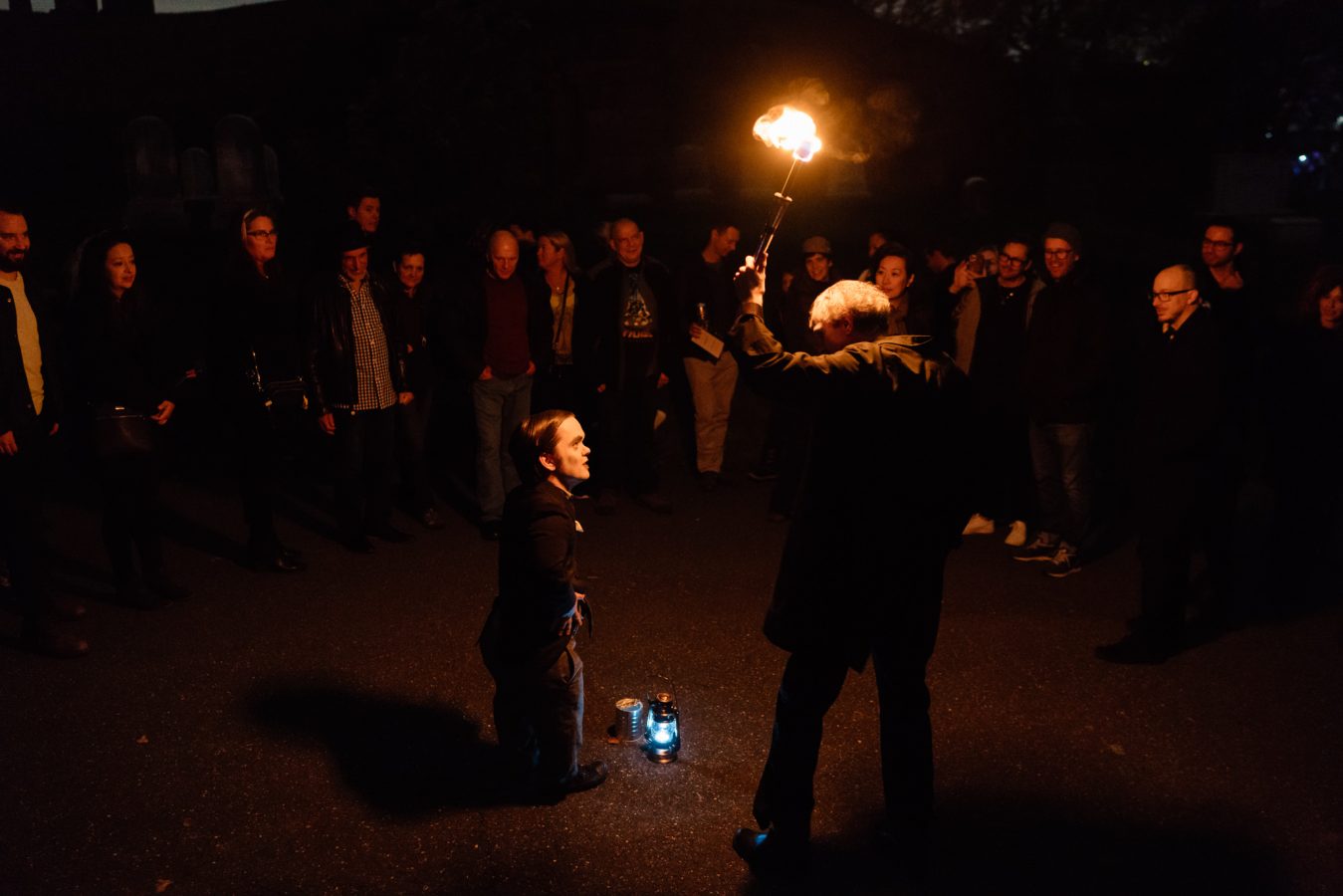 He considers the Nightfall event a perfect extension of Green-Wood's mission to reinvent the cemetery in the 21st century, which in turn helps preserve Green-Wood and other historically significant cemeteries. "Events like this help keep our cemetery relevant and remind the community that we're here and open and exist for contemplation."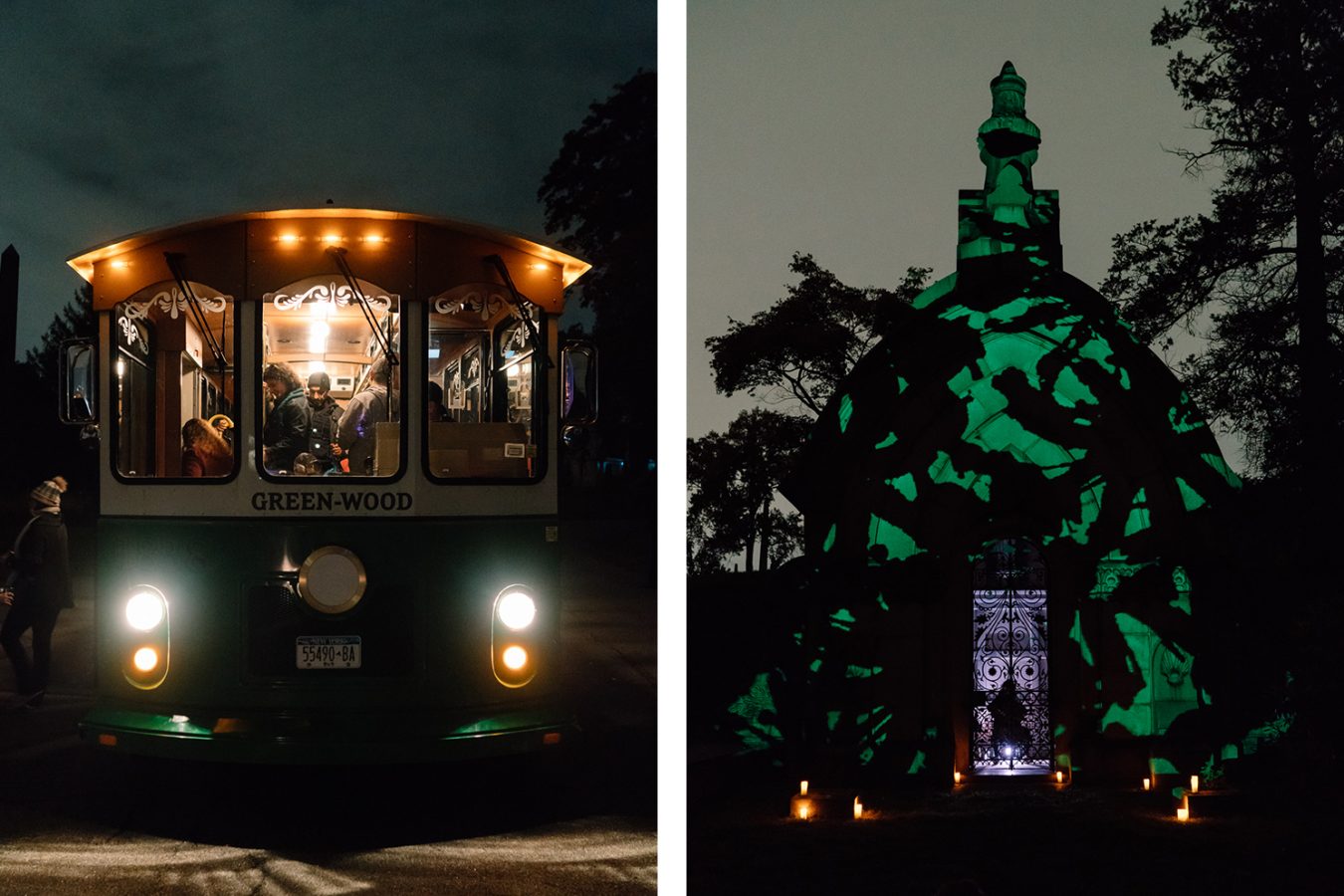 Or for dance parties. Eventually, either by foot or by trolley, guests make their way back to the cemetery's towering main gates where a giant heartbreak-themed dance party awaits them. Energized by the evening's events, individuals swarm around the DJ to shake loose to Pitbull's "Time of Our Lives" and Pharrell's "Happy." In the background, the city's skyline shines brightly above the cemetery's steeples, casting a warm glow over the Nightfall crowd who continue to celebrate late into the night. 
Interested in experiencing Nightfall or Green-Wood Cemetery for yourself? Follow Green-Wood Historic Fund on Eventbrite to get notified about upcoming events.