LOCAL LIFESTYLE
Walk Your Way Through NYC's Queer History with Christopher Street Tours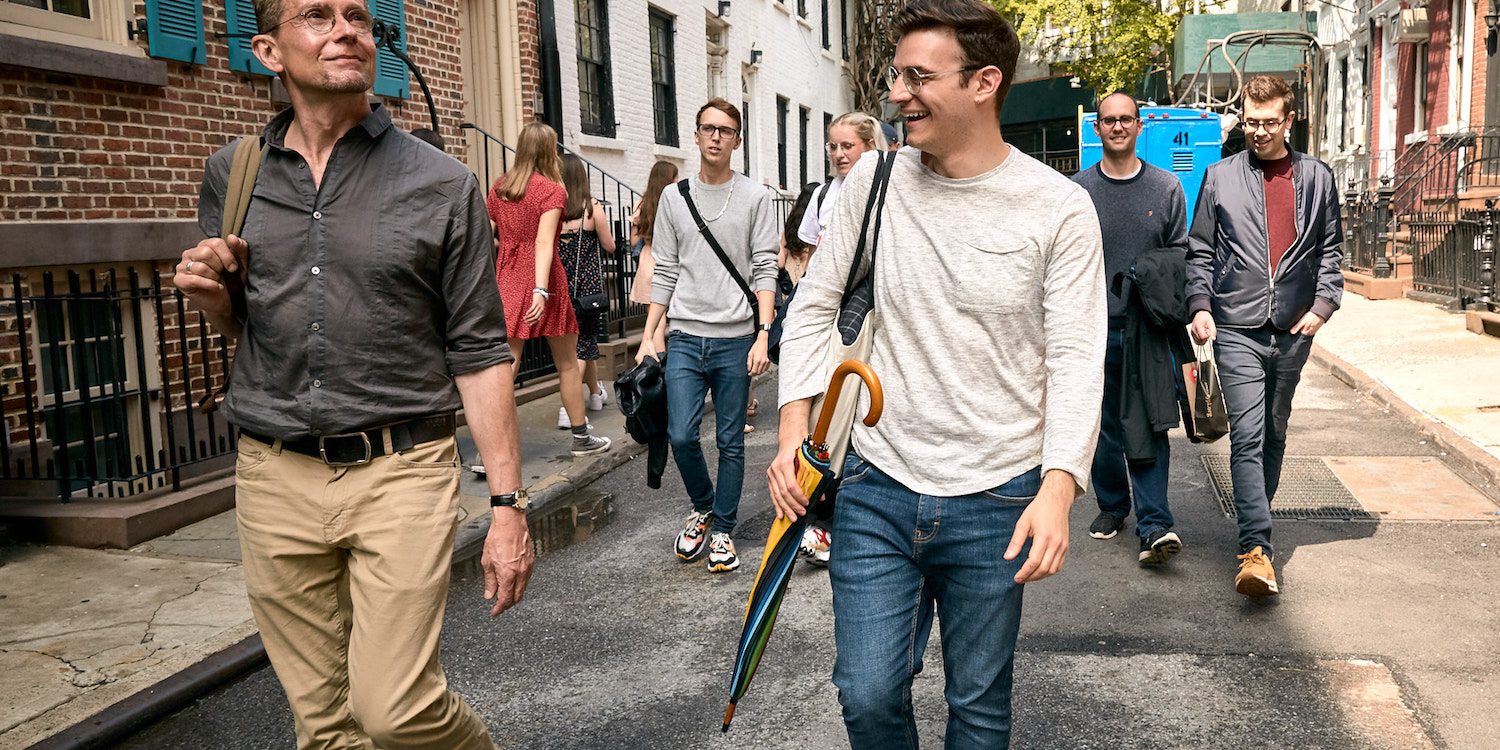 Don't ever miss a Christopher Street Tours event. Follow them here for new event updates. 
"As a gay man, I've never felt more comfortable than in a place like New York City," Michael Venturiello tells me and the intimate group I've found myself with on this humid Saturday in Manhattan. Our crew is international and diverse, made up of new friends from Amsterdam, London, and Florida. And then there's me, a native New Yorker.
We're standing in the heart of Greenwich Village, a quaint, tree-lined neighborhood known for its rich LGBTQ past. Michael is our guide for the day and the founder of Christopher Street Tours, a two-hour walking tour focusing on queer culture. He asks why we're here and what we hope to gain from this adventure.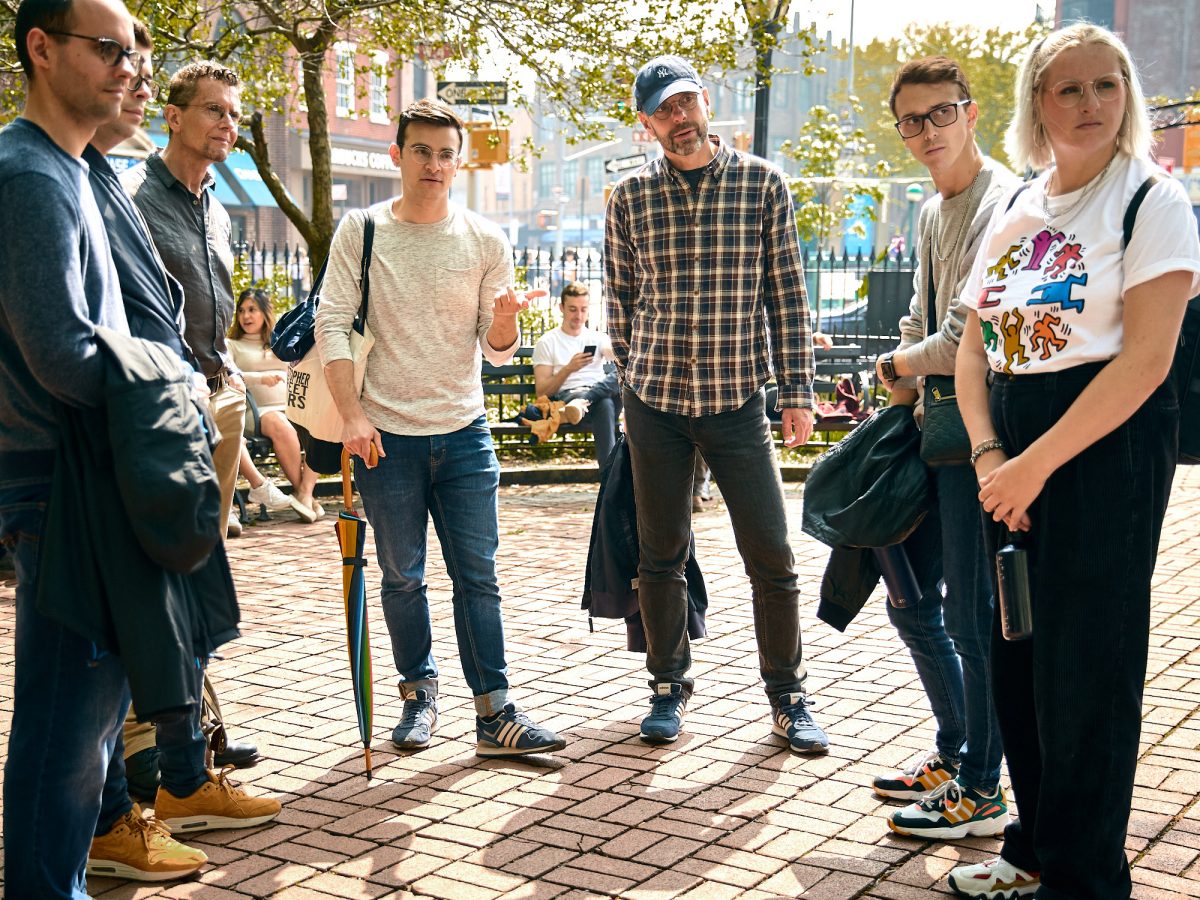 One of the tall, well-dressed men from Amsterdam replies, "I want to see the places and hear the stories that made my own coming out a little easier." Our cohort collectively nods in agreement.
"This kind of education doesn't exist in textbooks," says the college student from Florida with dyed copper hair. It's his first trip to NYC, and he's looking to absorb as much as possible. I find it comforting that I share so much in common with people I've just met.
As a queer person who was born and raised here, I recognize what this city has to offer, but admit I take it for granted daily. My first NYC Pride was at age 11; I've gone dancing at The Stonewall Inn more times than I can count. But there's a lot that I don't know about my hometown, especially in regards to the gay narrative.
"I'm looking for insight into my own personal history," I contribute. I am hoping that, through Michael's fresh and passionate eyes, I'm able to discover a newfound appreciation for this place.
Greenwich Village is made up of winding, curved streets that are specific to the neighborhood, but atypical to the rest of Manhattan. As we meander and get to know one another, Michael pauses to inform us that today will be a rollercoaster of highs and lows, struggles and triumphs. "But, as Dr. Martin Luther King, Jr. said, you'll see that the moral arc of the universe bends towards justice."
With cameras out and notebooks in hand, we're ready to ride.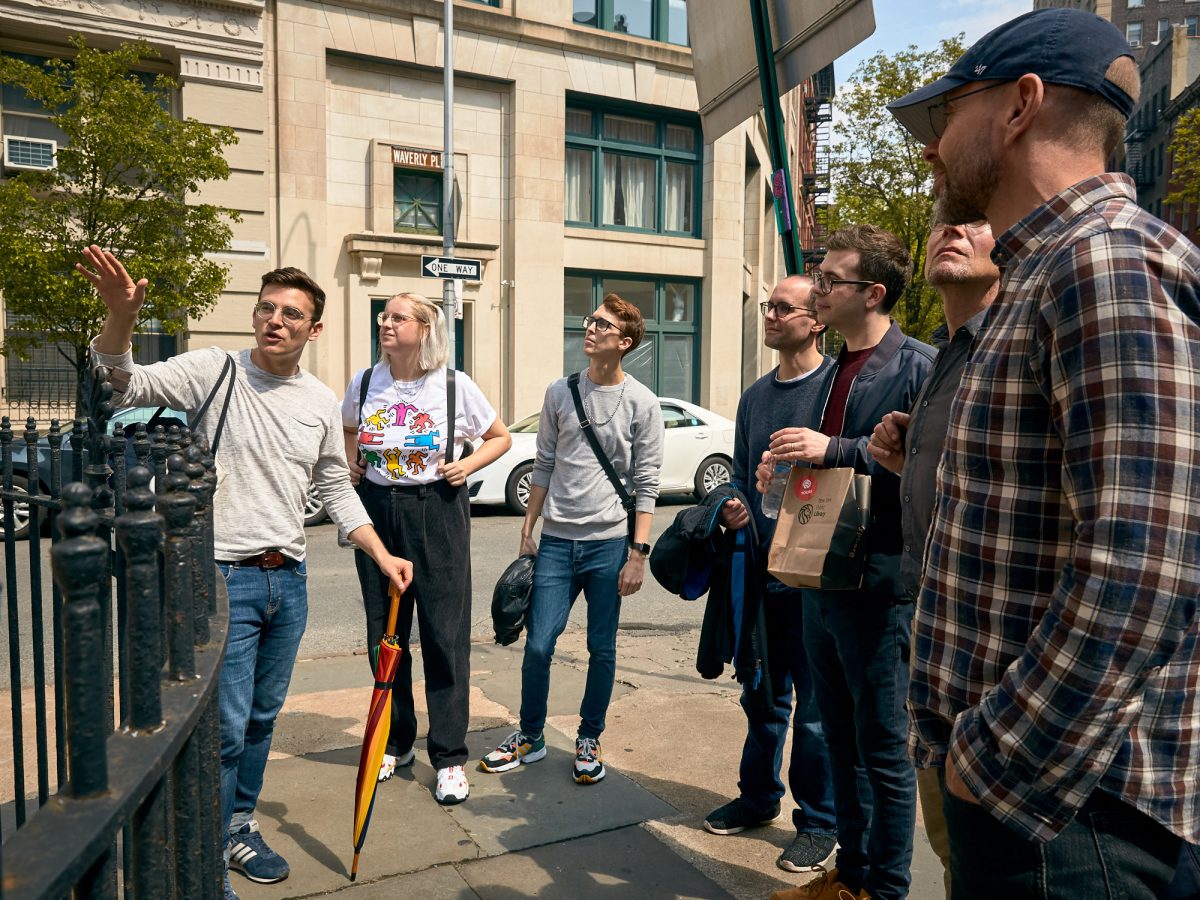 Through art, architecture, and anecdotes, we learn about our complicated queer chronology. New York City is home to many firsts for gay people such as the first LGBTQ bookstore, the first national monument dedicated to LGBTQ rights, the first Pride Parade, and the only federally protected rainbow flag in the country. And all of these markers of history exist right here in Greenwich Village.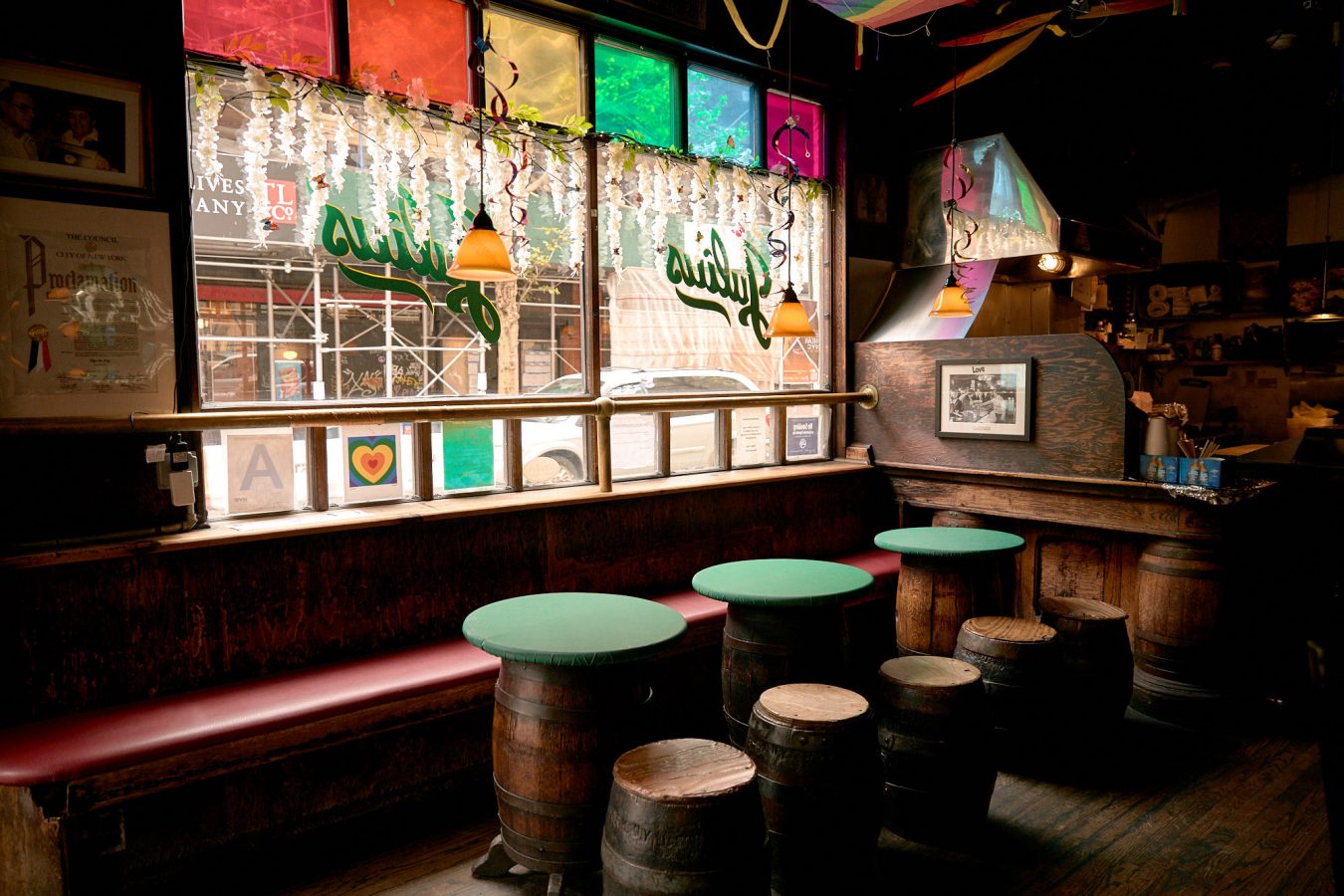 We start at Julius', the oldest gay bar in NYC, and the site of one of the earliest organized LGBTQ protests in the country. Michael takes us back to 1966, when a photograph of the demonstration became widely circulated, caught national attention, and helped to legally protect gay businesses. Framed and on display inside of Julius', it stands as a testament to the fight for equality. The bar now hosts a monthly party called "Mattachine," (in honor of the Mattachine Society, the activist group that led that very protest) keeping the victory of 1966 alive.
Stepping outside, we approach Gay Street to learn that it's named after wealthy landowners and not actually dedicated to queer folk. We snap our photos anyway.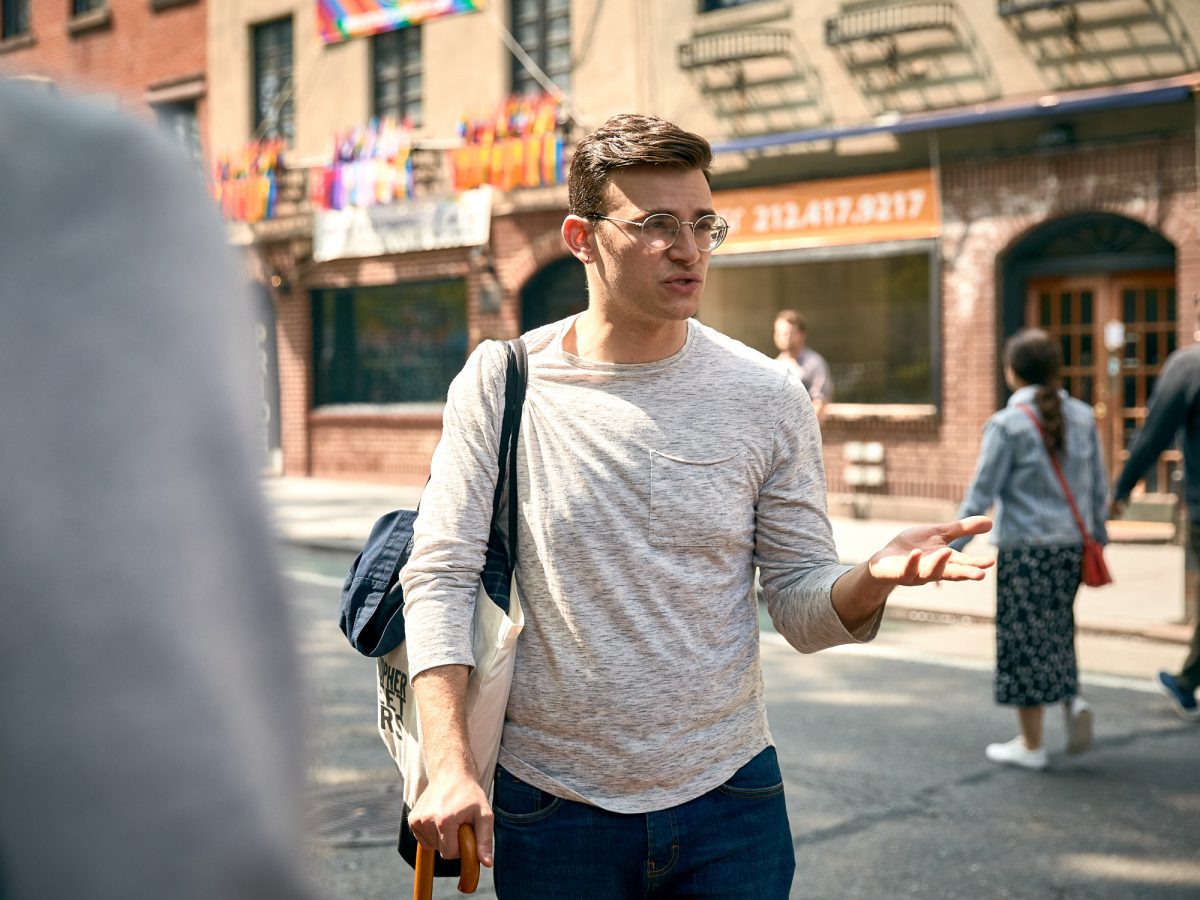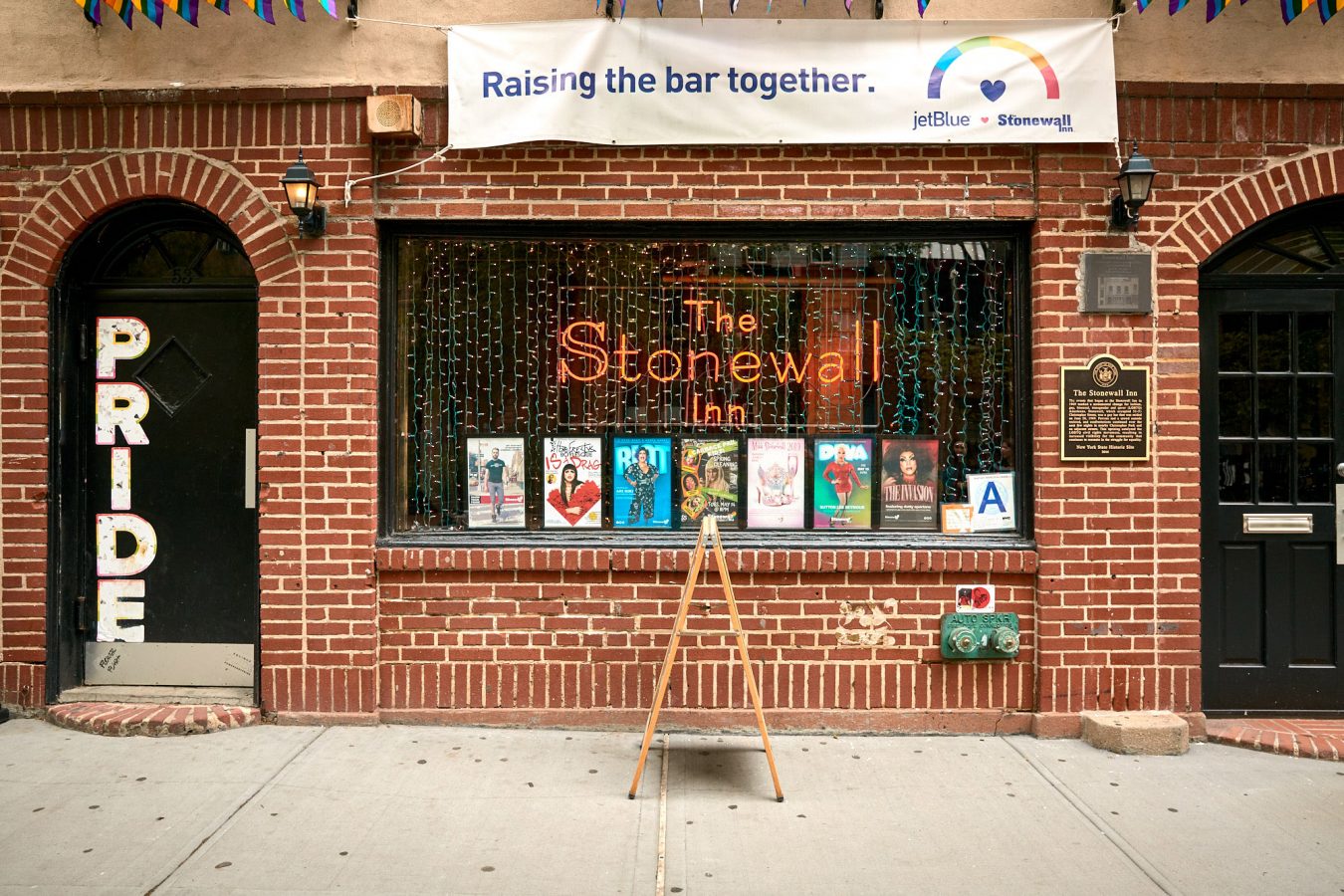 Michael dedicated his graduate thesis to the Stonewall Riots, which took place in 1969 due to a failed undercover police raid of the then mafia-owned business. From that thesis, and the revolution that the Stonewall Riots ignited, Christopher Street Tours was born.
"I wanted to provide the education I found difficult to find; one that is affordable, accessible, and offered all-year round," he explains. Michael has only been in business for less than a year, but already welcomes attendees from all over the world.
As he leads us from landmark to landmark, Michael's excitement is palpable and his enthusiasm infectious. He paints a picture of hundreds of drag queens, trans people, artists, and other LGBTQ party-goers fighting back against discrimination that fateful night at the Stonewall Inn.
The Riots lasted for six nights and, as a result, American cultural perception of queer people began to shift. The first-ever Pride Parade took place! Freedom was in the air! (If you've ever heard someone say, "The first Pride was a riot!"…this is why.)
Further illustrating New York's rich LGBTQ+ history, Michael points out art you could easily overlook walking the streets solo. I was familiar with the Gay Liberation Monument but didn't know that it was the first LGBTQ public art installation.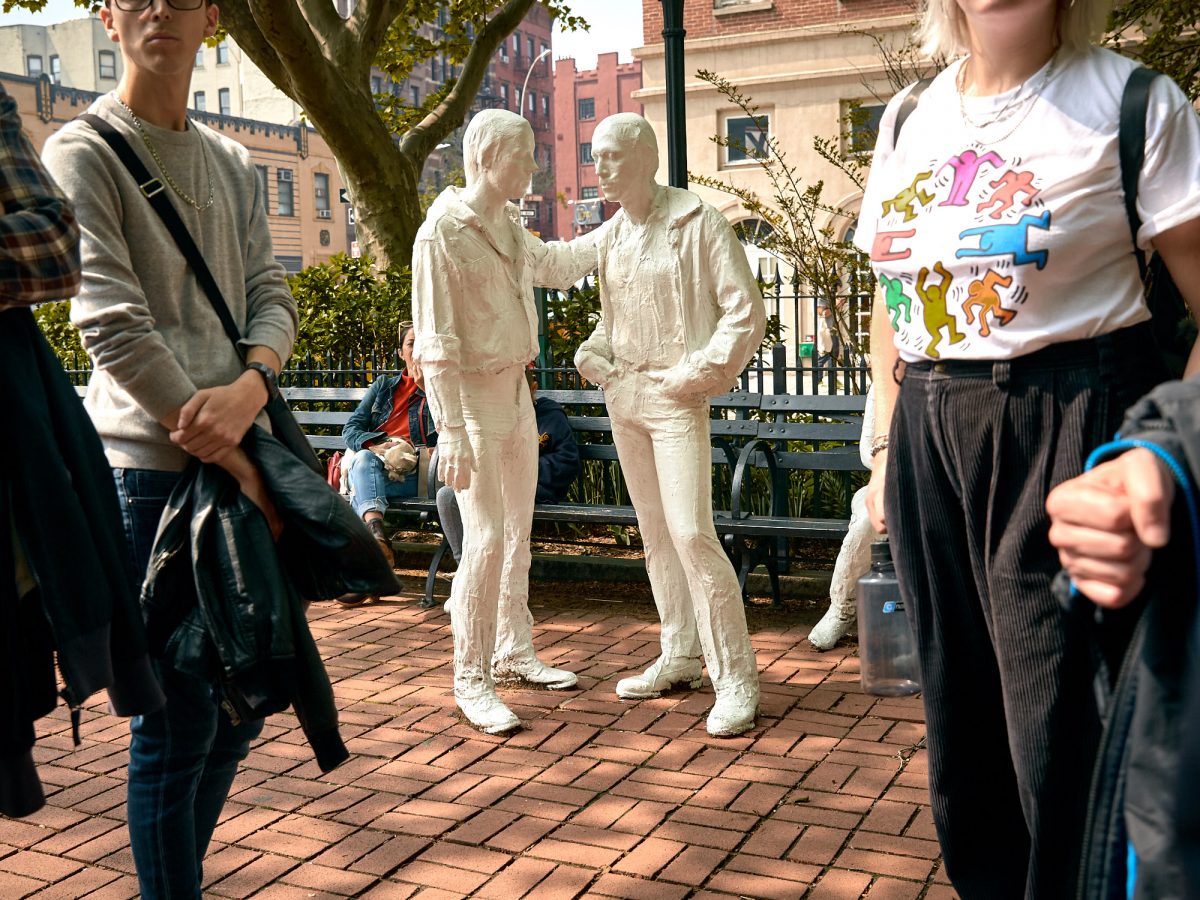 "This piece was commissioned as a way of normalizing queer life and relationships," Michael explains. The lacquered white, bronze-cast sculptures show two men standing and two women sitting, arms around each other in a gentle repose.
Reflecting on what it took to get to this point makes me emotional. How can something as innocuous as love shared between two people be the cause of so much oppression and turmoil?
We meander from artwork to a more somber piece of queer history: the New York AIDS Memorial. The stunning 18-foot high white canopy tribute to the 100,000+ New Yorkers that have died of the disease since the epidemic of the '80s and '90s is an unfortunate but essential part of learning about our past.
I'm shocked to learn that, even in 2019, gay men cannot donate blood if they have been sexually active with another man within the last year.
But, as Michael promised, we end on a note that feels like justice. The LGBTQ Community Center is a safe haven for all aspects of queer life — from family planning to advocacy to health and wellness. It is also home to a risque, site-specific art piece created by Keith Haring, the famous street/pop artist known for his stylized drawings of people, dogs, and penises. Focusing on homosexuality and AIDS, his work gave voice to our underrepresented population.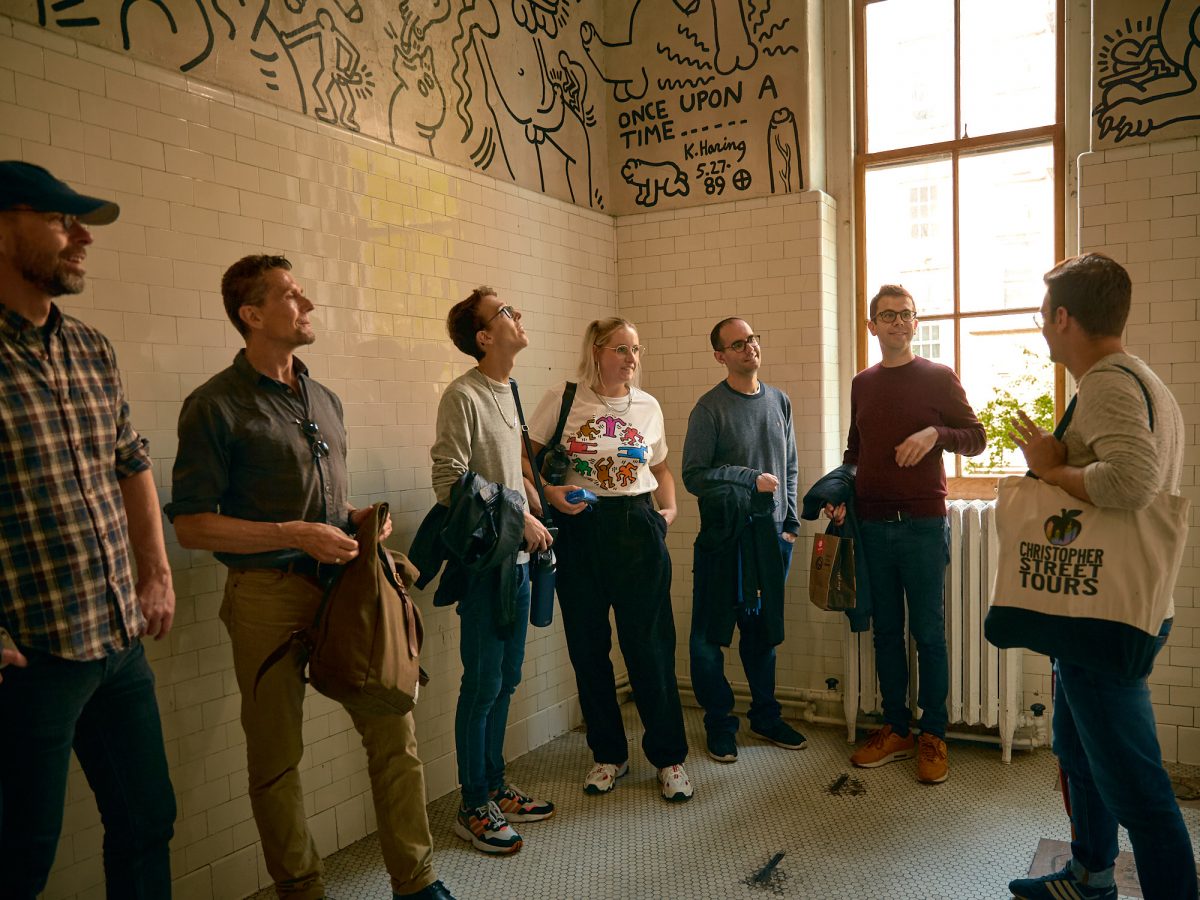 Despite his AIDS-related death at just 31-years old, his legacy lives on: in museums, brand collaborations, private collections, and here, on the second floor of The Center. The mural is painted in black on the white-tiled walls of a now defunct bathroom.
"Today is Keith's birthday," reveals one of my fellow tour attendees, wearing a t-shirt with one of his iconic illustrations. "He would have been 61."
With warm sunlight pouring through a single window, we gaze up in awe at this large-scale work, worth millions of dollars.
Sitting inside this monumental piece of art history, my head feels dizzy. It hits me: so many people risked their lives for us to stand here today. I hope that our generation is making them proud, as we move the path forward towards truth.
I hang back with Michael after the tour is over, thanking him for his dedication to educating me, and whoever takes his tour, on the rich and complex history of our community.
"It's a special thing to know how far we've come," he explains, with a smile. "You have to be able to appreciate the struggles so you can celebrate the triumphs. You have to have both."