ART
Color, Heat, and Flame: Blow Glass and Bend Neon at This Hidden Brooklyn Studio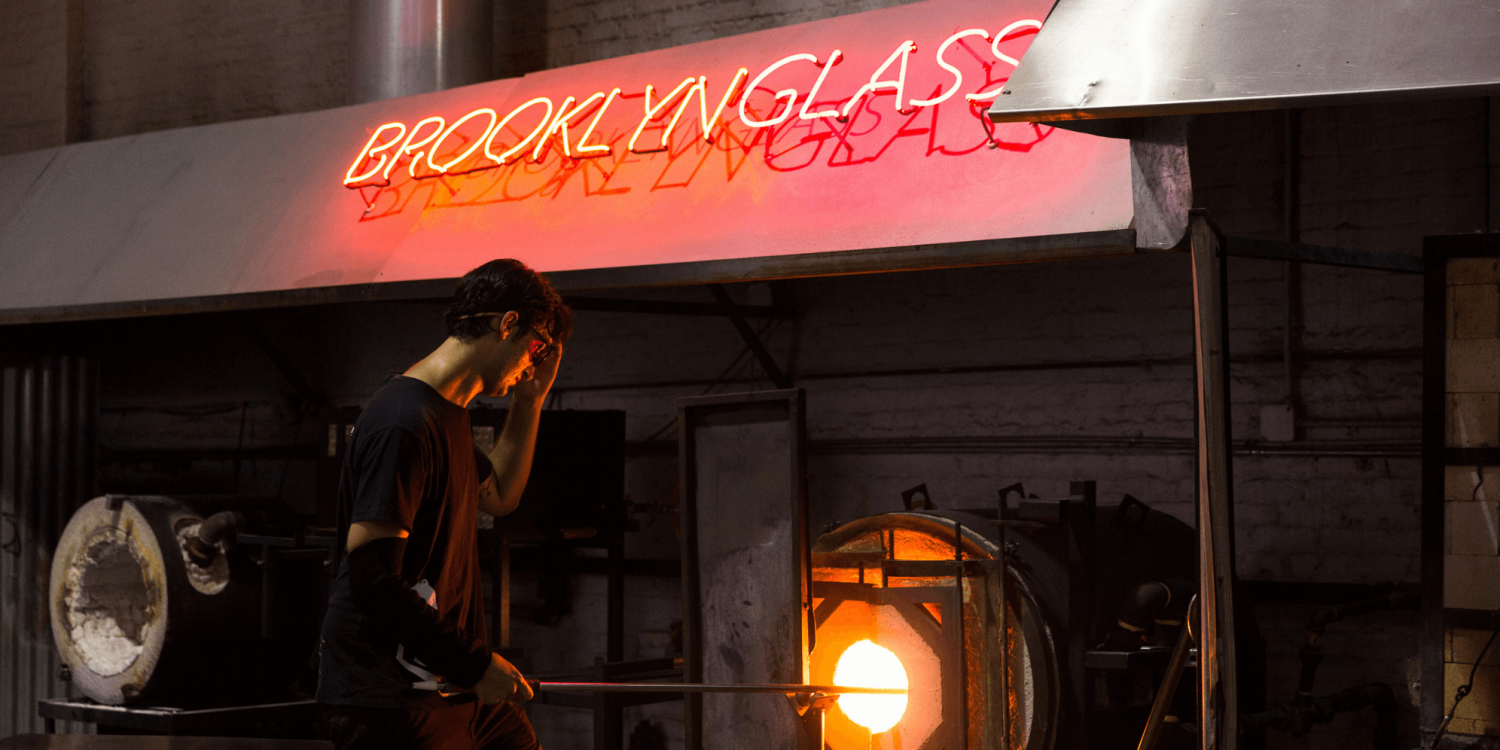 Welcome to our new series, Moment Makers, where we shine a light on the interesting individuals behind one-of-a-kind experiences.
The first encounter you'll have with Brooklyn Glass, the glass studio where both artisans and students come to manipulate glass in countless forms, is a wrought-iron gate, wedged between an auto body shop and a brick apartment building. It's an unassuming presence compared to the cavernous warehouse behind it that seems to take up the entire block. The building is separated into rooms built specifically for various types of glass manipulations, filled with torches for neon bending or rows of boxes filled with neon tubes labeled "salmon pink" and "street light green."
The largest room is dedicated to glass blowing: A row of furnaces sits against the back wall, glowing with orange mouths, some flickering with tiny flames lapping at their openings. The room feels dark in contrast to these bright ovens where tonight's advanced students gather and collaborate on projects, completely unafraid of the molten glass inches from their skin. Metal workbenches and tables are scattered below high ceilings. This is where hot glass is blown, molded, and pulled, using water-soaked tools that look like skinny tongs and giant spoons.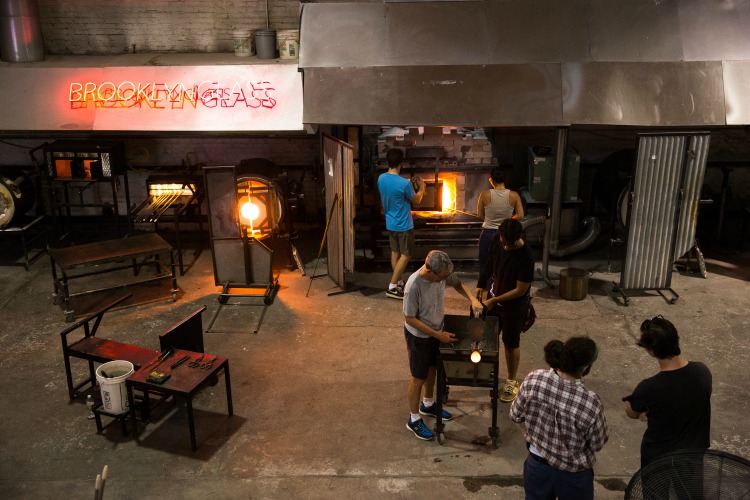 Christine Han
It's an overcast, rainy day, but it's still July in New York, and walking from the humid streets of Gowanus into what could be mistaken for the gates of hell feels counterproductive, to say the least. "I started doing this in the winter," one student says, shaking her head and laughing.
At tonight's advanced class, the students' movements are deft, smooth, and light, whether they're rolling molten glass in colored powder or blowing air into tubes to craft vases and goblets. In fact, the way their hands move along the long rods as they spin and build their pieces is almost ethereal, as if they're dancers — which is pretty incredible, considering the weight of the metal sticks and the precariousness of the glowing molten glass carefully attached to the ends.
"It's funny, going to art school, and then realizing I really didn't want to be an artist," says David Ablon, the owner of Brooklyn Glass, who discovered in school that he'd rather make art for artists by becoming an art fabricator — and later, discovered he wanted to help train new artists, too. A neon bender, Ablon has an unmistakably passionate love of glass, from the materials and techniques used to manipulate it to the finished product in every form.
Though it's a place for artists to perfect and practice their crafts, Brooklyn Glass is open to nonartists of any level, with courses ranging from eight-week sessions for craftspeople, to one-day beginner glass classes where you can make and take home a single glass or art object. Along with glass blowing courses, they also offer classes on bending tubes into colorful neon signs, or utilizing flame working to create smaller pieces like beads and sculptures. Many of their classes are totally beginner-friendly, making this one of the hottest (literally) date-night spots in NYC.
Brooklyn Glass has an energy unlike anything else in Brooklyn, or even in Gowanus, where artists and manufacturers still exist, despite the neighborhood gentrifying quickly. It's an organization where New Yorkers can go to use their hands in somewhat dangerous ways, creating fragile items that are otherwise extraneous in today's society.
Ablon has worked with glass — more specifically, neon — since he graduated from art school in the '70s, and opened this building up in the 90s. And although he went to school for art, Ablon doesn't consider himself an artist, but rather an art fabricator. He says he'd rather do the work than the conceptualizing — which makes sense, as he lacks the scatterbrained whimsy that often comes with a creative mind. Instead, he seems down-to-earth and focused, with the sort of quiet intensity expected from the owner of decades-old businesses.
Until the last decade, this building was mainly a host for his businesses Precision Neon (crafting neon signs for businesses) and Ablon Technologies (distributing glass to artisans across the country), both of which still exist under this same roof. Now, it's also a huge workshop for glass arts.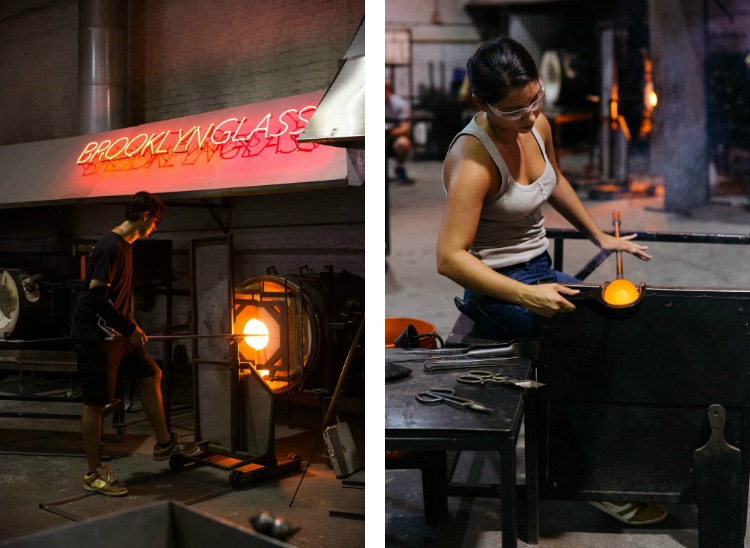 Christine Han
"What's beautiful about having the ability to make these pieces, is that they're completely unique," says Ablon. His demeanor lights up when he talks about the intricacies behind this craft. "You can't make the same thing twice. And glass is so permanent. It doesn't just go away."
Although Brooklyn Glass itself opened in the early 2010s, the space has been hosting classes since it opened, particularly flame working classes, where individuals can make smaller pieces.
"We even did one class called Melt Your Lover," says Ablon, where they made glass sex toys. (The course was in partnership with Please, an adult shop around the corner from the studio that still sells the Pyrex pieces made at Brooklyn Glass.)
But Ablon's lifelong love is neon — even his office, sitting above the high open expanses of the work studios, is lit exclusively with curls of glass tubing, twisting around the ceiling in different tints of white. The one-day neon class at Brooklyn Glass is actually just like the first day of his first neon class at Alfred University. "I actually made these tubes, lit them up, took them back to my dorm room, used duct tape to tape them to the wall, and lit them up," he says. "I was in heaven. It's just amazing, to make light." And by teaching new people about neon every day, he says, "somehow I'm vicariously reliving my first neon experience over and over again."
But if you're looking to take a one-day neon class, don't expect to come out with a big sign of an inspirational quote; that kind of work takes a bit of training. You can, however, make a gorgeous abstract light to take home that requires no pre-existing skills at all. "[Working with neon] is like meeting a person for the first time," says Ablon. "If you just let them do what they want to do and go with it, it can be very interesting. But if you try to make them do what you want them to do, it's pretty rough, until you get to know them really well."
As we're talking, Ablon turns around, grabs a heavy, half-foot-wide chunk of something off his shelf, and hands it to me. It's heavy, tinted a perfect turquoise color, with chipped corners and bulbous curves.
"It's piece of glass," he says. "I used to work in Venice a lot at a glass factory. When they empty the furnace, they pour the glass out and it breaks into chunks. I decided every time I went, I would bring one piece back in my suitcase." He has a few, all incredibly heavy and deeply opaque, flecked with tiny swirls of color. It's hard to imagine how the delicate, paper-thin pieces being made in the furnaces downstairs, or even the thin neon tubes dancing across the ceiling, were all made from this material, and how this handmade artform has stayed the same across both time and ocean.
"I have this fantasy of the Gowanus Canal meets the Venetian canals," Ablon says. "Bringing Venetian glass blowers to New York and having that interaction." For as long as his studio in Brooklyn has been around, the Venetians have been blowing glass since the 14th century. There are certainly some interesting parallels between this careful artform being produced both in the antique streets of Italy, and amongst the dynamic growth of Gowanus. "We've talked to one of the biggest furnaces in Venice and he wants to do it. We just have to figure out the proposal."
Whether you want to learn the same centuries-old techniques practiced in Italy, or you're just looking for a fun evening class to take with friends instead of the usual bar hop, there's a place in front of some fire for you at Brooklyn Glass. "We're kind of a unique combination, with glass blowing, flame working, and neon," Ablon says. "People start to cross over, making tubes in the glassblowing shop, and putting neon in them in the neon shop."
There are so many opportunities here to embrace, and even if you don't consider yourself an artist, working with glass offers something no other craft does. "It's just cool," Ablon says.
Want to blow some glass? Check out and sign up for Brooklyn Glass' glass blowing, flame working, and neon classes on Eventbrite.