In our new Like a Local series, we talk to tastemakers near and far about personal burrito spots, where to find the sweetest negroni, and secret hiking trails to find your bliss. Basically, everything you want to be doing this weekend. How do you live like a local?  
Spoiler alert! There's more to working out than achieving chiseled abs and toned arms. Physical activity plays a big part into mental well-being, too.
That's where Stephanie Shames comes in. Originally from San Juan, Puerto Rico, Shames is a Miami-area spin instructor at Flywheel who has taught indoor cycling classes for more than five years. She's also gained a substantial social media following by talking about her struggles with body image. When Shames is in need of a workout, she looks for classes that are equal parts sweaty and feel good.
"It's not just about how much I sweat," she says. "It's also important to focus on how I feel about myself during and after the workout. When I opened up about my own struggles, I noticed the positive impact it started to have on my community of riders and followers."
Here are five endorphin-fueled workouts recommended by Shames that have helped take her body-positive fitness game to the next level. 
1. Bootcamp
In need of an emotional pick me up and an ass-kicking all at the same time? Cue Barry's Bootcamp, which combines cardio and strength training in an upbeat atmosphere. Shames recommends Barry's Midtown instructor Kellie Sikorski, who teaches numerous classes per week. "Your first thought might be 'I'm not fit enough' or 'Hah, yeah right,'" she says. "That's what I thought, but I quickly realized I was so wrong. I fell in love with the ambiance, the instructors, and the style of classes."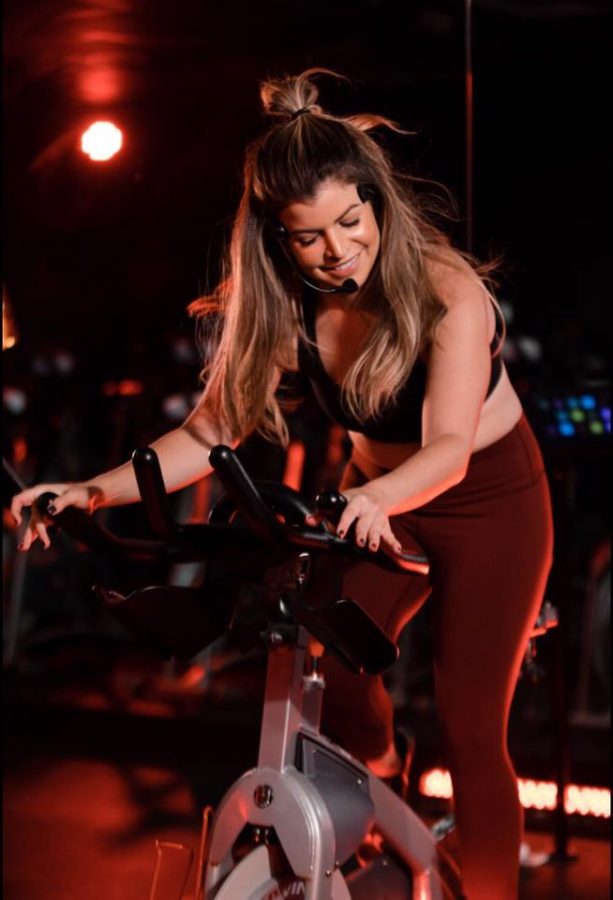 Courtesy of Stephanie Shames
2. Indoor Cycling
Of course, Shames is a fan of indoor cycling. But when she's not in the saddle for work, she tries to squeeze in a few classes as a fellow rider. At Flywheel, she recommends Marie Gentile, aka "The Mother Manifestor." "Her barre and cycling classes are geared to all fitness levels," she says. "She keeps it real and honest, which means you'll get a hardcore workout while also feeling proud of yourself, even if there are moves you haven't mastered yet."
3. Pilates
Traditional pilates is a stellar way to strengthen and lengthen different muscles in the body, according to Shames. She recommends investing in a few personal sessions with a coach who can provide individualized attention. "Whenever I'm craving one-on-one attention, I go see my favorite pilates instructor, Amanda Christodoulou (Pilates_Body)," she says. "It's helped me develop a better and more loving relationship with my body."
4. Boxing
Got a passion for cardio but a desire for strength? That's where boxing comes in. Look out for instructor Gina Palazzi at The Fit Shop, who also teaches at other studios in town like The Box and Mickey Demos Boxing. "She combines cardio-fueled boxing and boot camp workouts where you blast calories and all that negative energy you may have bottled up inside of you," Shames says.
5. Yoga
Most important of all, Shames makes sure to slow down with a yoga class at least once a week. Find her at Buddha Shack with instructor Jenna G., who teaches a unique version of yoga that incorporates small weights and hip-hop music. "She never fails to help me when I'm feeling stressed, worn down, or in a funk," she says.