OUTDOOR
Breathtaking Swim Spots and Hidden Beaches in LA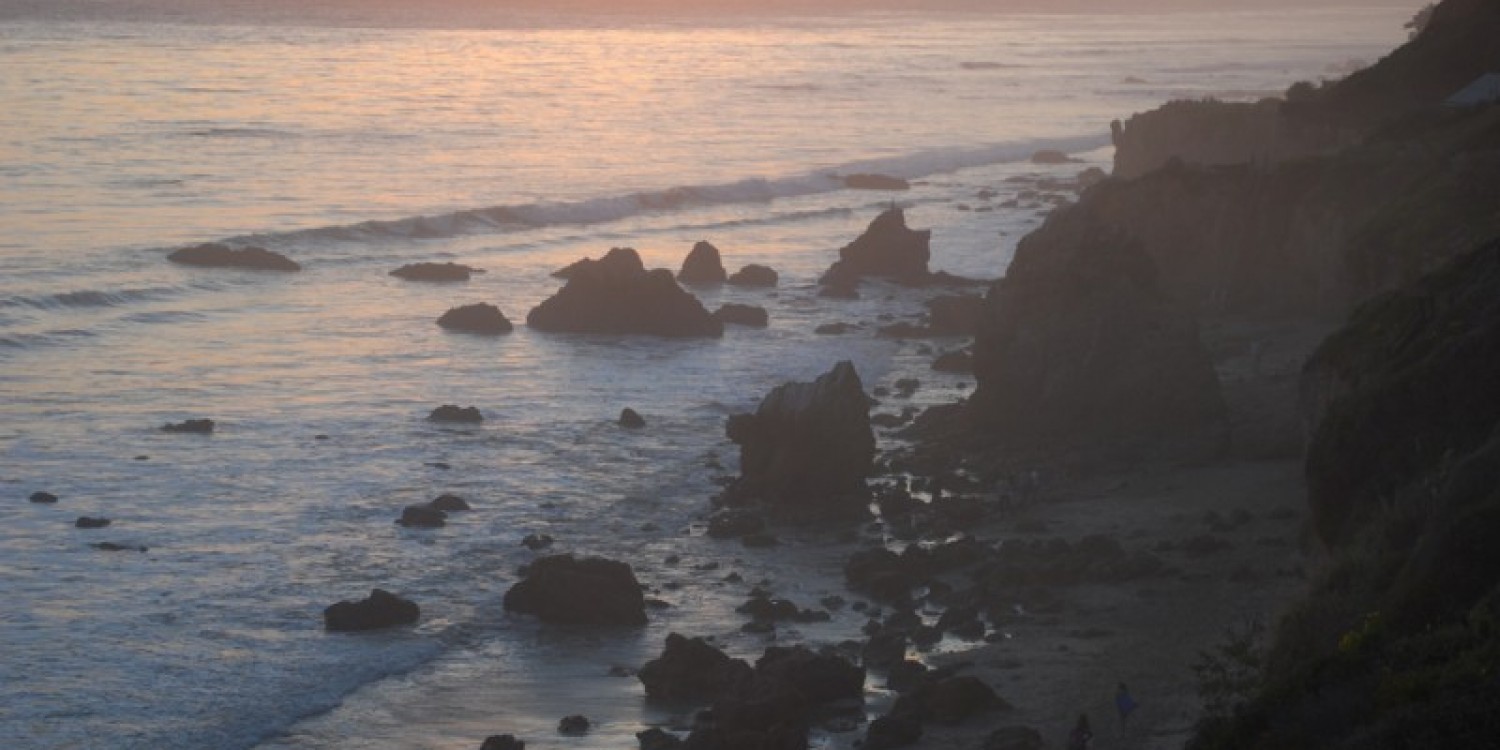 LA is a tangible epicenter of variety, metropolitan happenings, and hustle—we gladly thrive inside this busy and bustling oasis. From DJ nights to street fests and everything in between, we're spoiled with every possible thrill—available any day—at just a stone's throw.
Though, not far from Los Angeles proper, microcosms of beauty boast pouring waterfalls, coastal caves, rock-lined pools, hot springs, and countless velvet beaches.
Warm breezes are queuing up. Let's hit the hidden beaches and swim spots of Los Angeles.
Hidden Beaches
Little Dume Beach
MALIBU
The spanning beachside bluffs of Malibu's Point Dume are well-known by locals and travelers alike. Big Dume Beach is a particularly gorgeous setting for swimming, sunbathing, and picnicking. But, if you're seeking a more secluded seaside adventure, by way of Big Dume Beach or Paradise Cove Beach, you can access Little Dume Beach, a private cove. There's no direct access to this small corner of the world, so find your way via a considerable walk along Point Dume State Park's coastline.
El Matador State Beach
MALIBU
This popular state beach offers up a wide coastal expanse of cliffs, rock formations, and sea caves. Because this state beach is comprised of three smaller beaches and requires some effort to reach, you'll often find privacy around every corner, rock, and cave.
Staircase Beach
MALIBU
Leo Carrillo State Park delivers many clandestine locations to the average Malibu beachgoer. With 1.5 miles of shimmering Pacific Ocean at its shoulder, it's ideal for a day's getaway. At the north end of Leo Carrillo, you'll find Staircase Beach. Peppered with small rocks, the intimate spot can be found by following a zigzag trail from the North Beach parking lot.
Latigo Beach
MALIBU
Pinned for its picturesque quality, Latigo Beach is quiet and meditative. Unfortunately, the water isn't all too friendly for swimming or surfing (though, some surfers do dare). The real charm of this petite beach lies in its soft, sandy expanses—flawless for sunbathing or strolling.
Salt Creek
DANA POINT
Although Salt Creek isn't quite as close as Malibu's fantastic beaches, it boasts a similar wild beauty. Touted as one of the best beaches in California, this small (and not-so-secret) seaside escape has bluffs, trails, and the softest, seafoam-dusted coastline.
Swim Spots
Century Lake
MALIBU
The lagoon-like Century Lake Dam & Reservoir can be found by trekking a short-but-sweet trail from Crags Road in Malibu Creek Sate Park. What you'll find: a pond oasis encircled by rock cliffs, walls of reeds, and arching tree arms that gently dip into the Century Lake pool. It's a shady swimming destination delicately nuanced with pastoral sights.
Rock Pool
MALIBU
Rowdy swimmers splash and jump, basking in the cool laid-away watering hole that is Rock Pool. Inside Malibu Creek State Park, and not far from Century Lake, this collection of rock-lined swimming pools offer a sunny, playful swim arena for those opting out of the salty, coastal surf just beyond Malibu's bluffs.
Eaton Canyon Falls
SAN GABRIEL MOUNTAINS
This easy trail gifts hikers a great reward for a small trek (3.8 miles roundtrip) into the San Gabriel Mountains. After gorging on natural sights of native plants, minerals, and wildlife, the trail reveals a stunning waterfall and small pool at its base. The depth of the pool is typically thigh-to-waist level, but water level should be relatively high, considering the recent arrival and departure of El Niño.
Switzer Falls
LA CANADA
For those who love to hike: choose Switzer Falls. Lined with water spots and micro-falls of all sorts, this trail boasts one of the most exciting final destinations and, could arguably be the most beautiful waterfall hike in Southern California. Pack your bathing suit, because with the recent rains, these falls are likely to be rushing with sweet, swim-able—or, at least splash-able—water.
Deep Creek Hot Springs
SAN BERNARDINO NATIONAL FOREST
Desert dwellers seeking a water-spotted mirage might find something remarkable in Deep Creek Hot Springs. Siphoned from a naturally occurring hot spring, these wide and wonderful man-formed pools of warm, therapeutic water are the best bonus after trudging through the heated, desert-scape for over two miles uphill (so, bring water). Also note: clothing optional (in fact, it's preferred by the locals who maintain the springs that you swim without 'em).
Featured image: "Malibu" by "Megan Westerby" via Flickr CC BY 2.0