LOCAL LIFESTYLE
Q Youth Foundation Strengthens Community with Queer Voices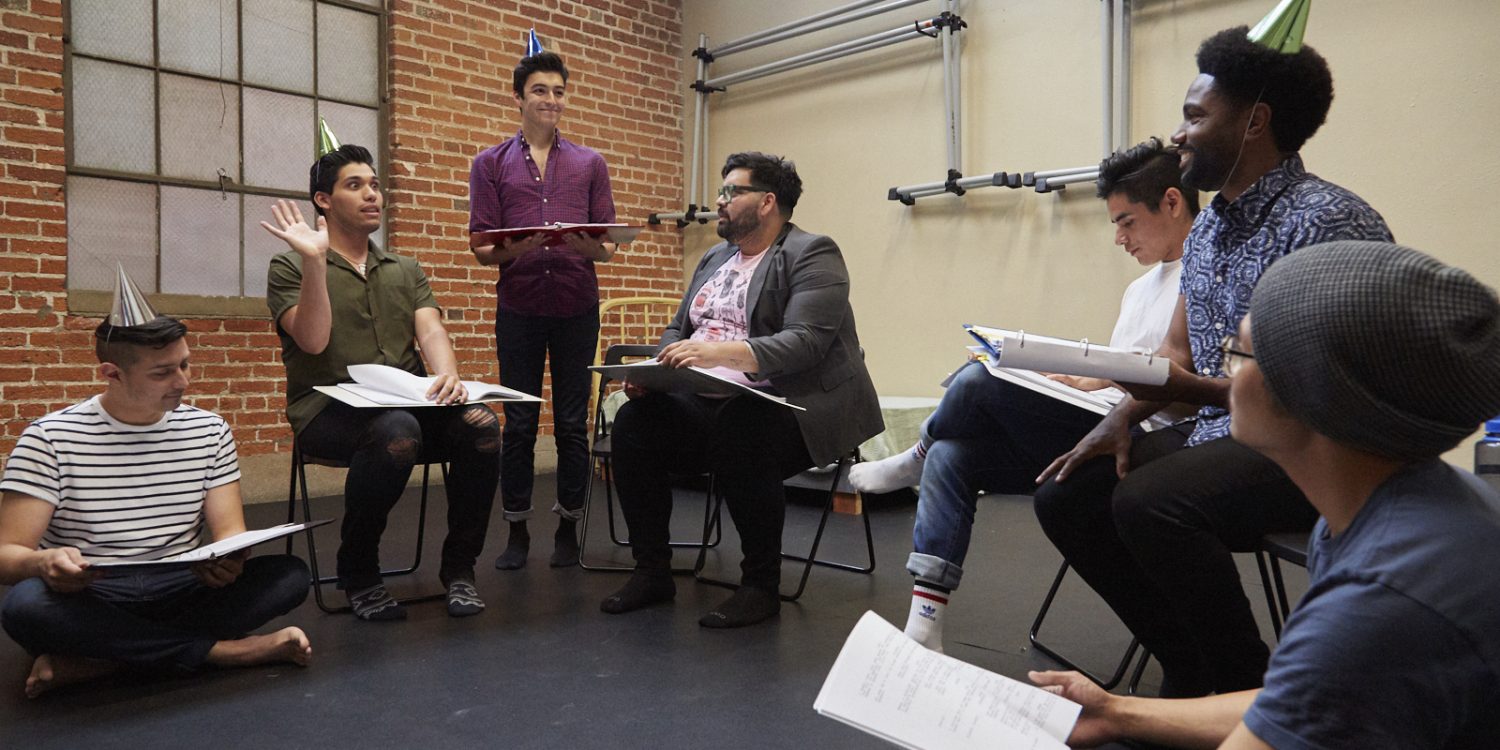 Don't ever miss a Q Youth Foundation event. Follow them here for new event updates. 
A chorus of laughter erupts and bounces off the walls of a small rehearsal studio, like a bag of SuperBalls set free. As it dies down, I relax back into my chair. The dramatic tension dissolves into the comfortable atmosphere of base reality.  
"Okay, that's great. Let's take it back to the top." The director, Maia, welcomes the laughter and its utility, but quickly re-gathers focus. It's time to resume the process, sculpting and balancing what is both a tender and tense scene between two lovers.
I'm sitting in on a rehearsal for a new play, Borracho: Spanish for Drunken Bum, set to premiere at the Hollywood Fringe Festival this summer. It's produced by Q Youth, a nonprofit organization in Los Angeles devoted to supporting and developing Safe(r)/Brave spaces for LGBTQIA+ storytelling and young voices.  
The play centers around a diverse group of queer friends, most Latinx, as they gather for a birthday celebration. Though the events take place at a festive party, not everything is fun and games (although there is a good old fashioned round of truth or dare). The title provides the Spanish to English translation, but I ask the playwright, Abe Zapata Jr., to provide some additional context.
"When I was thinking of 'drunken bum,' I was thinking very machismo, this very manly idea of someone who drinks a lot of beer and is like stumbling around…And then the play deals a lot with these men's ideas of gender and masculinity, what's femme and what's masc. And in my head I was like, 'well at the end of the day they're still acting like drunk borrachos.' Or at least Miguel is."
Miguel is the protagonist of the play, portrayed by Alejandro Cervantes.
"For Miguel, there's a lot of things he's grappling with that he doesn't really know how to talk about: standards of masculinity that, especially the Latin community, places on gay men, and men in general; an unresolved tension with his father; or just not being able to deal with the feminine aspects of his personality. It's relatable… So, 'borracho' is the character – 'borracho' is referencing all the things that he's doing. For me, it means someone who is a little bit more than a little bit out of control."
As the rehearsal continues, I see what they mean by "a little bit more than a little bit out of control."
In some ways, the presence of alcohol behaves as an additional character in the play. With booze free-flowing, years of complex friendship history, expectations, and social pressure come to a head. The characters each face their own unresolved issues with what it means to live and love as a queer man in 2019. It's a compelling examination of the intersections of race, sexuality, gender, and identity.
This production marks more than one milestone for the company — it's the first full-length work they have developed, and it will be their first time bringing a show to Fringe.
I take in my present company and surroundings — a group of incredibly talented, compassionate, and welcoming artists who have worked hard to create a beautiful synthesis of character, self, and story. I feel lucky to be in this room. Not too long ago, I didn't know a room like this could exist, much less in my own community.
For some folks, finding community is easy — maybe we are born into one, or we've always belonged somewhere. But for many LGBTQIA+ folks, it's not that simple. We don't always have the privilege of knowing we belong, and sometimes we have to work to make that space for ourselves. Often this exists well outside of our family or culture of origin, particularly for folks from communities of color or other intersections of marginalization. Queer people may spend most of our lives feeling isolated or "othered" until we discover that we are not alone, there are other people like us. This concept of visibility is one of the main tenets of celebrating Pride.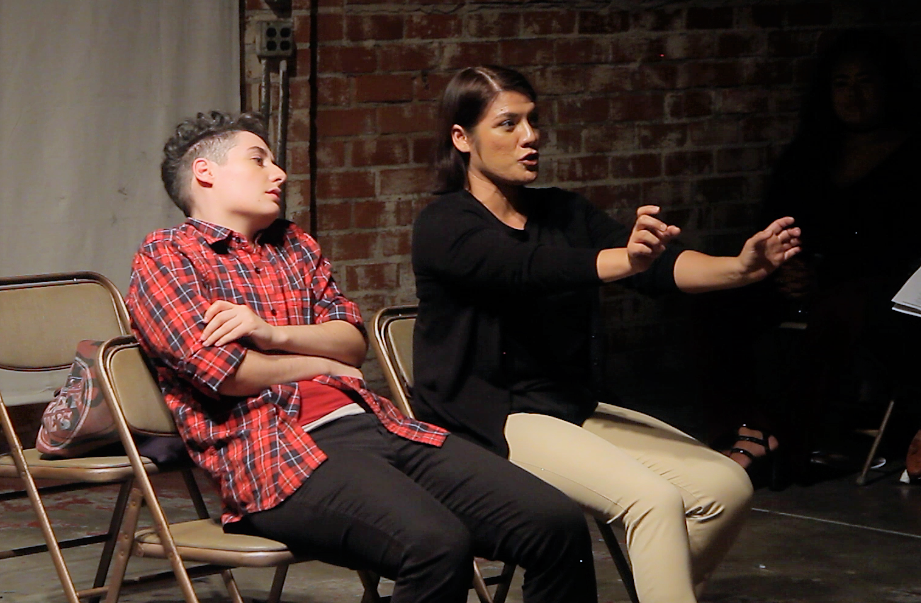 Q Youth Foundation
The internet has done wonders for allowing queer folks to connect with one another, particularly in instances where visibility can be difficult to achieve. But as much as I value the community that can be found in online and virtual spaces, it doesn't eliminate the need for the type of human connection that comes from meeting IRL.
So how do we bridge that gap between the connections we have in virtual queer spaces and the magic that happens when we hold space for ourselves in society? How do we ensure those spaces aren't just visible, but accessible to those in our community?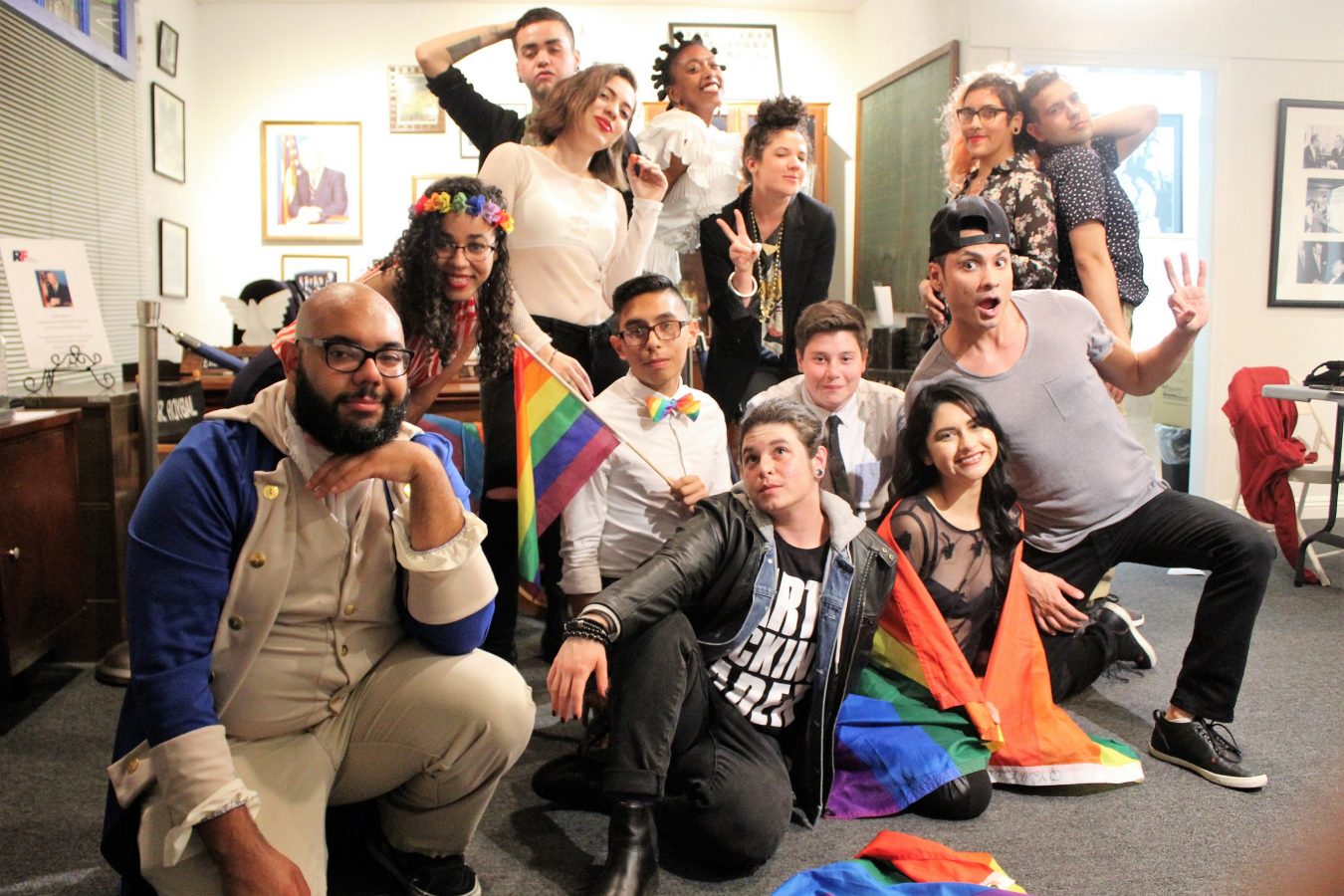 Q Youth Foundation
Those are a few of the questions Ana Bernal hoped to answer when they founded Q Youth Foundation in 2013. Ana Bernal is a Latinx, gender-nonconforming artist and Los Angeles native. After struggling to find LGBTQIA+ community spaces in East L.A. that weren't bars or clubs, Ana decided to host a storytelling circle for folks to come together and share their experiences. It soon became clear that these meetups were just beginning to tap into a much greater need; as Q Youth grew, their programming expanded to meet these needs and reach a larger audience.
The monthly Eastside Queer Storytelling workshops became so successful that in 2016, the company produced their first short play festival. Q Youth has now hosted three Eastside Queer Stories play festivals, facilitated a 10-week Playwriting Fellowship program for emerging writers, and organized various director's workshops, queer poetry workshops, and other community events. Plans to expand their work to the Northern California region are currently in development. Bringing this show to the Hollywood Fringe Festival is just the latest mark of their success.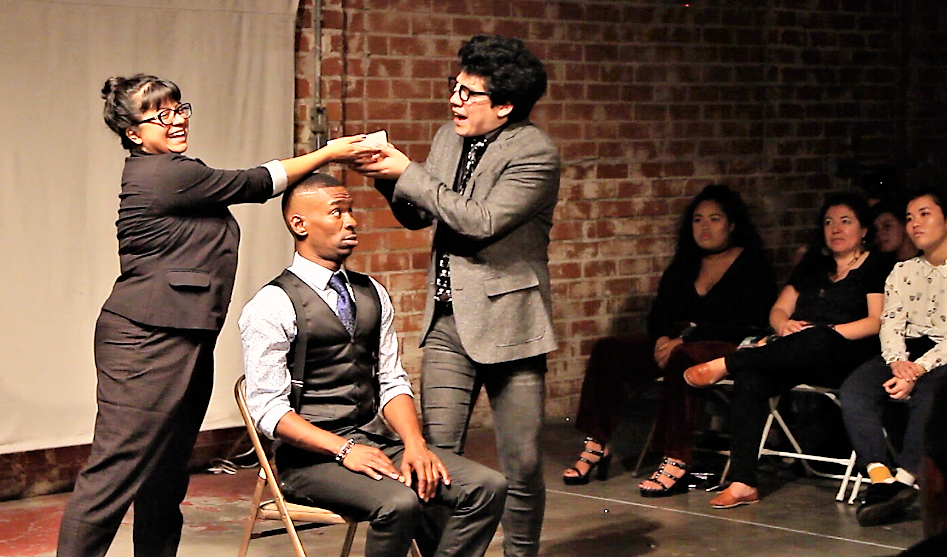 Q Youth Foundation
I listen as the director, Maia Vik Villa, unravels the organization's origin story and weaves it into a beautiful record of growth, evolution, and outreach.
"With every production we do, there's this effort to bring in new people and build the network. I think we're all stronger together. We meet each other, we collaborate, and exchange more ideas…we don't ever want to be a queer echo chamber. We wanna be a living, breathing organism that people can come in and out of. You know what I mean?"
A chorus of "yeahs" reverberate from several cast and crew members as they nod their heads in agreement.
In the brief evening we've spent together, this group has welcomed me into their celebration of voice and story as one of their own. As I think about community, I think about the space Q Youth has been creating for LGBTQIA+ people with diligent, year round work.
As queer people, we have more than just the right to exist — we have the right to thrive, through all seasons of life. Q Youth's continued dedication to creating vital communal spaces for marginalized voices to tell their stories supports this right to thrive. After experiencing their work, this I am sure of: bringing people together and forming bonds, face to face, is transformative.