ART
How This Millennial Curator is Using Social Media to Boost Museum Crowds and Build Community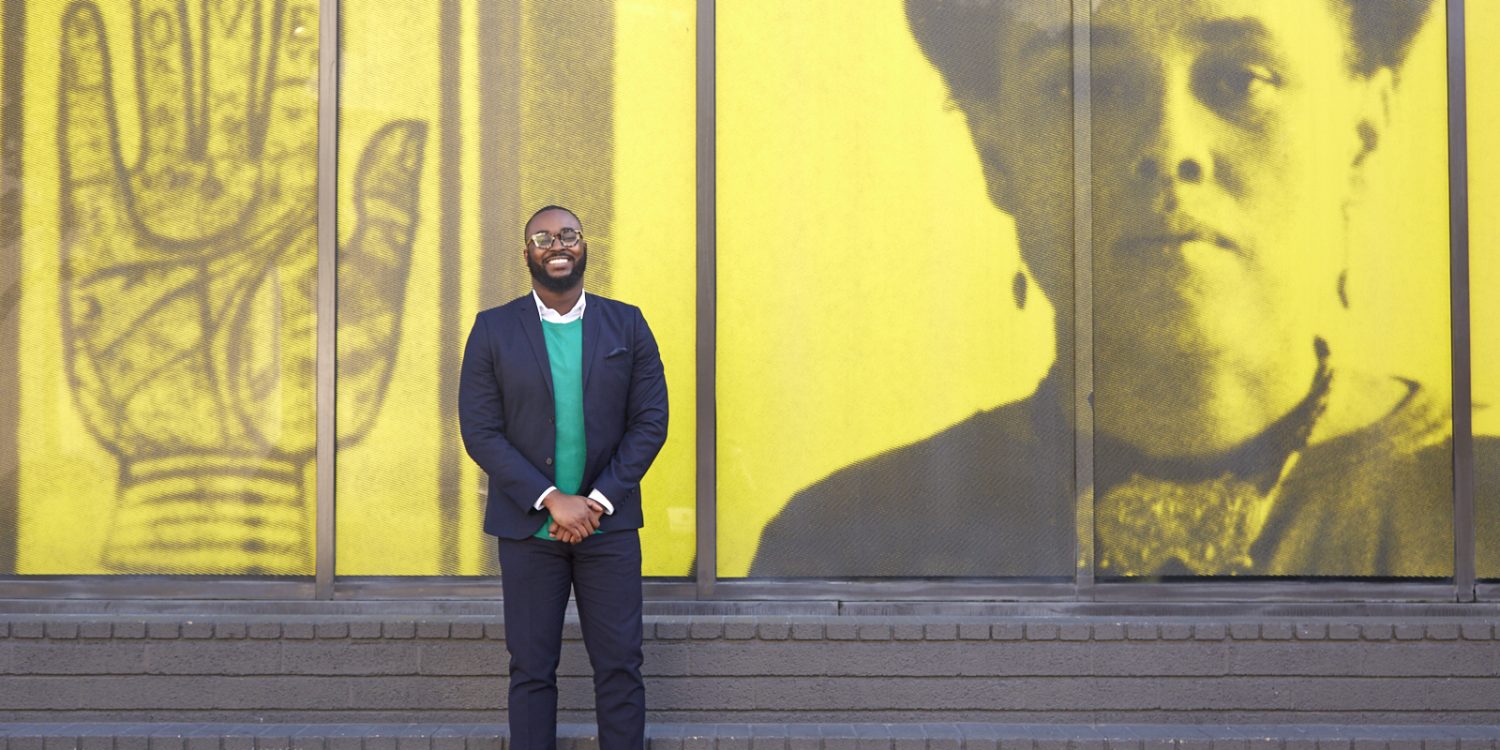 The California African American Museum in Exposition Park south of downtown is not a quiet place on a weekday afternoon. In the the atrium lobby, the first piece visitors see is large-scale installation dominating the space by artist Gary Simmons. Names of silent films featuring African American casts rendered in blurring white traditional Courier-style font against black backgrounds serve as a critique of African-American erasure in popular culture.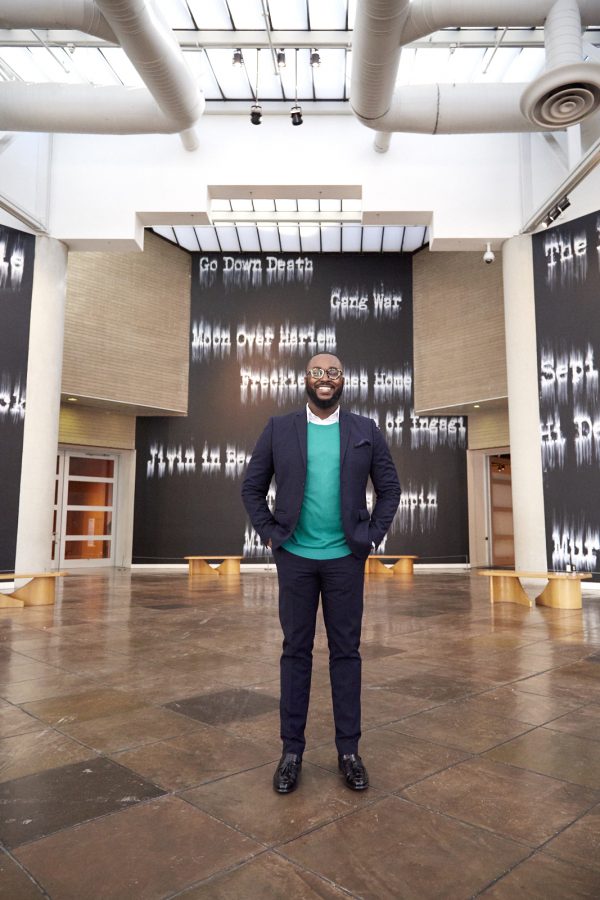 History Curator and Program Manager Tyree Boyd-Pates is heading towards the lobby through a hallway at a brisk pace when an older museum guest stops him to heap praise on current exhibitions and events. The gentleman notes that that he himself grew up in LA, and how he's thrilled to continually learn more about African American culture and history via the museum's free programming and exhibitions. Tyree returns the compliment with hearty thanks and a warm handshake introduction. An hour later, he's leading a curatorial walk-through of "California Bound: Slavery on the New Frontier, 1848–1865," answering questions and exposing brutal truths about how slavery flourished in the Golden State. He encourages folks to visit the stunning retrospectives of artists Nina Chanel Abney and Robert Pruitt on view in adjacent galleries, too.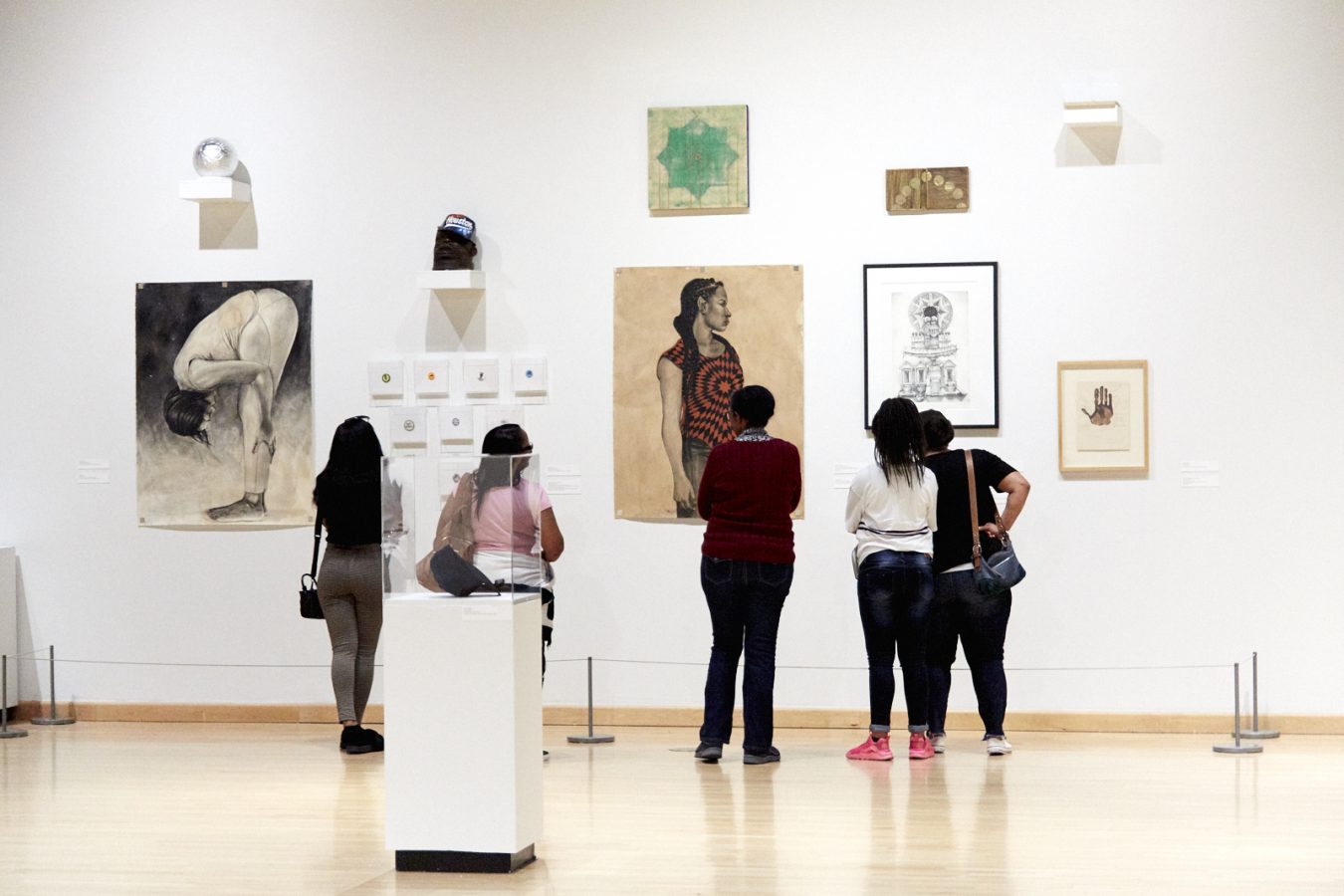 In addition to instantly winning over the good graces of seemingly everyone he comes into contact with, Tyree has cracked the code on questions that plague museums, especially in our social media age. The extroverted Los Angeles native whose round tortoise shell glasses and millennial professional casual style strike the right balance of academic and accessible, has helped double attendance and grow audiences of all ages — particularly those of his own generation — for CAAM's compelling exhibits and public events.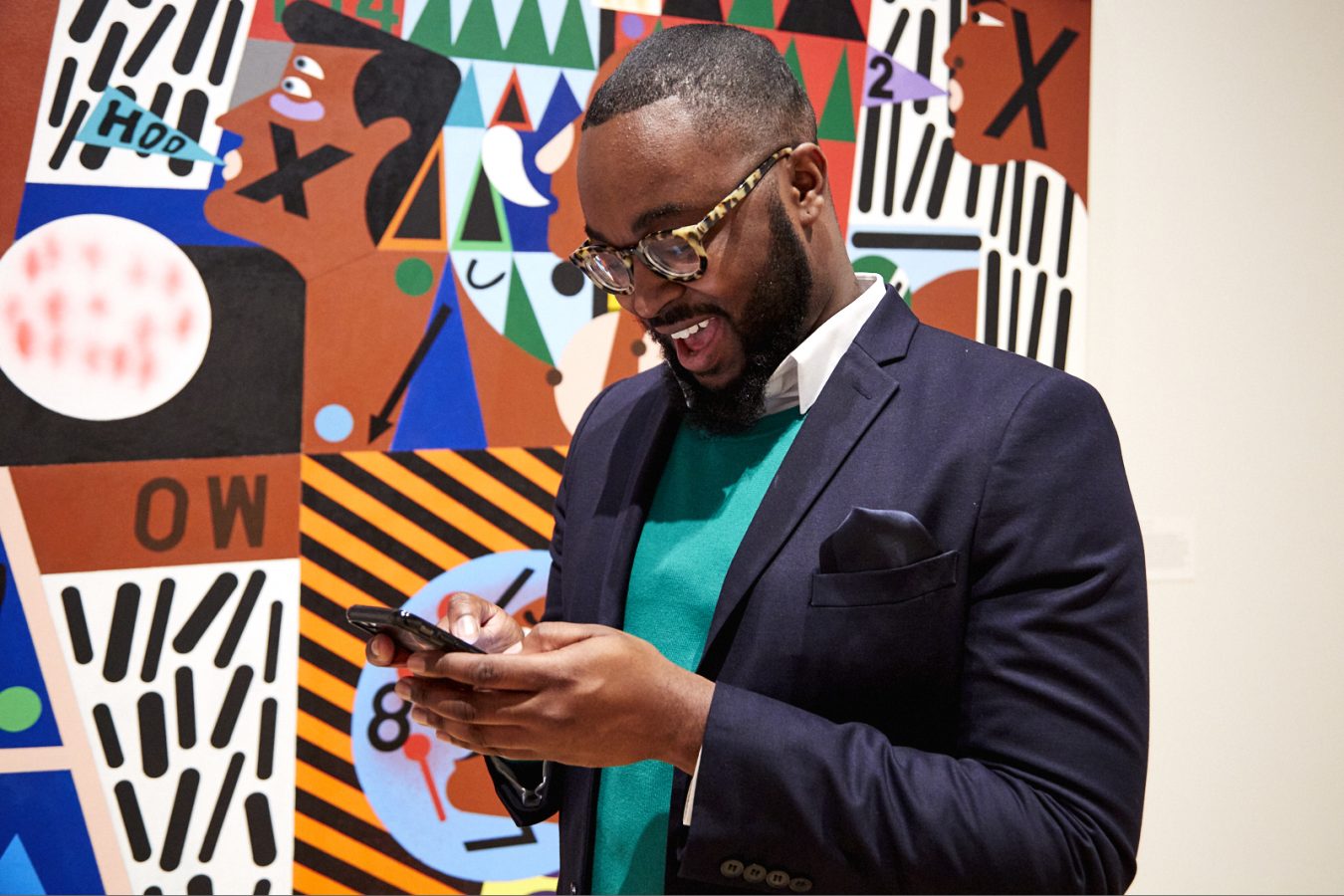 This equilibrium applies to another essential element of Tyree's work. Part of his mission is to effectively use social media in the service of expanding how people experience the institution in real life. "I employ museum etiquette along social media etiquette, and use both of them to converge," he says. "Social media allows people to know we exist and to know what's happening. But when they come IRL, they're able to validate the substantive nature of what they saw, or what they've gotten."
He's a deeply present conversationalist, and yet quick to jump back onto Twitter and Instagram to participate in virtual dialogue and engage in online community-building. And Tyree reaches people of all ages. "The cool thing about us is we're intergenerational," he observes about CAAM.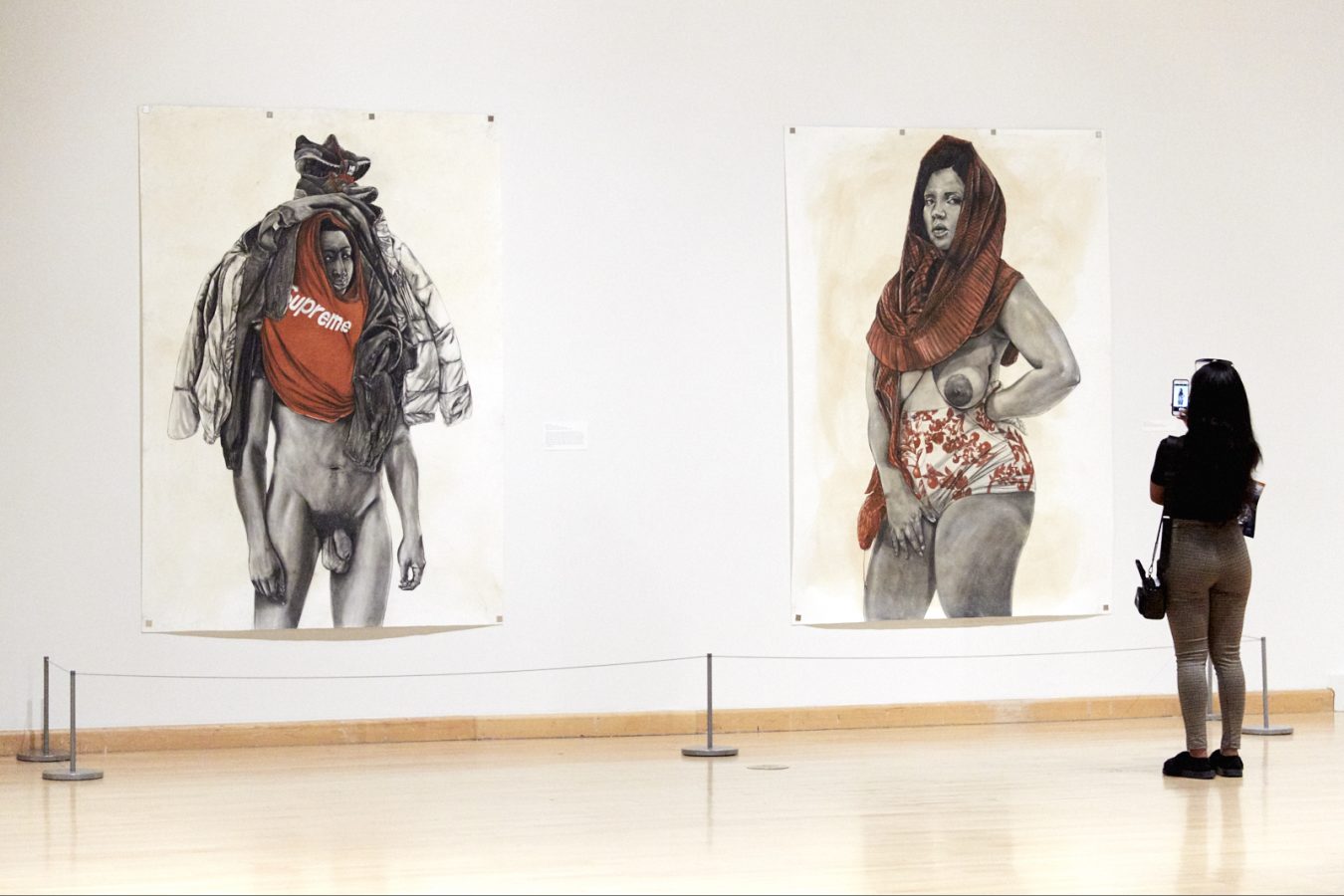 Tyree didn't intentionally seek out this specific line of work or expect to become CAAM's youngest curator on staff, a position he's held for over two years at the only state-funded museum in California dedicated to researching, documenting, and presenting African American art and culture in California since its founding in 1977. After attending LA's prestigious Academy of Music & Performing Arts at Hamilton High School and heading to Cal State Bakersfield for college, he then earned a Master's degree in Pan-African Studies at Temple University in Philadelphia and came back home to California.
His association with the museum began in 2015 when he was teaching African American studies at Cal State Dominguez Hills and honing "this ability to relay black history contemporarily," while volunteering at the museum. At that time, CAAM was in a transition phase. Executive Director George O. Davis wanted "to make the museum more relevant to millennials," Tyree recalls about a certain lightbulb moment. So, he launched the Millennial Advisory Council, convening about a dozen "African American millennials about how we could activate the space." Within a few months, he was officially on staff, while still writing and speaking regularly.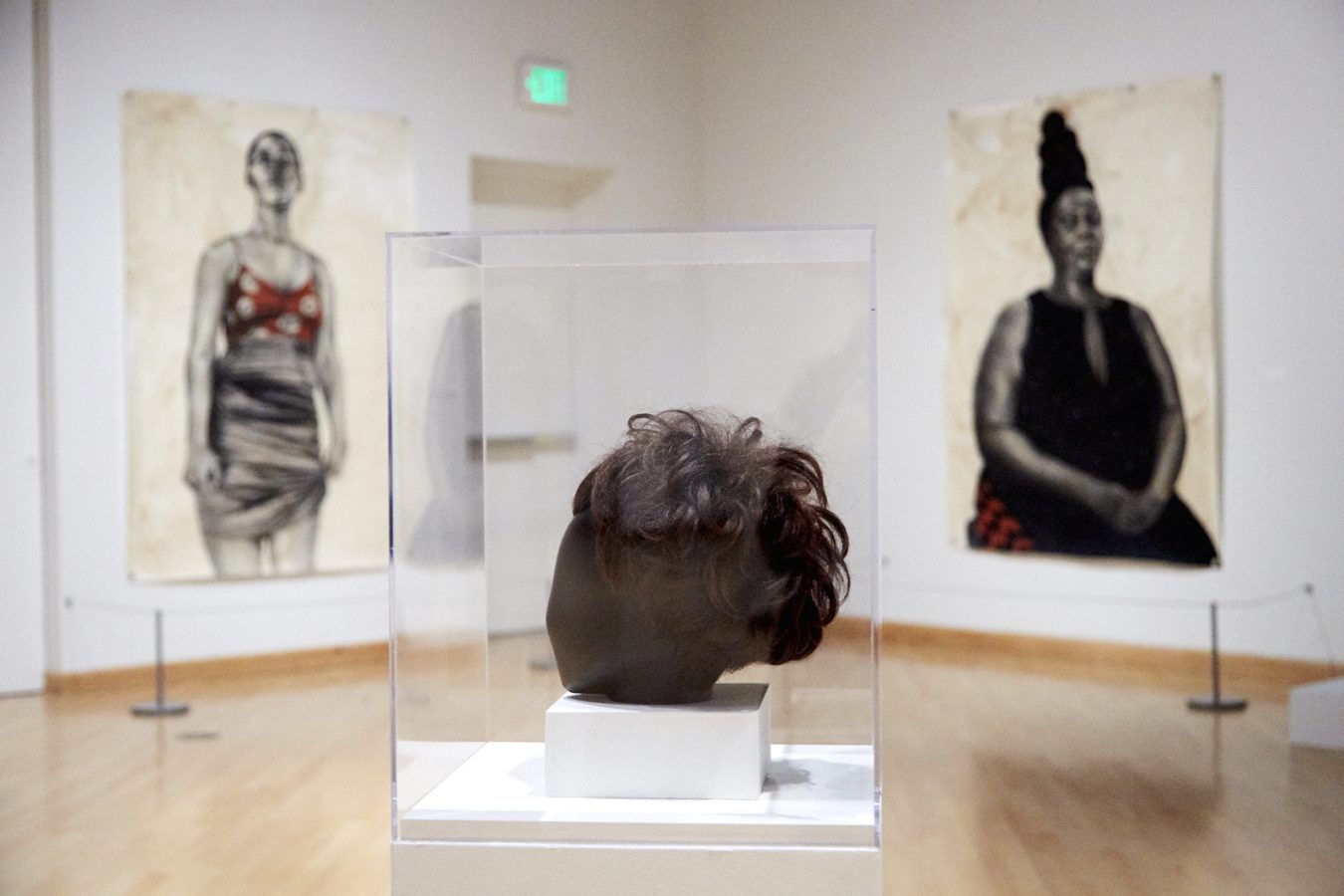 Joyokalon wig worn by Ella Fitzgerald.
He's steeped in an ongoing, interdisciplinary museum practice that encompasses strategic planning, rigorous academic research, exhibition presentation, and, of course, dynamic events. Tyree's duties on the programming end involve "creating a safe space for cultural, social, and political dialogue, amidst the current climate," he explains. He knows how to harness the material he's working with, and appeal to target demographics, using "my ability, I think, to bring both the past and the present together."
His skills and gifts continue to evolve and impact a professional world that struggles to attract young crowds, and that historically has been dominated by Eurocentrism in all aspects, from management and staff, to curatorial priorities. "We as a museum are trying to create access points and pipelines for the next generation to diversify the museum field, because the museum field does not look like this museum," Tyree says. "I know that to be true." Always with the long game in mind, he values mentorship. His call to find an African American youth interested in museum work resulted in thousands of retweets and a special tour for Noel, a second grader.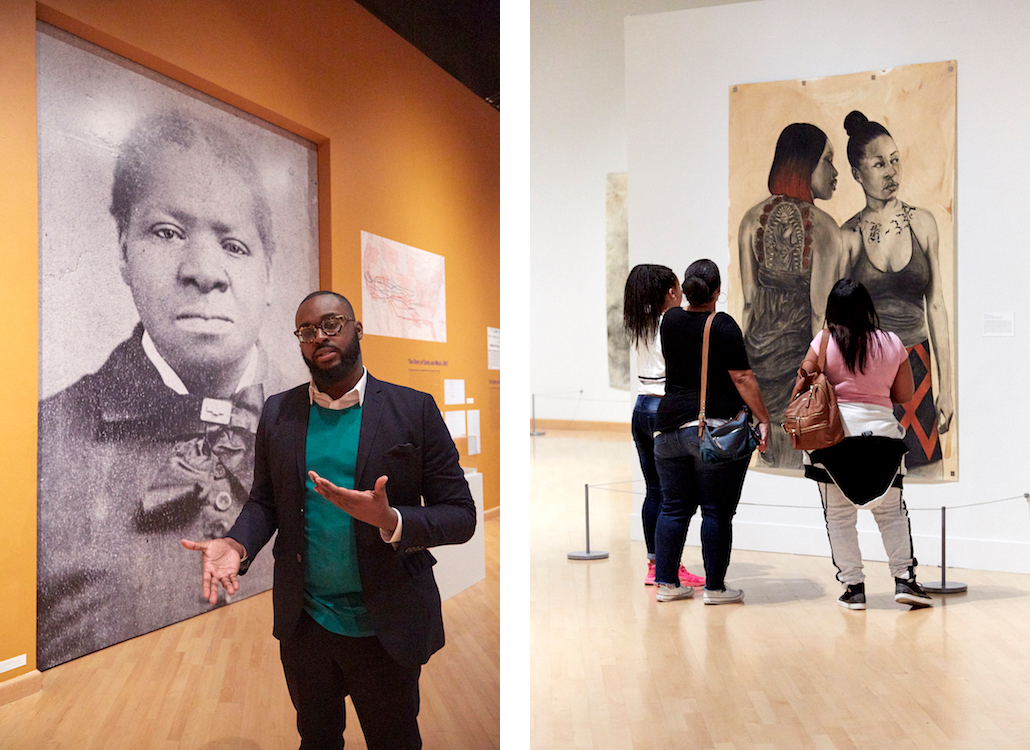 Tyree also understands another way to make museums cool: Let people have fun. Regulars add CAAM's Can't Stop, Won't Stop! season launch parties to their calendars months in advance. Educational gatherings include Tyree's curatorial exhibition walk-throughs and interactive history forums and panels that routinely draw hundreds of attendees. This year's Radical Self Care Now! series featured a Q&A with actor, designer, and activist Terry Crews.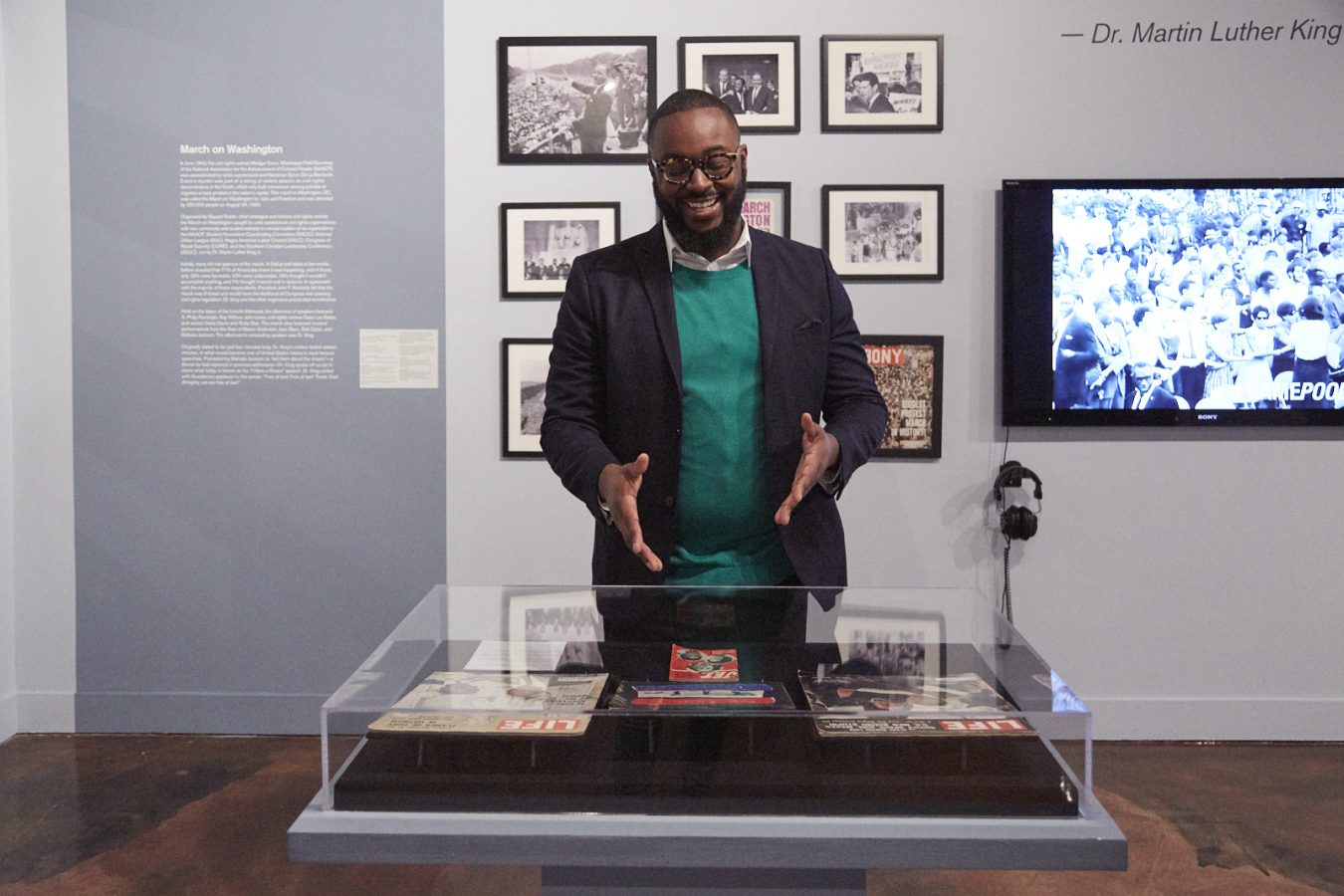 As the curator overseeing CAAM's history exhibitions, Tyree's past and current exhibitions tackle topics both overwhelmingly large, and more specific. His first at CAAM, "No Justice, No Peace: LA 1992," served as a 25-year retrospective, "but I didn't only stop with the '92 uprisings," he explains. "I went to the '65 uprisings and the '43 Zoot Suit Riots, and connected all of them together to give this new display of how civil uprisings have occurred in LA." He wanted to give "a historical answer to why uprisings exist in impoverished areas, including Los Angeles and Ferguson and Baltimore. Our youth are trying to understand how they can be civically engaged right now, but they don't understand the tools or the methods that previous generations have employed to get there."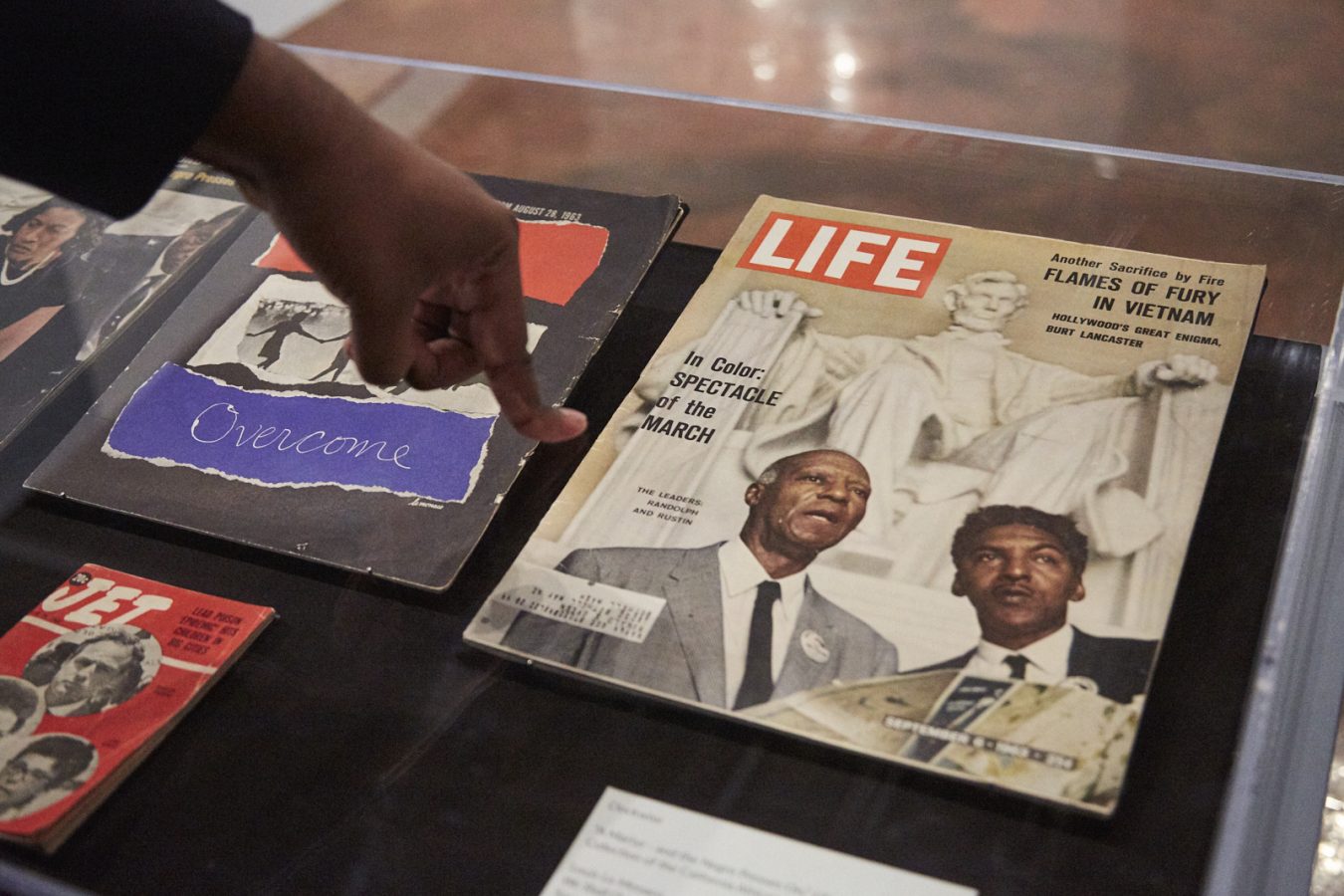 "How Sweet the Sound: Gospel Music in Los Angeles" shone a light on the genre and its deep SoCal roots. "Los Angeles Freedom Rally, 1963," on view through March 2019, incorporates audio clips, photographs, and various media related to Rev. Dr. Martin Luther King, Jr.'s appearance held in the erstwhile Wrigley Field that 40,000 Angelenos attended on May 26, 1963. CAAM exhibitions include the typical images on the wall and documents in a box, but always with multimedia integrated throughout.
Again, it's all part of a delicate balance. Tyree is sure to "always have those moments to immediately grab the patron, but hopefully they'll grab their smartphones, and share." That said, he knows how "technology is a double-edged sword," with ever-present competition for viewers' divided attention. He still wants CAAM visitors to fully take in their immediate experience and surroundings without being fully glued to glowing pocket computers.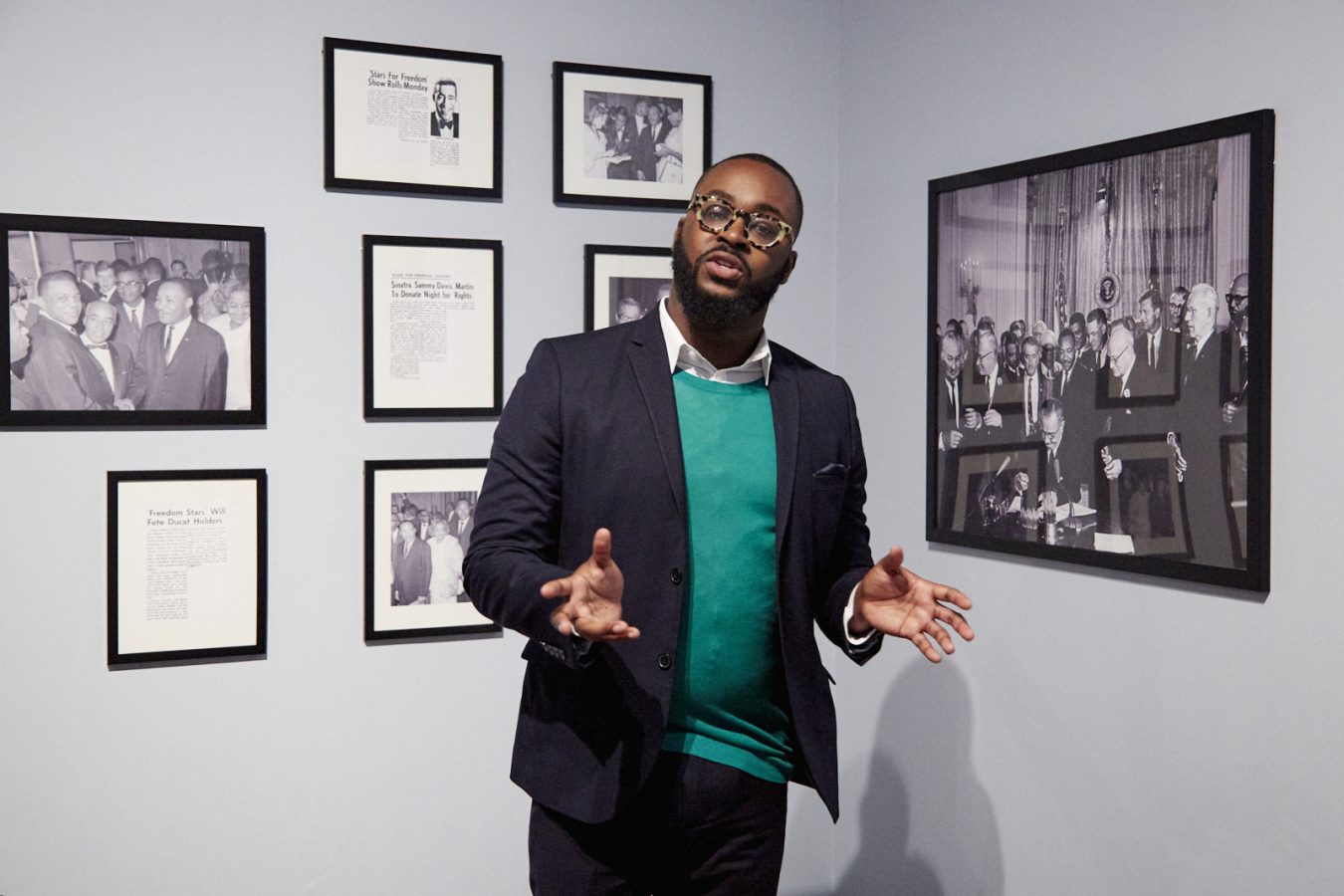 So far, however, tech and social media have only been a net positive for getting people to show up and get involved, oftentimes in surprising ways. When Tyree created a series around the history of Central Avenue in South LA, word got out fast on Facebook "among our elders in the community. We had about 500 people come on a Thursday at 2pm!" he marvels. "To see and know they found ways to use technology and come down on an afternoon to talk about black history is pretty remarkable. There's a hunger and thirst — a real desire."
Want more? Follow The California African American Museum on Eventbrite for walkthroughs, lectures, and celebrations.