THINGS TO DO
The 8 Best Places to Go Apple Picking Near LA This Fall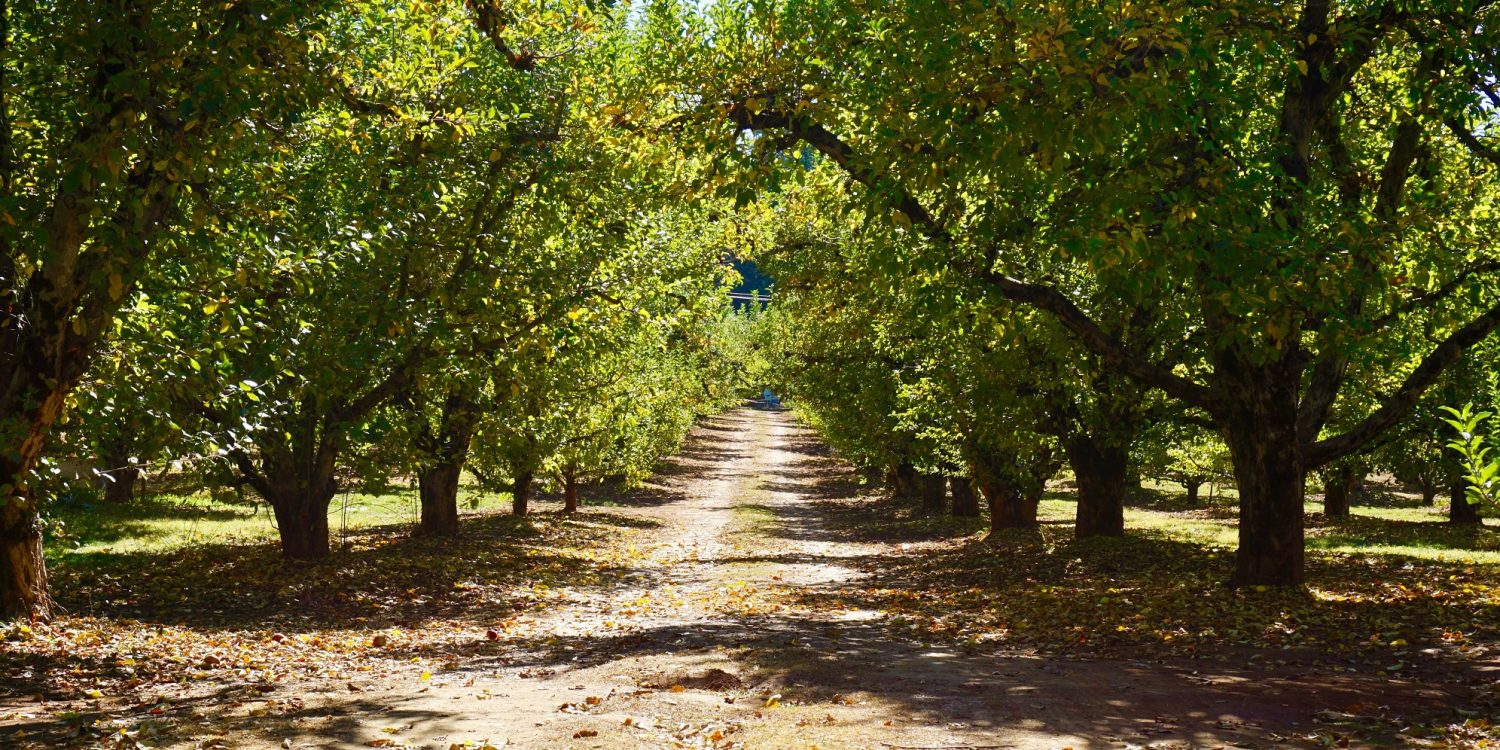 Is there anything better than snapping a ripe apple from the branch and sinking your teeth into its crisp, juicy flesh? If you've never tried it, all you need to know is that there's a reason Adam and Eve were willing to risk it all for one sweet taste of the forbidden fruit.
While Los Angeles itself is a little too warm to grow apples, many Angelenos head out of the the city to the cooler climes of Oak Glen or San Luis Obispo in the fall for a day of apple picking, cider pressing, and yes, pie eating. If you're lucky, you might even get a hayride in as well.
Apple-picking season generally runs from Labor Day until Thanksgiving, though some apple varieties are in-season even later (check the orchard's website, or give them a call for specific dates).
If you happen to be fond of a particular apple variety, availability will depend on the farm and the time of year, so it's worth doing your research before you go. Whether you're looking for a fun time with your family, a romantic date, or you just want to stuff your face with fruity goodness, you need to make time for a little apple picking this fall.
 

View this post on Instagram

 
Location: Oak Glen
Cost: Flat rate per bag
Varieties: Stayman Winesap
Willowbrook Apple Farm is known for its deliciously juicy Stayman Winesap apples, grown on trees that are over 100 years old. If you're willing to make a day of it, Willowbrook has plenty of other activities available, including vintage tractor rides, a petting zoo, and cider pressing. And, don't forget to grab a fresh-dipped caramel apple from the store on your way out.
Location: Oak Glen
Cost: $3-$3.50/lb
Varieties: Jonagold, Gala, Red Delicious, Spartan
Los Rios Rancho is sometimes known as "the Disneyland of Oak Glen" for two reasons: First off, the farm is packed with family activities, and secondly, it can get super crowded during apple-picking season. (Come early!) Things definitely get festive here during fall, and aside from the apple picking, you can enjoy an outdoor barbecue, nature trails, a petting zoo, cider pressing, live music (on weekends only), a corn maze, and hard-cider tastings.
 

View this post on Instagram

 
Location: Antelope Valley
Cost: Per pound depending on variety
Varieties: Braeburn, Golden Supreme, Red Fuji, Royal Gala
At Brian Ranch Airport U-Pick, you can watch small planes take off and land while you pick your apples. (If you're game, you can even take an ultralight aircraft flight!) Looking to pick up a Halloween pumpkin? The orchard also runs a pumpkin patch throughout October. While Brian Ranch offers u-pick for a number of other fruits such as plums, pears, cherries, and apricots, by October many of these harvests are over, though you can still find a delicious selection of homemade fruit butters in the store.
 

View this post on Instagram

 
Location: Oak Glen
Cost: Per pound depending on variety
Varieties: Vasquez, Parkdale Beauty, Gravenstein, Pink Pear, Arkansas Black, as well as an assortment of rare heritage and antique apples
If you bring the family to Parrish Pioneer Ranch, make sure it's a Sunday so you can catch their swashbuckling pirate show. Founded in 1867, the ranch is known for preserving rare and less-commercial apple varieties. You'll also find donkeys, pygmy goats, and alpacas wandering the farm, and after a hard day of apple picking and cider making, adults can enjoy a refreshing glass of apple wine.
 

View this post on Instagram

 
Location: Oak Glen
Cost: $3.25/lb
Varieties: Stayman Winesap
If you find yourself looking for somewhere to pick apples late in the season, try Stone Soup Farm, whose Stayman Winesap apples start to ripen in October but can continue to bear fruit until November under the right conditions. During fall, Stone Soup runs a number of seasonal activities and events, including a Halloween festival, an apple-butter festival, cider pressing, and a range of kids' craft workshops.
 

View this post on Instagram

 
Location: Oak Glen
Cost: $3/lb
Varieties: Pippin, Rome Beauty, Stayman Winesap, Red Delicious, Yellow Delicious
Riley's Apple Farm offers u-pick for a number of different apple varieties that ripen throughout the season, meaning you'll be able to find something to pick from early October right through November. Like most apple farms, they offer cider pressing, but for something a little different, you can also try archery. No playing William Tell, however! If all that apple picking makes you hungry, you can chow down on delicious homemade eats, including chicken apple sausages, apple pie, and fresh-made hoecakes. Note that Riley's Apple Farm is only open to the public on weekends.
 

View this post on Instagram

 
Location: San Luis Obispo
Cost: Per pound depending on variety
Varieties: Jonalicious, Empire, Early Fuji, Gala, September Wonders, Sundancers, Granny Smith, Braeburn
If you prefer your apples organic, then it's worth the drive to San Luis Obispo to hit up SLO Creek Farms. There are a range of apple varieties here, so the picking season is quite long (Granny Smiths are often still ripening into December), but check the apple schedule, or give them a call to be sure. As an added bonus, this small, quaint farm doesn't attract huge crowds, so you can enjoy your picking in peace and quiet. SLO Creek Farms runs other events and activities regularly, so check their Facebook page for details.
Location: San Luis Obispo
Cost: Per pound depending on variety
Varieties: Over 14 varieties, including Arkansas Black, Braeburn, and Chieftain
Avila Valley Barn is a slightly more touristy spot in San Luis Obispo, but it's perfect if you come with the family and are looking for somewhere with a lot of kid-friendly activities. Apple picking generally runs through the end of October here, and depending on the time of year, you will be able to pick berries, plums, or pears as well. During October, Avila runs a pumpkin patch, and the farm is full of friendly animals waiting to be fed. Make sure you drop by the store and grab one of their famous apple pies on the way out.
Want more? Follow us on Instagram and Facebook for ticket giveaways and more of the best happenings around LA.