Does a martini taste better when you drink it in the surroundings of an Art Deco hotel, immersed in the glamour of old Hollywood? What about a glass of French champagne in a faux-chateau? Probably not.
Still, there's something about hanging out in the bars and lobbies of historic hotels in Los Angeles where cultural icons have dined and scenes from so many detective stories, both real and fictional, have played out. From the last sighting of the Black Dahlia at the Biltmore Hotel to the Prohibition-era speakeasy run out of the Georgian Hotel in Santa Monica, there are many mysterious secrets hidden in plain sight at these locations.
And even if you feel it's a little cheesy to pretend you're in a Raymond Chandler novel (and it is), there's a voyeuristic pleasure to aimlessly whiling away the hours and watching the crowd filter in and out as they wait, check in, read the paper, or drink alone in the bar.
So for the aimless voyeurs and the architecture enthusiasts, here are the most iconic hotel bars in Los Angeles, organized by architectural style, for your convenience.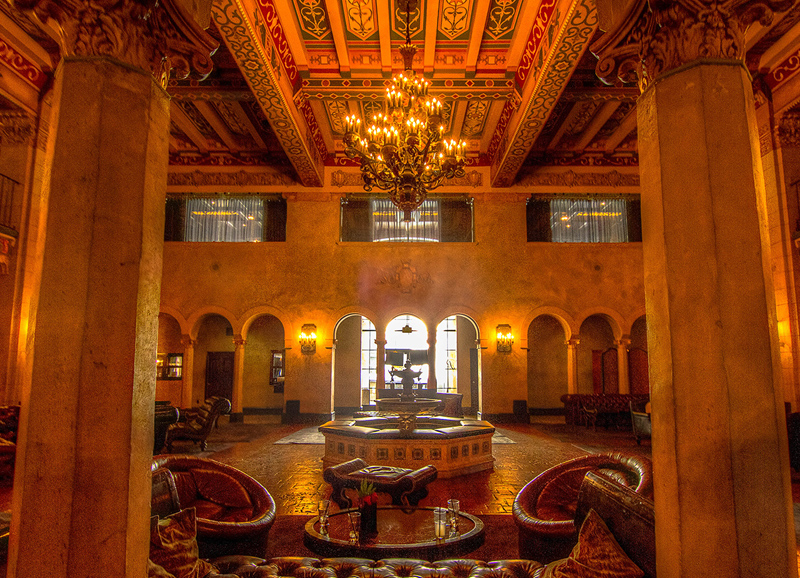 Art Deco
Hollywood Roosevelt Hotel
HOLLYWOOD
Located in the heart of Hollywood, the Roosevelt is heavy with local history. In 1929, two years after it opened, the hotel hosted the first ever Academy Awards Ceremony, and it has featured in countless movies and TV shows, from I Love Lucy to Beverly Hills Cop II. The hotel has eight restaurants and bars, but the best place for a cocktail is probably the low-lit, low-key glamour of the Library Bar.
Georgian Hotel
SANTA MONICA
The Verandah Restaurant's ocean views alone make a visit to the Georgian Hotel worthwhile, but the building also has a fascinating history that reads like a Raymond Chandler novel come to life. In the 1930s, the hotel was a favorite of the Hollywood elite and saw regular visits from the likes of Charlie Chaplin and Fatty Arbuckle. Meanwhile, Clark Gable used the hotel for his illicit affairs, and gangsters Al Capone and Bugsy Siegel would lay low here when the heat got a little too much. The hotel was also notorious for running a speakeasy during Prohibition that attracted a big-name Hollywood crowd.
Sunset Tower
HOLLYWOOD
This Art Deco masterpiece was once an apartment building that was home to stars like Marilyn Monroe and John Wayne before it was transformed into a hotel in the 1980s. The Tower Bar is housed in Bugsy Siegel's old apartment on the ground floor and features a poolside terrace, sweeping views of LA, and live jazz for that authentic old Hollywood vibe.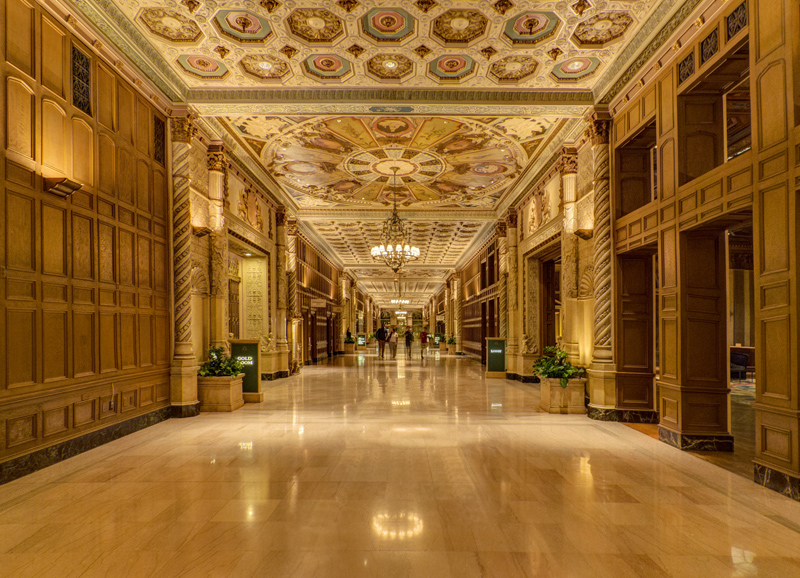 Beaux Arts
Beverly Wilshire
BEVERLY HILLS
You can't miss the imposing Beverly Wilshire on the corner of Rodeo Drive, and even if you haven't driven past it in real life, it might be familiar from films and TV shows, like Pretty Woman and Entourage. Admittedly, those two references provide for some interesting subtexts, but the hotel has also housed many celebrities over the years, from John Lennon and Elvis to the Dalai Lama and Warren Beatty (who lived in the hotel for 10 years). For cocktails and people watching, your best bet is the BLVD Lounge, which also features a patio with views of Rodeo Drive.
Millennium Biltmore
DTLA
Perhaps the crown jewel of historic hotels in Los Angeles is the Millennium Biltmore. Built in 1923, the interior is nothing short of majestic, with ceiling frescoes painted by Italian artist Giovanni Smeraldi (whose work is featured in both the Vatican and the White House), marble columns, crystal chandeliers, and fine marquetry. The hotel also has an iconic role in popular culture, featuring in many films, including classics like Chinatown, Cruel Intentions, and Ghostbusters. For cocktails, the Gallery Bar and Cognac Room is a must, and true crime aficionados will want to order The Black Dahlia, named for you-know-who.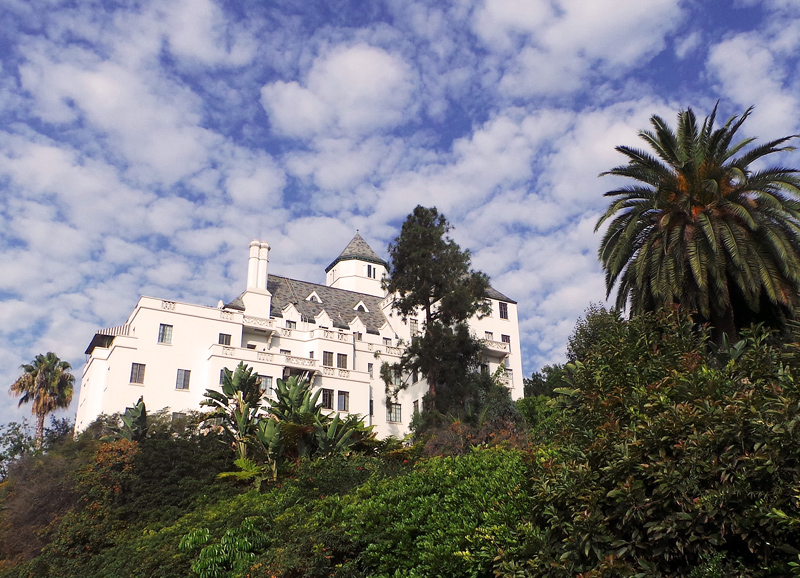 Chateauesque
Chateau Marmont
WEST HOLLYWOOD
This legendary hotel needs no introduction. Since the 1930s, Chateau Marmont has been a favorite of bohemians and the Hollywood elite, and not much has changed: you might spot anyone from Lana del Rey to Jon Hamm at the celebrated establishment. The chateau-style architecture was inspired by a castle in France's Loire Valley, and its glamour has inspired filmmakers and fashion photographers alike.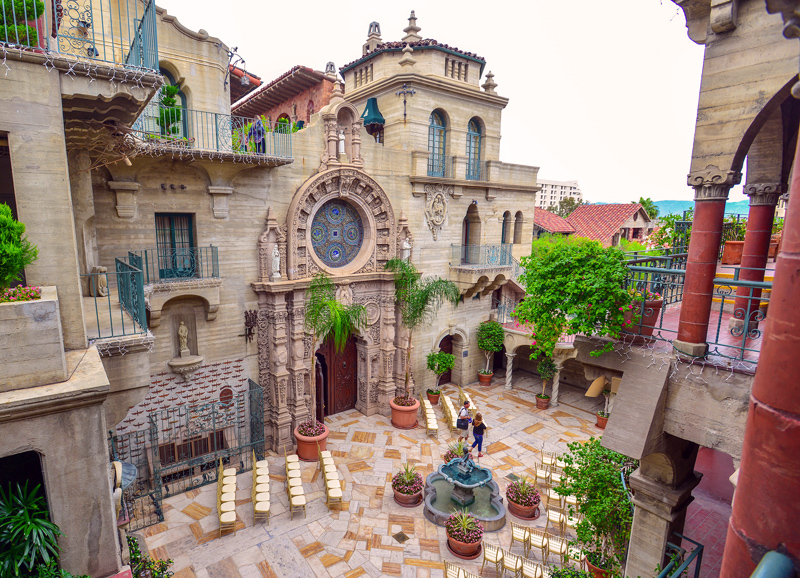 Spanish Mission/Mediterranean Revival
Beverly Hills Hotel
BEVERLY HILLS
Built in 1912, this Mediterranean Revival-style hotel has housed too many celebrities to mention, from Elizabeth Taylor to Howard Hughes (the latter famously requested that his roast-beef sandwiches be delivered to a nook in a tree). For cocktails, head to the Polo Lounge, which has been a favorite Hollywood hangout for the better part of a century.
Palihouse Santa Monica
SANTA MONICA
Tucked away in the back streets of Santa Monica, the Palihouse may not be one of LA's most famous hotels, but it is one of its best-kept secrets. Built in 1927 in a Moorish-influenced Mediterranean Revival style, the hotel has maintained the original interiors, for the most part, and features lush grounds and an outdoor dining area. Unfortunately, the hotel doesn't sell alcohol (so, technically, this isn't a bar), but you can enjoy an Arnold Palmer out on the lawn.
Mission Inn Hotel & Spa
RIVERSIDE
So, it's a little outside of LA, but this incredible mission-style hotel is worth a visit on the way back from your next trip to Palm Springs. The sprawling hotel has the feel of a Spanish castle, with winding corridors, spacious courtyards, and spiral staircases. For a drink, head to the Presidential Lounge, where you'll be chaperoned by watchful portraits of Reagan, Nixon, and the Bush family.