Things are moving so quickly in Downtown LA right now that it's hard to keep up. Once-empty buildings are filling up with restaurants and cafes, basement bars are popping up left, right, and center, and redevelopments are breathing new life into derelict hotels.
From sky-high sushi to a restored WWII speakeasy, here are five new openings that may have passed you by.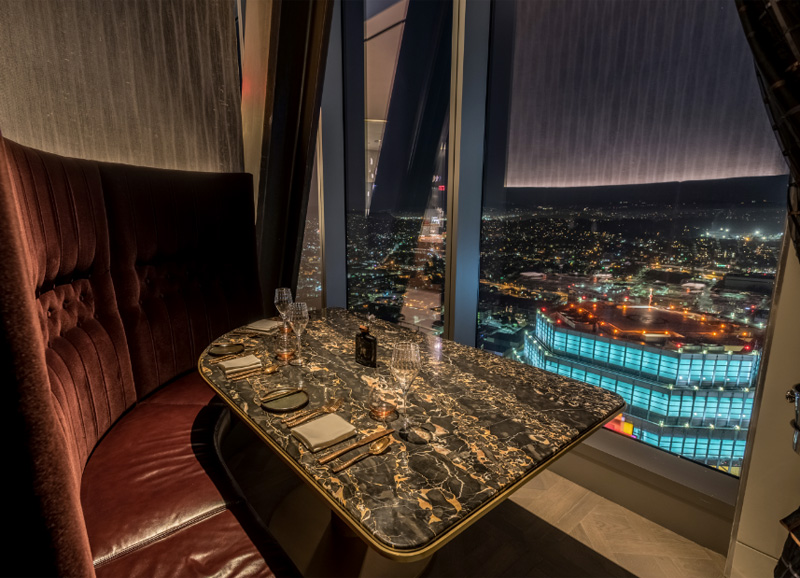 Facebook/InterContinental Hotel
La Boucherie on 71
DTLA

The centerpiece of the menu at La Boucherie is the selection of premium steaks, but really, like nearby 71Above, the draw here is the incredible 360-degree view of Los Angeles. Located on the 71st floor of the Intercontinental Hotel, the views are spectacular, but that's not to say that the food is second rate—there's plenty here to keep even the most discerning taste buds happy, including fresh seafood, French classics like bouillabaisse and duck foie gras, a carefully curated wine list, and a "charcuterie cave."
If you're keen, you'll want to make reservations well in advance, especially if you want a coveted window seat.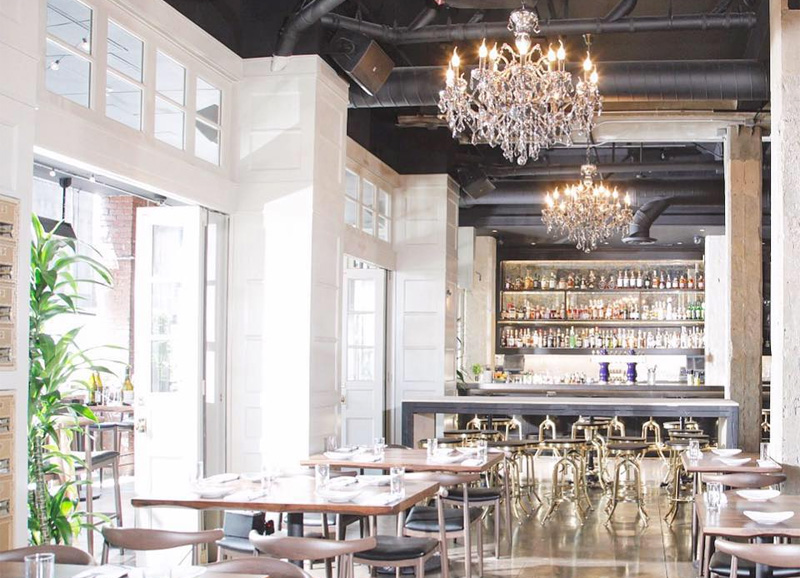 Facebook/Blacksmiths
Blacksmiths
OLD BANK DISTRICT
With all the cavernous old buildings in Downtown LA, it's no wonder that industrial chic has come to be the defining aesthetic for the new wave of bars and restaurants opening in 2017. Located on the ground floor of the Jeffries Lofts near wild card nightclub The Lash, Blacksmiths focuses on innovative takes on contemporary American cuisine.
Early favorites include truffle mac and cheese, crab cakes (which feature large chunks of real crab), crispy buttermilk chicken sandwiches, and Spanish grilled octopus. The high ceilings (complete with chandelier) give the room an open and spacious feel, but there's also an amazing patio space—and a masterful cocktail list—for those long summer nights.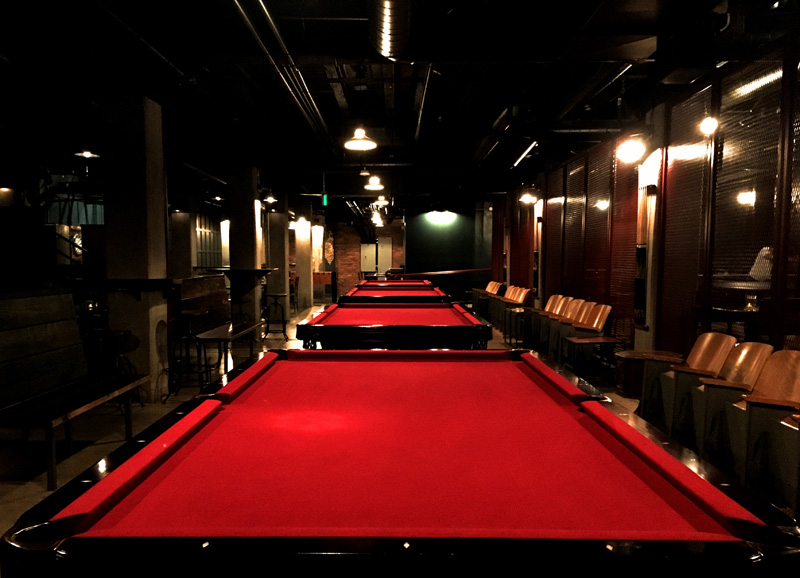 Credit: Rhythm Room LA
Rhythm Room
HISTORIC CORE
Anyone who's spent any time in Downtown LA lately knows that the area is undergoing a massive redevelopment. Those who fear that important elements of Downtown's history might be lost in the construction boom can take heart in knowing that not every new development is about malls and apartment blocks—in fact, when it comes to the new basement bar Rhythm Room, it turns out there's also room for a little nostalgia.
Originally a speakeasy-style WWII cocktail bar, Rhythm Room closed in the 1970s after the Hayward Hotel upstairs fell into dereliction. Thankfully, the new owners have reopened the bar with an eye to preserving the underground jazz club vibe, complete with marble staircases, classy cocktails, and live music.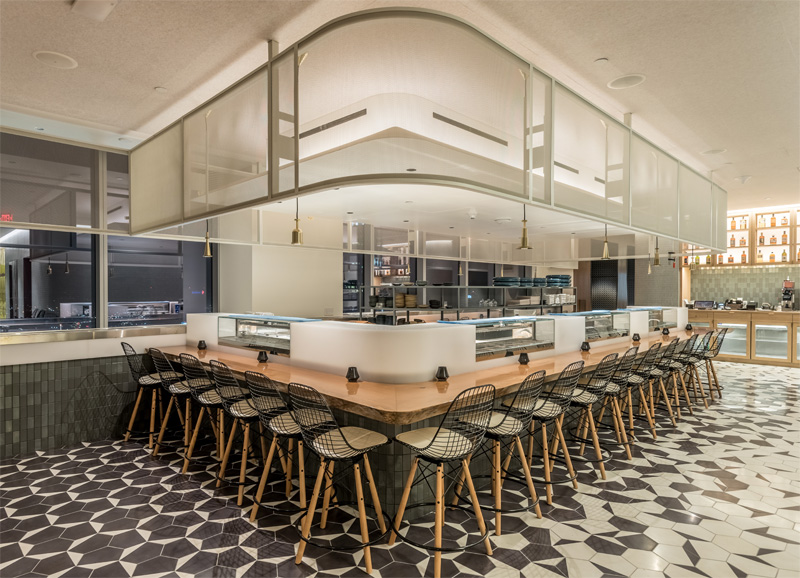 Sora
Sora Sushi
DTLA
If you're looking for the view of La Boucherie on 71 but you're not in the market for a $100 steak, Sora offers conveyor belt-style sushi with spectacular views just a few floors below. Seriously, what's better than gazing out over the LA skyline, beer in hand, as the sun sinks slowly and delicious sushi plates pass by? Not much.
While it's worth a visit just to experience the view, the sushi is fresh and delicious, with plenty of traditional options along with more experimental dishes. If you're not the conveyor belt type, you can also order bigger plates and specialty items off the menu. The low-key vibe and shared dining experience make it a fun dining place; just bite your tongue on those 69th floor jokes if you want to make it to the second date.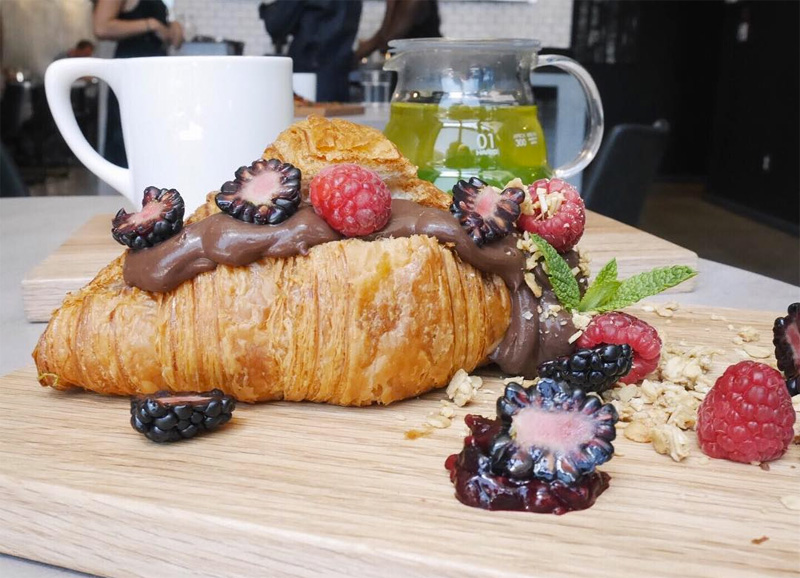 Instagram/Tuck Hotel
Tuck Hotel Restaurant and Bar
DTLA
The Tuck Hotel opened earlier this year, and in keeping with its boutique, minimalist vibe (it has just 14 rooms), its restaurant offers something a little more than your standard hotel fare.
The brunch menu features a range of delicious sandwiches (with combos like pancetta, fried egg, and potato or smoked salmon with wasabi mayo and spring onions) along with pancakes and elegantly simple salads. In the evening, things switch over to a tapas-style modern Spanish menu featuring classics like croquetas and paella, along with more experimental offerings like tomato salad with burrata ice cream and "lima air", and smoked salmon with seaweed, guacamole, and wasabi.
There's also a specialty cocktail menu with plenty of staples, but you're probably going to want to order the Spanish Gin and Tonic, served with fresh blackberries.