When you're looking for a good brunch spot, there are a few factors to consider. On the culinary side, you want a mix of hearty hangover cures and sweet breakfast treats. When it comes to the space, we live in Los Angeles, so a relaxed vibe and a patio where you can enjoy the sun are a plus. Finally, the magic ingredient: alcohol! (Although, while for a traditional brunch mimosas would be a must, in health-conscious LA, a strong coffee, kombucha, or juice might suffice.)
While you can make up rules all you like, a good brunch usually means getting up late and lazily whiling away your day with good friends and good food. With that in mind, here are 10 places to waste your mid-mornings in the most pleasant way possible.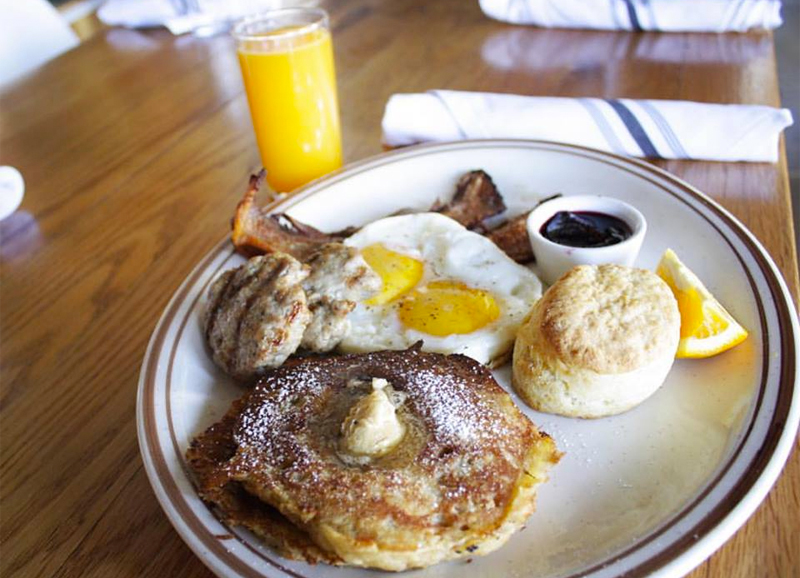 Salt's Cure
HOLLYWOOD
If you're a fan of Salt's Cure's legendary Griddle Cakes, then you may want to try their new breakfast location in West Hollywood where you can sample apple, banana nut, blueberry, and chocolate chip versions. If you'd prefer access to the full brunch menu (and the cocktail list) at their primary location, then you'll be jousting with the Hollywood crowds for a spot on the patio. If you're hungry, order the secret All Star Breakfast, which upgrades their famous 2x2x2 (two eggs, two sausage patties, two slabs of house-cured bacon) with griddle cakes and a biscuit with jam.
BEVERLY GROVE
Many find A.O.C.'s Spanish fried chicken (served with a cornmeal waffle, jamon butter, and maple syrup) an irresistible brunch treat, but pretty much everything on the menu, from the French toast to the baked eggs, will start your day off right. And of course, the mimosas are plentiful, and the leafy patio is the perfect place to spend a warm LA morning.
DTLA
As far as brunch foods go, you can't pass up the Croque Madame, especially when it's served up in a French-style boulangerie run by French expats. Of course, husband and wife team Fabienne and Frederic Soulies also offer up a range of French pastries and brunch favorites, including a Parisian-style omelette.
Croque Madame at Pitchoun!
HIGHLAND PARK
Highland Park newcomer Partido made waves this year with their fusion of Filipino and French cuisines, and recently made the excellent decision to bring their expertise to bear on a weekend brunch menu. With mouthwatering dishes like Adobo Chicken with Pandan Waffles and Coconut Caramel Sauce, this is one brunch you don't want to miss.
EAGLE ROCK
Colorado Boulevard in Eagle Rock often flies under the radar, but with establishments like Posto Giusto, Little Beast, and Red Herring, there's little reason for this strip to be so underrated. You don't really need an excuse to head out here, but brunch is a good one; Red Herring's Hangover Helper (chicken sausage, gravy, two eggs, and hash browns) is a must, and there's solid brunch cocktail list, including the 'Merican Michelada—an admirable attempt to make beer an AM beverage.
LOS FELIZ
Shakshuka is a spicy tomato stew with poached eggs that originated in the Middle East. Kismet's Shakshuka is so popular that it's even been featured on Gwyneth Paltrow's Goop—but don't let that discourage you. This dish is a cut above, and well worth an investment of your brunching time, along with other menu items like broccoli toast with labneh and pomegranate, or brioche toast with halva.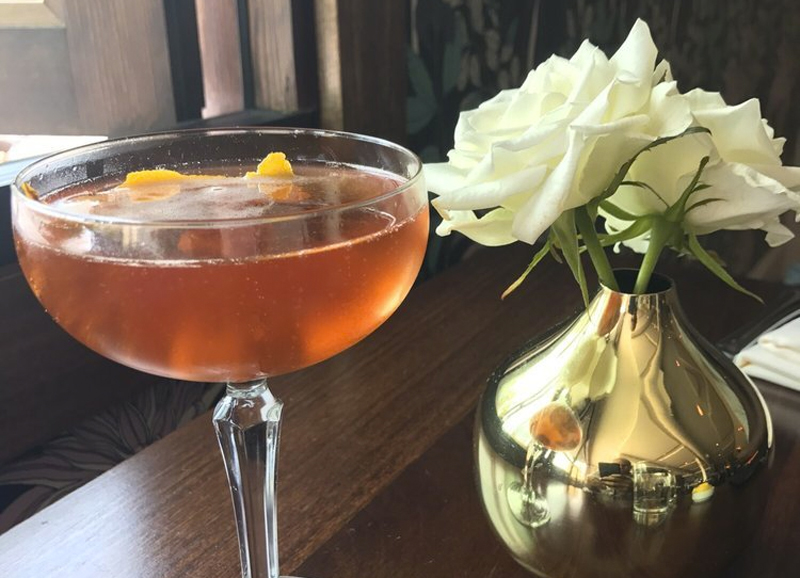 Boss Loves Bubbles at Red Herring
VENICE
This popular Venice brunch spot can get packed out on weekends, but the efficient ordering system and accommodating staff make things a little easier. The menu is massive, and honestly, it's hard to go wrong—though the Egg Bialy is highly recommended and one of their more popular dishes.
EAST HOLLYWOOD
For some, the epic lines outside of Sqirl on Saturday mornings might kill the free-flowing brunch vibe, but for most, their bowls, salads, and sandwiches (with plenty of delicious vegan options) are well worth the wait. If you manage to wade through the sea of dad jeans and make it to the counter, order their famous ricotta toast.
VENICE
With boozy brunch cocktails, two patios where you can take in the mid-morning sun, and a brunch menu with selections for everyone from the health freak to the chronically hungover, Rose Café has certainly earned its reputation as one of the best brunch locations in Venice. Sweet tooths should go for the Burrata toast (with gala apples, pomegranate molasses, basil, and almonds) while those in search of a more hearty breakfast should go for the breakfast burrito with peanut mole.
SANTA MONICA
These days, everyone and their dog is trying their luck at brunch in Santa Monica, but still, you can't beat Huckleberry's flaky pastries, delectable breakfast sandwiches, and cheese-filled tarts. Try the Green Eggs and Ham (named for the arugula, not the eggs) or the Sweet Breakfast Porridge if you happen to be by the coast on a cold foggy morning.