OUTDOOR
My Carnival: The DJ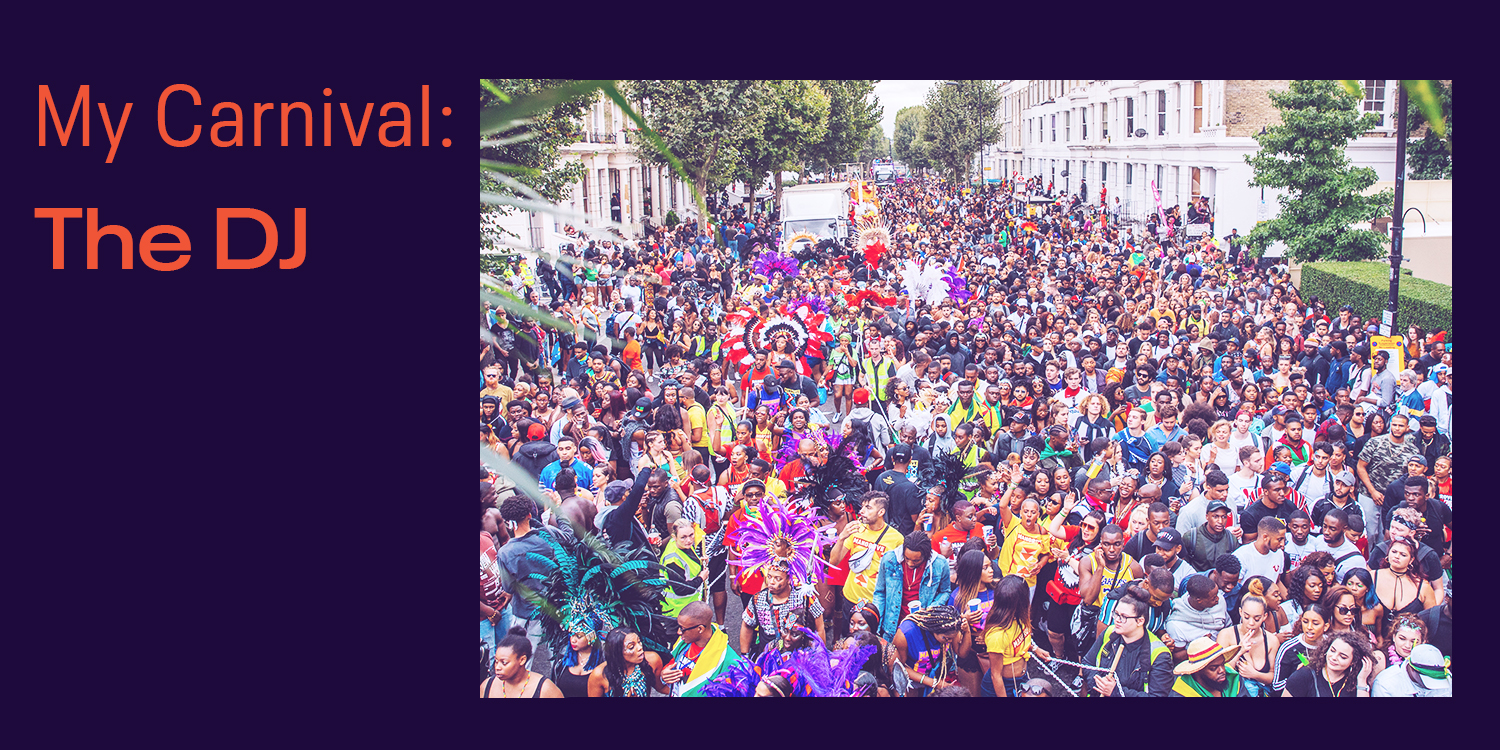 Notting Hill Carnival means different things to different people. For some it's simply a chance to let loose with friends over the Bank Holiday Weekend; for others it marks the culmination of months of band practise and outfit planning. To bring to life the colours and characters that make the weekend's festivities so special, we spoke to five of its most committed participants to discover what Carnival means to them. 
Discover: The Best Pre and Post-Carnival Parties.
Maurice, DJ (Rampage Soundsystem)
"I first went to Carnival in '94. I was 16 and my friend's older cousin took me and a few others. We arrived at Ladbroke Grove, walked out onto the street, the first record I heard was Zhané 'Vibe'. I thought, 'Oh my God, this is amazing!'. We went round the corner, to Rampage actually, and they were playing a tune by Das EFX called 'Mic Checka'. It's got this long intro where everyone goes low down on the floor and then jumps up when it kicks in, and I remember absolutely losing my mind. It was the year jungle broke through so we saw General Levy and Nazlyn – who sung 'Sweet Love' with M Beat. I begged the girl to take me back the next day but she was like, 'Tomorrow's for adults'.
That was it, I was hooked. 
When I started getting into the music business, I'd take artists round the different soundsystems. I took Swiss Beats, Ms. Dynamite, and smaller acts as well. That's how I got to know the Rampage guys – every year I'd turn up with an artist and cause havoc because I got too excited. In 2013 they turned around and said, 'You're Rampage family'. So I said, 'If I'm family put me in the sound'. No one replied and I thought it was never gonna happen. A few months later and it turned out the founder, Mikey, was moving to America. So I asked them if I could DJ, since they needed someone. It's a cliché but I feel like I'm living my dreams. 
"It's quite a spiritual thing"
I'd been going up that ladder to the stage for years, just to watch and hang out, so I had an idea of what it was like to be up there but playing is a different experience. You start at midday and there's barely anyone there. You've got your head down playing tunes, next thing you look an hour later and there's thousands and thousands of people dancing. It's weird because it's quite a spiritual thing to witness that. All these people out on the road dancing. There's something about it that really touches me. Even when it rains, people will say they're not bothering, but it can be even better when it's raining because the people who are there really want to be there.  
Stormzy performing on our stage in 2014 was a big moment. I'd been doing his radio plugging and I thought, 'This guy's on the rise, let's invite him'. At that time he'd done one headline show at Proud in Camden. I DJ'd for him that day at Carnival, actually. I knew he'd been getting big but I didn't know how big. When he got on the mic, he was like, 'It's south London in the house!' and people went crazy!
Everytime Ms. Dynamite performs it's a big moment. Wiley turned up a couple of years ago. He was just walking through the crowd. Treble T, who's my DJ partner, spotted him and we got security to grab him and bring him up on the stage. The crowd couldn't believe he was there. Newham Generals came and did a set with Maximum in 2016, it almost felt like the road was shaking, the crowd was jumping so much.
We work quite closely with the police, and they were monitoring the crowd from one of our towers, filming. I said, 'There's no trouble, why are you filming?' and they were like, 'This is just amazing, we've got to capture it!'. 
That first encounter back in 1994 has shaped my whole life, in terms of being a Londoner; my dad's from Mauritius, my mum's English. Carnival drew me in to black music and black culture, and London culture as well. In a lot of respects it means everything to me. It's a marker for me as well. It's like, 'Cool, I've worked hard for eight months, let's go and party in the street and let off some steam'. Afterwards it's a massive comedown.
The first few days afterwards you're reliving it: posting photos and videos, sharing stories with friends, looking online for the coverage we've got. Keeping the memories alive."
More from this series: