FOOD AND DRINK
London Pizza Festival 2019: Discover the Delicious Details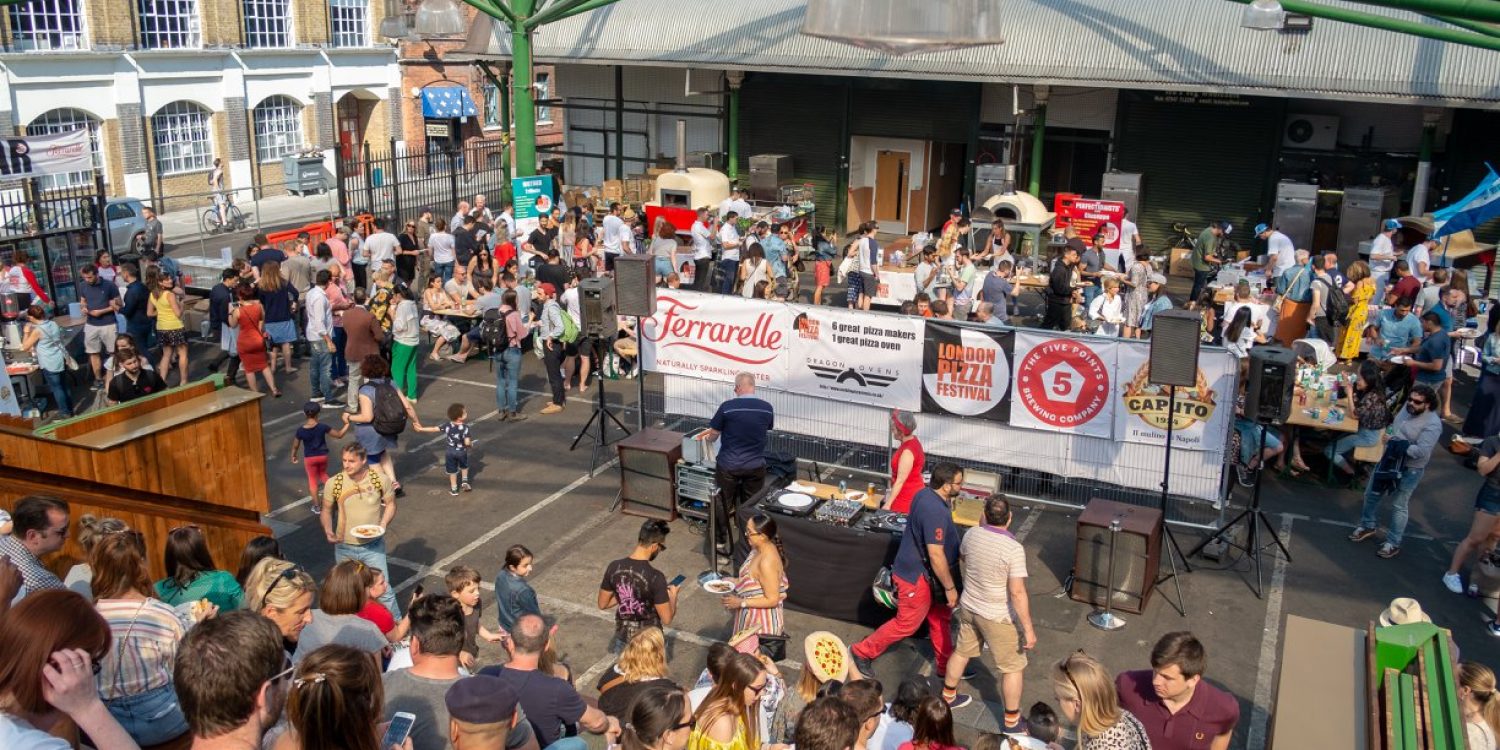 London's hottest pizza festival, from Young & Foodish's Daniel Young (the culinary savant behind the book Where To Eat Pizza), returns for its fifth iteration in June. With tickets available now through Eventbrite, here's what to expect from the day's dough-based festivities.
When does it happen?
Three overlapping slots of 12pm, 2pm, and 4pm over the course of one Sunday afternoon (June 2). Entry times are more a formality in place to help shorten the queues – once you're in, feel free stick around all afternoon (closing time 6pm) to fill up on great pizza, pizza-oriented snacks, and excellent beer from The Five Points Brewery.
Where is it?
London's historic food centre, no less, as the 1,000-year-old Borough Market (nearest tube London Bridge) expects to host 1,000-odd pizza lovers during the afternoon. Getting in early to save a seat is advised – the goings-on will be found towards the market's backdoor on Winchester Walk.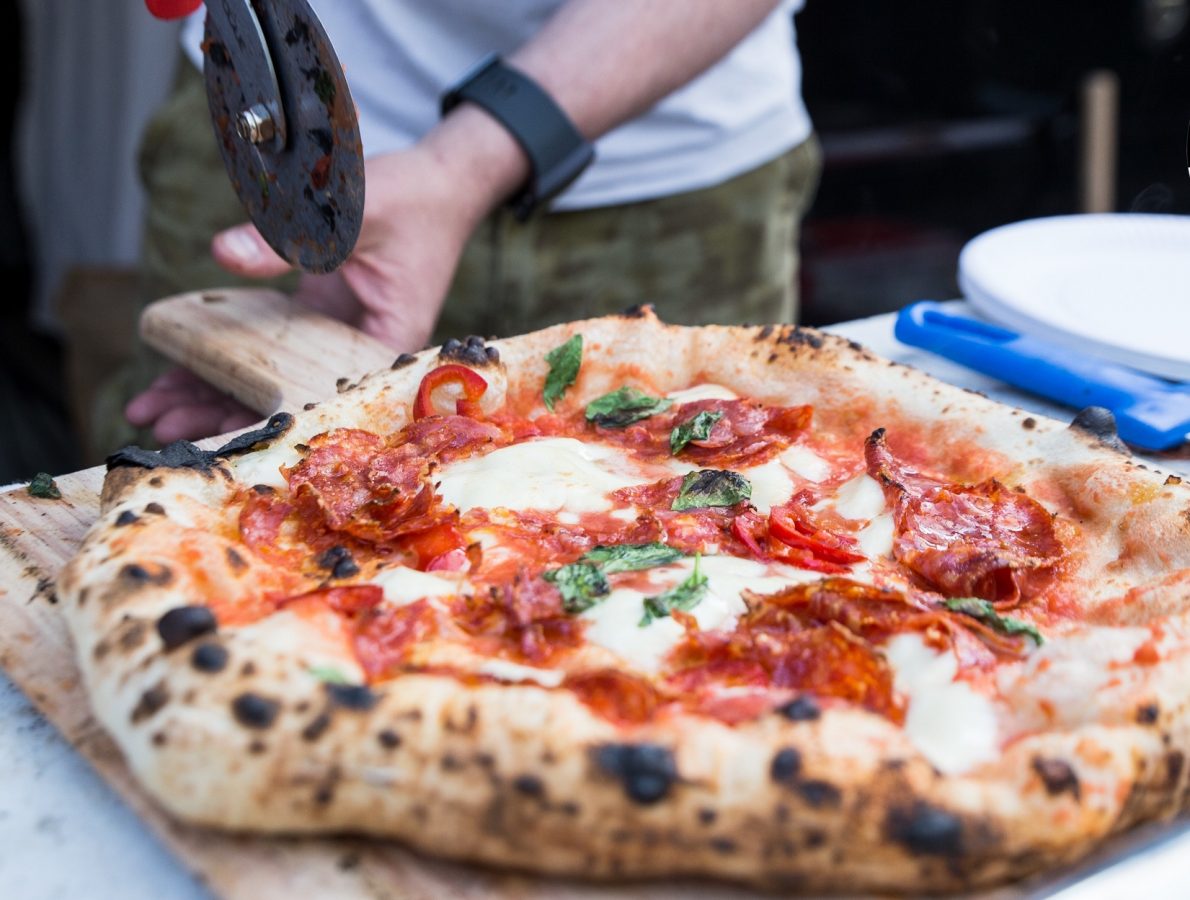 Young and Foodish
How much does it cost?
Tickets weigh in from £10 up to £28. The former option grants you entry with one pizza slice, while the latter nets six slices – i.e. the equivalent of one and a half pizzas, and one from each trader. Each ticket also comes with a beer (or bottle of mineral water if you prefer) on entry.
What's the deal?
Quite simply, an edible showcase of some of the country's foremost pizza purveyors. They are: Naples export and 'king of dough' 50 Kalò, Shoreditch newcomers with a nose for pure indulgence Gloria, Naples legends with a Baker Street outpost L'Antica Pizza de Michele, Camberwell local heroes Theo's, duck confit pie-peddlers The Dough Shack, and 2017's Best Pizza in Wales winners Ffwrnes. Guests will vote for their favourite slice, the winning vendor receiving the title of 2019 London Pizza Festival Champion, along with their share of the glory. There will, however, be no second vote.
The afternoon's menu looks like this:
L'Antica Pizza de Michele – Truffle (White truffle cream, fior di latte mozzarella, portobello mushrooms, Pecorino Romano, basil, black truffle oil)
50 Kalò – Marinara (Casa Marrazo tomatoes, garlic, oregano, extra virgin olive oil)
Theo's – Queen Datterini (Datterini tomato and Procescco sauce, buffalo stracciatella, Tropea onions, basil, chilli sauce)
The Dough Shack – Duck Pizza (confit duck, spring onions, chillies, hoisin sauce, garlic herb oil, fior di latte mozzarella, chilli honey, sesame seed crust)
Gloria – Asparticus (Vesuvio yellow tomato, buffalo mozzarella, sautéed asparagus, asparagus carpaccio, confit red tomato, buffalo ricotta, lime zest, pesto)
Ffwrnes – West is Best (Fior di latte mozzarella, sage, sobrasada, goats cheese, basil, raw Welsh honey)
The verdict
Serving up six different approaches to pizza from six different locales, at one of the world's most notable food markets, and with a food fight thrown in? Sounds like a great day out to us. Those looking to slim down their restaurant hit-lists will see it as a good opportunity to gauge whether these pizza slingers are really up to scratch, while others will just want to chow down on some of the best pies around.
Book your tickets for London Pizza Festival 2019 on Eventbrite.