HEALTH & FITNESS
Find Your North at Wanderlust 108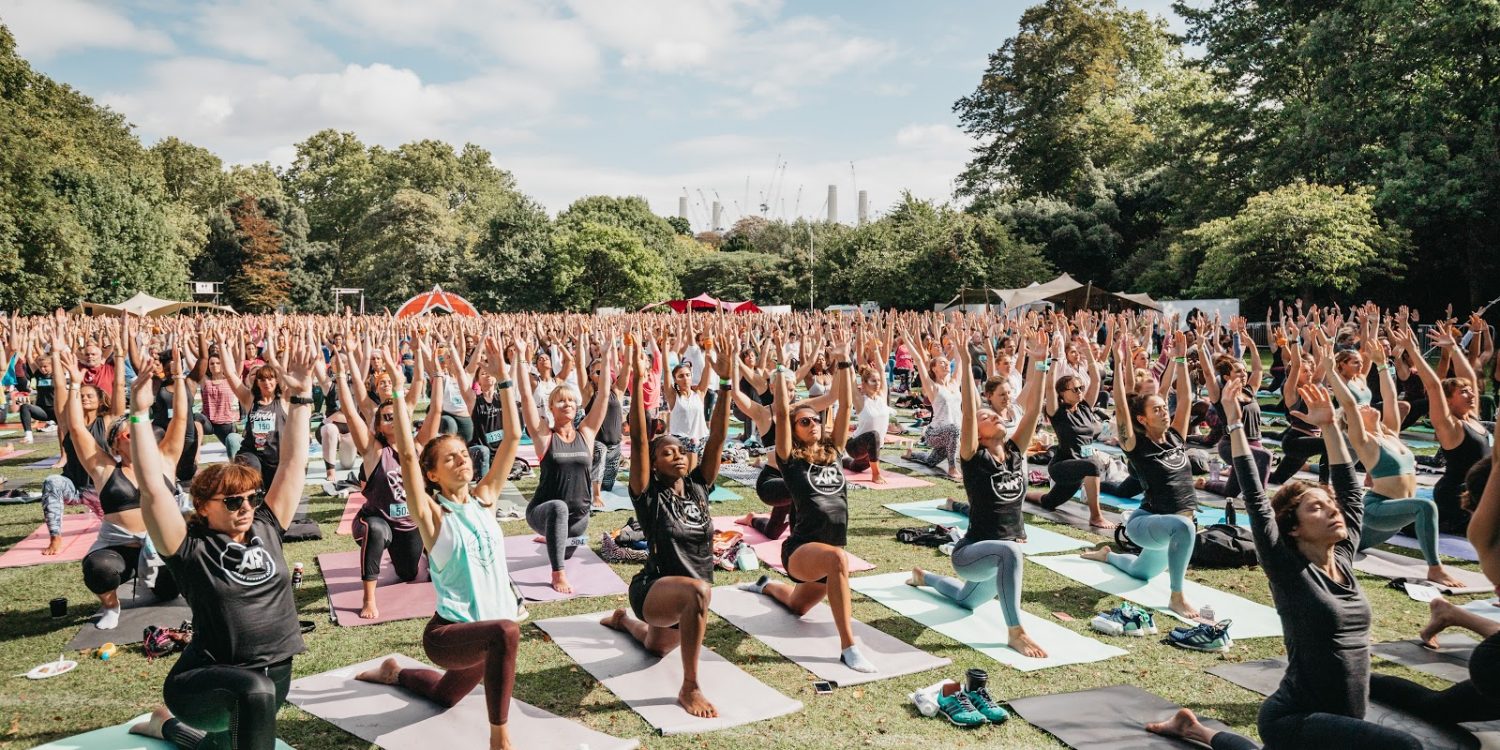 The world's only mindful triathlon returns to London for the third time this July for a dynamic day of movement, meditation, and spontaneous dance parties. With tickets available now on Eventbrite, here's what you need to know about the Wanderlust 108 flow.  
When does it happen?
The Wanderlust magic kicks off on July 27. Check-in starts at 7am and it's recommended to arrive early sign in, set up your yoga mat, and grab a coffee at your ease. At 7.20 it's time to awaken your senses with a Secret Sunrise dance and join 1,000 other people to unite, meditate, and get groovy. Next up is the signature mindful triathlon starting at 8.30 with a 5K walk/run/skip/strut – this is a 5k your way. After a spot of lunch, you can dive into a range of your bonus activities from aerial yoga and reiki drumming to wellness talks and vegan cooking classes. Get the full rundown here.
Where is it?
The beautiful Battersea Park in South West London will play host to the Wanderlust community and over 4,000 mindfulness-seeking yogis. Now in its third year, Wanderlust 108 has established its London home here and plans to bring the gorgeous park alive with brand new experiences for people to explore, learn and be enlightened.
How much does it cost?
Adult tickets stretch from £35.08 to £91.08 for the premium bundle. The basic package includes full access to the mindful triathlon, one bonus activity, and a complimentary "fandana" on arrival. The premium bundle includes all of the above, plus a YogiBare bundle with all your yoga essentials, preferred mat placement, priority access to activities, and a 108 goodie bag to add a little oomph to your OM. Teen tickets cost £15.08. For every Wanderlust 108 ticket purchased, Wanderlust will donate £1.08 to the Global Fund to fight AIDS with Red.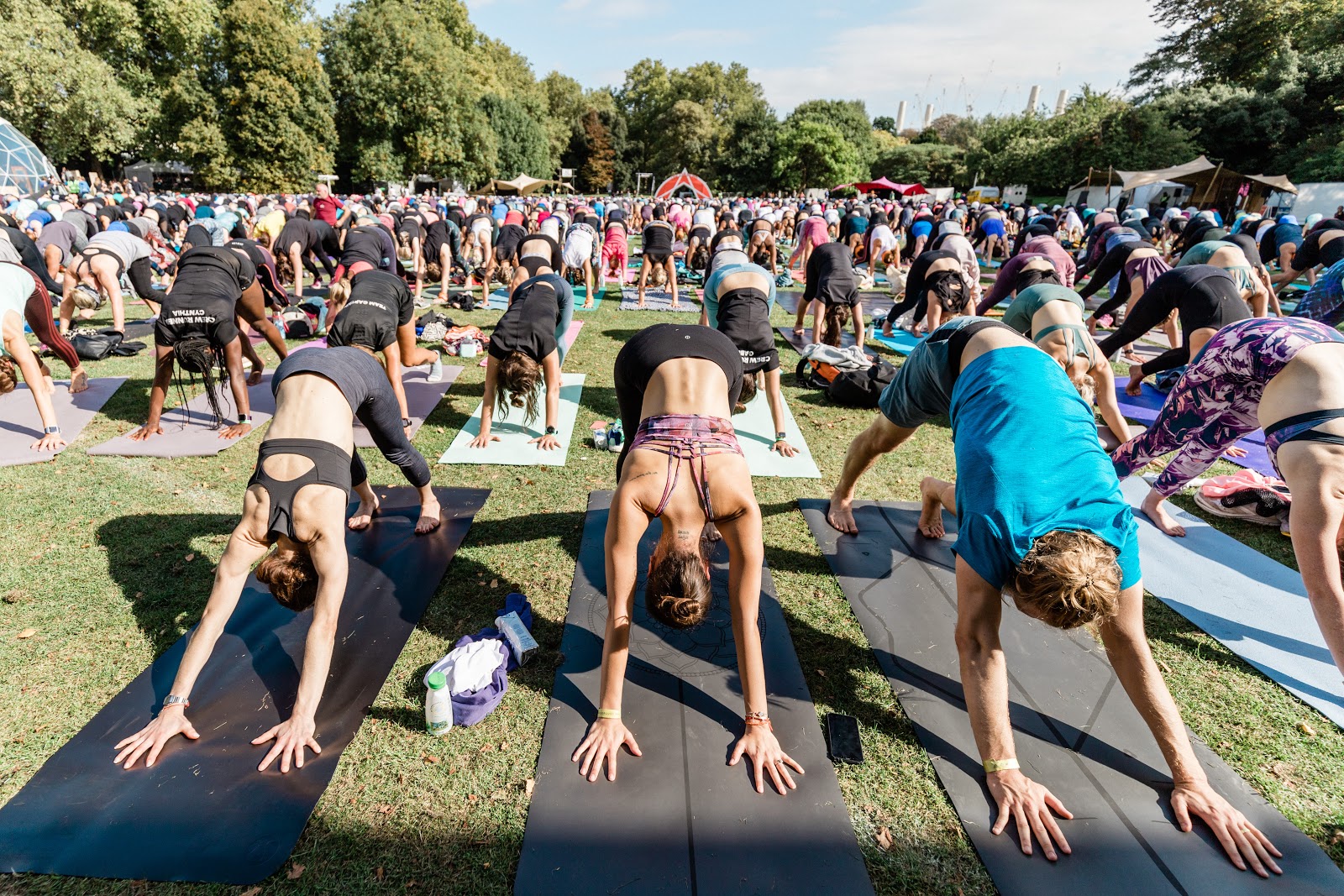 What's the deal?
This is not your average triathlon. Wanderlust's signature mindful version encompasses a  5k 'your way' (led by Twice The Health), a 30-minute refreshing intention setting ceremony, DJ-powered 90-minute outdoor yoga class (presented by YogiBare with Tom Middleton on the decks), and a 30-minute guided meditation (led by Light Watkins with Tracie Storey creating the soundscape). All this plus live music, artisanal vendors, wellness talks and masterclasses, and a host of mindful activities to energise and soothe the soul.
What do the organisers say?
"Wanderlust's mission is to help people find their true north — to cultivate one's best self. We do this by gathering experts, practices, and recipes for living to lead people's journey towards a mindful and inspired life. Fostering community sits at the heart of the Wanderlust mission and this year the festival is a true representation of the London wellbeing community." – Alan Steel, Managing Director, Wanderlust UK, Ireland, Middle East & North Africa.
The verdict
Vibrant dance parties, soul-reviving meditation, DJ-powered flows, and nourishing food – all set in one of London's most beautiful parks – now this is the kind of triathlon we can get on board with. Wanderlust are producers of the largest yoga lifestyle events in the world – so it's safe to say these guys know what they're doing. Wanderlust 108 will be the ultimate playground for mindfulness seekers, providing the opportunity to nourish yourself, dance your heart out, and wear your jazziest yoga tights.
For the best local happenings, check out our London blog and follow Eventbrite UK on Instagram.