Have you ever stopped to consider the noise that vending machines make? Or thought through the economic impact of wooden pallets? If the answer is 'no', then maybe you're just not being boring enough. Don't worry, though, because Boring Conference is back in May to offer a masterclass in the mundane.
Despite its organiser actively telling people the conference will be "a waste of time and money" and that "nothing of any importance will be discussed", this is its ninth year and it regularly sells out. Which is to say (spoiler alert) that Boring Conference is actually pretty fascinating.
Things started in 2010 when James Ward heard that Interesting conference, organised by Wired journalist Russell Davies, had been cancelled. "As a joke, I tweeted 'Well, Interesting's been cancelled, maybe I'll do a boring conference'," says James. "Then people started replying, asking where they could get tickets or if they could speak at it. I suddenly realised I was actually going to have to do this."
The conferences feature around 15-20 speakers, talking about subjects that most people normally go out of their way to avoid hearing about: self-service checkouts, concrete, yellow lines, toast and "camping on motorway roundabouts" have previously been covered.
Not the edgiest of topics, it's fair to say, and yet Boring has built up a cult following that many 'interesting' conferences would kill for. "I don't fully understand why people come," admits James. "I just somehow have this thing that people like and come back to. It scares me slightly."
"People appreciate a day where they can sit in a room and listen to people talking about very unimportant, very trivial things"
However, there is, James suggests, a kind of formula to the – ahem – 'best' boring talks that makes them, well, kind of riveting: "A good boring talk is one where the subject starts as something very familiar, but then as the speaker talks you see something else, or a larger meaning or power that this ordinary thing has."
Take, for example, a session from a few years ago on the wooden pallet – stay with us: "On the surface, they're just things you see propped up against a warehouse," confirms James, "but they completely changed the way global trade worked. They allow you to create units of things that can be transported easily, there are global agreements about how pallets are treated to ensure they're not a fire risk or infected by bugs, and then there's this black market in counterfeit wooden pallets that don't have certification. As you go into it more closely, it reflects something bigger."
The good news is that topics at Boring Conference 2019 are so lively they make wooden pallets look only mildly exhilarating. James doesn't reveal too many speakers beforehand, but he does feed us a few tantalising tidbits on what to expect: "Police telephone boxes – like the TARDIS in 'Doctor Who', but just the actual telephone boxes. There's someone talking about the Albertus typeface, and I might open the conference with a talk on my entirely justified hatred of tomato ketchup and all of the harm this wretched condiment has done to society."
If you didn't know already, famous people can be 'boring', too. Previous guest speakers include author and journalist Jon Ronson, comedian Josie Long and filmmaker Adam Curtis, so you might see another famous face or two this year. Then again, you might not.
It's easy to assume that Boring Conference is actually just a big in-joke, something that could have slotted into Chris Morris's media-maiming satire Nathan Barley. "Some people think it's ironic or postmodern," says James, "but it's not. It's really, really sincere and that's what appeals to people. It wouldn't work otherwise."
Then there's the escapist element. Boring Conference is the ultimate antidote to the brain-draining information overload that bombards us every day. "It's a way of switching off from the world," says James. "In the past few years, things have been so crazy and there's so much going on in the news that people appreciate a day where they can sit in a room and listen to people talking about very unimportant, very trivial things."
And let's face it: nowadays, it's cool to be boring. The geek has well and truly inherited the earth, thanks to popular culture that wholeheartedly celebrates all things nerdy. "People are no longer being afraid to be boring," as James puts it. Whereas 20 years ago, geeking out about a subject to the nth degree simply made you unpopular at parties, these days it'll get you your own podcast on BBC Sounds.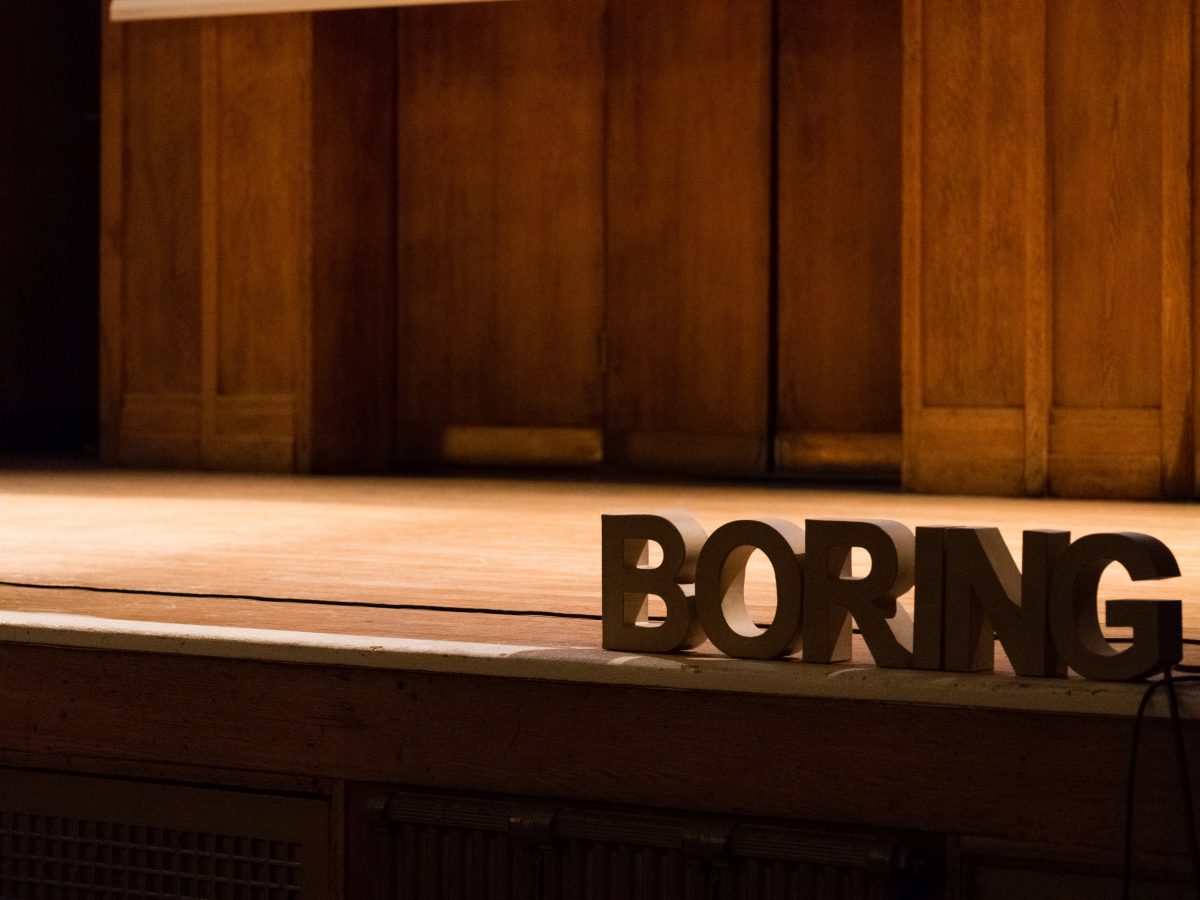 Boring Conference
One show-stopping conference talk from the 2017 Boring later became a podcast in its own right. Lecturer and author Claire Thomson emailed James to ask if the subject of her latest book, Danish public information films from the mid-twentieth century, would make a suitable conference topic. "When I get an email like that, it really makes my day," James recalls.
James is clearly a smart guy, but does he really consider himself to be boring? "I would say I'm interested in boring things to an extent that makes me a bit interesting, because I have lots of useless info in my head."
A great guy to have on your team at a pub quiz, then? "NO! People always say that, but none of these things I know ever come up. There's never a pub quiz question about who invented the Post-it Note. And not only do I know who invented it, I also know the history and development, and have spoken to one of the people involved. That's not useful."
It might not be useful, but it sure is nice to have – just like Boring Conference.
Boring Conference 2019 takes place on May 4 at Conway Hall, London. Snap up the last few tickets on Eventbrite.