FASHION
Anything Is a Hat: An Afternoon with NYC Style Icon Debra Rapoport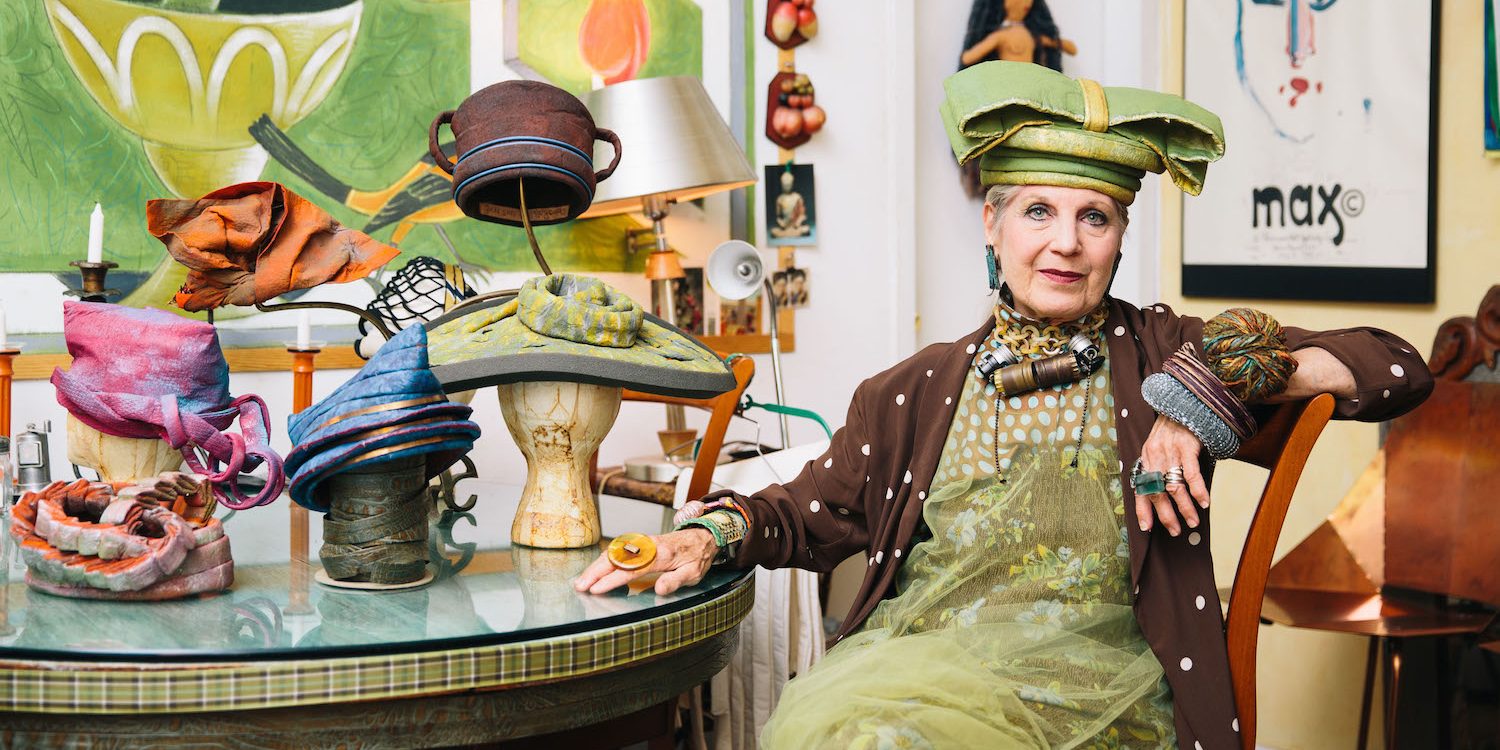 Welcome to our new series, Moment Makers, where we shine a light on the interesting individuals behind one-of-a-kind experiences.
At the very western edge of Manhattan stands a block of pale-mustard-colored brick buildings, surrounded by wine bars and old-growth trees. The big elevators and unassuming white hallways make us feel like we're in the wrong place to meet one of the most eccentrically dressed women in New York City. But the door opens to a burst of light and there stands Debra Rapoport, dressed in perfectly coordinated shades of light olive green and dusty cocoa brown from head to toe. With an effortless dramatic gesture of her hands, she's framed by the door like an 18th-century portrait of a royal, wearing a green bow-topped headpiece.
Debra, queen of fabulous hats.
"Do you want some water?" she asks, leading us into her colorful living space.  "We're out of wine. Well, we're out of red wine." The massive one-room loft has been chopped up into a few bedrooms and a living space, with found, purchased, and self-made art hanging from the walls and carefully displayed on practically every surface.
Debra Rapoport is a 73-year-old style icon, teacher, and newly discovered model. On June 10th, she hosted one of her hat-making classes in her apartment, where students toured her closet to see her handmade hats and accessories, witnessed her make one of her famous hats, listened to her stories, and — of course — drank wine. The class was put on by New York Adventure Club, an organization that curates unique experiences and events around the city.
But her afternoon courses look nothing like a typical millinery class. One of Debra's creative specialties is creating apparel and accessories from reclaimed and recycled materials, and she instructs students to make elaborate hats exclusively out of Viva brand paper towels.
Yes — couture-style hats made from paper towels.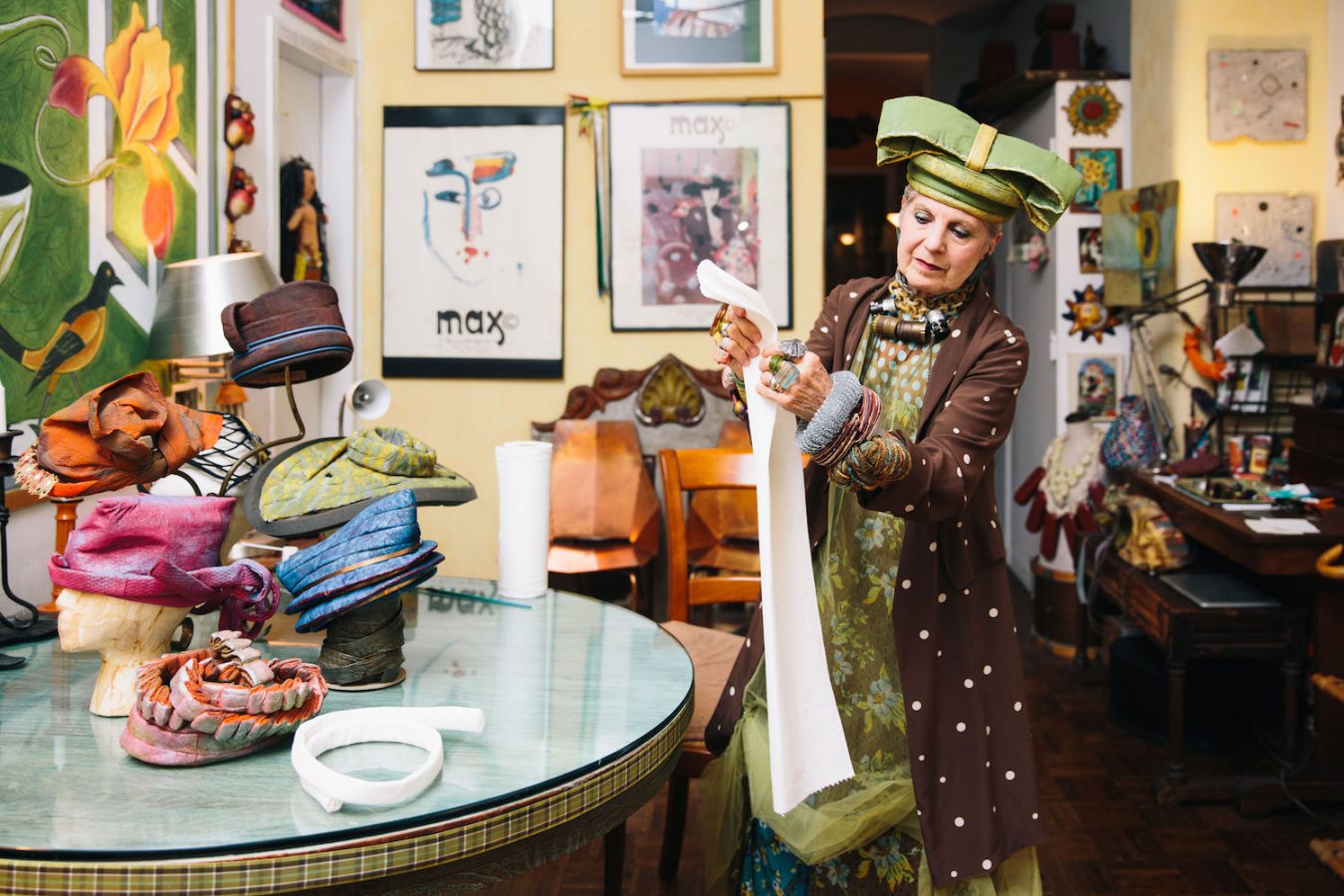 How she makes her paper-towel hats
The hats are works of art, and incredibly intricate. Debra carefully folds the towels using her specific techniques, which turns them into strips of sturdy building materials, or "elements" for the hats. They're folded and glued, spray painted and dabbed with bright acrylic paint.
The texture of the mixed paint on the felt-like paper gives them a rough, ombre appearance, reminiscent of coated wool or waxed canvas. On one hat, curls of purple paper fall over the face like a futuristic veil. Another uses strips woven into a huge green brim. You'd never guess they were made from drug store materials — in fact, you might be able to imagine them on the shelves of Bergdorf Goodman.I asked how she discovered Viva paper towels to be the perfect hat medium, and turns out, they sort of discovered her. "They were sitting on this dining room table, and I looked at them, and they said, 'Do me,'" she says with a laugh. "That's how everything is in my life." Materials show up, they tell her to use them, and she does. As Debra says, "Anything is a hat."
This hat-making class was far from her first time teaching, but it was her first time hosting a class with New York Adventure Club. The organization discovered her through someone in her apartment building complex: Westbeth Artists Housing, the largest federally subsidized artist colony in the world.
This block of the West Village was turned into affordable artist residences by the city in 1970, with far-below-market-rate apartments that are so sought after, the waiting list was closed years ago. Debra says that if you want in, you have to wait until somebody dies. "We have filmmakers, writers, dancers, painters, sculptures, musicians, composers, [people from] any creative field."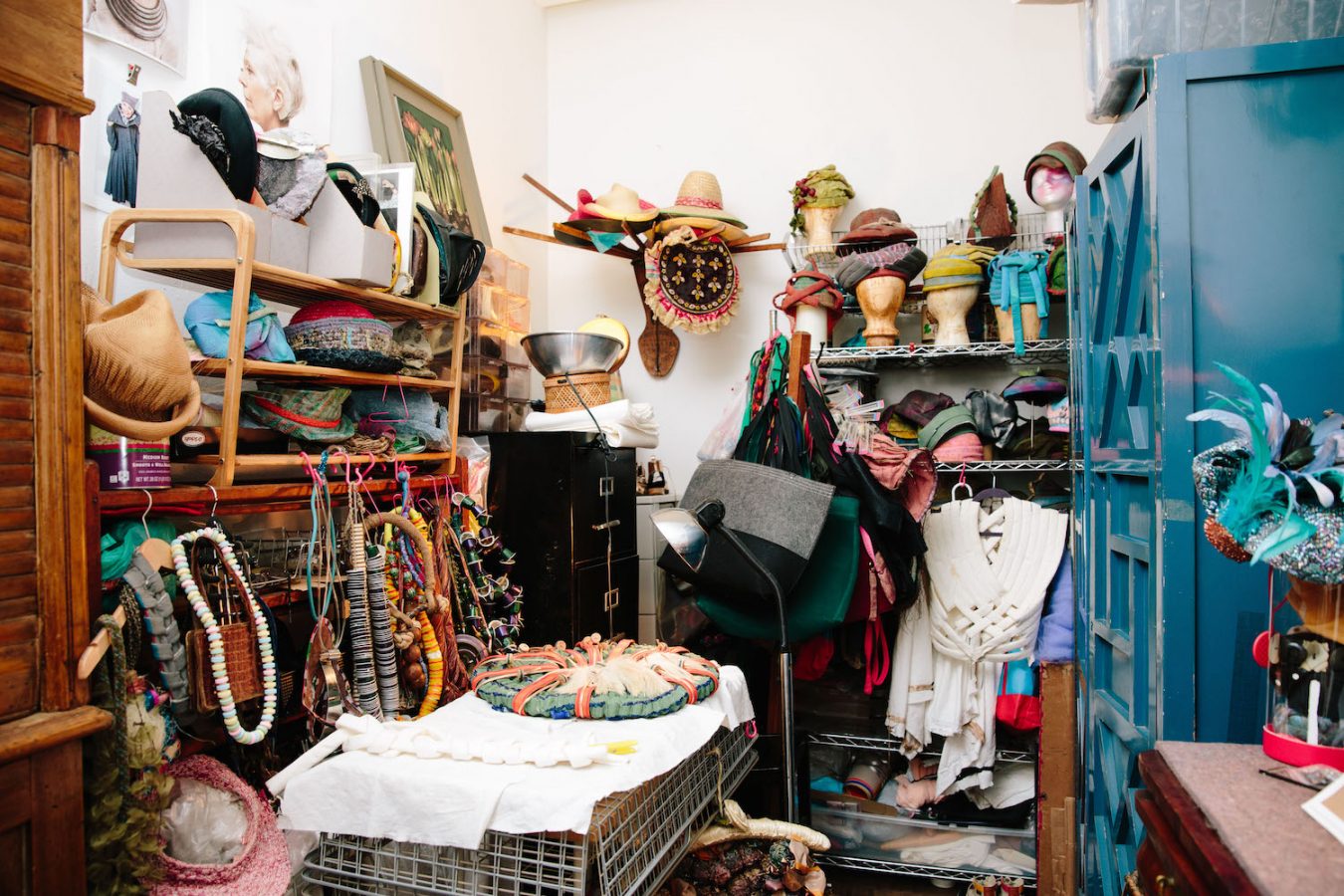 Debra's only just been added to the lease recently — she lives with her partner of over a decade, a handsome songwriter who's been in the building since the 70s — but she's a New York City native who has been playing dress-up since the age of three. Debra herself calls what she does "play," but not in the diminishing way some people might — in a way that's permissive, accepting, and exciting. Coming from a fashion industry background, I immediately recognize that Debra isn't your typical New York City "fashion person." Instead of channeling her creativity for the sole purpose of making incredible ensembles, she sort of does it in reverse: She uses style to express her artistic self. Fashion and style aren't the reasons. They're the medium.
Debra's creative past
It seems Debra isn't fond of the term "fashion" to describe what she does, preferring to call her interest "personal style." She only became a "style icon" — a phrase she says in a silly, faux-snooty voice with air quotes — when Ari from Advanced Style profiled her for his blog and documentary. But style isn't a new part of her life: Debra's family encouraged her creativity from a very young age. "My sister and I only had one doll, because we said it was more fun to dress ourselves," she says. "So we would dress up, dance around the house, then change costumes and dance again."
And for as long as she was interested in style, she was interested in teaching. "My fourth-grade teacher used to write on the blackboard backward, facing the class, and I used to imitate her," Debra says. "I would take a crayon and write on my mirror, and whatever toys we had, I'd line them up and they were my students. I was very shy as a kid, so standing up in front of the room in my bedroom was very safe."
It seems surprising that Debra Rapoport, the woman who is stopped every five seconds on the street for earnest compliments and ensemble inquiries, could have ever been remotely shy. But even as that shy child, style was her way of expressing herself, and she never chose to blend in.
"I remember one time in fourth grade, I wore this really cute outfit: it was a striped sleeveless dress with a woven panel around the middle," she says. Her teacher was impressed with the uniqueness of her clothes that day. "She told me to go to the other class and show them my outfit." Young Debra was mortified to be presented in such a way—but it didn't stop her from embracing the styles she felt most comfortable in.

Her shyness disappeared after graduate school at University of California, Berkeley, a time she looks back on fondly as a beacon of encouragement and support. "I always said education was intimidation until I went to Berkeley," she says. "I was stroked and fed, and told, 'Just keep doing what you're doing. Be who you are. It's all ok.'" In fact, she immediately started teaching there after graduation, stayed for the next ten years, got tenure, and then promptly quit, because she "hated academia." So Debra moved back to her hometown and has been in New York City for the last 40 years. She's taught classes at the Creative Center for Women Living With Cancer, the Neue Museum, MoMA, and even NYU for a semester, always drawing from her love of recycling and reclaimed items, and frequently involving hat-making from various materials.
A unique fashion philosophy
Hats are not the only thing she makes. "I don't throw anything away," she says, before quizzing me on what her necklace is made of. It's strung with four chunky gold pieces of metal, framed by free-hanging ball chain on either side… Lightbulb fixtures! "I had to rewire that lamp over there," she says, smiling and gesturing to the vintage piece in the entryway behind me.
She shows us toilet-paper-tube cuff bracelets, decorated with postcards and overlaid with mesh onion bags that look like hat netting. A necklace on display in the main room hangs heavy with red faux snakeskin sunglass cases, acting as massive, shiny beads. Despite it all being made from what most people would consider garbage, everything looks like it could be in a museum—and in fact, some of her work resides in the collections of the Metropolitan Museum of Art, the Philadelphia Museum of Art, and the Houston Museum of Fine Arts.
"When you get dressed in the morning, are you very particular about the pieces you put on?" I ask, still transfixed on the golden sockets decorating her neck.
"Well, I'm relaxed about it, but intuitively, I know what I'm in the mood to put on," she replies. "The weather and my activity is part of it, but sometimes my morning meditation is just being quiet in my room and asking myself, 'Who am I today?' and allowing myself to speak."
Debra has developed a new personal mantra that she calls "The Four T's:"
Truth: "We all know our truth, we just have to go inside deeply and quietly and find that truth."
Trust: "If that's what's coming from inside, that's our truth."
Be tolerant: "Because we want to judge, we want to pick it apart and criticize, but we should be tolerant of that truth."
Add tenderness: "Put it out into the world, and give everybody the space to find their four T's."
Everything Debra creates, even this simple mantra, is such an honest extension of herself, and it seems she's built a life that reflects exactly who she is and what she wants.
The mantra is striking to me. "This feels like an extension of teaching," I say. "That idea of accepting yourself first, and then giving that concept to other people."
Debra nods. "And when you're creating, you don't have to judge. The materials aren't gonna bite you. Just play."
To keep up with Debra's future classes and discover more one-of-a-kind New York City experiences, follow New York Adventure Club on Eventbrite.