NETWORKING
This Pop-Up Is Pushing the Boundaries of What Supper Clubs Can Be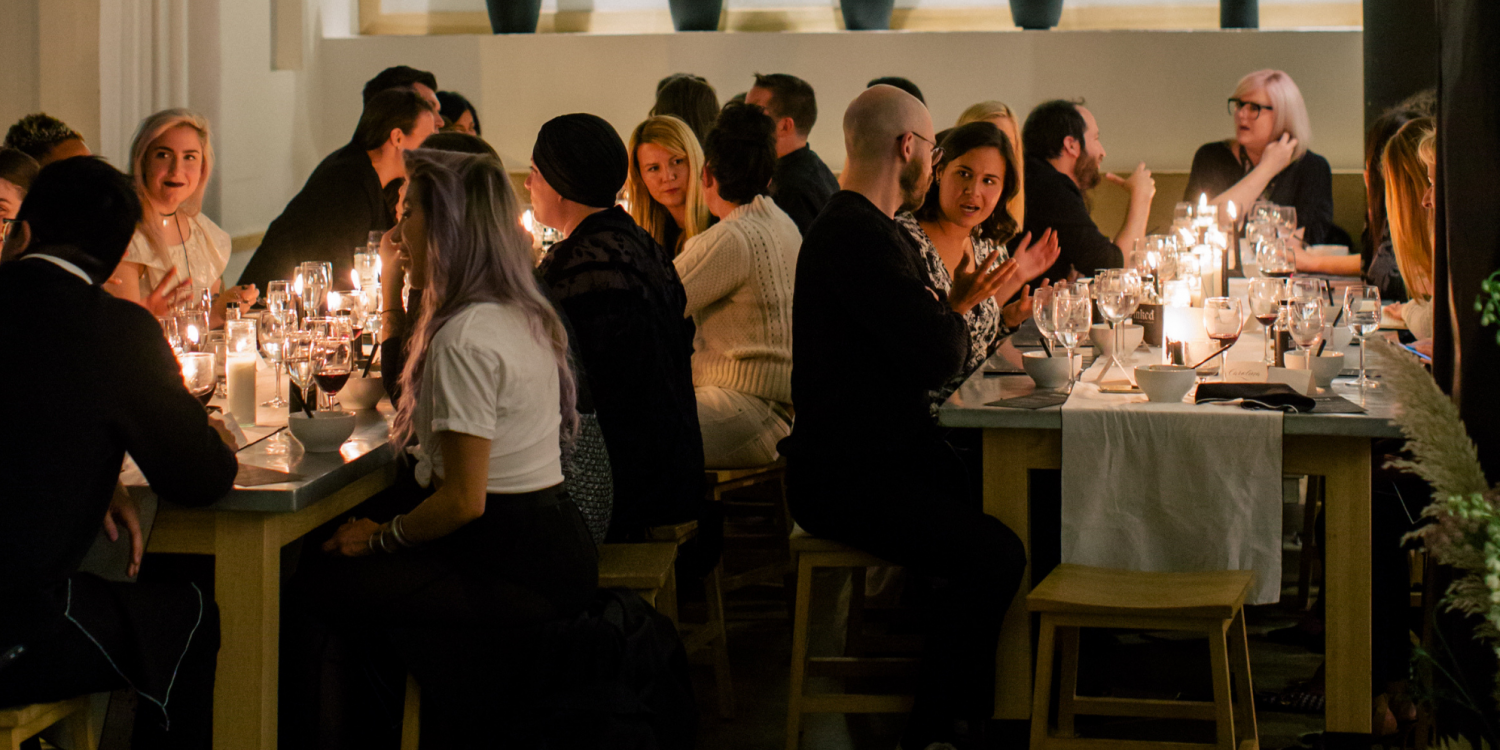 Filigree Suppers co-founder Elise Metzger is talking with two dinner guests about tattoos. "My first was of a butterfly, designed to be the initials of myself and my best friend," she says. "You know — it was the '90s." She gestures to her other ink — one on her right ribcage, one on her left, each bookmarking a different chapter in her life. That brings us to the most recent design: an outline of a lemon etched on her forearm. She received it moments ago from the tattoo artist sitting just an arms' length away, now buzzing another design onto the bicep of a new ink recipient.
Creations from the on-site tattoo artist are just one of the (optional!) offerings at this month's Filigree Supper, an ongoing dinner series between Elise and her longtime friend Brita Olsen that features a different chef, location, and theme with each installation. Tonight, the venue is The Ruin Daily in Chicago's West Loop, and the theme is "Inked," a pre-Halloween homage to a darker palette that the team is honoring through menu, design, and, entertainment.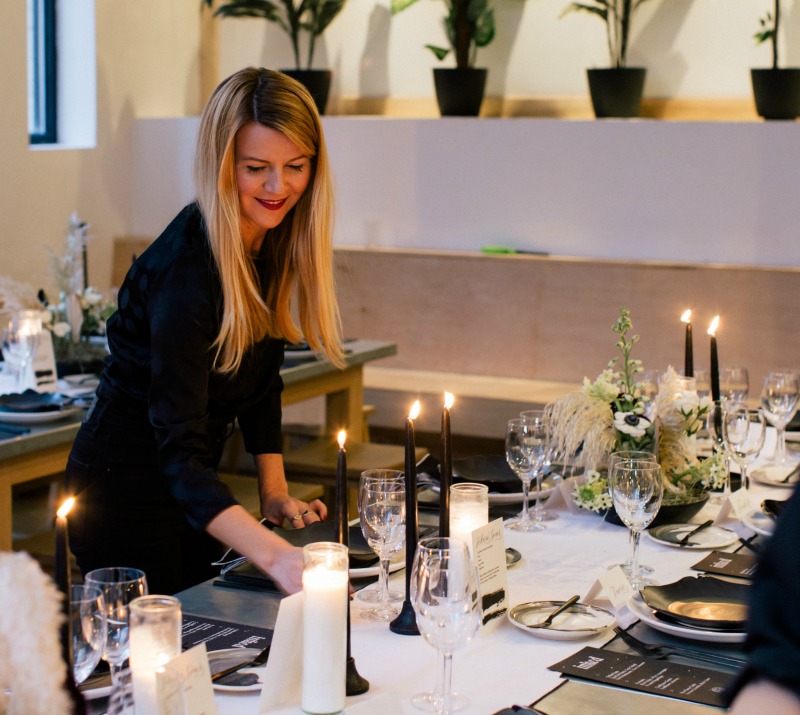 Around 40 attendees are in black (and some white) attire, including the hosts (Elise in a black fedora and button-down; Brita in a black, long-sleeved top that's accented by a gold chain and her blonde hair). Guests continue to arrive and mingle while two long tables await, each decorated in dreamy-meets-mystic décor: jet-black calligraphed name cards by Jenna Blazevich of Vichcraft, ebony-hued ceramic plates from Monsoon Pottery, and cascading floral arrangements of pampas grass and black scabiosa from Asrai Garden. Back at the tattoo station, the guest is holding her friend's hand, while holding a flask of the evening's signature cocktail (rye whiskey, coffee, and chocolate) in her other.
Elise and Brita started Filigree out of a combined passion for hospitality and craftsmanship, melding Elise's background in branded events and Brita's prowess in planning and at-home entertaining. "We have a shorthand together that really works," says Brita. "We knew there was so much we could do with an experience like this."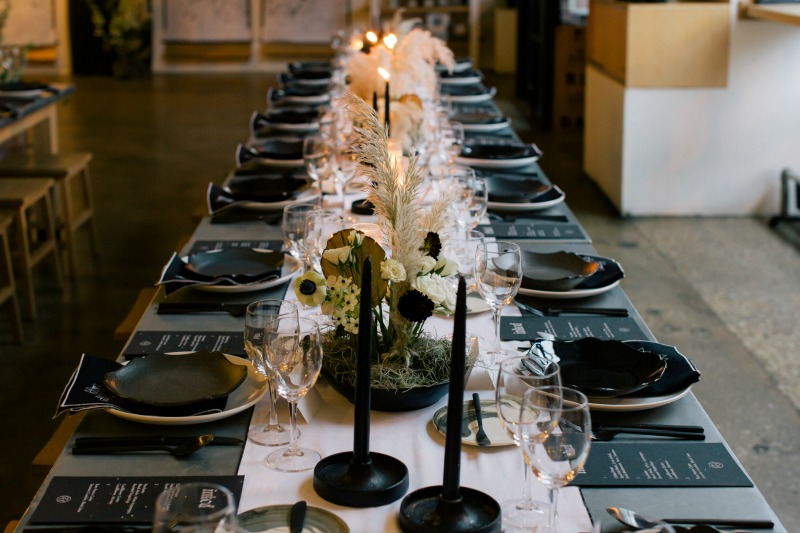 And though the themes of these experiences are ever-changing, the pair knew from the start that all dinners were to retain one key quality: a focus on handmade objects. "I was taking a pottery class at the time, and it got us thinking about having everything on the table be handmade," says Elise.
The first dinner happened in February 2015. Since then, Filigree has hosted 30 events between Chicago and New York, where Elise and Brita live, respectively.
A half-hour into cocktails, nearly all 40 guests have arrived. The din of the evening continues to grow: a concoction of lively conversations, cocktail shakers, and tracks from Lizzo and Sylvan Esso. Only when the time seems right, Elise taps on her glass with a spoon to get the room's attention. It quickly obeys.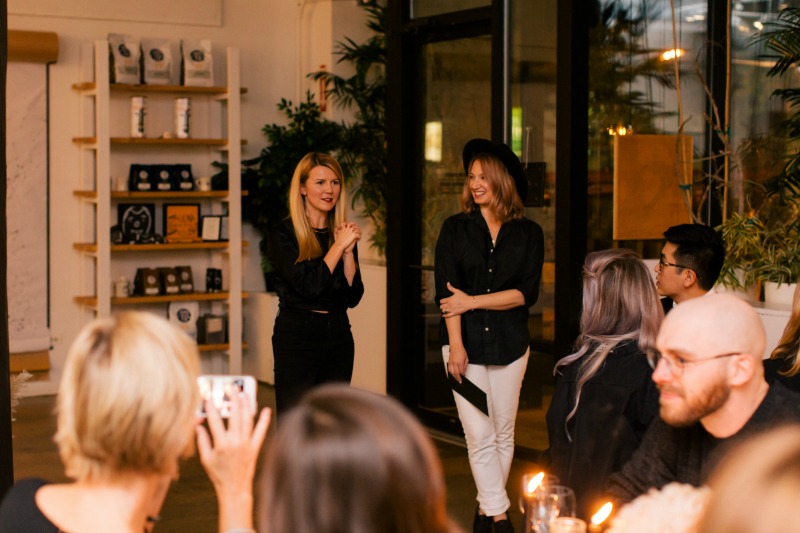 "Well, that was easy," she says, welcoming people to take their seats and giving an overview of the series and what they stand for — themed dinners that are never again repeated, in tandem with a spotlight on local makers. Elise takes over and explains the partners for the evening before a round of applause ensues. The sounds of introductions proceed; butter is passed for the bread. Up next, another cocktail — this one made of activated charcoal ginjo sake, pisco, and egg white. It's followed by a plate of squid ink pasta, chilled and intertwined with enoki mushrooms and bites of yuzu.
Themes for each dinner are thoughtful and take months of work and strategy to plan. The tattoo artist at tonight's dinner brought the "Inked" theme to life. One event, "Slow Burn," featured slow-roasted vegetables, smoked meats, and a two-day pig roast — all to celebrate the art of taking more time to do the things that we love. Last summer, "Strawberry Fields" highlighted a berry-centric menu of plates like fried chicken with blueberry jus and seared scallops with a raspberry buttermilk sauce (complete with custom-made pink and red ceramics from Ashley Lin Pottery). At New York's event this November, all dishes will follow a nose-to-tail approach and will be executed over an open flame for the theme of "Surplus."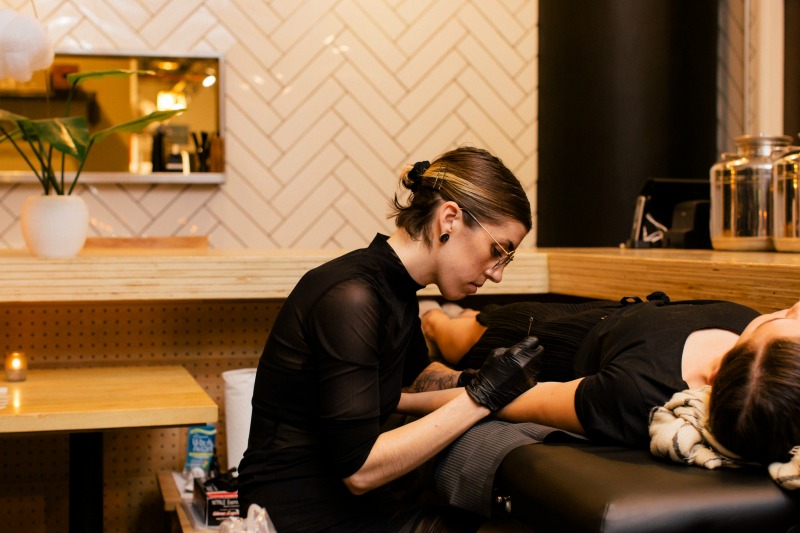 With a long-running selection of themes that run the gamut, it's hard for the founders to pick a meal most memorable. Eventually, Brita thinks of one — their "Female Icons" dinner, which was held in the Manhattan home of artist Beatrix Ost.
"We were invited to do a dinner in her apartment, and the first thing she said was that she doesn't do tables and chairs at her parties," says Brita. "It kind of excited us and kind of terrified us."
Instead of following Filigree's pattern of sitting at long communal tables, guests gathered around the room and ate with plates on their laps. At one point, Ost invited a friend to sing opera from the balcony of the two-story flat. "When she was singing, our host was like, 'Now, everyone dance!' and everyone put down their food and started dancing — to opera music," says Brita. "That event helped us to realize that this series is a living, breathing thing, and that there's only so much you can plan — but there's all of this wonderful stuff that happens when you don't plan."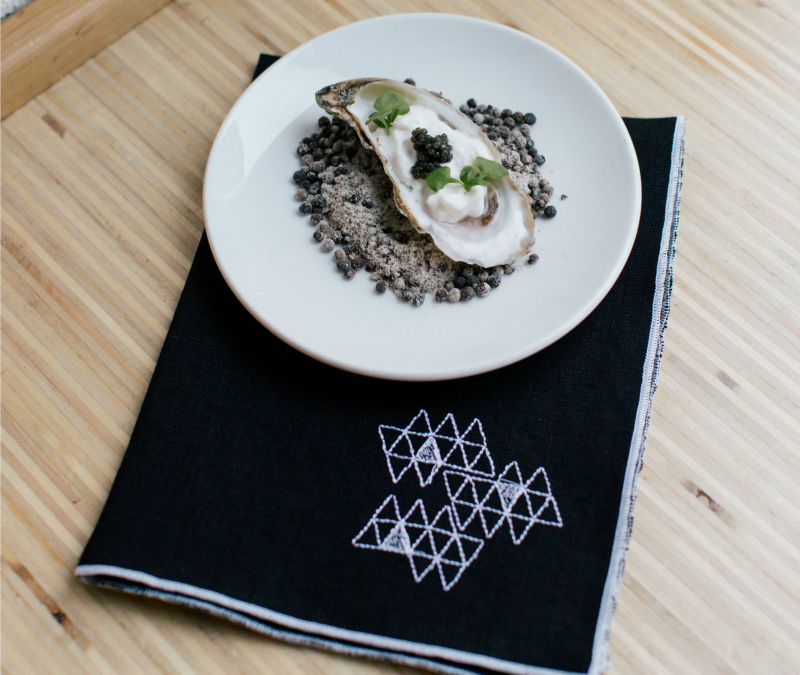 Elise agrees. "It was magic," she says, holding a heaping plate of mole-topped porchetta. It's one of the loose requirements of these functions — that at least one of the plates be family-style — in an effort to encourage connection throughout the evening.
"In big cities like Chicago and New York, it's hard to make new friends," says Elise. "We have place cards with peoples' names on them because we want guests to feel really welcome and like they have a seat at the table, and we want people to have that interaction of passing the bread and serving people whom they've never met before."
In a technology-run world that continues to speed up when we crave slowing down, it's a practice that the pair doesn't see enough of — and something they hope to change. "It's good to take a break from the pattern you put yourself in every day and the habits you have," notes Elise. "We hope that we're creating a space for people to have a new experience to get out of this cycle — ultimately, so that we can all be a little more present."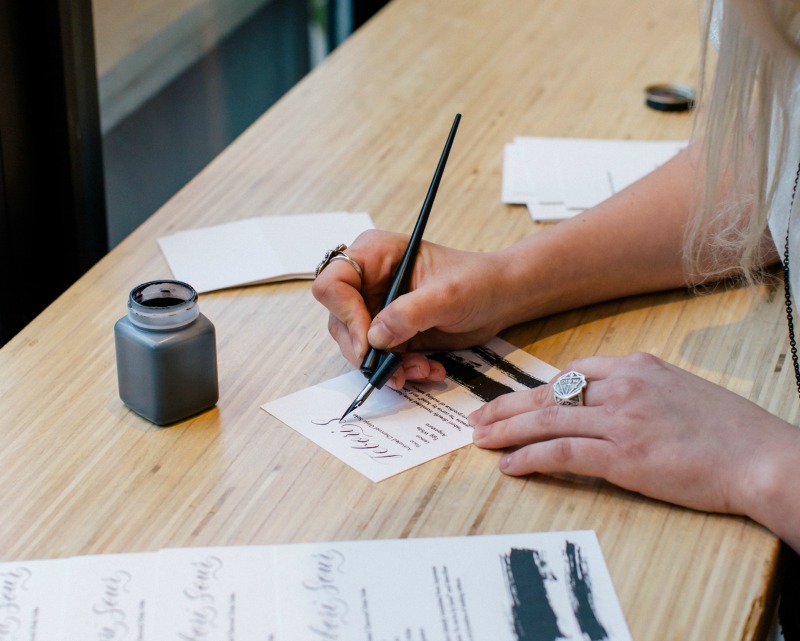 A guest book starts to circulate the table, and Brita and Elise encourage their new friends to sign it — not as a way to acquire new email promo recipients, but rather, as an opportunity for future diners to scan the pages and, perhaps, read a name they might recognize (even if that name is their own). That same book is broken out for every Filigree Supper.
Diners devour a rum-laced panna cotta with black lime — the meal concludes, but servers continue to top off glasses of tempranillo. Guests begin to part; what were handshakes two hours ago turn into hugs. Brita and Elise make rounds, bidding adieu to guests and sharing meal highlights, asking about work and confirming upcoming get-togethers. It's as though it was underneath their very own roof.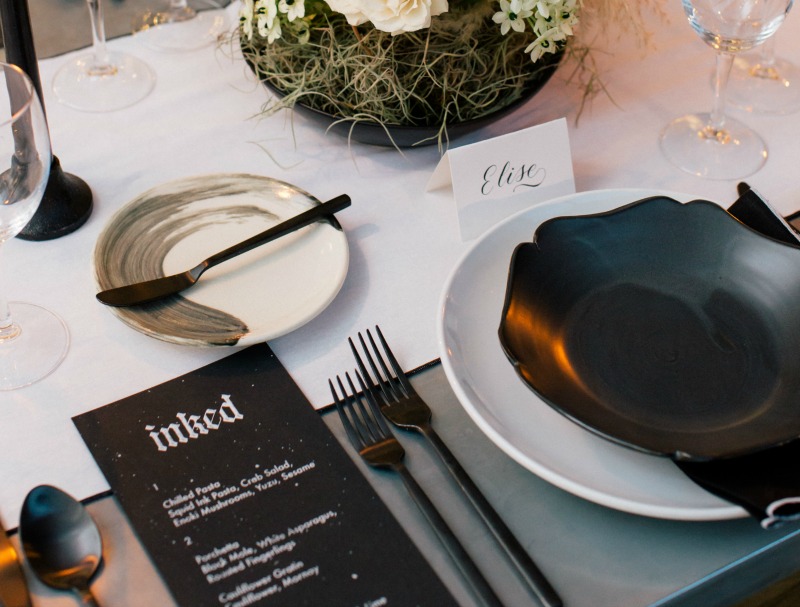 It's this moment, after the food and drink, that Elise always remembers the most. "Right now is when I get to see people laughing and getting numbers from each other, and it's the biggest return on investment for me — this joy," she says.
And if memory starts to fade as their series grows larger and larger, Elise knows she need only look down to her right arm to be reminded.
"This lemon?" she pauses, "This is going to signify tonight, because I know it's a night I'm going to want to remember."
Want to keep up with Filigree Suppers? Follow them on Eventbrite!