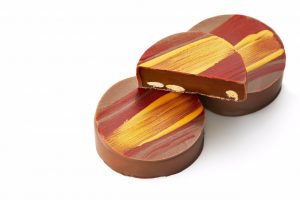 Veruca Chocolates
According to Veruca Chocolates founder Heather Johnston, you can—and maybe should—judge a chocolate by its cover. "I believe that opening a box of chocolates should be almost as fun as eating it," she says. As such, she's sure to design each piece in a way that highlights eye-catching shapes, clever patterns, and plenty of fun colors. Case in point with the recently released pumpkin turtles—a staff favorite comprised of pumpkin caramel and roasted pumpkin seeds that are dipped in milk chocolate and hand-painted in rich fall hues.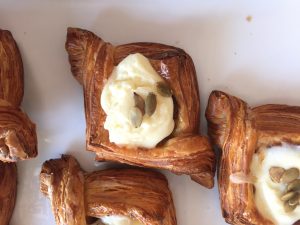 Floriole
This Lincoln Park bakery and café specializes in market-driven pastries and an array of naturally leavened breads, in addition to dynamite savory fare (think daily changing quiches, egg white frittatas, and turkey melts with cranberry spread, melted cheddar, and spinach). Pumpkin has been peppering the menu as of late, as evidenced in items like the pumpkin butter-laced oatmeal, ricotta toast with pumpkin butter and pepitas, and the pumpkin danish—a flaky, buttery pastry brimming with orange-cinnamon pumpkin filling and topped with cream cheese frosting and pepita seeds.
Katherine Anne Confections
This candy company has been crafting up seriously decadent sweets since 2006, from hand-dipped truffles and soft honey caramels to fluffy marshmallows in flavors like cinnamon sugar, hot chocolate, and chai tea. Fair trade, local, and seasonal ingredients are paramount in these parts, as proven by the team's most recent releases: malted pumpkin cheesecake truffles (white chocolate ganache with roasted pumpkin, cream cheese, malt, and fall spices dipped in milk chocolate with graham streusel) and pepita & pumpkin spice caramels (with wildflower honey, pumpkin spices, and roasted pepitas).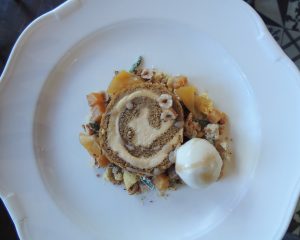 Leigh Omilinsky
Head to this Gold Coast eatery for the Italian seafood fare, but be sure to stay for pastry chef Leigh Omilinsky's seasonally-inspired sweets, too—a decadent array that includes a concord grape meringata with negroni jam and an apple crostata with fennel gelato. This month that menu takes a particularly autumnal twist with the pumpkin rotolo, a jelly roll-inspired offering of pumpkin sponge cake, pumpkin cremeux filling, graham cracker and praline streusel, and candied cinnamon-lime gelato.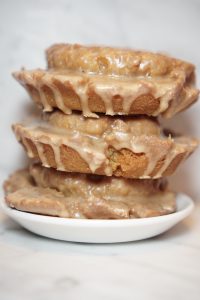 Stan's Donuts
This doughnut destination opened its Wicker Park location in 2014 and, since then, it's been serving up doughy goodness at several more sites spanning the city, from Streeterville to the South Loop. The team here is no stranger to fun flavor riffs (from lemon pistachio to Cap'n Crunch), and its pumpkin spice old fashioned—a fall-forward twist on the classic buttermilk- and sour cream-based old fashioned variation with pumpkin, cinnamon, and nutmeg—is no exception.
The team behind this beloved brunch go-to opened its doors to meet one simple goal: to serve fresh, seasonal breakfast and brunch plates on the regular. They've spent the past 24 years doing just that, while also opening a few additional locations along the way. Head to any of them for a taste of their most recent morning addition—pumpkin spice pancakes, complete with brown sugar, cinnamon, and vanilla-orange zest whipped cream.