UNCATEGORIZED
This Chef & Mixologist Team Will Make You Forget It's Wednesday
Jenny Wang (Chef & Chief Bellyfiller) and Matt Dorsey (Mixologist & Chief Imbiber) are the married co-founders of "I Forgot It's Wednesday"—a supper club concept designed to make the dinner conversation as interesting as the meal itself.
Jenny and Matt serve a weekly five-course dinner and cocktail pairing for eight to ten guests in their home; carefully curating an environment that encourages deep connection and conversation. After a year and a half of tinkering, Jenny and Matt developed several supper club traditions—from a seat switch mid-meal, to fun facts revealed about guests throughout the dinner. 
After a successful stint in San Francisco (they were recently named the best supper club in the city by 7×7), Jenny and Matt are taking their talents to New York City this summer. Before their big send-off later this month, I sat down with Jenny and Matt to learn more about their concept, what's next for them, and naturally, where I should eat right now.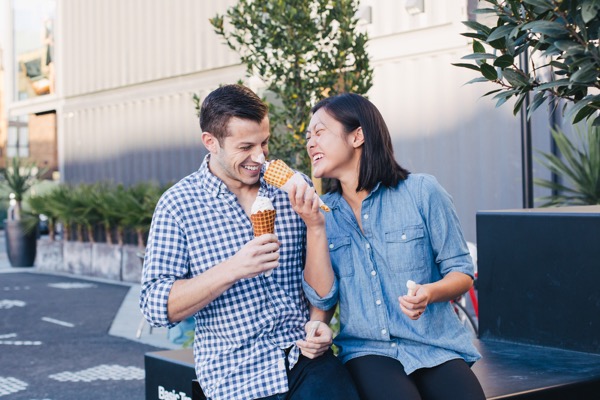 Matt and Jenny, creators of I Forgot It's Wednesday. Photo credit: Nanette Wong.
I love the idea behind "I Forgot It's Wednesday"—to make people pause their hectic schedules to connect with someone new. Where did that idea come from?
Jenny: Although we lived in NYC at the time, San Francisco was actually the catalyst for us to start I Forgot It's Wednesday (IFIW). We visited almost two years ago on a trip, and we saw a sculpture on Market St. that said something like, "Take a pause in your day and talk to someone new." That concept really resonated with us. During the week everyone is heads down, just trying to make it to the weekend. We miss so many opportunities to connect and just have fun. That's really what life is about. We started the dinners on Wednesday nights, and that's where the name came from. We want our guests to be so stimulated and engaged in the conversation that they forget it's Wednesday!
Matt: We had been talking about starting a supper club together and that trip to San Francisco inspired us to action. When we got back we said, "Let's give it a shot!" We threw together a website, and invited a few friends over. Our first month was all beta testing, learning, and constantly asking our guests how we could improve. Of course we want the food to be great, but above all we want the experience to be one of the best you've ever had.
Matt, Do you have a favorite dish that Jenny makes? Jenny, what is your favorite cocktail that Matt makes?
Matt: Her five spice pork belly is one of my all time favorites. It is out of this world. I also rave about her duck dish. I pretty much like all of the dishes she puts together!
Jenny: I'd have to say the Angel's Share. It's rye, bénédictine, and madeira over smoked cinnamon & clove.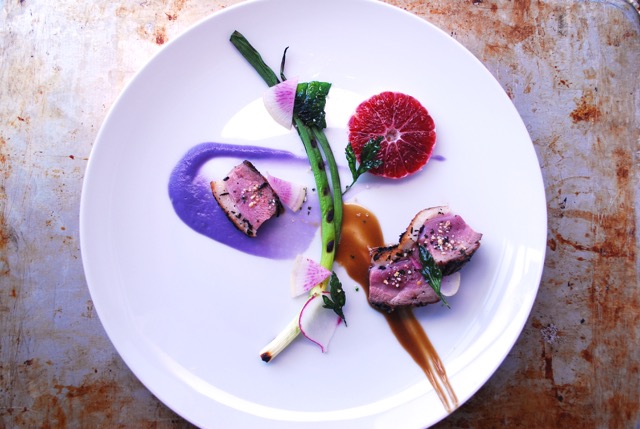 Chef Jenny's Earl Grey and sichuan peppercorn duck breast with ube puree, grilled scallion, blood orange, watermelon radish, and gomasio. Photo credit: I Forgot It's Wednesday.
While the meal at IFIW is incredible, the atmosphere is also really electric. What is the science and the art of creating an environment like that?
Matt: It's always been an experiment. Some things will work, and some won't, so we'll tinker. At our very first dinner, we asked people to verbally share a fun fact and it was so awkward! We thought, "Let's try that in a less invasive way." We started incorporating the facts we collected from people onto their name cards, and that naturally stimulated conversation.
We got the suggestion to switch seats at our first dinner, and that tradition stuck. In a new group the conversation naturally tends to collapse, but if you switch seats, you keep people "comfortably uncomfortable" and breathe new life into the group. We create a relaxed environment, with good food and drink, we give you some time to get to know your neighbors, and just when you are starting to feel settled in, we make you switch seats and start it all again.
Jenny: As we've grown we've learned what works, but there's still an art and a curation to it. We'll look at the facts people provide and seat people accordingly. Sometimes it just clicks. Once we had a diner who said he was interested in learning more about Norwegian literature and we were able to seat him next to someone who studied that in college! It's weird how life works out like that sometimes.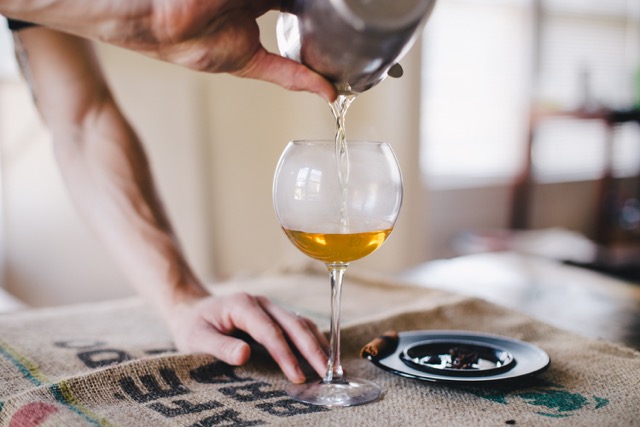 The Angel's Share: Rye, bénédictine, and madeira over smoked cinnamon & clove. Photo credit: Cultural Chromatics.
When did you first know that you were on to something?
Matt: It was early on for me. One of the cool parts was how much people bought into the concept. I was a little skeptical to begin with, you know? Are people going to like this? How comfortable are people going to be sitting next to strangers, sharing personal things about themselves? In the beginning, we had a closed kitchen, so we couldn't really see it, but I'd walk into the kitchen and you could just hear the roar of the conversation start. That was really rewarding for me.
Jenny: Once you hear the conversation just start to boomerang around the table, that's when you know it's working. These people just met each other a few minutes ago!
I have to ask. Has anyone ever started dating from the supper club?
Jenny: We're still waiting for our first IFIW couple! We've had a few dates come out of them, but no relationships yet.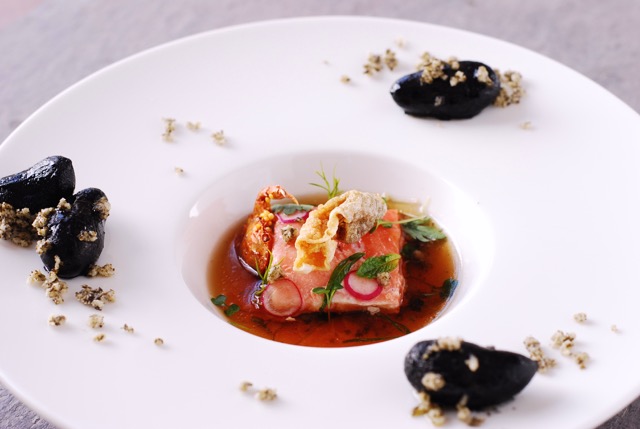 Ngo om King Salmon, shiitake mushroom consomme, smoked squid ink potatoes, spring garlic edible sand, crab cracker. Photo credit: I Forgot It's Wednesday.
Can you give me a spoiler of your new concept?
Jenny: The next phase of our concept is definitely a larger format. We've figured out how to get people to talk to each other, but what can we do to make the whole experience immersive for them? We're inspired by Sleep No More. It's immersive theater where you are a part of the show yourself. We want to do that, but with food.
Matt: The full vision is promenade theater. You enter our venue with five or six different rooms. You're tasting multiple small courses and small bites and interacting with the food in a completely different paradigm than you're used to. A complete experience instead of just showing up for dinner, hanging out, and leaving.
Jenny: You walk into a space that we've outfitted and you're immersed in it, whatever the theme it is. It's food that is incorporated into the environment as you're walking around. There might be a cool gilded bathroom and the sink will be full of oysters. Then you turn on the faucet and there'll be this drink that comes out. We want something that will be more mentally stimulating.
What's next for you two?
Jenny: We're moving to New York and having our "second" wedding with friends & family before heading to SE Asia for a month to do some honeymoon eating. Then I'll be joining the team at the two Michelin starred Atera and focusing on doing more of my own custom ceramics. Matt is joining a startup in NYC and focusing on launching his cocktail website thetipple.com.
Before you leave, any SF favorites you can recommend? Where should I eat right now?
Matt: Taqueria Cancun is our favorite burrito in the city and definitely The Mill for toast. Third Rail and Rx are two of my favorite cocktail bars. Rx has an incredible amaro collection.
Jenny: We actually have been to Kin Khao twice! That's a lot for us. It's amazing Thai and you must try the nam prik. We're also obsessed with The Marshall Store up north. We opt for that place over Hog Island and Tomales Bay every time!
Want to attend one of Jenny and Matt's events before they head to NYC? Subscribe to their newsletter to learn about upcoming dinners, or attend Jenny's food photography workshop and cooking class on June 20.
Hosting your own event? Head on over to the Eventbrite Event Academy to view Matt & Jenny's event hosting tips or learn more about creating your own event today.