It's a beautiful world out there and our mission is to encourage you to experience as much of it as possible. To that effect, we recently told you the one thing you need to do in every state before you die, but we decided that wasn't enough pressure. Hence, this list of 20 things in the U.S. you absolutely need to check out before you bite the big one. Enjoy the journey!
Carlsbad Caverns
NEW MEXICO
Maybe seeing one of the world's largest cave rooms doesn't feel like something that would live up to the hype, but once you descend over 600 feet beneath the ground, you'll quickly change your mind.
Empire State Building
NEW YORK
Visiting the Empire State Building is incredibly touristy, but that doesn't take away from the fact that you'll see truly magnificent views of New York City from the observation deck. Plus: "King Kong," "An Affair to Remember," and "Sleepless in Seattle."
The French Quarter
NEW ORLEANS
Like a lot of spots on the list, the French Quarter is definitely touristy, but it's still utterly charming and a sight to behold, thanks to the cobblestone corridors, historic architecture, wrought-iron balconies, live music, delicious food, and, of course: Bourbon Street, where the party never ever stops.
Golden Gate Bridge
SAN FRANCISCO
This red (well technically International Orange) suspension bridge spanning the Golden Gate is the most photographed bridge in the world, despite the fact that it's often enveloped in fog.
Grand Canyon
ARIZONA
It's one of the seven natural wonders of the world. What else is there to say?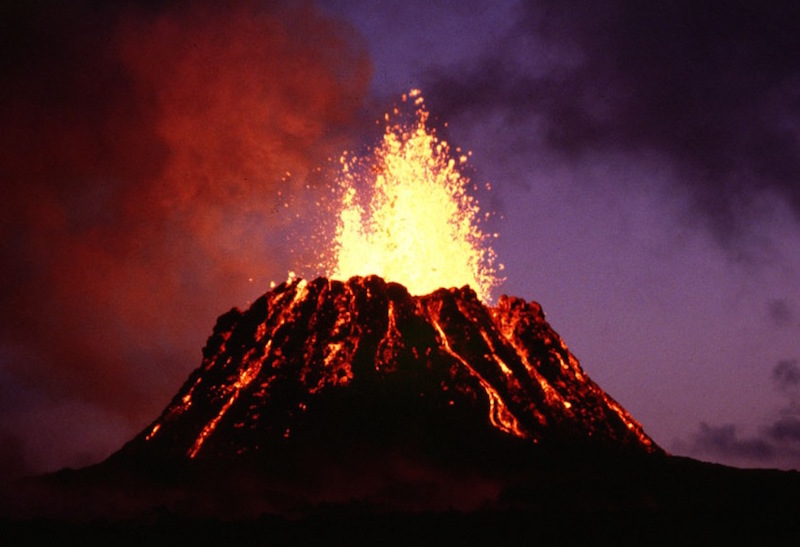 Hawaii Volcanoes National Park
HAWAII
This national park on the Big Island is home to Kilauea, one of the world's most active, but also super mellow and therefore not dangerous, volcanoes. If you're up for a bit of a hike, you can watch its blistering lava flow into the sea.
Jefferson Memorial
WASHINGTON, D.C.
This Neoclassic open-air memorial, which is surrounded by water and houses a 19-foot statue of one of our country's founding fathers under a gorgeous dome, is even more beautiful if you visit in the spring when the cherry blossoms are in bloom. But it's truly inspirational any time of year, especially if you take the time to read the engraved panels with Thomas Jefferson's inspirational quotes.
Kenai Fjords National Park
ALASKA
The 700-square-mile Harding Ice Field is the crown jewel of this park and a stunning way to get a sense of what things were like during the ice age. The massive field of ice and snow spawns dozens of tidewater glaciers, and the area is home to moose, bears, mountain goats, sea lions, orcas, and more.
The Liberty Bell
PHILADELPHIA
On July 8, 1776, the Liberty Bell rang out from the tower of Independence Hall to summon Philadelphians to hear the first public reading of the Declaration of Independence. It rang for the last time in honor of Washington's birthday in 1846, which is when it was irreparably cracked.
Martha's Vineyard/Nantucket
MASSACHUSETTS
These sister islands are exactly what you imagine when you think of New England: sandy beaches, sailboats, scenic lighthouses, beautiful homes, and really good seafood.
Mount Rushmore
SOUTH DAKOTA
There are people who have complained that the 60-foot high granite faces of U.S. Presidents George Washington, Thomas Jefferson, Theodore Roosevelt, and Abraham Lincoln aren't big enough, but this "Shrine to Democracy" is one of the most iconic images in America and as a result has over two million visitors a year.
Muir Woods National Monument
CALIFORNIA
Who wouldn't want to see the planet's tallest living things?
Niagara Falls
NEW YORK
The thunderous waterfalls on the U.S./Canada border are utterly majestic and totally hypnotic, even if Oscar Wilde said, "It is the first disappointment in the married life of many Americans who spend their honeymoon there."
Salem
MASSACHUSETTS
This coastal town is known for the infamous Witch Trials in the 1600s, and visiting the beautiful and haunting town is a harsh reminder of a time when fear and paranoia caused 20 people to be needlessly executed.
Sears Tower
CHICAGO
It's officially named The Willis Tower now, and it's also the second-tallest building in the U.S. The Ledge at Skydeck Chicago allows you to step outside the building… if you dare.
Statue of Liberty
NEW YORK
This copper statue of a robed woman holding a torch above her head and a tablet inscribed with July 4, 1776 in Roman numerals was gifted to the people of United States by the people of France, and has come to symbolize the ideals of liberty, peace, democracy, and freedom. She may truly be the biggest symbol in our country for what we aspire to be.
Taos Pueblo
NEW MEXICO
Seeing the multi-story adobe buildings that have been continuously inhabited for over 1,000 years is an important reminder that American history started long before Columbus sailed the ocean blue. It was admitted into the World Heritage Society in 1992 as one of the most significant historical cultural landmarks in the world.
The White House
WASHINGTON, D.C.
Even if you don't agree with the person who is living there now, it's still impressive to see the White House up close and learn about the history and the families who lived there.
Yellowstone National Park
WYOMING
This two-million-acre park was America's first national park and is truly an amazing example of "a home where the buffalo roam, and the deer and the antelope play." It's also where you can see the highly predictable Old Faithful geyser erupt and check out hot springs, lakes, waterfalls, and more.
Yosemite National Park
CALIFORNIA
Towering sequoias, sheer granite cliffs, crashing waterfalls, starry skies… But if that doesn't convince you, listen to what John Muir said: "Yosemite Park is a place of rest, a refuge from the roar and dust and weary, nervous, wasting work of the lowlands, in which one gains the advantages of both solitude and society."