UNCATEGORIZED
16 Hottest NYE Parties in NYC
If you're looking for one of New York City's most epic ragers as the perfect setting to ring in 2016, there's no need to look further than this list. Below, we've outlined the 16 hottest NYE parties in NYC to get on your radar ASAP, because they WILL sell out. Whether you want to say adios to the year from a boat on the Hudson, a warehouse in Brooklyn, or within prime ball dropping range in Times Square, we've got you covered. 10, 9, 8, 7…what are you waiting for? Check it out, party animals!
BangOn!NYC Presents: New Year's Eve 2016 "Time & Space"
EAST WILLIAMSBURG
December 31, 9 PM — 4:45 AM
Secret East Williamsburg Warehouse
Instead of wondering what BangOn!NYC's New Year's Eve "Time & Space" will feature, a more accurate thing to ponder is what it won't. Seriously. This insane bash is going down in a 30,000 square foot warehouse somewhere in East Williamsburg (only those who buy tickets receive the exact address) and promises to include gourmet food vendors, a midnight rocket launch, zipline performances, 3D projection mapping, sets from DJs Justin Martin and Kill Frenzy, and much, much more.
Richard Bona & Davi Vieira at Club Bonafide
MIDTOWN EAST
December 31, 9 PM — 3 AM
Club Bonafide
Club Bonafide is throwing a party featuring gourmet passed hors d'oeuvres, a champagne toast, and more than three hours of awesome live music from prominent Cameroonian jazz bassist (and the club's namesake) Richard Bona, plus Brazilian act Davi Vieira & the Bonafide Brazilian Band. This very special performance is a can't-miss for lovers of live music.
New Year's Eve Fireworks Party Cruise
KIPS BAY
December 31, 8 PM — 1 AM
Skyport Marina
Climb aboard the Jewel Yacht for a NYE celebration to remember. Take in awesome skyline views of NYC and enjoy food and cocktails as you sail around the city where you'll have prime viewing for the fireworks that go off at midnight. Boom!
Supernova Ball Drop 2016
TIMES SQUARE
December 31, 9 PM — 3 AM
Novotel Times Square
Enjoy outdoor seating, fine cocktails, and tons of hors d'oeuvres in a private heated outdoor rooftop at Novotel Times Square, which offers a direct view of the ball drop. Given the premium seating, tickets ain't cheap, but the view doesn't get much better than this.
The 40/40 Club New Year's Eve Bash
FLATIRON
December 31, 9 PM — 5 AM
40/40 Club
We can't guarantee that Bey-Z will be in the house, but we can tell ya that the 40/40 Club will be throwing one helluva bash for New Year's Eve. Expect custom cocktails, delicious bites, and a stylish crowd.
Bryant Park Grill's NYE Party
MIDTOWN
December 31, 8:30 PM — 3 AM
Bryant Park Grill
If you don't want to be directly in the midst of ball dropping chaos in Times Square but do want to be within reach of the action, the Bryant Park Grill is throwing a sweet party just blocks away. Complete with a 6.5 hour premium open bar, passed hors d'oeuvres, and several DJs to keep the music going, the Grill's NYE soiree is topped off with a continental breakfast buffet at 1 AM to replenish your body from all that dancing.
Waldorf Astoria's Peacock Alley NYE Celebration
MIDTOWN EAST
December 31, 10 PM — 1:30 AM
Waldorf Astoria
It's not the most affordable party going down on New Year's Eve, but it is one of the swankiest. A dinner buffet featuring selections like leg of lamb, prime rib, and fresh lobster are just a taste of all the amazing dishes you can expect to try at Waldorf Astoria's Peacock Alley NYE Celebration.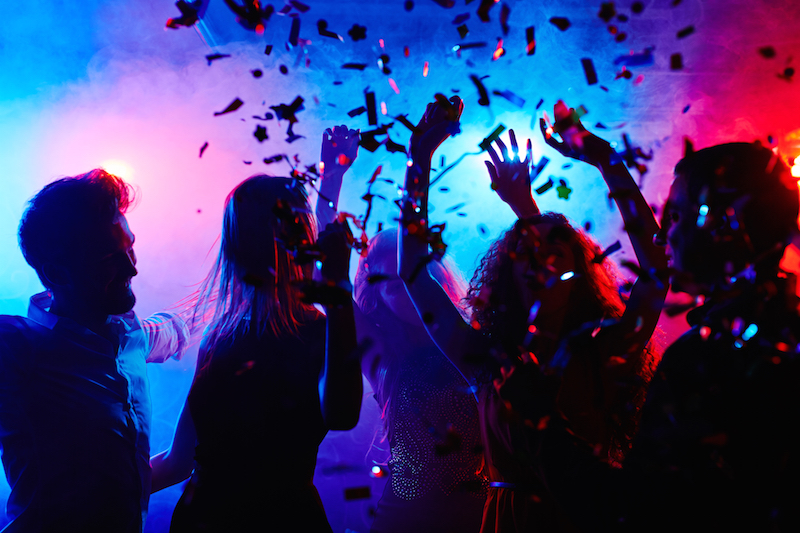 Tonic Bar & Restaurant's NYE Bash
TIMES SQUARE
December 31, 8 PM — 12 AM
Tonic Bar & Restaurant
With its prime location right in the heart of Times Square, Tonic Bar & Restaurant is a promising destination if your goal is to be a part of the craziness while also having a really nice restroom at your disposal. With three levels of dancing, a premium bar all night, and complimentary gourmet appetizers, you're sure to ring in 2016 in style, if you're willing to splurge.
2K16 NYE Ball
THEATER DISTRICT
December 31, 10 PM — 4 AM
Shadow Boxers Bar
Aimed at the LGBT crowd, the 2K16 NYE Ball features a 60-foot-long bar, two massive dance floors, and free Absolut Vodka for the first hour of the night. DJs Nandi and Rafael will provide the soundtrack for your night and projection screens promise to bring the Times Square ball drop straight to you!
The Celestial Ball
FINANCIAL DISTRICT
December 31, 10 PM — 2 AM
The DTA
Say hello to 2016 as the god or goddess you are. With a dress code that calls for "Starry-eyed vintage glamour" and "Olympian opulence," it's time to channel your inner Aphrodite or Hades at the Celestial Ball. The evening features an array of fascinating visuals, like moonlit musicians and fire dancers, to help you celebrate the New Year in the most ethereal way.
The Slipper Room's NYE Party
LES
December 31, 9:30 PM
The Slipper Room
If you'd prefer to be entertained from a seat this New Year's Eve, the Slipper Room has quite the evening planned. Enjoy sets from comedian Mel Frye, cabaret performer Jason Mejias, burlesque performer Nina LaVoix, and many more to satisfy your mind and eyes.
New Year's Eve Gala Aboard the Cornucopia Majesty
LES
December 31, 8 PM —1 AM
Pier 36
Spend your NYE in NYC enjoying a four-hour open bar as you cruise around the East River on the Cornucopia Majesty. A buffet menu includes options like chicken francese, penne alla vodka, and more, ensuring you won't go hungry as you dance your way into 2016.
Black & White NYE Party
HELL'S KITCHEN
December 31, 8 PM — 2 AM
Hudson Terrace
Don your best black and white outfits to celebrate New Year's Eve at Hudson Terrace's rager of a night. The eight-hour party includes a six-hour open bar, two levels of dancing, party favors for all, and VIP options if you want to go big.
Beer Authority's NYE Party
MIDTOWN WEST
December 31, 8 PM — 1 AM
Beer Authority
Treat yourself to a view of the Times Square festivities from Beer Authority's NYE party. A five-hour premium bar and two-hour buffet will give you all the fuel you need to party like a champ. You can watch the ball drop in person or on one of fifteen screens inside the bar as you enjoy a champagne toast when the clock strikes midnight.
NYE Fireworks Party Cruise
KIPS BAY
December 31, 9 PM — 1 AM
Skyport Marina
When NYC's fireworks go off at midnight to welcome 2016, imagine being on the East River with a view of the Manhattan skyline and a cocktail in hand. Seems too good to be true, right? Wrong. Reserve a spot on the Cabana Yacht to experience a New Year's Eve like no other.
BangOn!NYC Presents: New Year's Day Sunrise Party
EAST WILLIAMSBURG
January 1, 5:15 AM — 1:15 PM
Secret East Williamsburg Warehouse
In the event you're able to keep the party going long after the ball drops, BangOn!NYC is hosting a sunrise party filled with live sets from Lee Burridge, Gorje, and Izhevski, art installations, food and drinks, and all kinds of New Year's Day surprises to help you get the first weekend of the year started right!