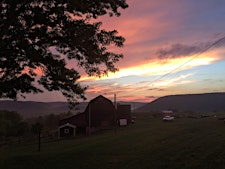 ZiegenVine Homestead, LLC
Welcome back for our 4th Season of Goat Yoga on the Homestead! 
Randy Ziegenhagen and Allison Lavine started ZiegenVine Homestead in mid-summer 2014. 
A little about us.
We started  in 2010 with a few hens for fresh eggs just for us.  We talked about adding pigs to our 2.5 acres in Chemung County, NY.  After we found out town zoning wouldn't allow us to have any other types of farm animals we begain looking for a farm.  We found the land we are currently on in early 2014, closed the sale July 31st and moved to the farm that day.  We had to do a lot of clearing as the farm hadn't been used for farming in over 10 years.   It has a large barn with great bones- and we are hoping to restore it to its full glory!  
Spring of 2015 we expanded our flock of laying hens.  We also purchased some Cornish Cross Chicks and 3 pigs to raise for meat for us and family.  In 2016 we hatched some of our hens grow our flock a little more, bought more pigs and a boar for breeding.  We also added 3 adorable goats to the farm, Cora, Millie and Macey!  "The Girls",  as Allison often refers to them, are a Nubian Boer cross and are very friendly and love attention.    
Welcome to our farming/homesteading journey. Be sure to check our  Facebook, Instagram, Twitter and website for more stories about our journey.
Check back for more events on our homestead!  Including Goat Yoga on the Homestead and Full Moon Yoga!    We have found some amazing and certified Yoga Instructors from our region of NY that come to the farm to teach Yoga!  
We are conveniently located just 15 minutes from Corning, 22 miles from Watkins Glen, 14 mile from Hammondsport, 40 minutes from Elmira, 2 hours from Buffalo, 1.5 hours from Rochester, 1 hour from Ithaca, 4.5 hours from NYC- No matter which direction you are coming from it is a scenic drive! ​
 Available for group yoga events.  Please call or email with your inquiry!  
#yoga #goatyogaNY #IloveNY #IloveupstateNY  #FingerLakes #Homestead #socialdistancing #SouthernFingerLakes #farm #thatview #FLXWellness  #getoutside #FLXFarmCountry
Sorry, there are no upcoming events