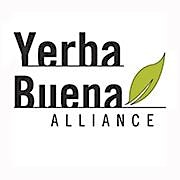 Yerba Buena Alliance
Stretching from 2nd to 5th and Market to Harrison Streets, the Yerba Buena Neighborhood today is one of San Francisco's most dynamic communities.  You can't find our concentration of cultural institutions, cutting-edge retail, top-notch hotels, urban green space, world-class convention facilities, fine dining, and residents of all income levels anywhere else.  Yerba Buena definitely has something for everyone!
The Yerba Buena Alliance believes stable and vibrant businesses, beautiful and accessible public spaces, mutually-beneficial and lasting relationships, and an engaged community are key to ensuring a high quality of life in San Francisco and the Yerba Buena Neighborhood.
We produce monthly neighborhood meetings as a way to engage and inform the Yerba Buena Community and produce two gallery walks a year, walking tours, convene the cultural institutions through the Culture Cabinet and have an enewsletter which you can join by emailing info(at)yerbabuena dot org. 
Sorry, there are no upcoming events