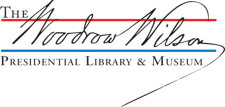 Woodrow Wilson Presidential Library
Woodrow Wilson Presidential Library and Museum in historic Staunton, Virginia
offers a variety of experiences for visitors of all ages.
Retrace the inspiring journey of our 28th president at The Woodrow Wilson Museum as you take a self-guided tour through seven galleries that explore Wilson's early years, his eventful presidency, suffrage, prohibition and World War I.  The President's restored 1919 Pierce-Arrow limousine is a highlight of the museum.  See authentic weapons and uniforms as you discover the unforgettable story of the doughboys.
Enjoy an engaging virtual tour of President Wilson's birthplace, a beautifully restored Greek Revival manse, and experience what life was like when he was born there in 1856. An authentic example of a Shenandoah Valley home during the pre-Civil War era, this National Historic Landmark is decorated with Wilson family treasures and period furnishings.
Stroll through the magnificent Victorian-style terraced gardens behind the Manse which were designed by Charles Gillette and installed in the early 1930s by the Garden Club of Virginia.
TO PURCHASE TICKETS, PLEASE CLICK ON YOUR DAY BELOW (FRIDAY-SATURDAY or SUNDAY) AND SELECT YOUR DATE AND TIME.
Sorry, there are no upcoming events