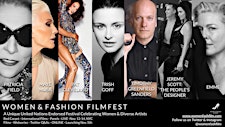 WOMEN & FASHION FILMFEST & SHE WEBFEST
Launched in 2013, the Women & Fashion FilmFest brings together members of the fashion, entertainment, and media industries to foster social responsibility and to create new opportunities for women and diverse artists. The Women & Fashion FilmFest is endorsed by UNESCO's International Council for Film, Television & Audiovisual Communication for its artistic and socially minded programming. Its partner include the United Nations Association Film Festival, Global Fashion 4 Development and MARITAGE International, an United Nations driven independent non-profit initiative to empower women through the arts.
Education and outreach form a critical focus. In conjunction with faculty at The Fashion Institute of Technology, students have been developing short films as part of a course module. Students from FIT and other academic institutions are invited to submit their films. In 2014, we launched the first Girls Film Festival. In partnership with the Civic Life Project, Reel Works, Scenarios USA and other youth filmmaking non-profits, we screened a selection of films made by girls to help teach self-discovery and self-empowerment through filmmaking. 
The Women & Fashion FilmFest aims to serve as an ongoing global platform through our online forum and WEBFest as well as special film screenings. These aspects make the Women & Fashion FilmFest a unique and innovative platform in one of the world's greatest fashion, entertainment and media capitals.
Partners:
Lead Sponsors:Fashion One, Elias World Media, Seaport Studios,Seaport District,Howard Hughes Corp.
Presenting Sponsor: Empire, an exciting new musical coming to Broadway
Software Sponsor: Sony
Media Partners:Ovation, Spirit & Flesh Magazine, Linger Magazine, Podium TV, Runway Paris, Madame DeGray, The Triumphant Scoop, Ombrage Magazine
Supporting Sponsors:VOGA Italia Internationally Acclaimed Award Winning Wines, Hiro Sake, Pedras, Diamond Grade Media, Catherine Schreiber Productions
Non-profit Partners: International Council for Film, Television & Audiovisual Communication of UNESCO, United Nations Film Festival, Global Fashion 4 Development, Maritage International- a UN driven nonprofit initiative to empower women through the arts, United Colors of Fashion, Australian Women in New York
Festival Supporters:The TaDa Group, Kiki Loves PR, J. Noel Public Relations, The Village, TRUE Model Management, Sandi Bass International, Autumn Marie Showroom, Melissa P. Bernier, Esq.,Pencil Me In Cosmetics,
Sorry, there are no upcoming events