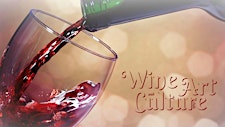 Wine Art and Culture Club
A social network of wine lovers who commune at regularly scheduled wine tastings to toast the expressions of artistic and cultural endeavours; explore the range of their palates; expand their repertoire and grow their network. Regardless of your level of wine experience, you'll find the Wine Art and Culture Club the perfect environment within which to explore that next bottle of vino.
We curate layered experiences that reflect an inclusive, expansive, mobile happy-hour that pairs a diverse group of creative patrons with an eclectic lineup of art and cultural experiences on a shared social adventure. All Wine Art and Culture Club events feature tasting flights of three to nine varietals from local boutique wineries to exclusive tasting room offerings from around the world.
We're confident that there will always be a new bottle to explore or a classic bottle to pair with new bites, new events and new friends! Few things are as luxurious as breaking open a bottle and creating memorable fun with friends who share the love of wine, art and culture. Reserve your space at our next complimentary member event to learn more about Wine Art and Culture Club.
Cheers!
Sorry, there are no upcoming events