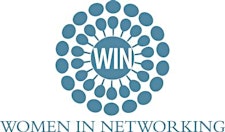 WIN (Women In Networking)
Since 2002, Women in Networking (WIN) has provided a nurturing, professional environment where women lift each other up for success. 
Each WIN experience is designed for you to:
-build meaningful business connections
-learn new ways to succeed
-leave with your batteries recharged to take on the challenges ahead
Come to WIN for professional development and to meet other authentic, motivated, vibrant women in business.
Now offering online events and community!
Join us in our private LinkedIn group here: https://bit.ly/WINgroup