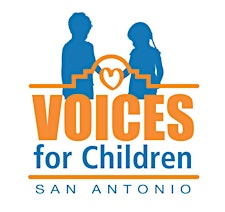 Voices for Children of San Antonio
Voices for Children of San Antonio expands our community's capacity to respond to current and emerging needs of children through purposeful and strategic advocacy that improves programs, practices and policy.
Voices' envisions opening windows of opportunity to ENGAGE and ENERGIZE community stakeholders so that every child moves every day toward a bright tomorrow.
As a multi-issue agency, Voices responds to community & state issues affecting the quality of life for children through data/knowledge sharing, researching best practices & by convening and organizing partner organizations and stakeholders to plan, collaborate and work toward change.