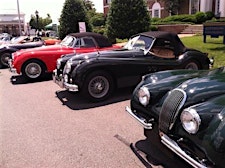 Virginia Jaguar Club
The Virginia Jaguar Club (VJC) is the central Vrginia based affiliate of the Jaguar Club of North America (JCNA), but has members in all parts of the state. The VJC served as the host for JCNA Annual General Meeting (AGM) in 2011, combined with the XKExperience to celebrate the 50th anniversary of the E-type. We were honored with Norman Dewis as guest VIP for this event.  If that were not enough, in 2013 the VJC successfully hosted the JCNA Challenge Championship just north of Richmond, where Jaguar promoted the recent introduction of the F-Type roadster.  Ian Callum, world renowned Chief of Design for Jaguar Land Rover, and Andy Goss, Group Sales Operations Director Jaguar Land Rover, were the guests of honor.
It all comes down to enjoying not only Jaguar cars but also the camaraderie of its' members.  For as much as there is a fond admiration of Jagaurs, it is the members that define the club.
Have you driven a Jaguar lately?   ...."It's good to be bad!"

Sorry, there are no upcoming events